A couple using Airbnb, find a hidden camera in the room that shows up to the bedroom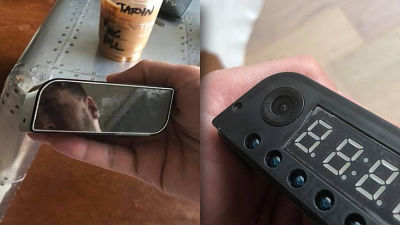 A couple using Airbnb where various rooms around the world become accommodation found that an alarm clock with a hidden camera is placed in the room. A man who found a camera immediately contacts Airbnb and the person who was providing the room has been eliminated from Airbnb.

Airbnb spy camera shock as Scottish couple find secret device hidden in clock pointing at bed - Daily Record
https://www.dailyrecord.co.uk/news/scottish-news/scots-couple-call-cops-after-13218634

Couple Finds Hidden Camera Pointed at Bed in Toronto Airbnb | Digital Trends
https://www.digitaltrends.com/home/couple-finds-hidden-camera-in-toronto-airbnb/

Duggie Hamilton who lives in Glasgow, Scotland, discovered a hidden camera. When I traveled to Toronto, Canada, when I used Airbnb with my partner, I noticed abnormalities.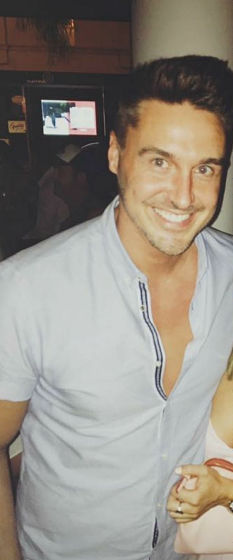 Mr. Hamilton posted a story to Facebook after discovering the camera after entering the room and commented as "spread quickly!"


Hamilton booked Airbnb's room in Toronto city on the evening of September 6, 2018 overnight. I spent a busy day with my girlfriend Tallinn and checked in and sat down on the sofa and he immediately heard that something was wrong.

A few days ago, Mr. Hamilton saw a video that summarized how hidden cameras were being hidden when they were watching Facebook. Mr. Hamilton who was in the head that a camera of pen type, eyeglass type, stuffed type, etc. was introduced was noticing an alarm clock whose surface is mirror-like. The alarm clock is placed in a position that can look over the whole room, and further it seems that it was in a state that you can see the state of the bedroom without the door that is there.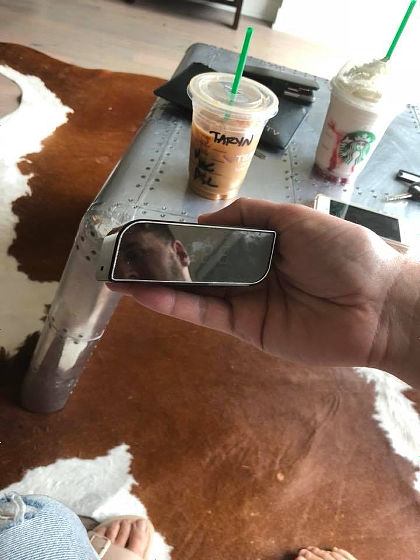 It was Hamilton who noticed the camera, but from five to ten minutes there was repeating your own question and wondering how to act. "Open the inside right now!" "No, do not do foolish things" "Do you want to be a funny guy who can not be helped by the camera!" Various thoughts have gone away.

At that time, the girlfriend who was just making coffee had a cup of coffee and came back to the sofa. Mr. Tallinn noticed Mr. Hamilton's strange thing was asking "What happened?" Mr. Hamilton did not answer anything, watching the clock. In response to Tarin asking "Why will not you reply?" Hamilton instructed not to say anything with "shit!" And as I never opened the front part of the watch by sliding it ... ...

From the inside, it seems that we have found a device that only looks like a camera, no matter what you think.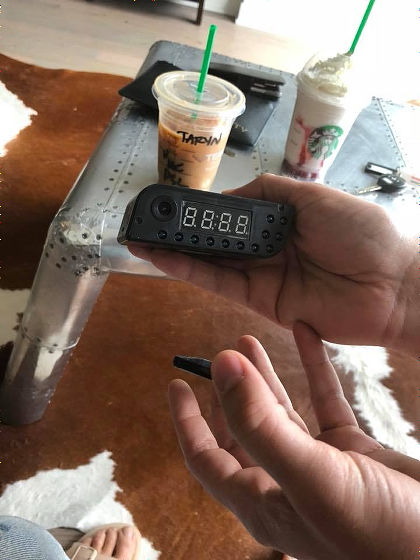 The built-in side of the 7 segment display that displays numbers is the lens of the camera no matter where you look. It seems that it was as short as 20 minutes from entry to camera discovery.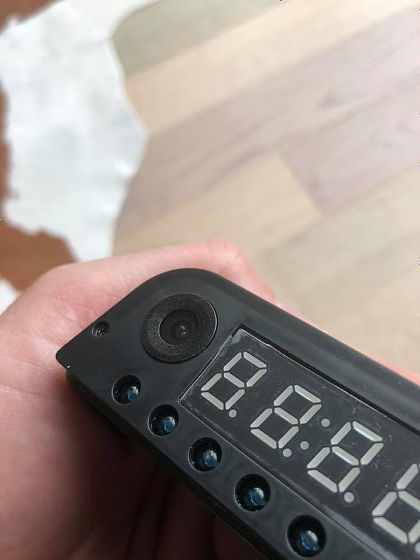 Although the power adapter was connected to the watch, it was said that the lithium ion battery was further contained in the main body. It is not clear what the camera actually was running, whether it was transmitting the video wirelessly, etc.



Hamilton, who confirmed the camera, immediately notified Airbnb. Then it seems that there was a reply from Airbnb to start an urgent investigation soon. Hamilton also reported to the Toronto police that the owner of the room is under investigation by the police. It is said that the owner of the room provided six properties besides this room, but it is taking immediate stop action. Regarding this matter, Airbnb said he or she used Hamilton's room in a nearby luxury hotel or presented a full refund response.

Hamilton was caught up in an unexpected incident, but I will clarify my intention to continue using Airbnb in the future. But at the same time, he says "I will check first when I enter the room from next time!"

According to Airbnb's spokesperson for this case Airbnb's spokesperson said, "We take privacy protection very seriously and we are totally unacceptable and this host is excluded from our platform and investigated It is done, and we will provide full support to our guests. "

Please note that Airbnb's Terms stipulate that if surveillance cameras, etc. are installed in or around the premises, it is necessary to explicitly disclose the situation to the guest in advance.

Host Responsibilities | Airbnb Help Center
https://www.airbnb.jp/help/article/1386/responsible-hosting-in-japan

Protection of privacy

Guest privacy should always be respected. For example, personal information kept from guests is important information, and it is not permitted to disclose to the third party by misdeeds (disclosure is permitted exceptionally, for example based on law etc.). In addition, it is necessary to explicitly disclose the installation status of surveillance cameras and the like to the premises to the guest "in advance".