Apple's earliest computer 'Apple I' appeared in the auction, the expected winning bid was over 30 million yen


Apple is a computer that was manufactured and sold in founding the earliest " Apple I elegance of operation of" is, to be exhibited in the auction to be carried out in September 2018 became apparent. Although the action item of Apple I often appears in the auction, it is expected that it will be considerably expensive this time also because it was awarded at a high price of 630,000 dollars (about 70 million yen) at the 2012 auction It is.

RR Auction: Bidtracker Item Detail
https://www.rrauction.com/preview_itemdetail.cfm?IN=3027

Historic Apple-1 Will Cost More Than $ 300,000 at Auction | Digital Trends
https://www.digitaltrends.com/computing/apple-1-auction-300000/

An auction company based in Boston, RR auction , announced that a fully operational item of Apple I will be exhibited at the auction held in September 2018. Apple, co-founder of Apple co-founder Steve Woznick , developed almost 200 independently by Steve Jobs and Mr. Woznick, of which approximately 175 units were sold .

After that, since Apple took the strategy to change Apple I to Apple II , Apple I currently existed in 2017 seems to be around 50 to 60 in the world, so even if it is not an operation item It can be said that it is a rare computer. For maniacers it is something I want to get by fire, but sometimes it happens to be circulated by people who do not know the value, so in 2015 we found "electronic devices that I do not need when cleaning the garage Apple I was worth 25 million yen as "was" was donated to the recycling company in some cases.

Apple I will be listed at the auction this time was repaired by expert Corey Cohen in June, 2018 and a document certifying that it is a fully operational item is attached. In the test which was done after repair, it seems that the system of Apple I operated without problems for 8 hours.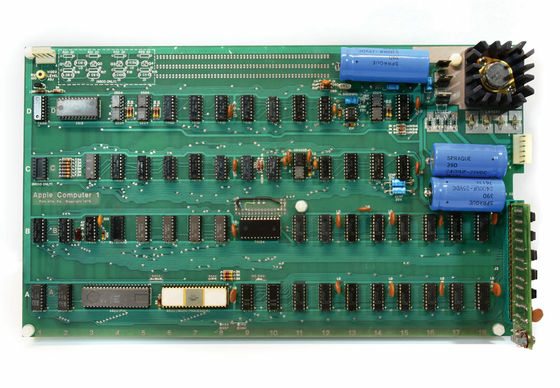 The set to be presented is "original Apple I board" "Apple I's original operation manual" "Power supply cable for Apple I " " Apple I cassette interface (ACI)" "ACI original operation manual" " ASCII keyboard " Sanyo 's monitor" Sanyo 4205 "" Power cable for peripheral equipment "It is said that it is possible to completely move Apple I if there is only this set.

RR auction is anticipated that Apple I's expected bid price will be over 300,000 dollars (about 33 million yen) to be presented at this auction. In addition, preliminary bidding online will be held from Thursday 13 September (Thursday) to 24th (Monday), and a live bid will be held on Tuesday, 25th.