'Nomad List' where you know where cities are suitable for Nomad life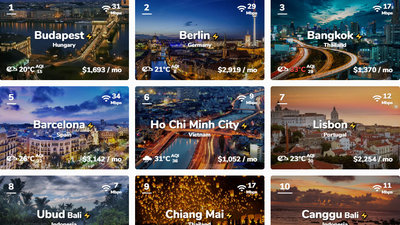 " Nomad List " is a service for living expenses, climates, and communications for cities around the world for "nomad workers" who work with devices such as laptops and tablets and Wi-Fi regardless of time and place We list the cities that are suitable for nomad working, collecting information such as the environment.

Nomad List - Best Cities to Live and Work Remotely for Digital Nomads
https://nomadlist.com/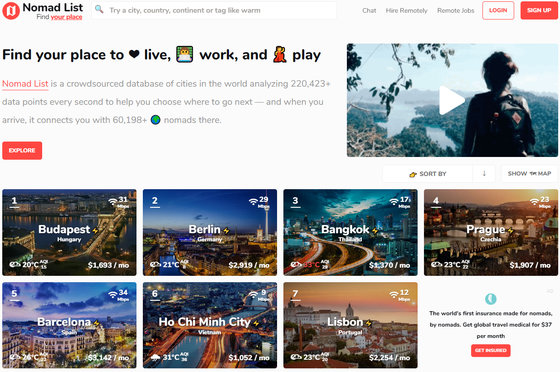 In the initial state, the cards of the city are lined up in order of the score of ease of nomad. The upper left is the ranking, the upper right is the communication speed, the lower left is the climate and the lower right is the standard of living per month.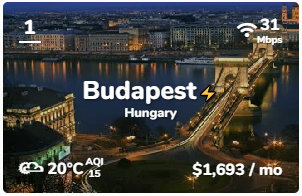 When you hover over the card, the display switches to the graph of 5 items "Nomad score" "Living expenses" "Internet environment" "Entertainment" "Security".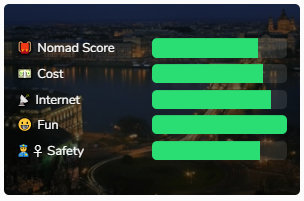 Click on the card to see more information. In the "Score" tab, various score information is arranged in a row, such as Nomad score of 3.93 out of 5, communication speed of 31 mbps etc. Although Budapest is ranked first in all cities, it is highly appreciated but "low tolerance to other races" and "acceptance of LGBT" are underestimated. Since 95% of the people of Hungary are Magyar people, it seems that other species are conspicuous.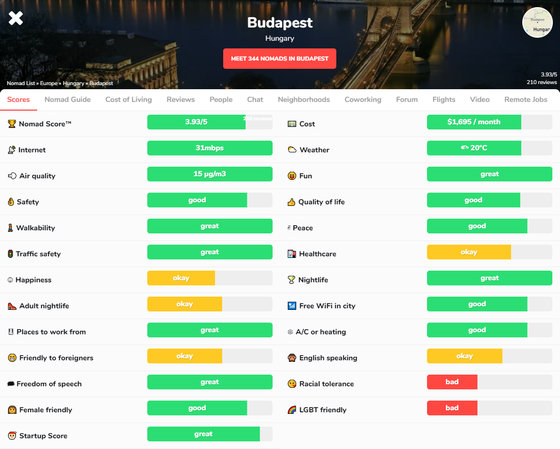 In the "Nomad Guide" tab, useful information such as "230 V / 50 Hz power supply" and "T-Mobile, the best wireless communication carrier" are useful when working on nomads.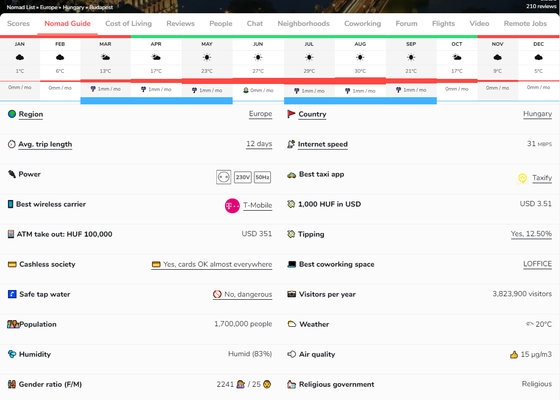 In the "Coworking" tab, you can see the map information on the coworking space in the city. This is not limited to Nomad, it seems to be useful when you stop by a business trip.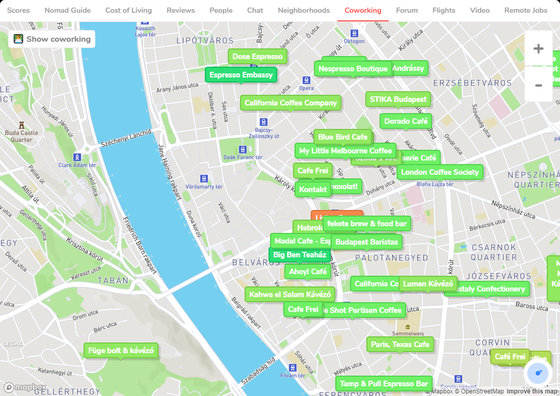 The highest ranking in Japan was the 75th place in Tokyo.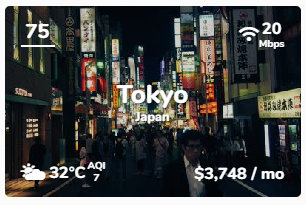 "Entertainment" "Security" is the best, but there seems to be a big minus in the cost of living.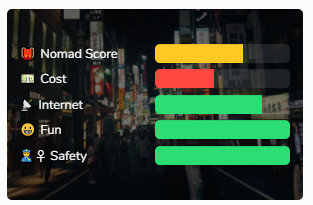 Looking at the detailed information, bad appraisal is "besides living expenses" "Free Wi-Fi in the city" "English degree of acceptance" "Tolerance to other races" bad.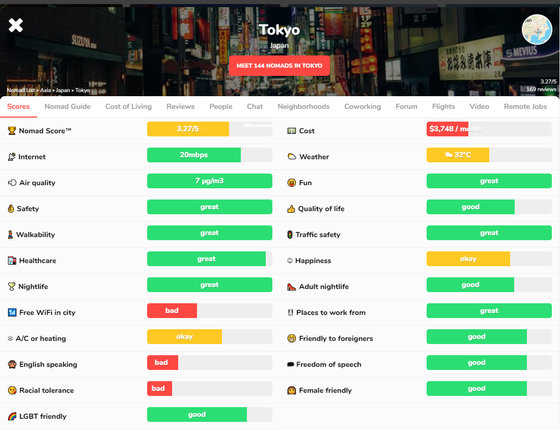 At the bottom of the "Nomad Guide" tab, "There are few places to work in Japan, co-working spaces are only for long periods of time, cafe Wi-Fi is almost bad, there are few outlets.With Wi-Fi In Japan, it is necessary to use a router, I can not communicate in English.Japan does not welcome foreigners as a society.Although Japan is a good place to visit by sightseeing, it is completely unsuitable for Nomado " And the notes .......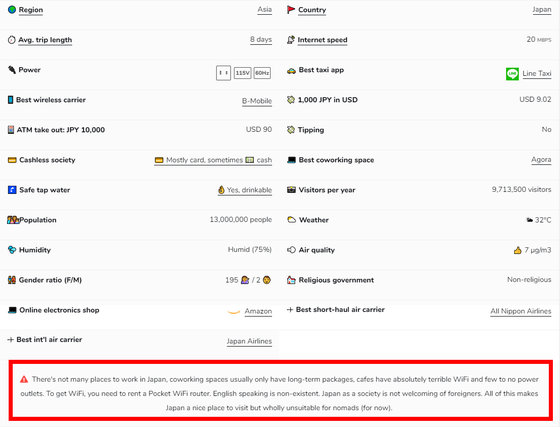 In addition, looking at the "Cost of Living" tab in Tokyo, the information may be somewhat incorrect because there was notation such as Coca · Cola (300 ml) 200 yen, beer (500 ml) 671 yen.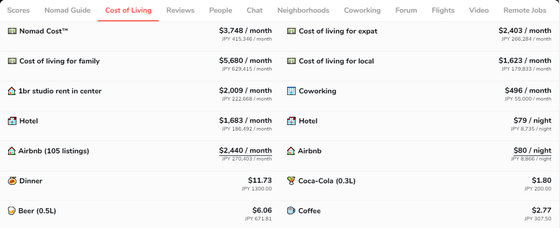 By the way, I ranked from 1st place to 30th place in all the cities, it was like this.

1st place: Budapest (Hungary)
Second place: Berlin (Germany)
3rd place: Bangkok (Thailand)
4th place: Prague (Czech Republic)
5th place: Barcelona (Spain)
6th: Ho Chi Min (Vietnam)
7th place: Lisbon (Portugal)
8th place: Ubud (Indonesia · Bali)
9th place: Chiang Mai (Thailand)
10th place: Canggu (Indonesia · Bali)
11th place: Belgrade (Serbia)
12th place: Bucharest (Romania)
13th: Seoul (Korea)
14th place: Warsaw (Poland)
15th place: Gdańsk (Poland)
16th place: London (UK)
17th place: Kiev (Ukraine)
18th: Taipei (Taiwan)
19th place: Madrid (Spain)
20th: Singapore (Singapore)
21st: Buenos Aires (Argentina)
22nd: Kaohsiung (Taiwan)
23rd place: Sofia (Bulgaria)
24th: Montreal (Canada)
25th: Tenerife (Spanish Territory Canary Islands)
26th: Timişoara (Romania)
27th place: Valencia (Spain)
28th place: Krakow (Poland)
29th: Las Palmas (Spanish Territory Canary Islands)
30th place: Constanţa (Romania)