Firefox extension 'Advance' which proposes recommended articles in real time from the page you are watching and browsing history
Firefox extension "Advance" which proposes recommended articles in real time from the page you are watching and browsing history
----
20180808-firefox-advance
----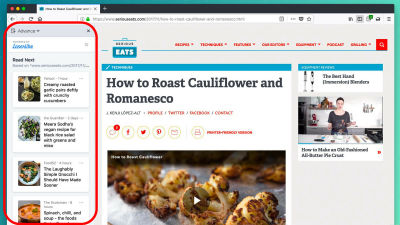 Mozilla tests the extension " Advance " which displays real-time recommended articles based on browsing history and browse trends for browser Firefox.

Advance - Firefox Test Pilot -
https://testpilot.firefox.com/experiments/advance

Advance is provided as a Firefox extension, and said that it is a function to display recommendation articles on the browser screen sidebar. Recommendations are displayed in real time based on the past browsing history and the contents of the page you are currently viewing. Advance said that the technology of recommendation service " Laserlike " using machine learning has been introduced.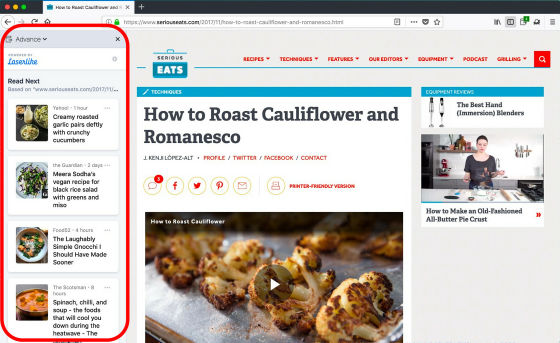 For example, if the user is browsing the "restaurant" list, Advance suggests restaurant information recommended with sidebar with thumbnails. There are two types of Advance, "Read Next" and "For You". In Read Next, we recommend articles related to currently open tabs, For You recommend articles based on recent browsing history To do.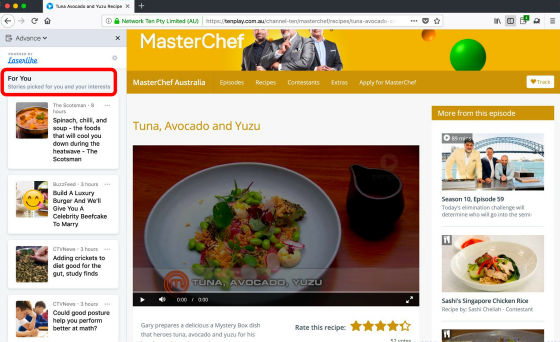 Advance is provided as a test pilot program of Firefox, which is checked for functionality and usability. Users can manage when to run Advance and can also completely delete the browsing history information collected by Laserlike later.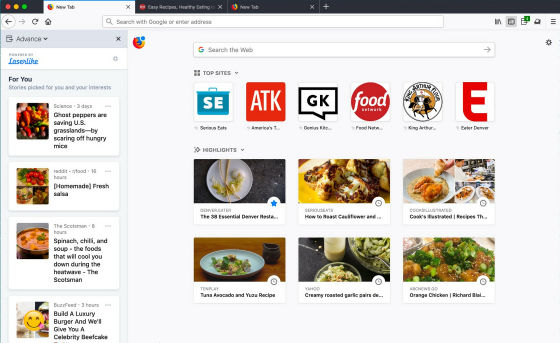 The Advance function can be installed now by participating in the Firefox test pilot program.

Advance - Firefox Test Pilot -
https://testpilot.firefox.com/experiments/advance