I tried Kilfevon 'a tart of a mix fruit juice of a summer fruit' which a large fruit covers a tart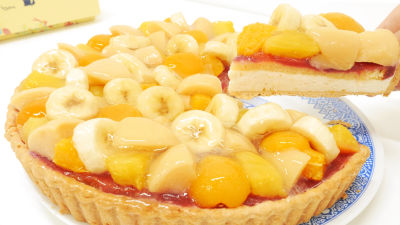 A new work " Summer Fruit Mixed Fruit Juice Tart " which toppings the big fruits of summer, such as bananas, peaches, oranges, which were greatly cut, with Kilphebon offering tarts and cakes tailored to the season, It has appeared on Saturday, July 21, 2018. The vivid tart that imaged Osaka specialty mix juice seems to be "rich taste" full of fruit juice so I tried it.

New work Summer fruit mix Fruit juice tart | A commitment tart, cake shop. Kilphebon
http://www.quil-fait-bon.com/mtr/2018_1352.php

The Kilfebon Granfront Osaka store visited this time is within the complex commercial facility " Granfront Osaka ". The place is about 5 minutes on foot from JR Osaka Station / Hankyu Line Umeda Station / Hanshin Umeda Station, and the address is "Osaka South Gate Front Shop & Restaurant 4-4-20 Odincho Kita-ku, Osaka-fu".


I came to the south side of Grandfront Osaka . Please note that this time's goods "Summer fruit mix fruit juice tart" has become a product of the Grand Front Osaka store only . This time I will make a 1-hole reservation in advance so I will purchase it.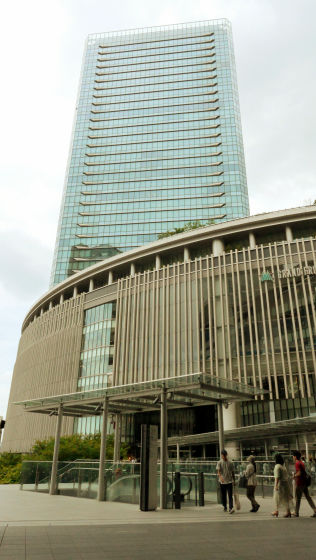 When going to a shop from Osaka station, Hankyu Umeda station, etc., you can go to the 2nd floor entrance of Granfront Osaka without waiting for a signal by crossing the footbridge bridge "Osaka station contact deck" directly linked to Osaka station.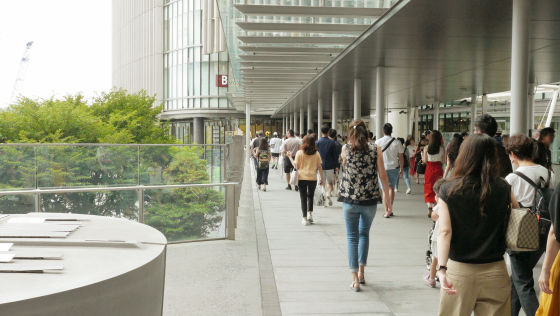 Arrived in Southbank. According to the in-house drawing, the aiming Grandfront Osaka store is slightly down on the right side in the "15th" photo of the South Building. Walk straight ahead 1-2 minutes from the entrance and you can see the shop on the right.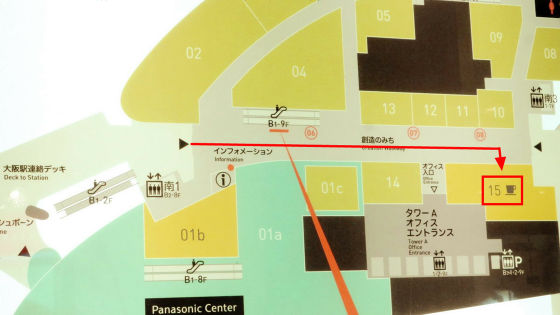 I walked for about 2 minutes and arrived at the Kilfevon Granfront Osaka store.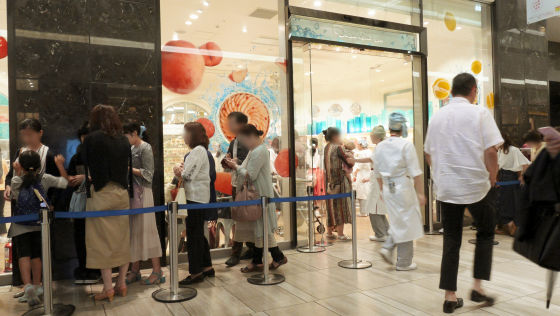 The day we visited was a holiday, so the shop was very busy. The Grand Front Osaka store has a cafe space as an eat-in corner, and you can eat the cake on the spot. It was the first time that I waited for 90 minutes on this day.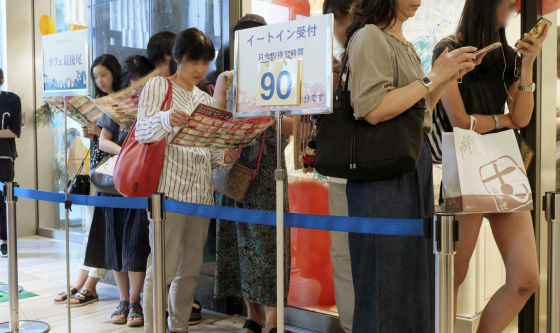 When you move to the takeaway corner of the cake, there are lots of customers here as well. Everyone's eyes are pinned to a refrigerated case.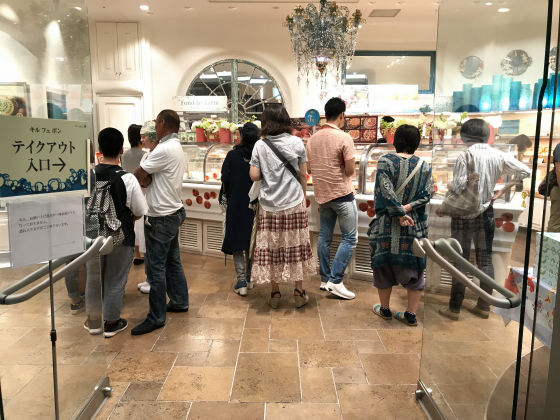 In the refrigerated case are lined with bright tarts using seasonal fruits. Tarts differ in product lineup depending on each store, and some items of tarts limited to the Grand Front Osaka store are lined up.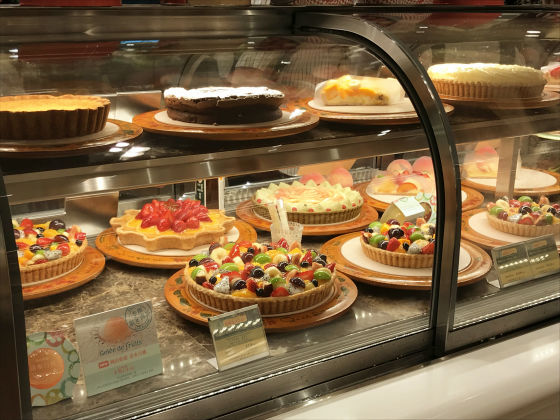 While watching in line, I found the item "Summer fruit mix fruit juice tart" (1 piece: 753 yen / 25 cm hole: 7128 yen including tax). The tart is covered on one side with fruit. This time I will purchase one hole that I had reserved in advance.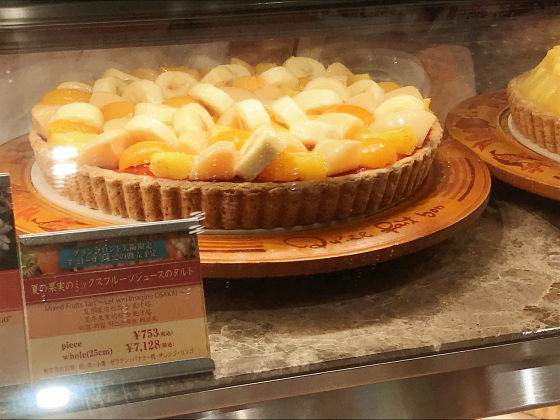 I brought fruit tarts from Kilfe Bon. The outer box is yellow and it is designed like a letter.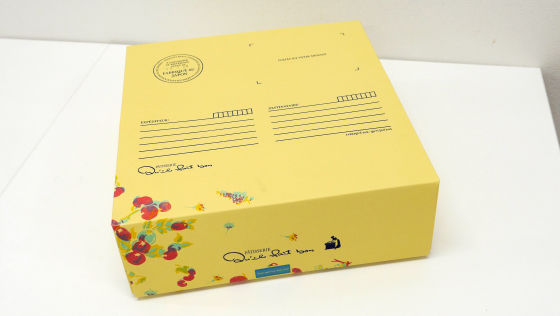 "Tart of mixed fruit juice of summer fruit" appeared when opening the box grueling. It is held down by a frame so that it does not move in the box, and a refrigerant is contained.



Tart is made of motifs of Osaka specialty mixed juice, which is characterized by banana, peach, orange, apricot, pineapple being topped, made by mixing fruits and milk with a mixer.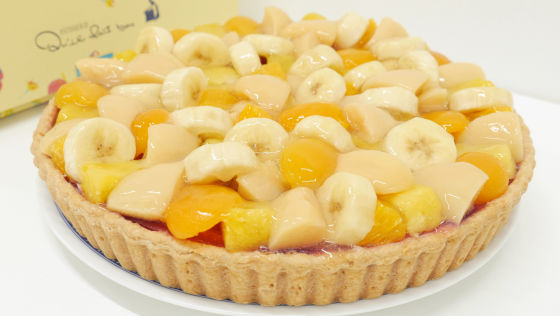 For a 25 cm hole, the diameter is about 3 long sides of the transportation IC card.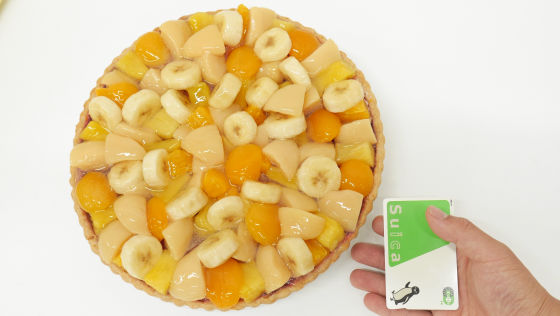 The height is about 6 cm. You can see that there is a height on the foundation of large fruits and tarts.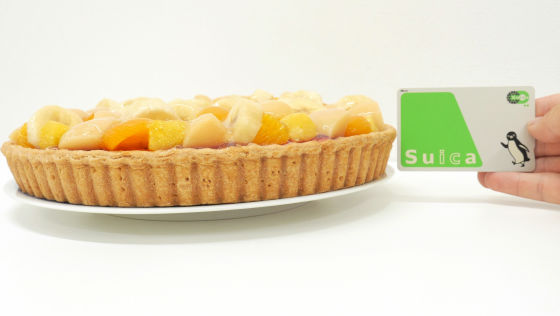 The fruit is coated with Napaju like Jure, it shines like a glasswork shiny. Approaching, there is sweet incense centered on banana and peach, appetite is intrigued.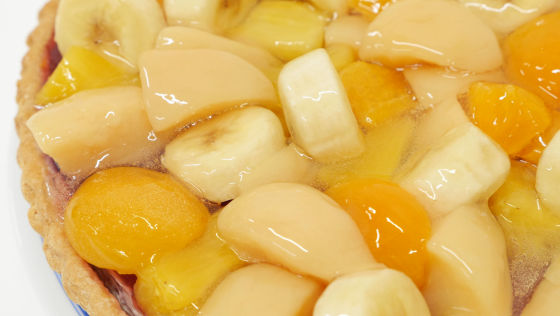 The red one that can be seen from the gap of the fruit is peach juice. It should have been painted on the whole top of the tart, but with freshly laid fruits, you can see only a little from the gap.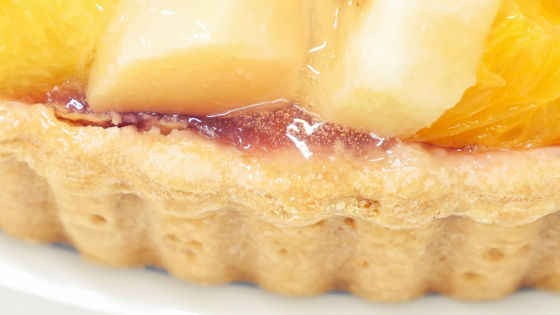 The tart fabric is thick and looks like a gussish look.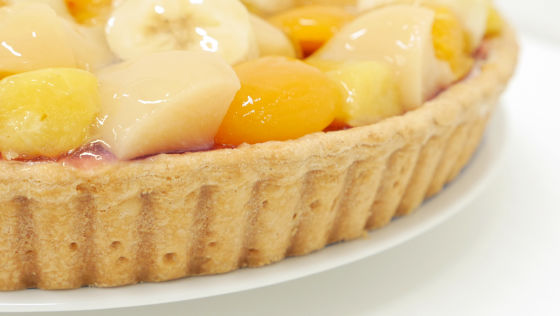 In order to clean delicate tarts beautifully like glasswork, I use cutting mat this time. If there is no mat, counting the jagged surrounding the dough, cut out by calculating the number of jagged per piece way there is also.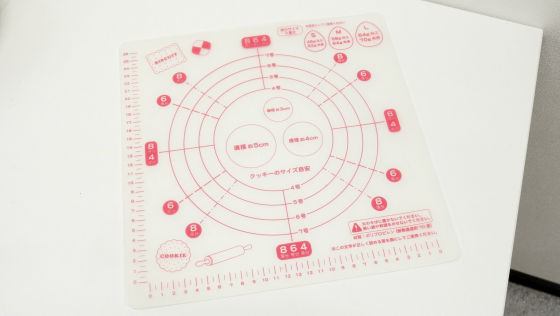 According to Tomisawa shop , wrapping the knife with hot water etc., wiping the knife with a towel or a kitchen paper, conscious of the center is the trick for cutting tarts . Also, it is also important to keep the tart firmly cooled before cutting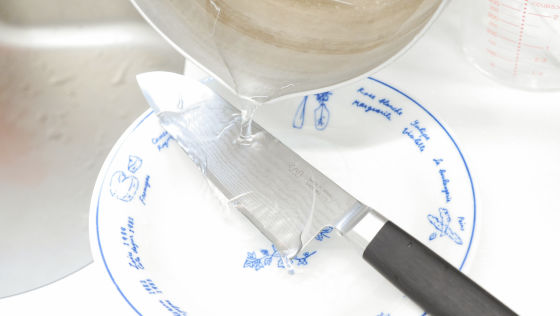 Tart entrance.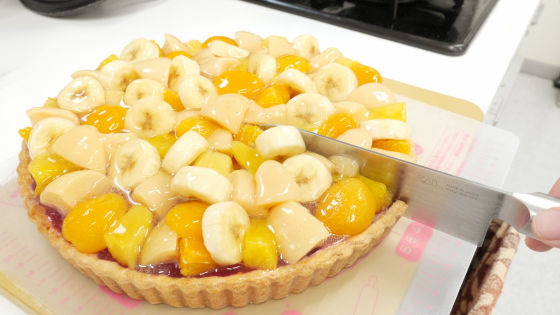 I finished cutting cucumber and tarts.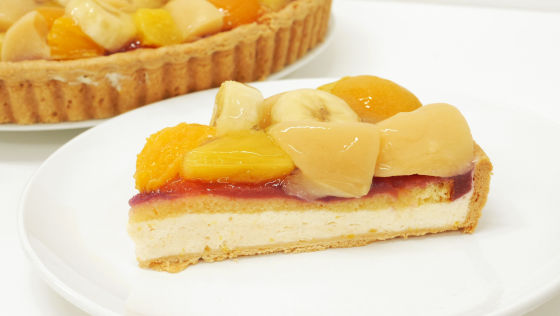 When I cut it, I could see that the red peach jelly was painted on the whole of the tart in the cross section, and found that the sponge dough was sandwiched underneath. A layer with a thick white layer is a mixed fruit mousse.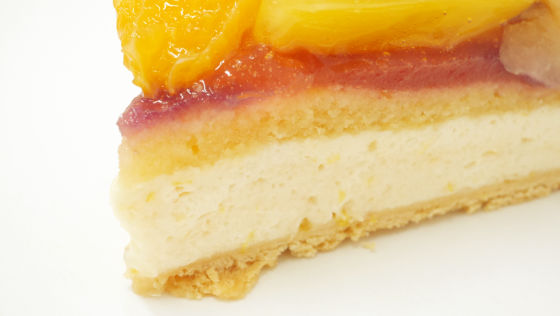 The tart fabric is not like a cookie dough, but thin layers of fabric are overlapping in many layers like pie cloth.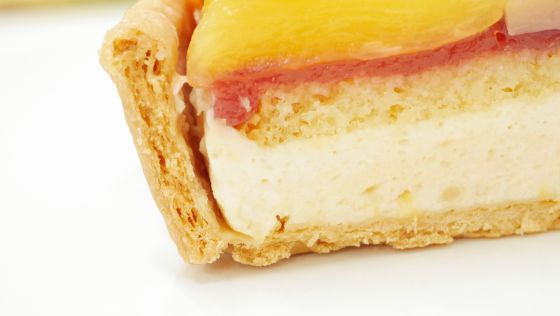 Introduction I will eat the orange that was on the tip of the tart. Vivid fruit is sweet and sour and refreshing taste. There is a slight acidity and bitterness, but you can enjoy the crispy fruit pulp without leaving your mouth.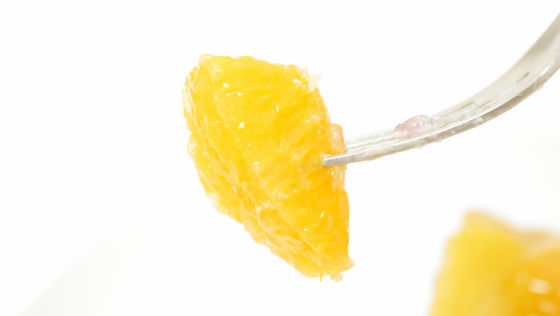 Pineapple is sweet and juicy. When it chews, the juicy juice overflows, and the texture of the texture of jajaku of fiber is made.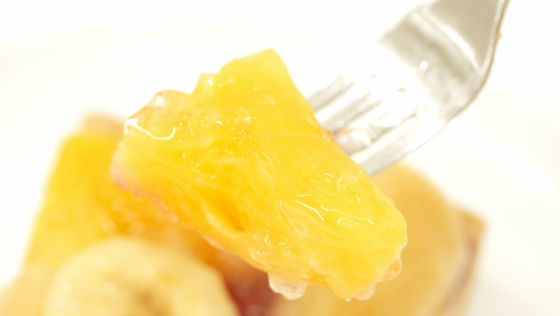 When eating the four-layered foundation part, the red peach juice is a sweet and sour seasoning with a sour on the front, it is accented with fruits and mousses. White mix Fruit mousse is slightly milky and gentle sweetness. With a modest seasoning that does not impair the flavor of the fruit, it has a smooth texture finish. Thin fabrics are overlapped with thin fabrics, crisp and light crisp. The aroma of savory butter and slightly felt saltiness make it sweet.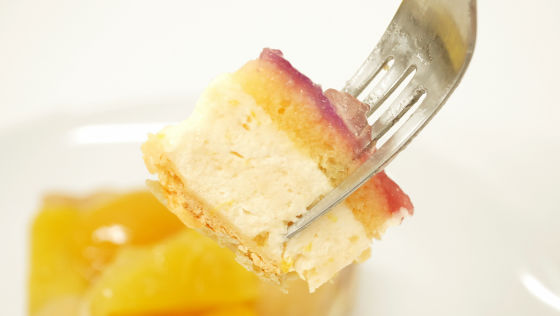 It is a soft texture that peaches seem to be able to swallow without chewing. It is freshly fruit in the fruit, I feel a sweet taste gentle from the pulp and a faint acidity that complements it.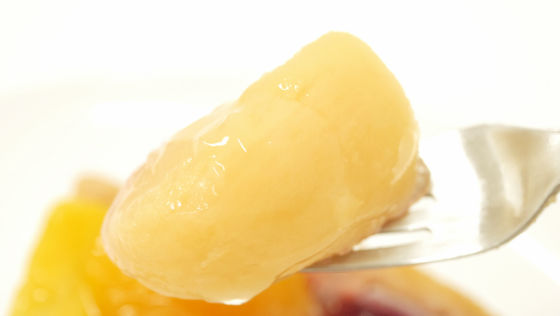 Banana is a straight sweetness with a smooth texture.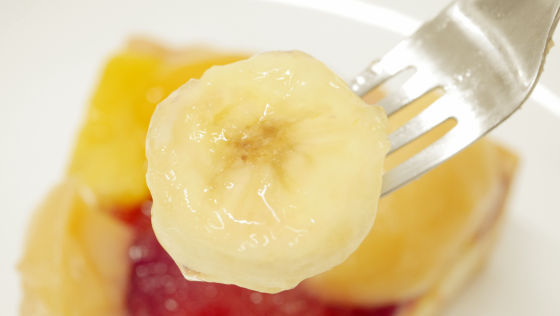 Even if you eat fruits together with a foundation such as mix fruit mousse, it is good. The foundation seems to be finished to grind the taste without losing the flavor of any layer by eating with fruit.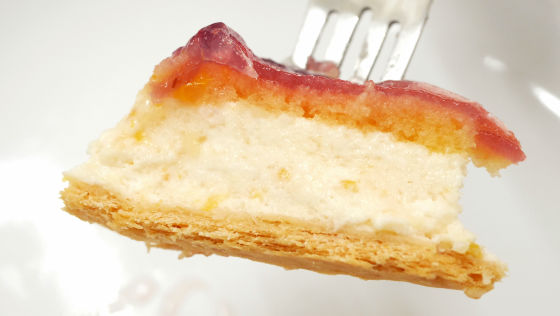 Round and orange fruits were cut in half in apricot.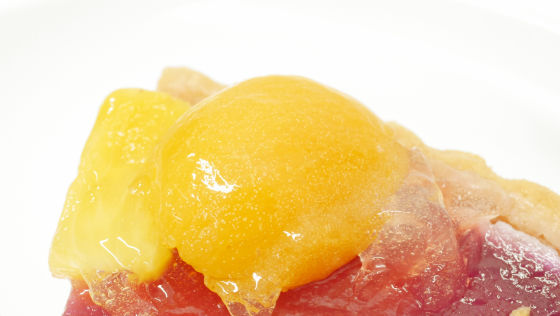 There is the most crispy among the fruits being topped and you can enjoy a sharp texture with a modest sweetness. "Tart of mixed fruit juice of summer" was finished high in quality, such as fruits, mousse, tart fabrics.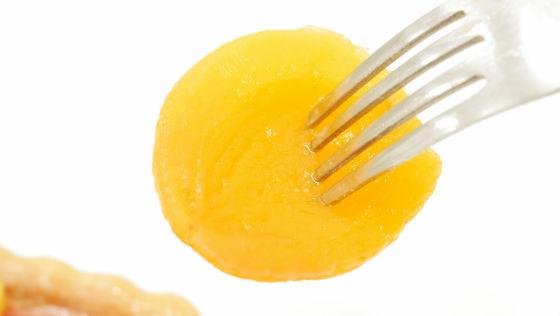 "Tart of summer fruit mix fruit juice" will be offered until 2 September 2018 at the Grand Front Osaka store only menu. One piece 753 yen including tax, 1 hole of 25 cm diameter is 7128 yen including tax. Reservations are accepted on a per-piece basis, but we do not accept websites and reservations by e-mail, so those who would like to get certainly recommend phone reservation.

Granfront Osaka store | Menu | Stick of tarts, cakes shops. Kilphebon
http://www.quil-fait-bon.com/menu/?tsp=19