A plenty of strawberries and ginger of "Hayashime candy" tried to eat "refreshing Kirufebon's" Osaka produced (honey) and taste of strawberries "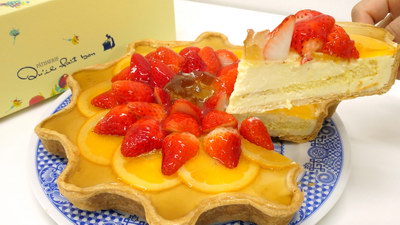 Using the seasonal fruit according to the four seasons "Tart which can only be enjoyed in the current season" is sent out from Kirufebon on Friday, April 20, 2018 for a limited time · Store limited menuOsaka-made (Mont) Honey and rice strawberries tart"Has appeared. This tart is a fruit fruit of strawberries and a drink of hidden famous items in Osaka "HinagishimeIn fact, I bought it and tried it to check the compatibility of the unexpected combination of "Hiragi Ame" and "Tart".

【Granfront Osaka Store Shop & Restaurant 5th Anniversary Limited Items】 Osaka Produce (Mon) Hisashigome and Strawberry Tart | Grande Front Osaka Store | Menu | Attractions Tart and Cake Store. Kilphebon
http://www.quil-fait-bon.com/menu/detail.php?tsp=19&tmn=1333

Kilfevon "Osaka Produce (Mont) Hisashigome and Strawberry Tart" is a Kilfevon store celebrating its 5th anniversary, the Kilfevon Granfront Osaka branch only menu. The Grand Front Osaka store is located on the 2nd floor of the Grand Front Osaka South Building, 4 minutes on foot from Osaka Station, 5 minutes on foot from Umeda Station, and 6 minutes on foot from Hankyu Umeda Station.


So we arrived at Granfront Osaka with Kilfevon Granfront Osaka store.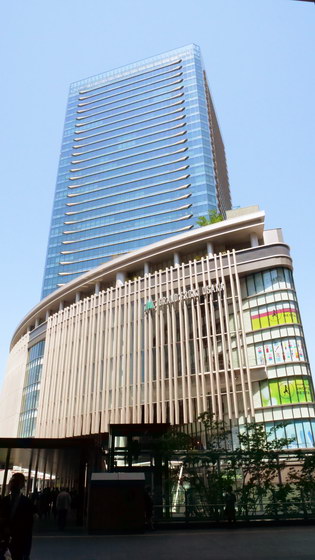 From Hankyu Umeda Station and JR Osaka Station cross the pedestrian bridge, you can reach without having to wait for a signal on the ground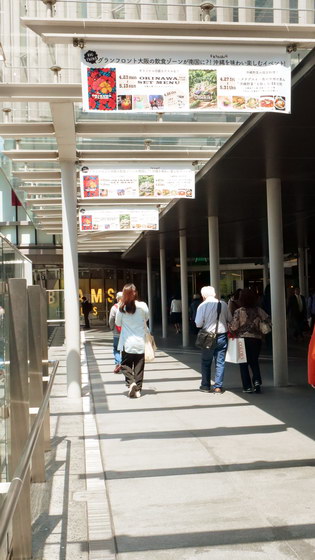 Arrived at Granfront Osaka 's south pavilion 2 floor. The target shop is "No. 15" on the in-hall map. In other words, it is somewhat right in the image, to the north side of the building.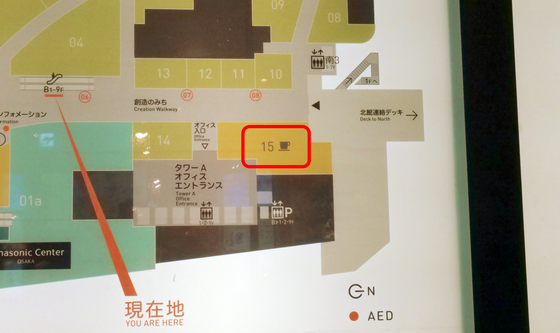 Arrived at Kilfevon Granfront Osaka store.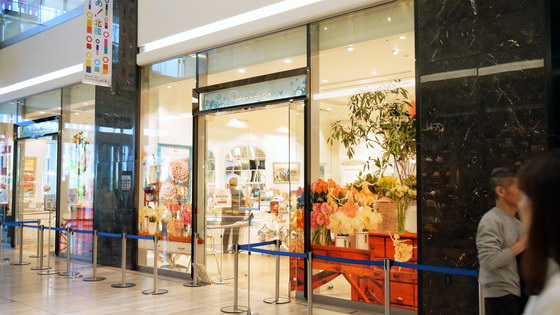 Kilfevon makes tart cakes with seasonal fruits according to the season and storesI changed the interior four times a yearA store of attention. At the timing I visited it was decorated using tulips etc. to imagine a bright spring.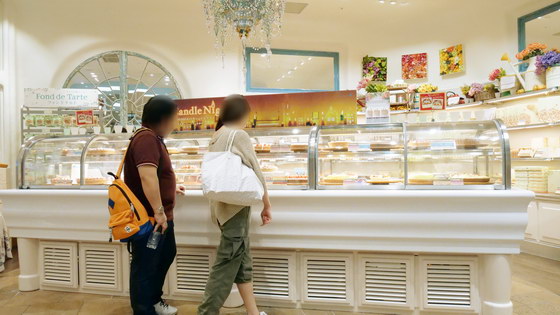 And in the refrigerated case are tarts lined with seasonal fruits.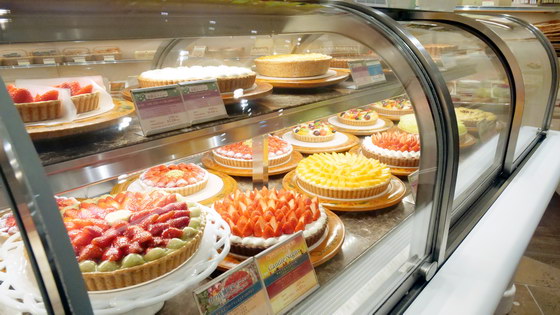 Discovered the limited tart of purpose. The whole tart shines glitter and looks delicious.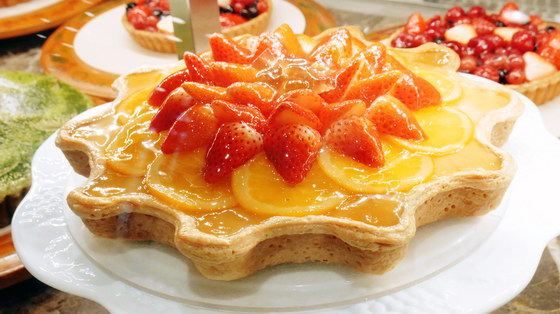 This time we will receive "Osaka Produce (Han) and Strawberry Tart" (1 piece: 685 yen / 1 hall tax included 6480 yen) for one hole so we will receive it from the store person.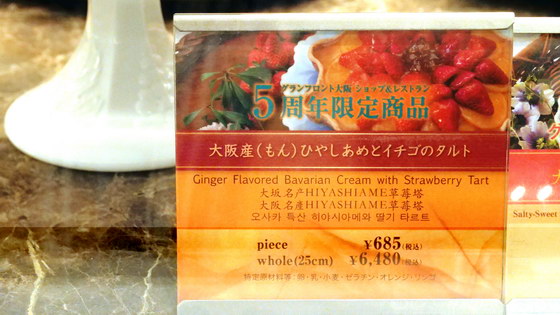 Eat-in is also possible at the Grand Front Osaka store, but this time I bought a hole, so I brought a tart.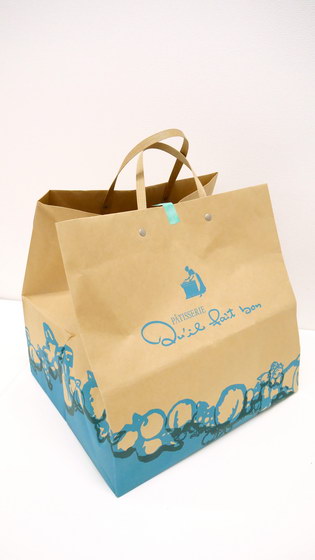 Tart will appear when you open the box.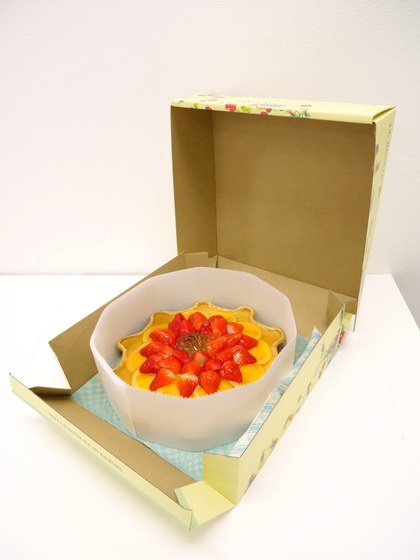 It is held down by a frame so that it does not move in the box, and a refrigerant is contained.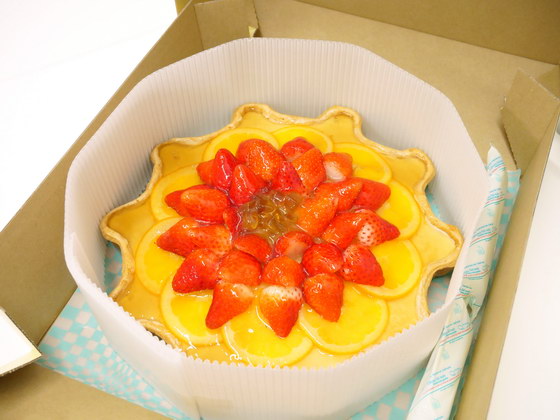 I took it out of the box and tried to transfer it to the dish.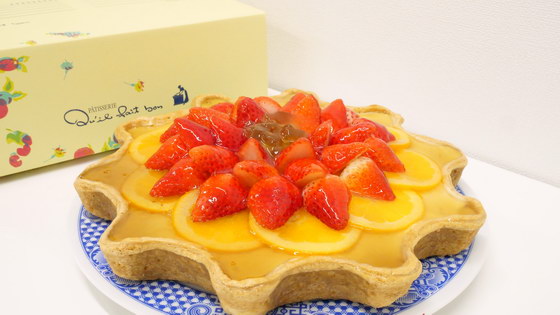 A tart of about 25 cm in diameter is like this when I arrange iPhone 7 with long side 13.8 cm.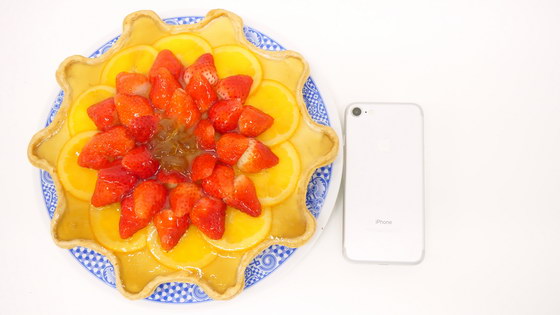 The height including strawberries is about this. The outer pie cloth part also has a height, it is quite solid impression.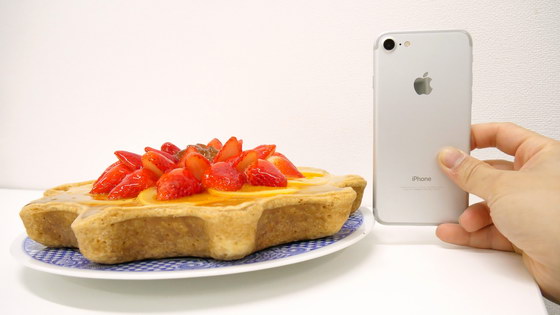 Strawberries and oranges covered with tarts are shiny because they are covered with jelly. However, because the fruit is covered, the smell is slightly felt.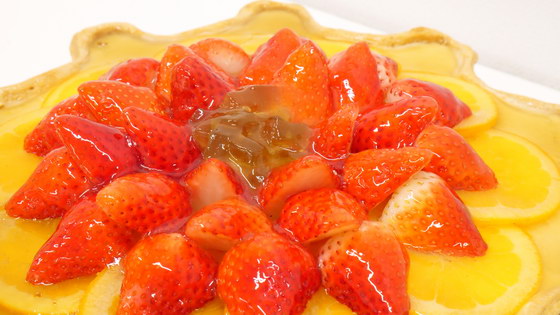 The wall of the base of the tart is like a dam as it is filled with jelly until it is barely visible.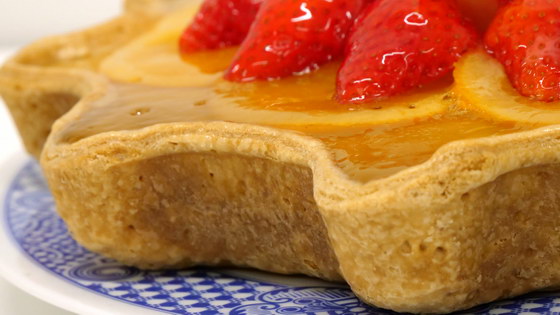 It is used for jelly and mousse covering the surface of tart "Hinagishime"Is a sweet drink that is drunk mainly in the Kansai, using malt syrup and ginger juice. What is used for tart is "Osaka made (Okinawa)" by Osaka PrefectureOpensGot "Hatagaya of catasimoSo, the name of Tart is "Osaka Produce (Mon) Hayashime and Strawberry Tart".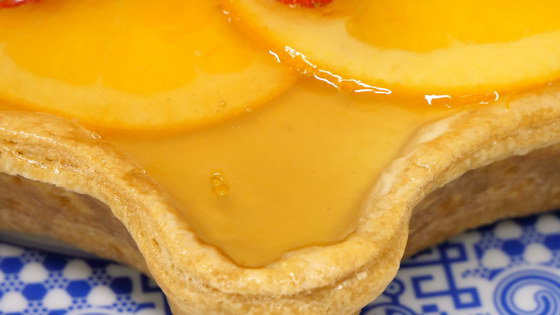 I want to cut the tart of beauty like art work as cleanly as possible ... ... so I prepared a cooking mat with a cut guide so that the hut tart can be cut equally.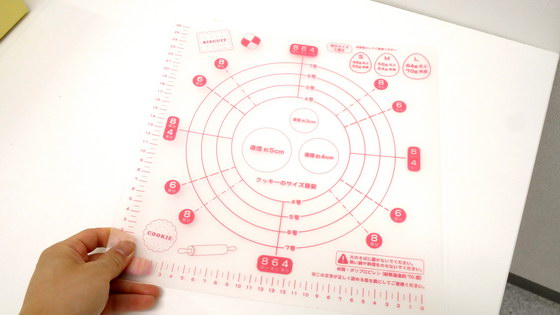 According to a clerk, "to warm the knife with hot water" "to cut down the blade from above" "to clean the kitchen knife with hot water every time you cut" is the point of cutting. Also, it is also important to keep the tart firmly cooled before cutting.



Tart entrance.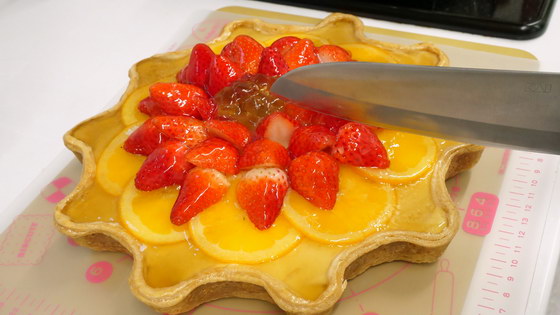 I cut out 1 piece of cucumber.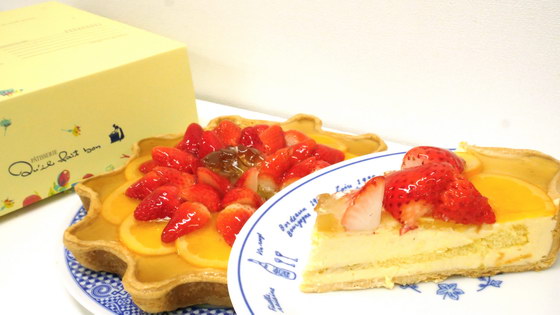 When you cut it the cross section looks good ...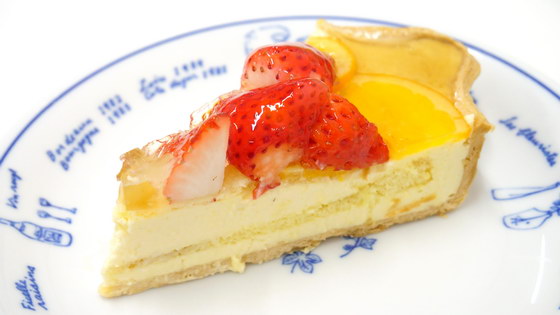 I found that sponge dough is sandwiched between mousse and mousse.



You can see that the tart is filled with mousse to the outside.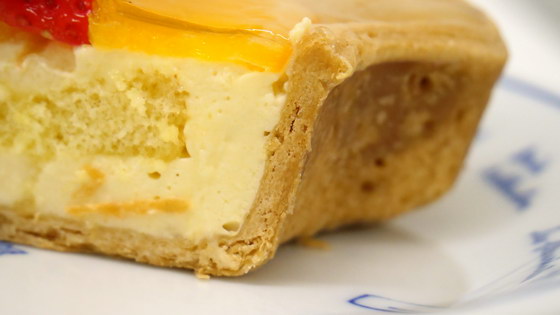 I put a fork straight from the tip, it got soft and entered suddenly. When eating, ginger added to the mousse firstConThe scent of a refreshing ginger is passed through, then it feels like sweetness and aroma like custard. It is a refreshing aftertaste due to the modesty of the mousse's sweetness and the addition of ginger. Before you eat, do you feel the spicy and fragrance of ginger included in chilled rice is intensified? Although I thought, ginger felt it was just right balance because it does not go out too much with the presence presence to support mousse.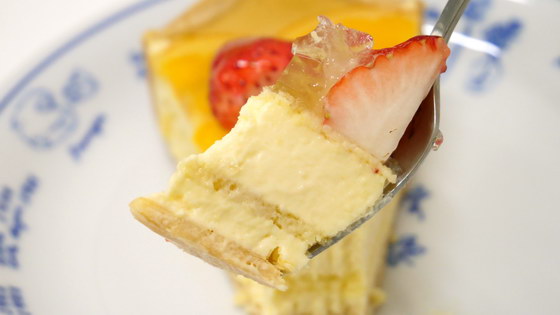 Strawberries are moderate in acidity and fruity. The flesh is fresh and mouth-tight.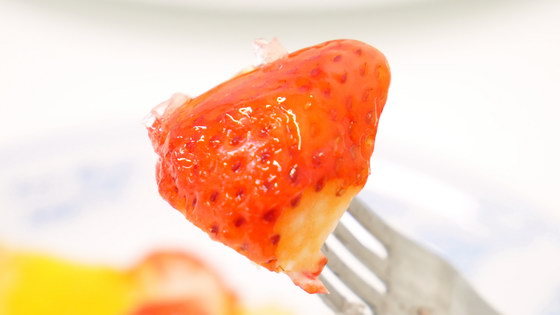 When eating with oranges, sweet and sour bitterness and faint bitterness different from strawberries added a different flavor to tart.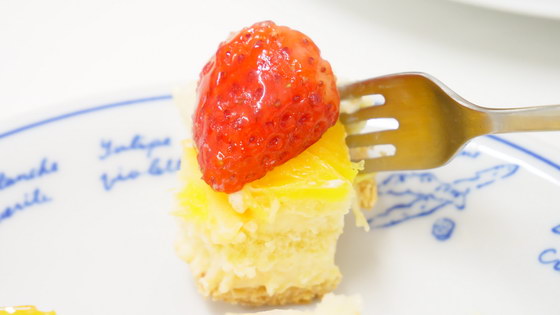 Although the base of the tart seemed to be solid ... ...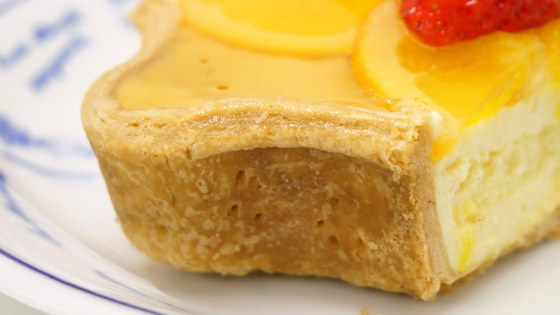 When I try to eat it, I feel crispy crispy rather than cookies rather than pie cloth. The smell of butter and faint salty, appealing other sweet mousse and jelly.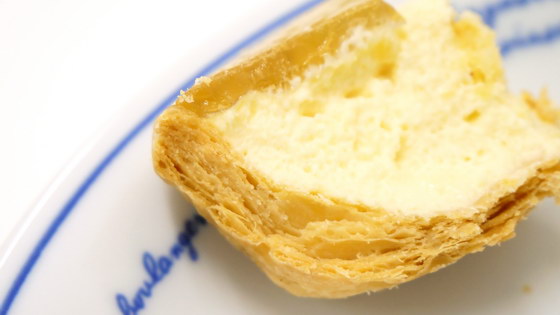 Osaka birth (mun) Hiragame and strawberry tarts will be offered until the 13th May, 2018 (Sun), Grandfront Osaka store only menu. One piece It is 685 yen including tax, 1 hole of 25 cm diameter is 6480 yen including tax. Reservations are accepted on a per-piece basis, but reservations with websites and e-mails are not accepted, so those who would like to get certainly recommend calling the phone.