I tried a juicy tart of Kilfevon that used plenty of peaches like mango 'Peach from Date City in Fukushima Prefecture' Hello in Hell 'and Tart of Sweet Custard Custard'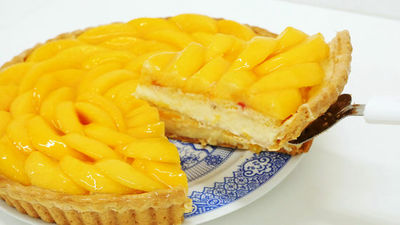 In Kilfebon which sells tarts and cakes that used seasonal fruits abundantly, not only delicious but also beautiful tarts with seasonal fruits have appeared one after another. With such Kilfebon, from September 10, 2018 (Monday), " Peach from Date City of Fukushima Prefecture" Hello of Hell "and Tart of Sweet Sake Custard " appears for a limited time. I was able to taste only this season moving from summer to autumn, and now I tried to eat it as a tart with plenty of peach in season.

【Aoyama · Kyoto · Grandfront Osaka store · Sendai · Fukuoka · Hamamatsu limited sale】 Peach from Date City of Fukushima Prefecture "Hello of Hell" and sweet sauce tarts
http://www.quil-fait-bon.com/mtr/2018_1382.php

"Peach from Date City in Fukushima Prefecture" Hello in Hell "and Yuzu Cookies' Tart" in the hall.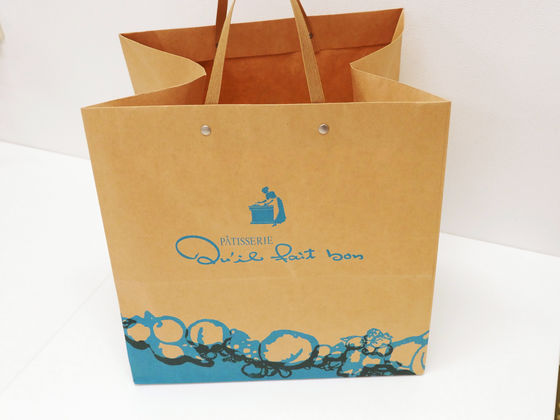 Tart out, the tart box was pale yellow.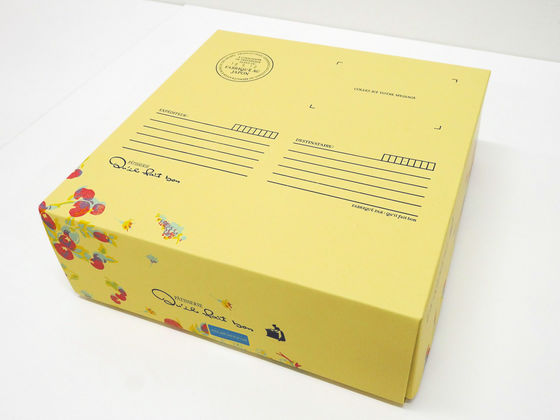 When opening it, a bright tart of peach's yellow color appeared. As you bring your face closer, you can feel a slightly sweet peach scent. Peach is using only new varieties " Yumi no Heart " from Date City, Fukushima Prefecture, who just registered the varieties in 2017. Hell's heart is characterized by flavor like mango and vividness of appearance, good quality of meat quality.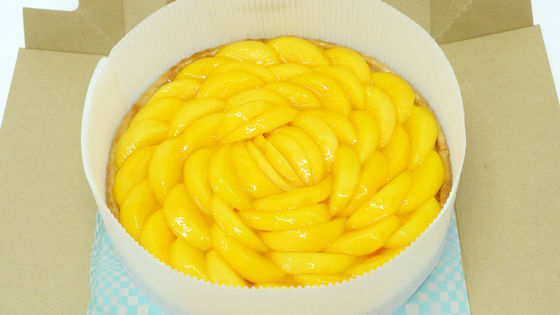 The hole size of the tart is about 25 cm in diameter, about twice as large as the iPhone 6s.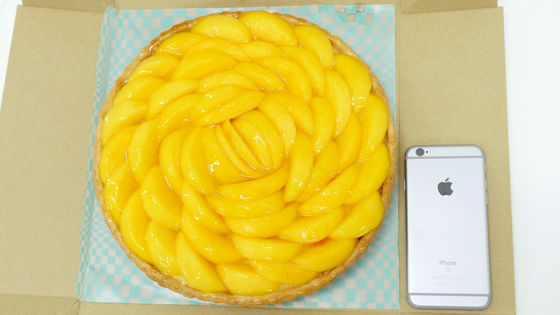 The height of the tart is about 3 cm.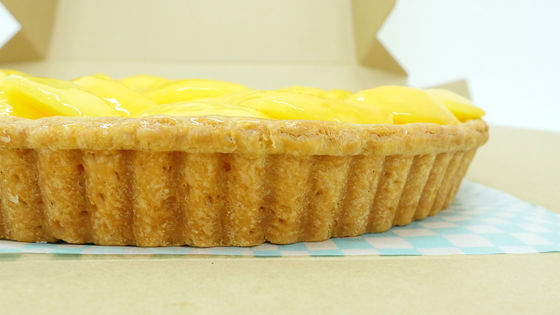 The peach has been cut into a shape that left the thickness, and the fabric underneath has been spread enough so that it can not be seen and it feels like a luxurious feeling. The peaches cut to draw a circle from the middle are lined up and looks like a flower of a circle.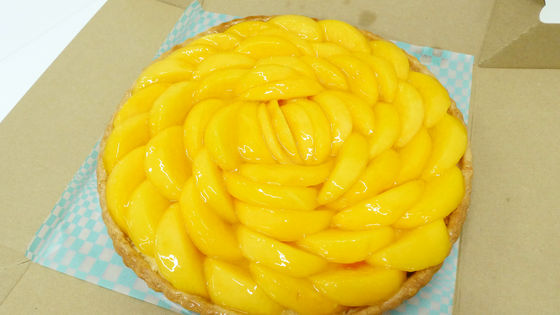 Clearly arranged peaches are coated with gelatine translucent syrup ... ...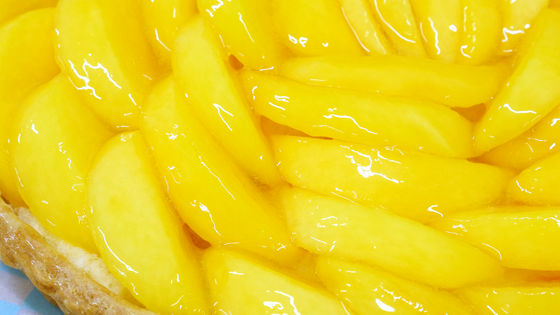 The outside of the tart was baked brown.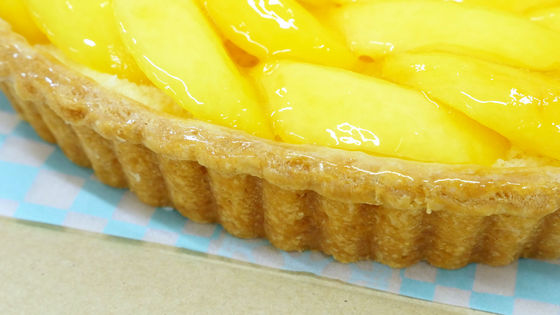 I will cut through the tarts.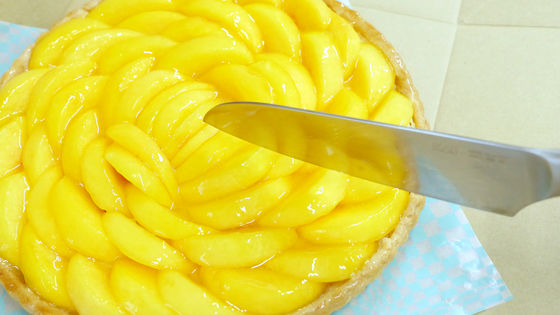 There is a considerable thickness on the peach that stood on the tart and it seems that there are crowded custard creams tightly packed inside.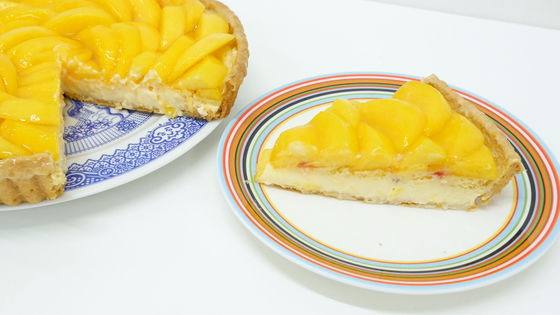 If you look closely at the custard cream, you can see that the cream contains peaches that were cut finely.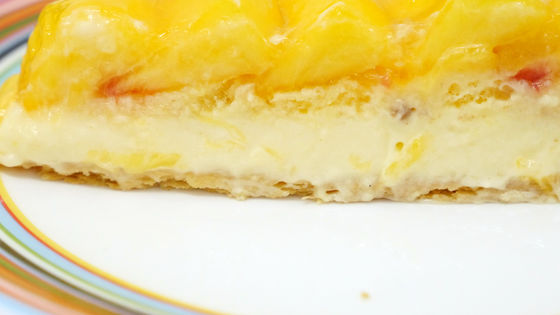 First of all, when you eat only peach, elegant sweetness expands with a soft, juicy texture and it has become exquisite flavor with a slight sour taste. There seems to be an individual difference for each cut in peach, there are peaches that do not feel acidity almost, and some peaches feel a little sour taste. Pulp surrounded by gelatine syrup leaves a gentle sweetness and disappears in the mouth like melting, "It is true that you may be using only the carefully selected peaches".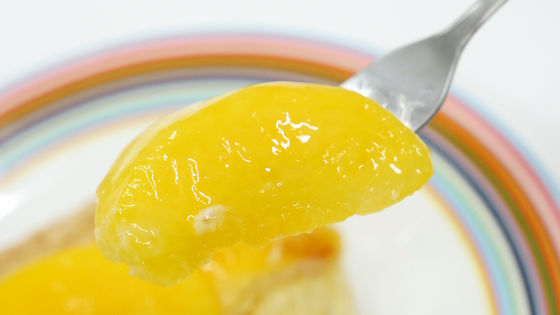 Next I will eat the lower tart fabric and custard cream together. Custard cream with a light texture of crispy tart texture and smooth taste, and fluffy texture of thin sponge fabric sandwiched between fruit and cream, and soft and juicy peach peach can be tasted at once. It is said that sweet sake is used for custard cream, but the fragrance of sweet sake is modest, it felt that it pulls out the taste of peach to the utmost and it harmoniously harmonized.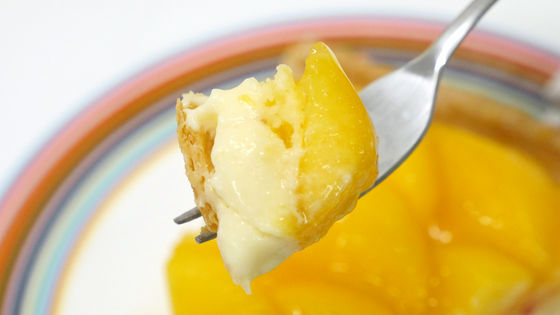 In addition, "Peach from Date City in Fukushima Prefecture" Yellow Beauty Heart "and Sweet Custard Tart" is 798 yen including tax, 25 cm hole including tax 7560 yen. It is a limited menu of Kilphee Aoyama, Kyoto, Grandfront Osaka store, Sendai, Fukuoka and Hamamatsu shop, and it has become a limited tart for about 1 week. Whether we can prepare delicious tarts is also affected by the quality of "Hello's heart" that we purchased on the day, so it is recommended to confirm with the phone in advance.