'GIGAZINE Manga Award' Started recruitment in July 2018 & Top drawing making looks like this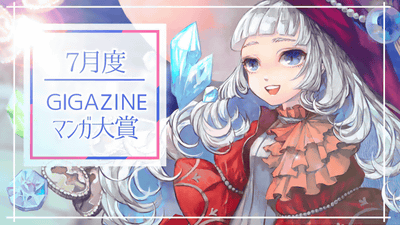 Everyone who is a manga family, everyone trying to become a manga artist, everyone who wants to make manga, and a screenplay idea, " GIGAZINE Manga Awards " for all creators have been recruited for this month. In July of 2018, the footsteps of the hot summer are heard earlier than usual, but we are waiting for the work losing and defeating under the sun shining strongly.

Selection of the manga grand prize is done at "GIGAZINE Secret Club (GSC) · Closed Review". Those who are members of the GSC members, as well as members who are not yet members, are definitely a member of the GSC and should participate as a judge of the manga grand prize. Register to GIGAZINE secret club from here .

◆ Click here for "GIGAZINE Manga Award" guidelines
I have already read the application guidelines so I applied for it anyway! Please apply from the application form .

Click here for the original screenplay application guidelines
If you are planning to apply in the form of novels or screenplays, please read the application guidelines from the link above.


◆ July 2018 GIGAZINE Manga Awards Top Illustration

Top view illustration was given to Mr. Arisa . I feel the power of manga that you can fly anywhere freely, as a witch child who jumped out of a book draws a trace of the seven colors in the air.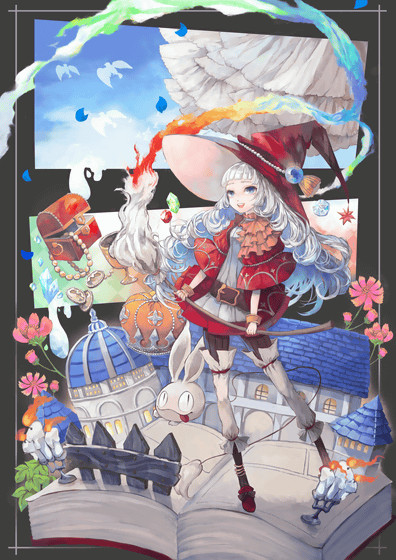 I got a comment from Ms. Arisa .

Nice to meet you.
This time I am honored to appoint you as the top illustration of the GIGAZINE Manga Award.
While living normally with a cat, I am doing work on illustration and game UI production.
The top illustration of this time was drawn with a fantasy taste,
I like this fantasy world view, clothing, and decoration very much, so I put these illustrations in HP and Pixiv, too.
This illustration is also a piece that I could draw so fun, so I'm happy if you can see it to the end!


The following will be making.

Here is what I gave you a rough idea. "This time it was an illustration for the manga grand prix, so I wanted to express exciting feelings when turning over the manga page, I also love diorama figures such as vignette, this comic award winning prize Because I thought that it would fit the image to the illustration, I also brought up a rough combination that too.The rough work that assembles these elements is the most enjoyable time. "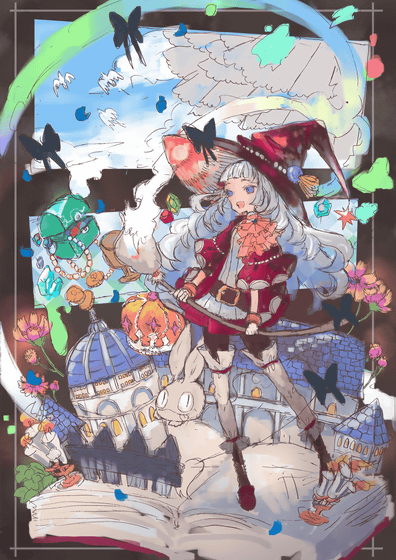 Yes "This time there are a lot of accessories, we decided the approximate color at the rough stage, so we will start painting work at once, if you do not decide the shape of your face and hair first, So I will advance these two points first.The face is particularly time-consuming, so while proceeding carefully, I am proceeding with work while thinking that the A line silver hair longest is the best (lol) "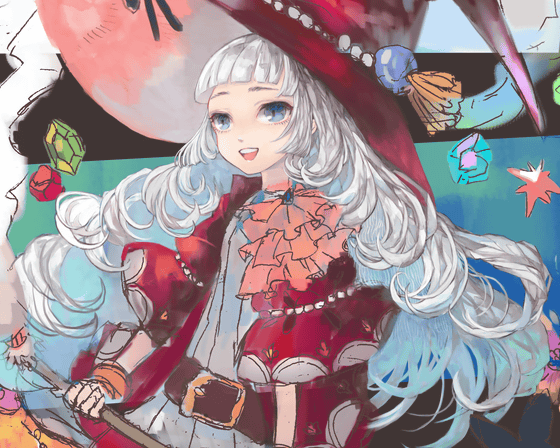 Yes "Since the face and hair are decided, I will also apply clothes as it is.I like to paint red.The work of painting clothes in the person was the most enjoyable.In the rough, patterns and decorations are on the clothes I have more, but once I keep the accessories as it is. "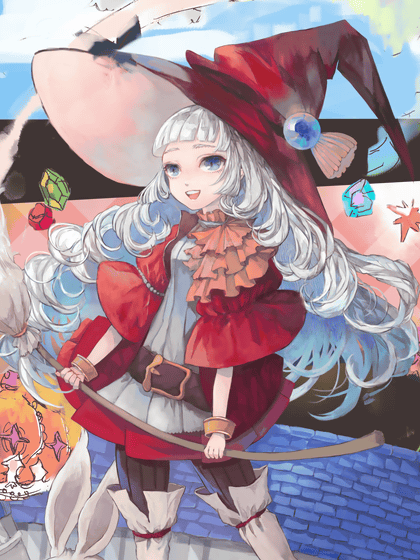 Yes "Since I drew from the face to the bottom in order, I will also make buildings and mascot characters as they are.Variettes will be produced if they are fan shaped, so I will make curves more conscious than usual."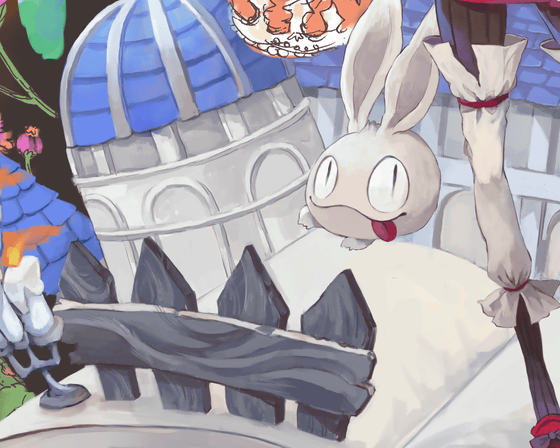 Yes "I will draw crowns and treasure chests and other small items, and at this stage I changed the color of the treasure box, which was green at the time of rough, to red"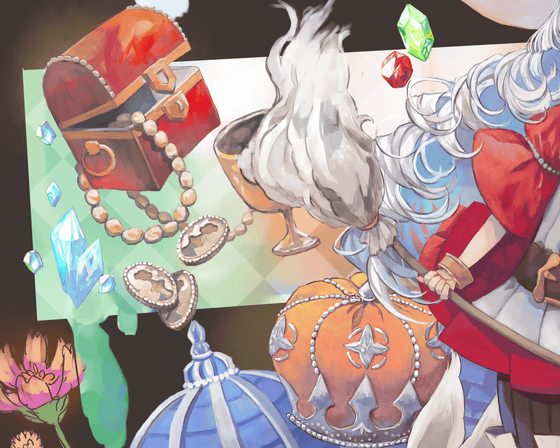 Yes "I have been able to draw in the whole. I decided most of the color at the time of roughness, so it was good that the progress made without hesitation led to shortening of the result as a result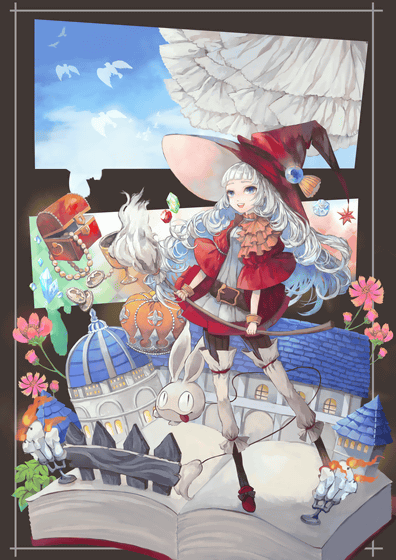 Yes, "While adjusting the shadow of the details, I will add paint to the broom of the witch.Whenever I draw, I feel that my comic is really a dream, I can not stand it, I can not endure anything, some comic I have read and fished. "



Yes "Add small items and patterns to the witch's clothes and scatter the petals throughout the screen.If you draw the small items of clothes at the end, you can take it carefully because it makes you feel like finishing at once. Keeping the enjoyment in the picture in the last person, drawing it there will be a rewarding feeling, so I can paint it fun till the end. "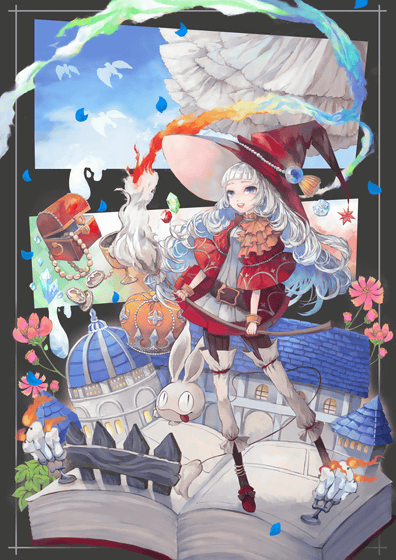 Yes "Finally it is finished adding a little more shadows and fine tuning of saturation. Thank you!"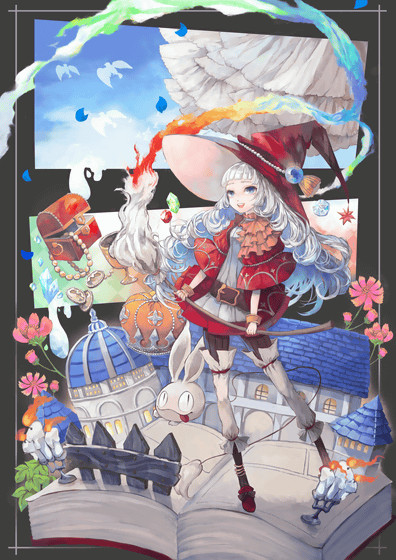 ◆ Top awards for the Grand Prize recruitment posts · Illustrations wanted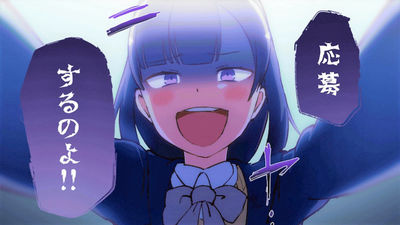 I am seeking illustrations of "Top Painting" as published in this article. Please check the application guidelines of this article and contact us from the following self application form.

Click here (please select "Top picture / illustration of GIGAZINE Manga Grand Prize recruitment article" as the first option)

The top picture and making of past manga awards articles can be viewed from the following.

"GIGAZINE Manga Award" March 2018 Application guidelines & top drawing making something like this - GIGAZINE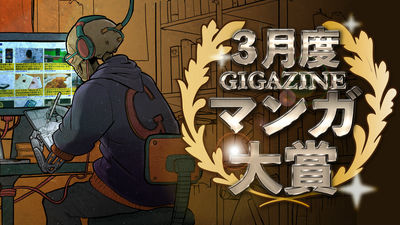 "GIGAZINE Manga Award" recruitment for April 2018 & Top drawing making something like this - GIGAZINE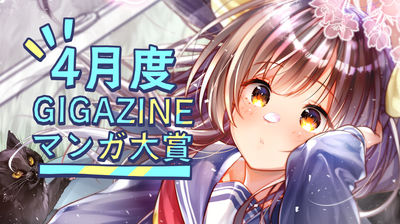 "GIGAZINE Manga Award" Started recruitment in May, 2018 & Top drawing making sense like this - GIGAZINE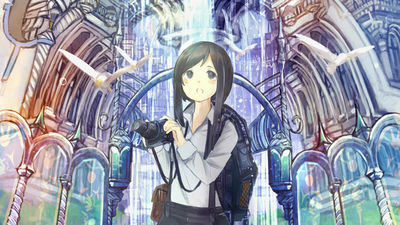 "GIGAZINE Manga Award" Started recruitment in June, 2018 & top drawing making something like this - GIGAZINE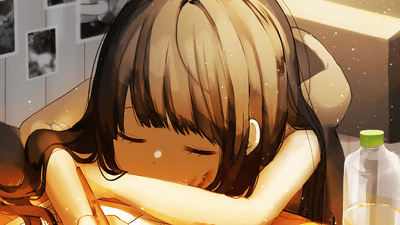 ◆ "GIGAZINE Manga Award" Guidelines for Application

· Basic condition:
· Premise that it can be read by smartphone (faced pear, vertical scroll standards)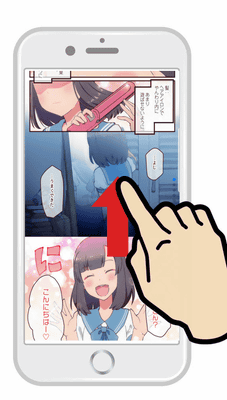 · Full color · Full digital (In black and white, treat it as "original")

· Completed manuscript of "First episode" freely in genre and its making material . Making material includes character design · color setting · name · under drawing. Of course there are also applications from the first episode to the last episode.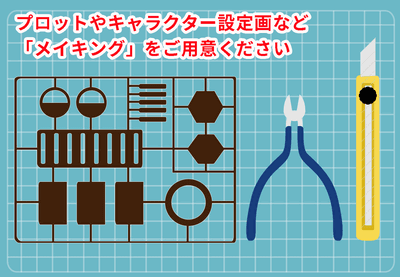 · Original format:
Please refer to " Princess and gamer " aspect ratio, file size and resolution.

· Number of originals:
freedom. Any number of pages OK.

· Others:
· I will do various procedures so that I can clear even a minor age at the time of winning

· Primary creation already published by other media and platform by myself OK

· Although it was published in a magazine, it was OK but it was okay that it was not made into a book or it was terminated by some circumstances on the way. Please do not give up.

· "Only drawing" can show the URL of the portfolio and collection of works OK. For the passing of the 1st stage examination, we ask you to actually draw by trial original in the 2nd stage examination, after passing, we will turn it to the final stage of the vote review by the GIGAZINE secret member.

·The deadline:
Tuesday, July 31, 23: 59: 59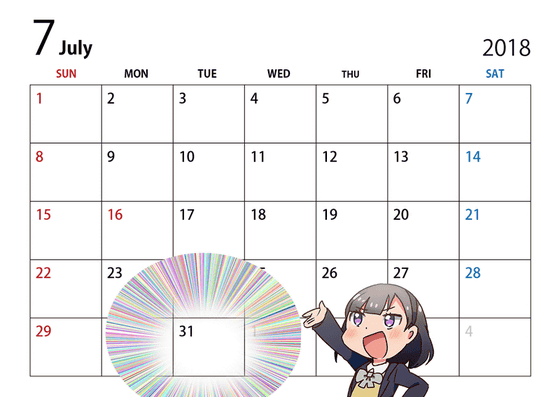 · Review process: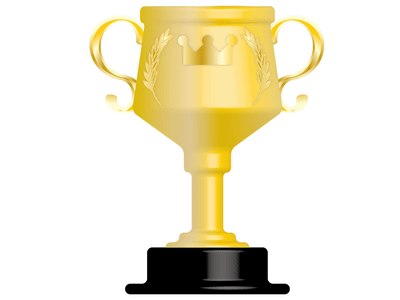 After the primary selection by the editorial department, the following review process is scheduled.

Phase 1: Evaluation by closed environment that only GIGAZINE secret club members can view + Evaluation including making materials by editorial department ↓
Phase 2: Add necessary items such as "Plot up to the final story" After reviewing, review by the editor-in-chief. Looking at the potential of being able to draw until the end, if it can be determined that it will run to the end, it will be the final stage advancement.
↓
Final stage: Posted on GIGAZINE, score evaluation from access analysis result by GIGAZINE reader + score evaluation by GIGAZINE secret club member + score by the editorial department Determination of award winners

· Prize money: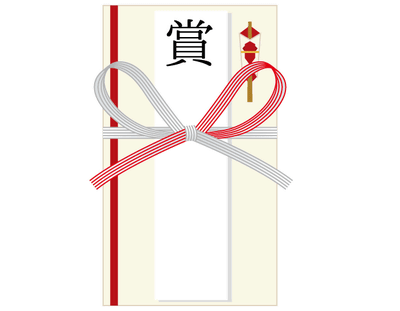 First of all, we receive a prize of 10,000 yen for all incentives to all the members who passed through the first examination and were selected as the first stage.

Next, a prize of 20,000 yen was awarded as an incentive to all members selected in the second stage.

And when it was selected as a prize winning work at the final stage, we awarded a prize of 100,000 yen.

※ Total amount of prize money is included in category not taxable, so minors should be okay, you can win. Even if there is no bank account, we will manage.

· Flow after winning
After publishing in serialized format with GIGAZINE, it will be converted to electronic books and sold on Amazon. We will pay the prescribed manuscript fee and royalties, respectively. GIGAZINE is responsible for selling and promoting e-books.

· Question acceptance form:
If you have any doubts about applying , click here to contact us if you have any questions. If similar questions continue, we will summarize it as a FAQ, so please understand and cooperate.

· Manga Awards Application Form:

Click here


◆ Original Writing Guidelines

· In addition to the first episode manuscript, please prepare plots from 1 story to the final story.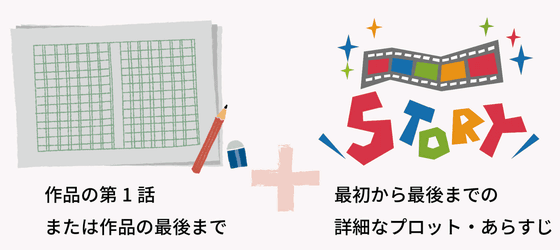 · In the first judging we will see the interestingness of a simple story and the completeness of one story. In the case of proceeding from the second judging to the final judging, we will judge "whether you can constantly create a script of the writing by the final story" that was conscious of actually creating the original manga.

· In the case of "only original" with a letter only, it is okay to paste the text in Google Doc and then write the address of the shared link on the application form. In that case, please do not edit the document after the application.

Click here for application form

Well then, we are waiting for the creators' entries from the bottom of my heart. Thank you.