A comprehensive manga application 'Young magazine' of 'Young Magazine' which can be read for free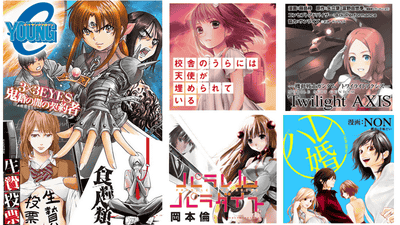 In the manga application " e Young Magazine " released by the editorial department of Young Magazine (Yang Magazine) in collaboration with the novels posting site " Ebrisa ", Yang Maga's noteworthy works are serialized on business trips, as well as popular novels by Evista Works that were drafted as a draft were serialized, and it was a highly specialized app that was overflowing with Yanmaga Taste.

e Young Magazine | If Free Fiction Evista
https://estar.jp/_editorial_group?key=ym_pirates

"E Young Maga (Free Manga)" on the App Store
https://itunes.apple.com/jp/app/yangumagajin-hai-zei-ban-gong/id896645147

e Young Magazine - Apps on Google Play
https://play.google.com/store/apps/details?id=jp.everystar.app.label.ympirates

From the store page, tap "Install"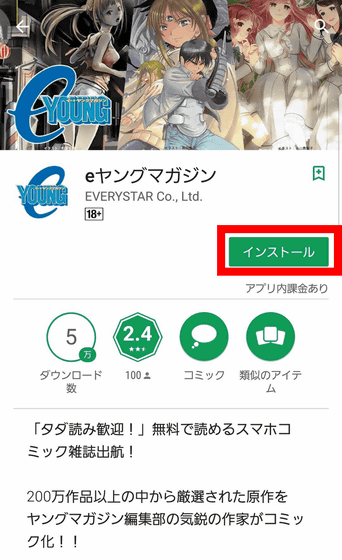 Tap "I agree" to start installation


Tap "Open" when installation is completed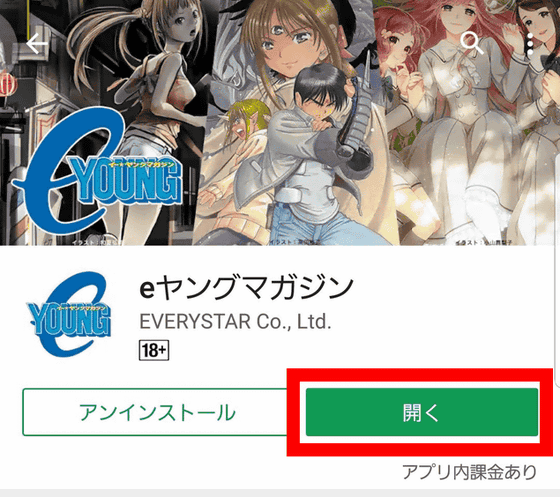 e The top page of Young Magazine looks like this. The published works are arranged in the order of the update.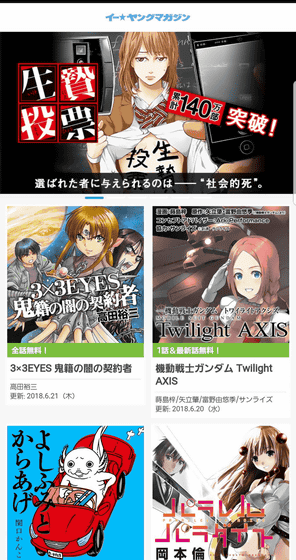 Even if you scroll down the top page, there are no ranking or other content, there are not too many 50 titles combined with the completed number of works.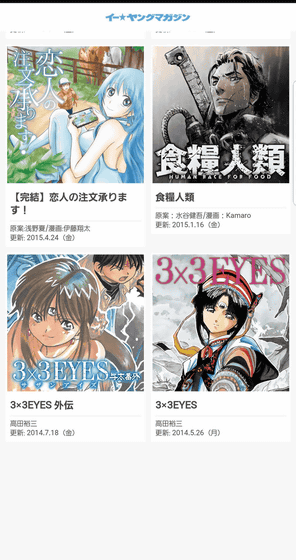 Young magazine has three kinds of magazines, "Weekly Young Magazine", "Monthly Young Magazine", and "Young Magazine Third", but only 3 of the works posted in the application at the time of writing the article, "Young Magazine's Work Rather than "an app that can read the works of Yanmaga Taste" rather than "an app that can read". Tap the thumbnail of the work and go to the work page.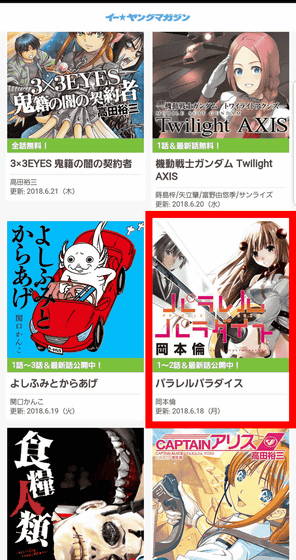 Weekly Young magazine's "Parallel Paradise" is always free for episodes 1 and 2, the latest story is released free from the magazine one week later. The latest story was only browsed in one week, and it became specification which can not be read back even if it touches past the period. Tap "Read 1 episode".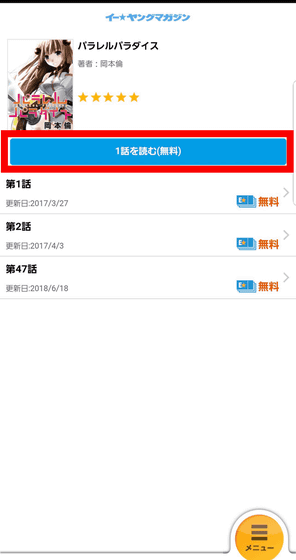 e Young magazine's viewer is a scroll type vertical scroll ... ...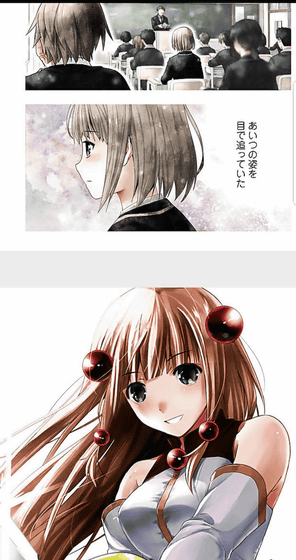 Not all the episodes are displayed, scroll to some extent and tap "Next" to move the page.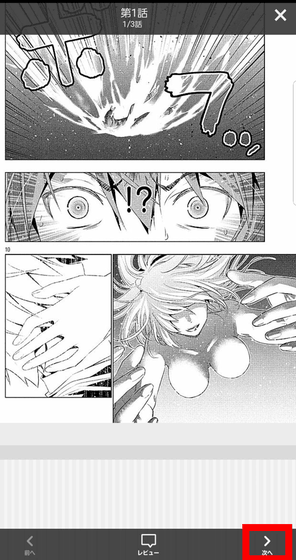 You can move to the next page and read in the vertical scroll in the same way. This is inconvenient anyway, both the advantage of scrolling scroll scroll and scroll of page scroll can not be read carefully, both of which have no advantage of being able to read the scroll of page scroll, and because the reading at the time of moving the page is not so crisp, I am irritated that "I want to read it quickly" Even getting it.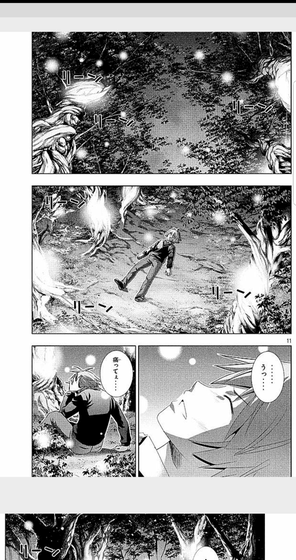 There is no menu icon on the top page, but you can move to the menu from the work page. Tap "Menu".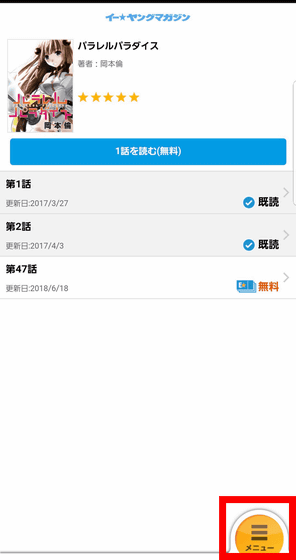 If you log in with Everysta's account, you can share the content with multiple terminals, but you do not need to register basic browsing or purchasing. Tap "Bookshelf".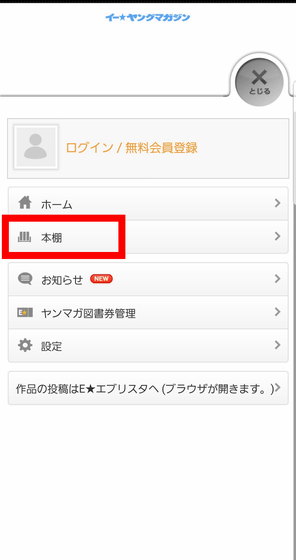 Since you can check the work you have read in the past from the "Browsing History" tab, you can check frequently read works here if you check for updates. There is also a "favorite" tab on the bookshelf, but there is no way to register as a favorite from the work page. If you have some people who discovered "I can be registered from here to Favorites" here and give me a tipster from.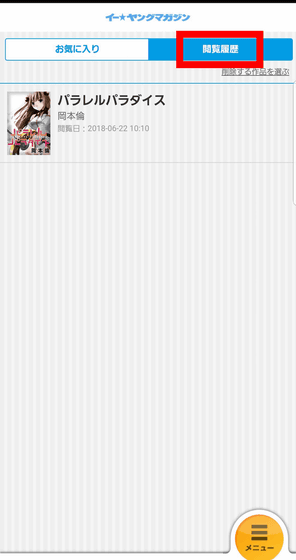 e The Young Magazine has three types, "First few stories and the latest talk are free (others are private)" "Only the first few talks free (after that, purchase tickets)" "Entire story free". Only "the first three episodes" is always free for "Vote Vote". Tap "Episode 4".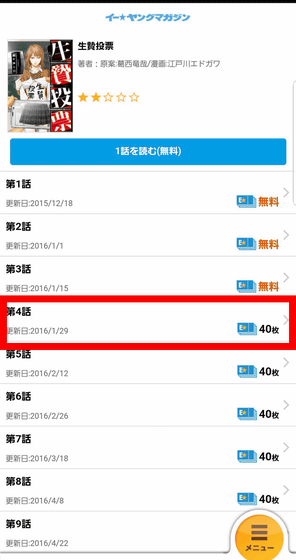 "Yanaga book tickets" are necessary after the fourth episode, but if you tap "Read for free", you can read your favorite works for free for one episode one day. Although it is not enough for only one episode a day, you can completely enjoy reading for a while as you read carefully. However, it is necessary to be careful not only the works that post all the number of stories.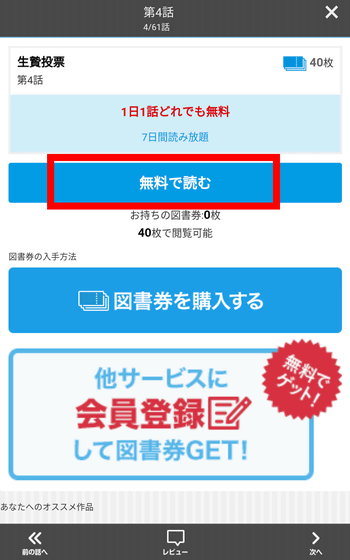 If you want to read more than one episode a day, tap "Purchase a book ticket" and go to the store page.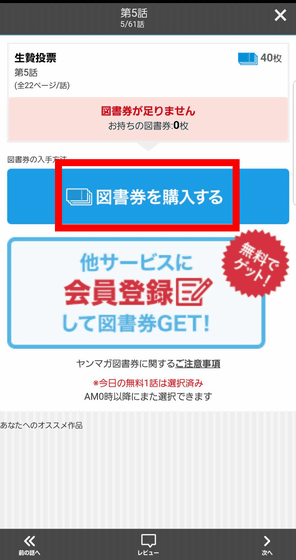 "Yanmaga book tickets" can be purchased from 100 sheets with 1 piece = 1 yen.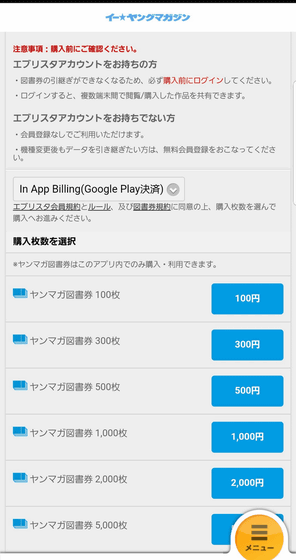 e Young magazine has many things insufficient, such as the fact that the number of serial works is not so much, popular mediaized works of Young Magazine such as "Higishigashima", "Minamike", "Minami-chan" want to talk "are not recorded at all , The most inconvenient point is that reading is long anyway. We opened the top, loaded it, opened the manga viewer, waited again, took the page after the transition, took the time and returned to the top and loading again, there was the impression that I was kept waiting anyway. It may be inconvenient for people who usually read crispy web comic books or comics comics.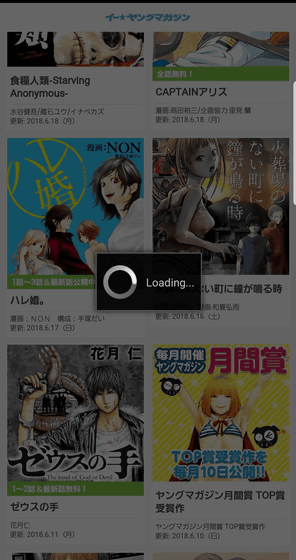 As the editorial department of Young Magazine is working directly, since the work of e Young Magazine is solely "Yamagamasashi", you should be able to enjoy it as a supplementary application that Yanmaga fans use additionally. Although there are not many numbers yet at the time of article creation, since you can read the latest story series serialized by Yan Maga free of charge one week later, It is also recommended for people who are concerned about the latest story though it is faction. GIGAZINE reviews a lot of manga applications, but if you have a suggestion like "Recommended here for this application" please send us information from here .