Vietnamese edible rice oil, I tried various kinds of dishes "SATE TOM (Satte Tom)" which can enjoy shrimp umami and spices just by putting it on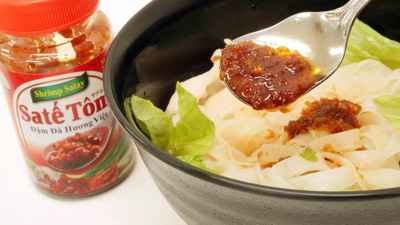 Asian ethnic cuisine has a unique charm such as "fresh scent of lemon grass" and "rich shrimp umami". However, it is difficult and time consuming to prepare yourself such as herbs, fish sauce, and a large amount of shrimp juice. In such a case, at Amazon, "Vietnamese Eat Lara"SATE TOM(Sat · Tom) ", it is a full-fledged ethnic-style seasoned with" just putting on ", and fried rice and others are seasoned with ethnic style so I tried it for cooking.

Amazon | # 582704 Eat Vietnamese Oil Sat · Tom 100 g × 3 pieces set | I GM | Larcenes mail order
https://www.amazon.co.jp/exec/obidos/ASIN/B071CMH6LS/


Everyone,
"Xin chao! Vietnamese" Have you ever eaten for?
When you put in a satellite, it is very delicious.
Are you recommended?
Shopping:https://t.co/bffjKLoLdk#Vietnam#FourSatompic.twitter.com/2swK0wzzQL

- Xin Chao! I gm of Vietnam (@ igmcorporation 1)March 23, 2016

This is the Vietnamese eatable rice oil "SATE TOM". Amazon has set as 3 set including tax 1343 yen.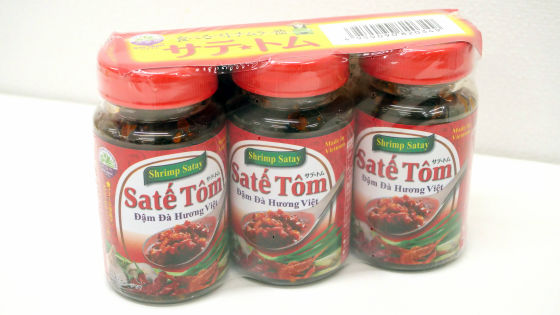 There is a catch phrase easy to understand, "Vietnamese Oil to Eat" on the top.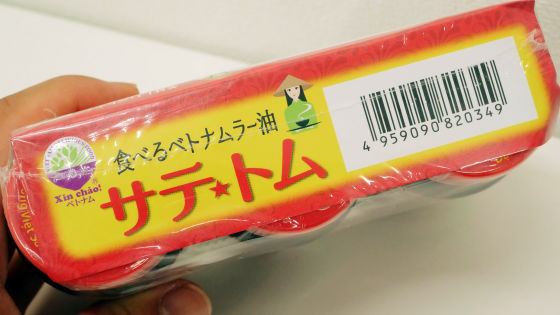 On the back is that if it is added to "FOUR" as an application, it will change quickly to ethnic taste when it is multiplied to "authentic taste", "fried rice".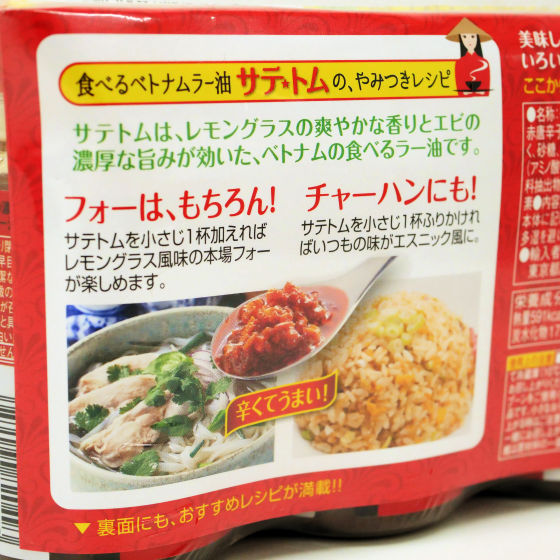 Other uses are described, and it is perfect for curry · fried tofu · chill (Haya-yako) · egg-cut rice. This time, I will add "Vietnamese Four" and "Fried Rice" and "Frog".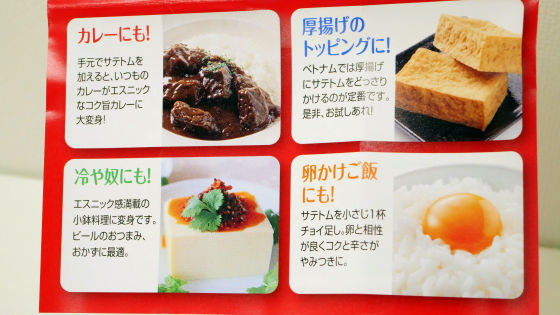 The size per one is about 9 cm and it is almost the same as the traffic IC card (long side 85 mm).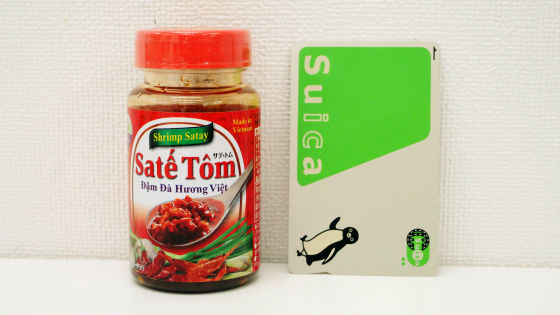 Under the phrase "fresh aroma of lemon grass and rich umami of shrimp, it is Vietnamese eating alcohol" is a featured note as "noticeable", "If you are not good at it, please be careful" It is described as "to eat after mixing well" and let me anticipate strong harshness.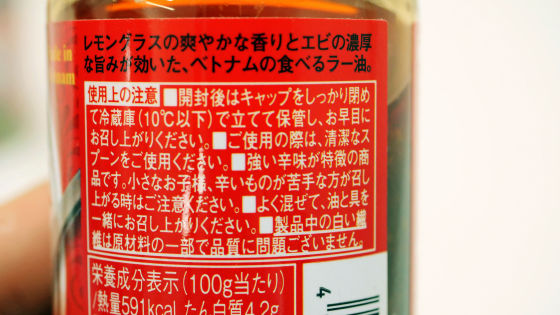 Contents amount is 100 g. Raw materials are "soybean oil" "red pepper" "lemon grass" "Garangal"Fish sauce" "dried shrimp" "garlic" and other things that are often included in ethnic dishes are listed.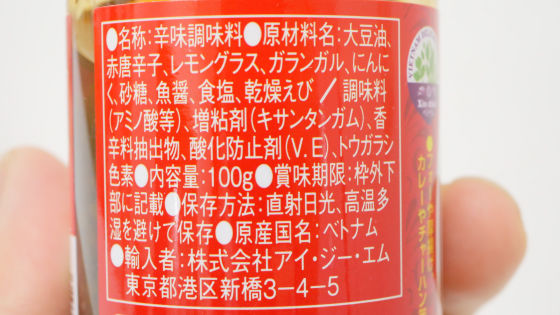 Heat quantity per one is 591 kcal. Salt equivalent is 5.1 g. With 1 teaspoon of 5 cc, the calorific value is about 30 kcal and the salt equivalent is about 0.25 g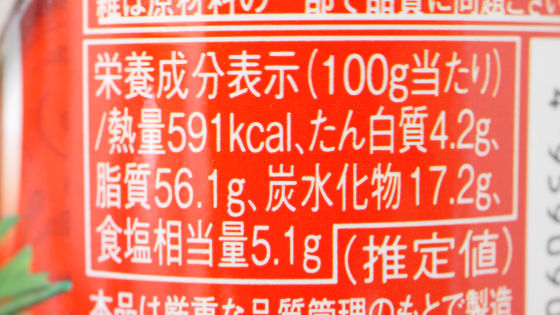 When you remove the lid, there are inner pigs to keep freshness.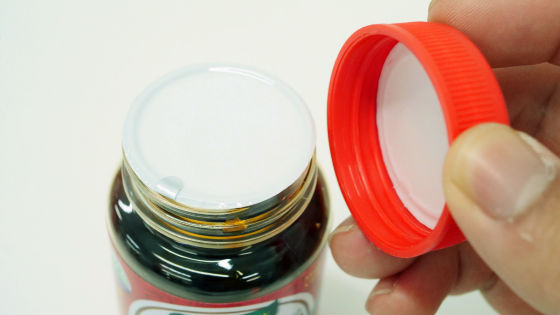 Sato · Tom which separated into inner oil and contents when peeling inner pigs appeared. There is a scent of shrimp and exciting spices.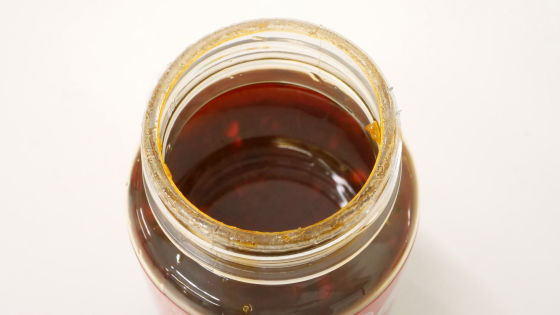 If you scoop it with a spoon and scoop it up, you will see numerous fine items like fried oil like rice oil.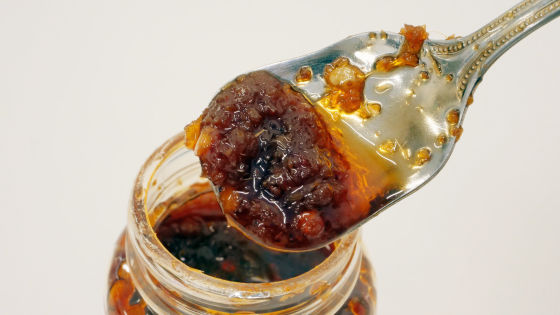 After transferring it to a dish, it looks like a real oil to eat.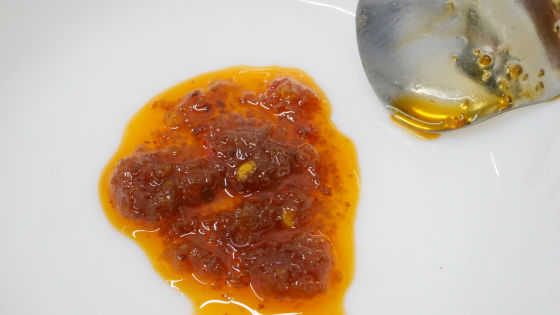 When you taste a little, scent, umami and spicy are concentrated in junk oil and ingredients. As soon as I feel lemon grass, rich shrimp and garlic fragrance, then sweetness and shrimp umami, I feel fierce pain.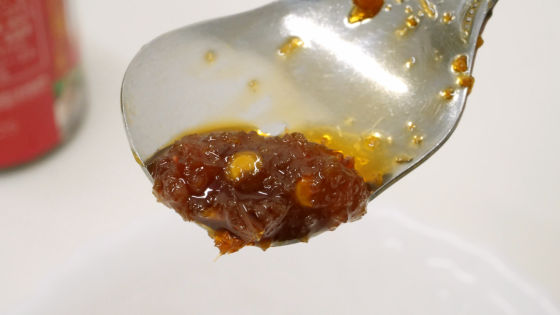 ◆Four
Next I will try cooking, this time I will put Sat · Tom on ready-made food. As for the ace cockChicken foamed forUse.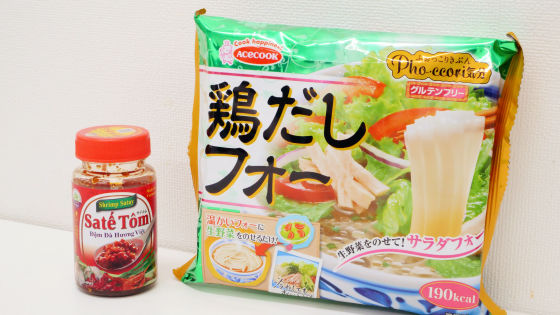 As a topping, put the salted chicken and sunny lettuce on it.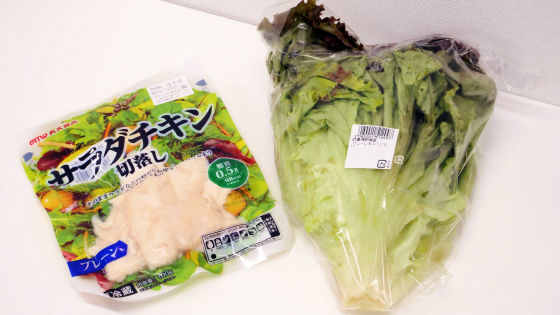 Prepare hot water ......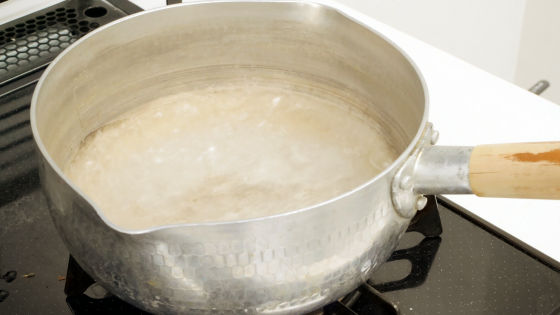 Successful completion.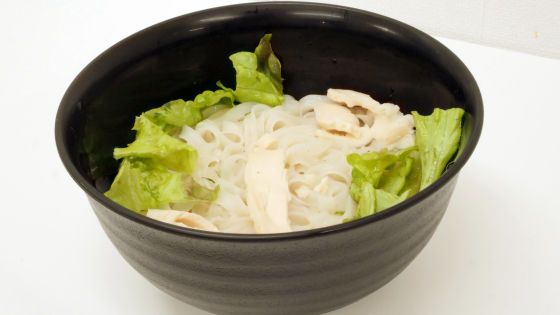 It is a simple seasoning with a soup stock, and it is confirmed that there is no strong spice such as lemon grass and a strong presence such as red pepper.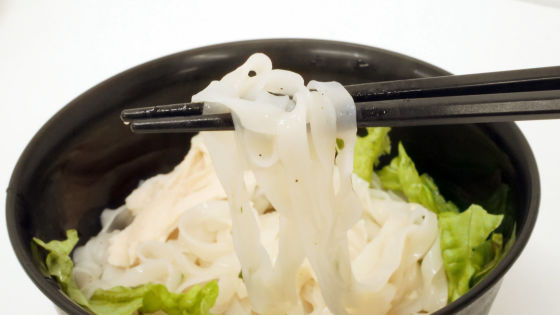 When I checked the taste, I added Sat · Tom.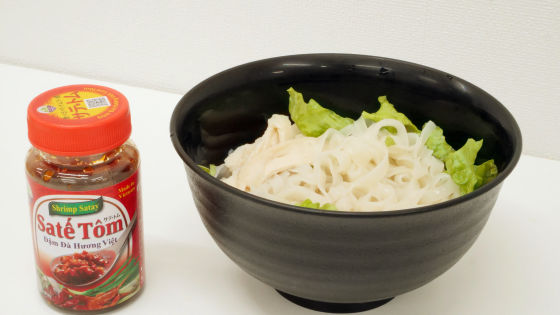 Mix well with a clean spoon ......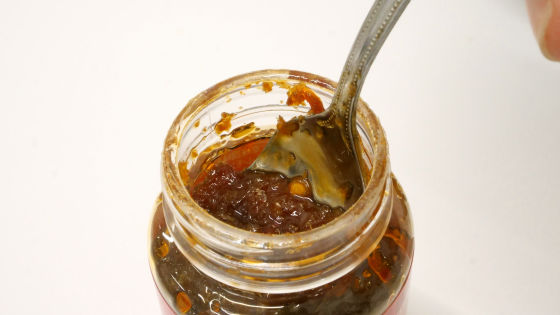 Input.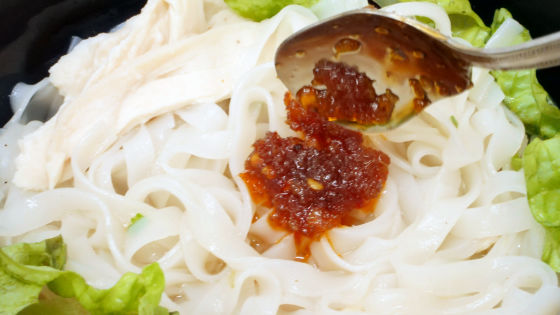 Mix the forage well and let Sate · Tom spread to soup and noodles.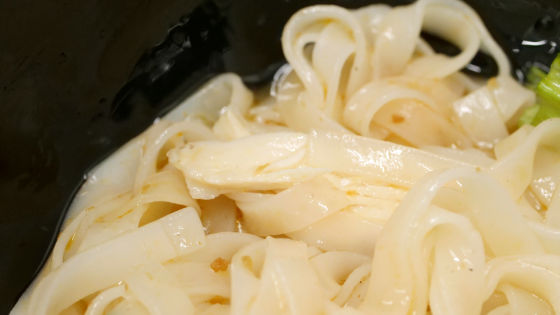 When eating, Lemongrass transforms into a spicy spicy fragrance. Shrimp umami and hot spices are added to stimulate appetite. It might be a good idea to add a spoonful Sat · Tom for the purpose of adding a change in taste to a simple Four from the middle.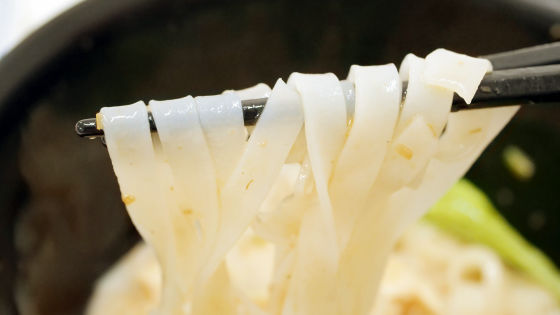 ◆ fried rice
Next we will add Sat · Tom to fried rice. Fried rice is frozen, not dependent on the skill of the cookerFrozen Delivery Ichiban Iron Plate Fried RiceAdd Sat · Tom to.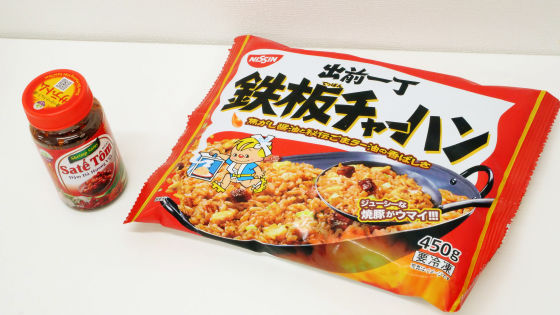 Approach half of one bag to a flat plate ......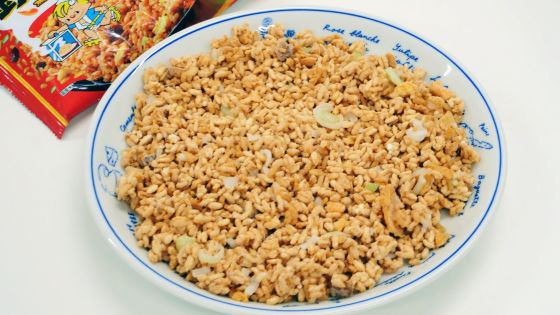 I warmed thoroughly with a microwave oven. A sweet scent based on soy sauce drifts.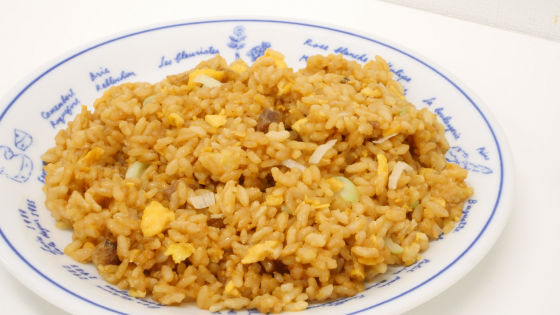 It is dark in soy sauce color, but sweet and sour seasoning has a slightly stronger sweetness. There is no stimulating seasoning of spices.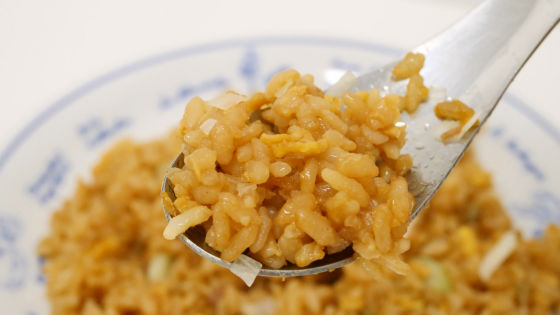 Next, prepare saty tom and add it.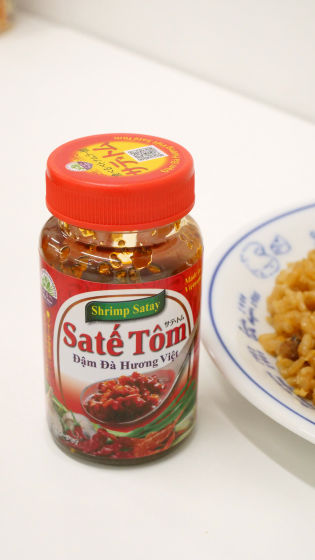 Drop a piece of spoon into the middle of fried rice.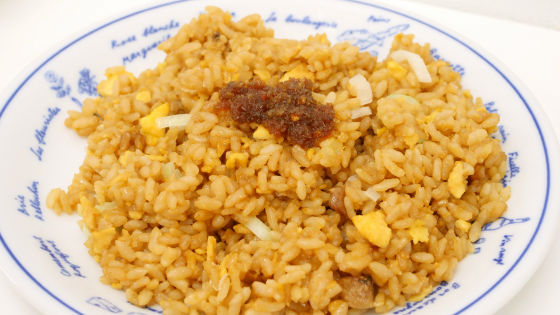 Stir well so that the bias of the taste does not come out much.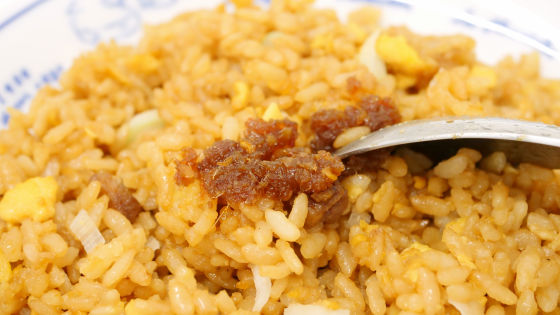 When I try to eat, fried rice, which was a sweet sauce based sweet at first, is more sweet and umami taste is added plus. If you think "that ... ... is it not painful?", Then the pain will strike the next time. Sweet and salty fried rice changed into ethnic fried fried rice of spicy spices smelled with lemon grass. Even if you add Sat · Tom to fried rice, it may be because there is a lot of oil in the case of fried rice, unlike Four, the pain did not feel for a moment.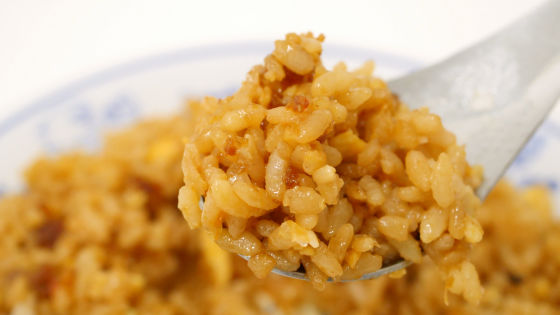 ◆cold tofu
At the end is a combination of chill and saty and tom. There are silk and cotton chill and cotton, but this time we chose the modest silk flavor of soybean. Tofu itself is of a private brand of Seven Eleven.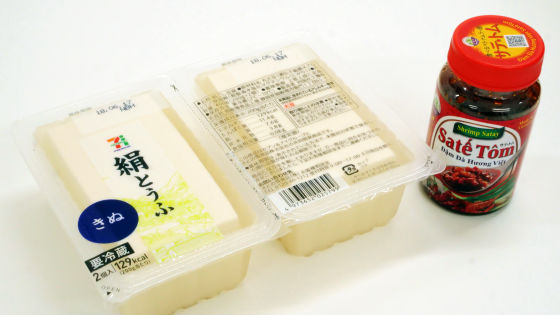 Cut in half with a kitchen knife ......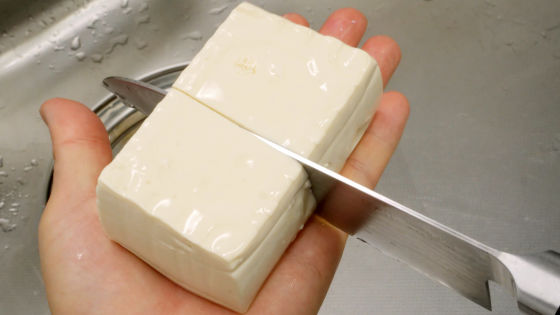 I will transfer it to a dish.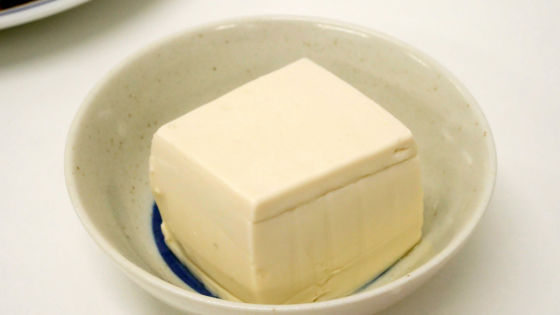 As it is, it is a cool and slippery texture with a cool, frozen soymilk fragrance.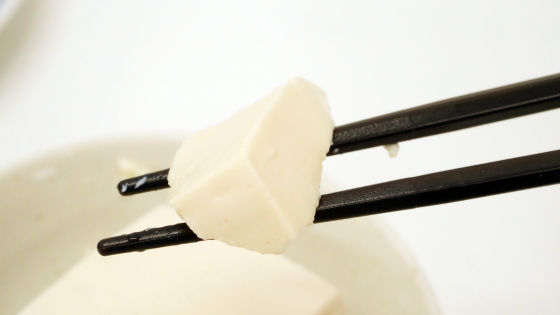 Turn Sat · Tom into a person.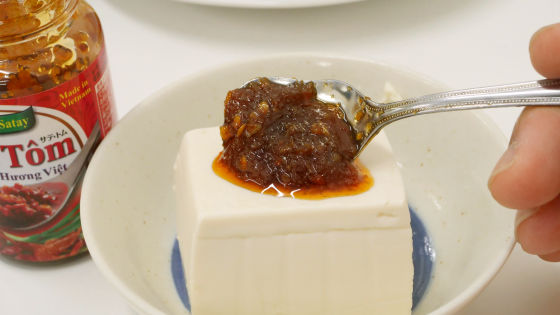 Simple taste of cold and warm is matched to Sat · Tom with sweetness and shrimp umami. The texture of cold and smooth silk bean curd is also a good place to ease the irritation of Sat · Tom's bitterness somewhat. The fragrance of shrimp and the fragrance of spices advanced chopsticks than chill and body alone.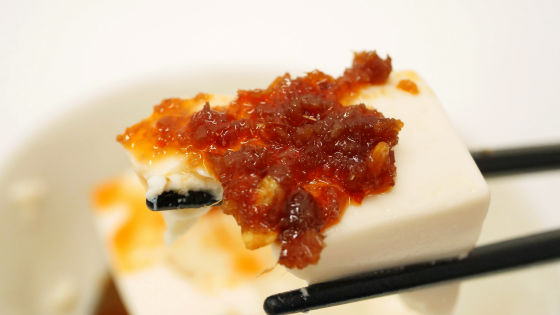 Sat · Tom can purchase at supermarkets etc. handling imported goods. At Amazon, three sets at the time of article creation are 1343 yen including tax and shipping fee.

Amazon | # 582704 Eat Vietnamese Oil Sat · Tom 100 g × 3 pieces set | I GM | Larcenes mail order