Denial of APIs suspected of Facebook being used for fraudulent use of user data, revealing "what API is like"

byThought Catalog

The New York Times published an article on June 3, 2018, "Facebook provides access to user and friend data to device manufacturers". In the article The New York Times,The problem of Facebook user's personal data being illegally usedPointed out that "device integration API introduced by Facebook for mobile devices 10 years ago" played a major role. After the article was released, Facebook immediately denied this fact and explained what the problematic API was all about.

Facebook Gave Device Makers Deep Access to Data on Users and Friends - The New York Times
https://www.nytimes.com/interactive/2018/06/03/technology/facebook-device-partners-users-friends-data.html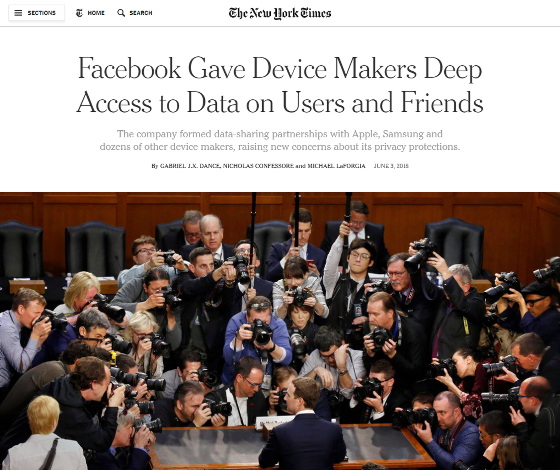 Why We Disagree with The New York Times | Facebook Newsroom
https://newsroom.fb.com/news/2018/06/why-we-disagree-with-the-nyt/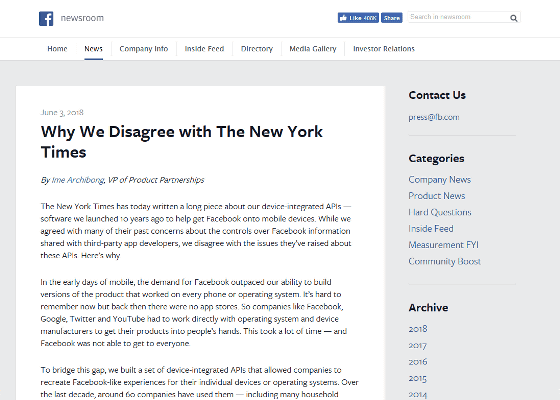 Facebook wrote that at the time the service started, "Demand exceeded the ability to build a service that runs on any mobile terminal or OS", and that development was in a situation where development did not keep up with the demands at the time I admit it. Companies such as Facebook, Google, Twitter, YouTube, etc, must cooperate closely with OS manufacturers and device manufacturers in order to deliver products to users as there were no app stores like App Store and Google Play back then. It is said that it was not. This kind of development takes a lot of time even now, and Facebook admits that we could not make products for any service.

To fill this gap and experience Facebook on a variety of devices and operating systems, Facebook has developed a "device integration API" which is regarded as a problem in 2007. About 60 companies including Amazon, Apple, BlackBerry, HTC, Microsoft, and Samsung in the last 10 years have used this integrated API, Facebook wrote.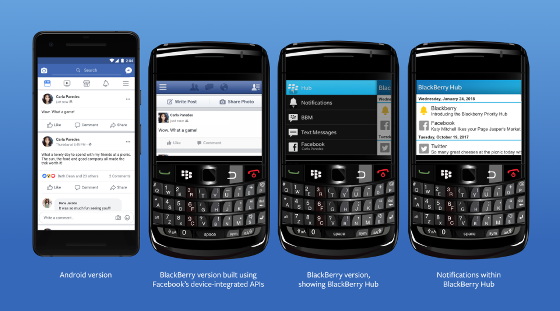 In addition, Facebook claims that the device integration API has been thoroughly managed so as not to be used other than "recreating the experience of Facebook", "Partner companies" have been using Facebook information for purposes other than reproducing Facebook I agree with the signature that I can not use it. "

According to Facebook, the device integration API pointed out that The New York Times "caused the fraudulent use of data" can not integrate user information into the device without user's permission. Contrary to The New York Times' assertion, personal information like photos can be accessed with "Only when users decide to share", companies can not misuse such data , We are declaring.

The device integration API that Facebook offers from 2007 is a public API that is used by third-party developers like Aleksandr Kogan who created an application Cambridge Analyticska used to collect personal information of Facebook users. We insist that it is not related to unauthorized use of personal information. However, as systems such as iOS and Android are getting popular, there are few developers relying on Facebook device integration API. That's why Facebook is getting less usedAnnounced discontinuation of device integration APIAlthough it did, it seems to be arguing that it was suspected that "association with data unauthorized use" was suspected in terms of timing.

However, many people are not convinced of Facebook's explanation, and Senator Richard Blumenthal, a Democrat in Connecticut, USA, said that "the explanation is inadequate and dishonest" on FacebookCriticismDavid Sicilyn, also a Democrat and antitrust subcommittee, commented, "Zuckerberg seems to have told a lie about who is controlling Facebook's data perfectly in Congress" It is.

Sure looks like Zuckerberg lied to Congress about what users have "complete control" over who sees our data on Facebook. This needs to be investigated and the people responsible need to be held accountable.https://t.co/rshBsxy32G

- David Cicilline (@ davidcicilline)June 4, 2018