Information leaked from Facebook is reported as possibility of including a private message, Cambridge · Analytica is denied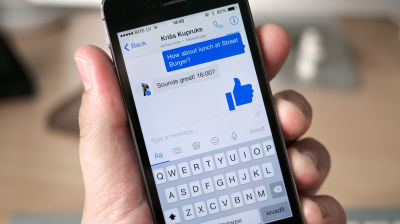 byKārlis Dambrāns

Initially, one case reported that personal information for 50 million Facebook users was illegally shared with the data analysis company Cambridge Analytica (Cambridge Analytika), Facebook announced that up to 87 million users will be affected There is a possibility to be found out. Facebook does not explicitly indicate what kind of information was shared, but it is suggested that Cambridge Analytics could have accessed private messages.

Cambridge Analytica Could Also Access Private Facebook Messages | WIRED
https://www.wired.com/story/cambridge-analytica-private-facebook-messages/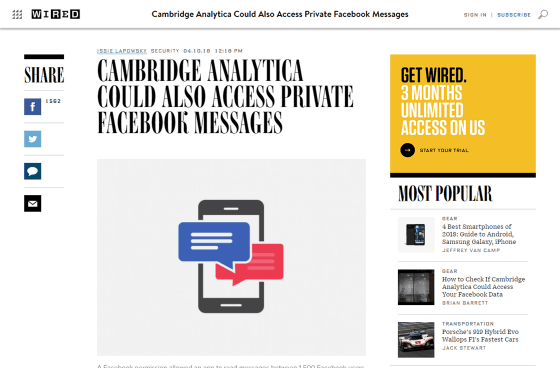 Cambridge Analytica may have had access to private Facebook Messenger messages - The Verge
https://www.theverge.com/2018/4/10/17219606/cambridge-analytica-private-facebook-messenger-messages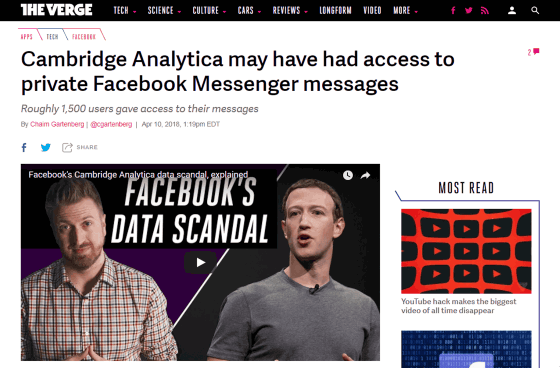 Facebook Data Collected by Quiz App Included Private Messages - The New York Times
https://mobile.nytimes.com/2018/04/10/technology/facebook-cambridge-analytica-private-messages.html

Facebook has started sharing information to users from Monday, April 9, and has released a tool that can check "whether my personal information has been illegally used via Facebook". If my friend downloaded this application called "This Is Your Digital Life" which Cambridge Analyticska used for gathering information, it is possible that my personal information was also gathered via a friend. It is possible to check "whether my personal information was illegally used via Facebook" from the method of the following article.

How to check if my personal information has been compromised via Facebook - GIGAZINE



For users diagnosed as having the above tools "Facebook was shared with Cambridge Analytics", "a few people who logged in to" This Is Your Digital Life "are news feeds, timelines, posts, messages You may have been shared, including this in the posts and messages you sent. "

According to Facebook publicity, This Is Your Digital Life says the user was asking permission to "read the mailbox" to the user. This function has been completely deleted in October 2015 after being criticized by the user, but 1,500 people are granting permission before being deleted. People who sent messages to this 1,500 people or who are sent are suspected to be affected, but how much influence it is is unknown at the time of article creation.

Meanwhile, under a series of press reports, Cambridge Analytika says "neither Cambridge Analytics nor SCL Elections shares private message content, neither company has ever handled such data." doing.

GSR did not share the content of any private messages with Cambridge Analytica or SCL Elections. Neither company has ever handled such data.

- Cambridge Analytica (@ CamAnalytica)April 10, 2018