Starba's new work "Strawberry Belly Match Frappuccino" that embodies "Strawberry Strawberry Feeling" & Drinks 14-hour Coffee Watering Coffee "Cold Brew Coffee"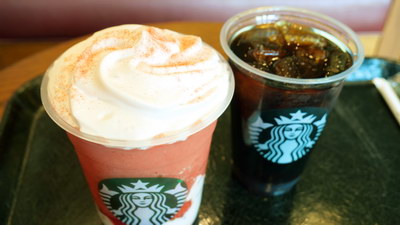 A new work Frapetino using strawberries as a material from top to bottom from the toppings at Starbucks from top to bottomStrawberry Berry Match Frappuccino"Coffee extracted from beans for 14 hours with no heat added"Cold Brew Coffee"Has appeared on April 12, 2018. I bought it because I was concerned about the strawberry-frappuccino and the water-diluted coffee that was made carefully.

# Strawberry Berry Match Frappuccino ® | Starbucks Coffee Japan
http://www.starbucks.co.jp/cafe/strawberry/

COLD BREW | STARBUCKS COFFEE JAPAN
http://www.starbucks.co.jp/cafe/coldbrew/

Arrived at Starbucks.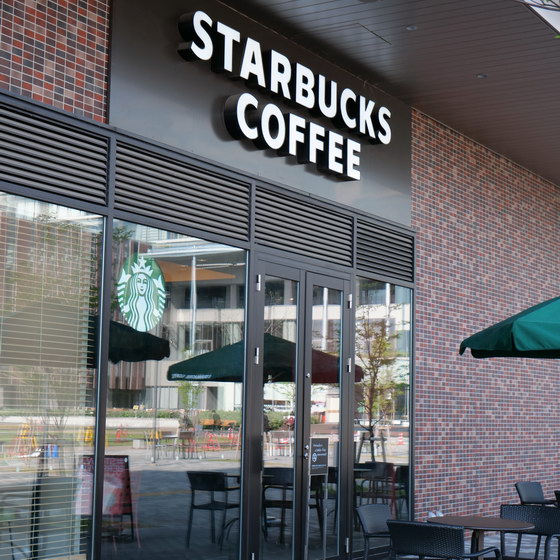 There was a signboard in front of the shop notifying of the appearance of Frappuccino using strawberries. I will order new flapcino and watering coffee.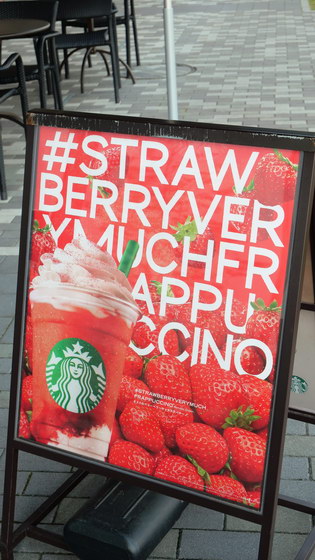 Short of 'Strawberry Berry Match Frappuccino' and 'Cold Brew Coffee' arrived in 2 minutes from ordering.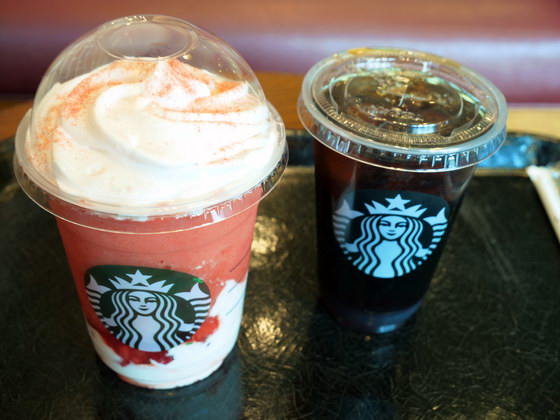 I will drink from "Strawberry Berry Match Frappuccino" (Tall only: 680 yen including tax).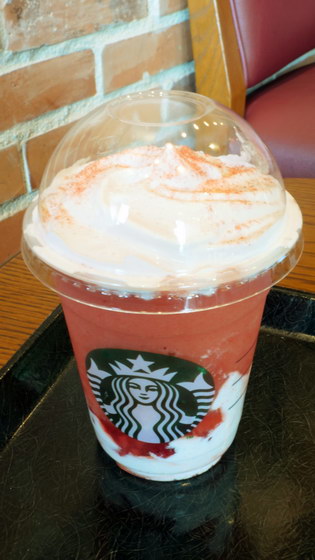 According to Starbucks it is Frappuccino which is "Strawberry feeling too strawberry" and Frappuccino part is using freeze-dried strawberry which does not add heat so that you can also enjoy the flesh of fruity pulled down. You see a red color that makes you feel strawberry presence from a transparent cup. The height of the tall size cup looks like this compared to the long side 13.8 cm iPhone 7.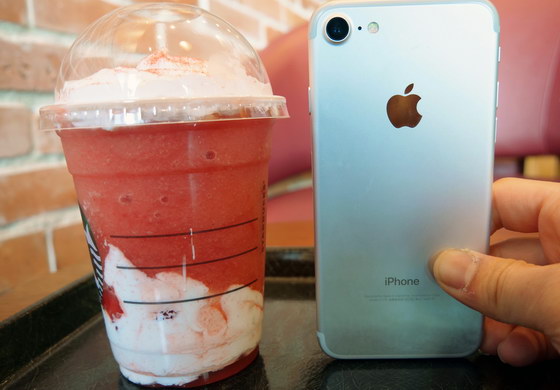 Strawberry Berry Match Frappuccino that all materials contain strawberries is a thorough strawberry that red powder sprinkled on whipped cream is powder with strawberries and it is also mixed in whipped cream.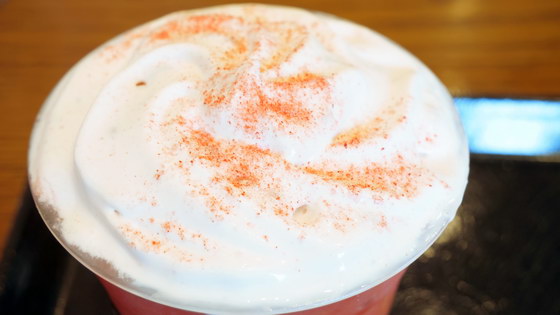 Drinking Frappuccino spreads sweet and sour strawberry flavor and aroma of strawberries with cool ice grains. Because there is a strawberry presence that is not comparable with general strawberry frappuccino, just "strawberry feeling too strawberry"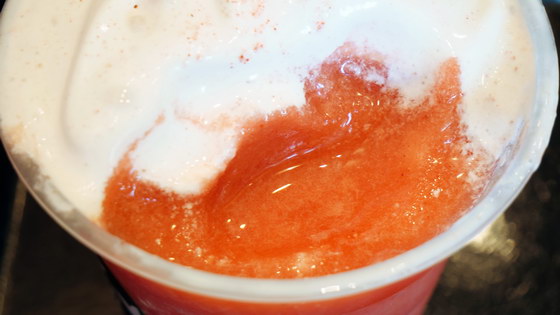 At the bottom of the cup is a sauce using strawberries ......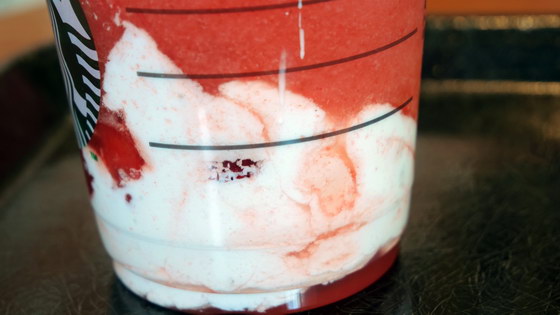 Since there is fruit pulp of strawberries, you can enjoy the taste of roasted fruit as you mix and drink, the flavor of sweet and sour strawberries is further improved. Because it is not sweet, it can be drunk with discreet acidity.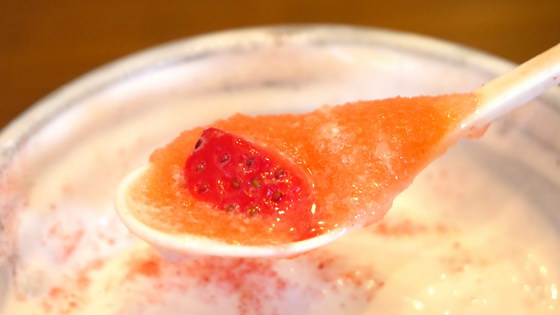 Next, I will drink "Cold Brew Coffee" (Short: 346 yen including tax). Tall is 389 yen including tax, Grande is 432 yen including tax, Venti is 475 yen including tax. Cold Brew Coffee is a new product that appeared in the summer of 2017, and it came back in 2018. With "cold brewing" method, heat is not added, and extracted with coffee powder from water. Also, in order to enrich the flavor of coffee, I added "A cold brew blend" which roasted African coffee with citrus flavor and Latin American coffee with sweetness and chocolate flavor.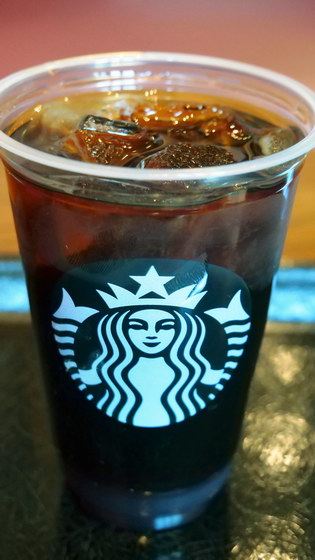 The size of Short's cup looks like this.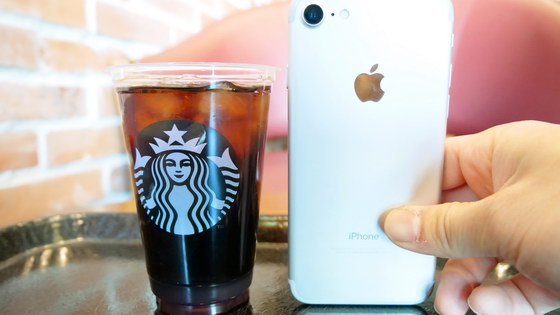 When I drank it, I could taste the rich fragrance and refreshing bitterness, I felt the taste was deeper than the general ice coffee.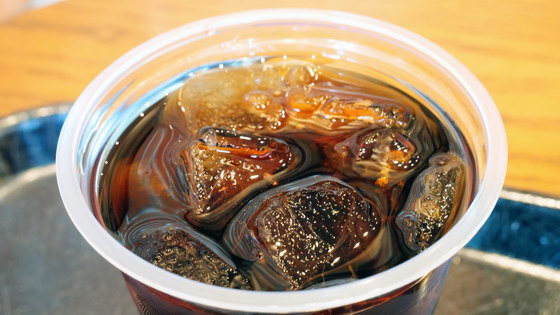 "Strawberry Berry Match Frappuccino" and "Cold Brew Coffee" can be ordered at Starbucks stores nationwide except some stores. The cold brewed coffee is scheduled to appear on Wednesday, May 9, 2018 on Wednesday, May 9, 2018, and Monday July 2, 2018 on Monday, July 2, 2018 for cold brewed apple citruses. it canPitcher packIt is scheduled to appear from Wednesday, May 9, 2018, so if you are interestedStarbucks websitePlease check it.