I tried "Pinot coffee roasted coffee" in which crispy chocolate and scented coffee ice melts slowly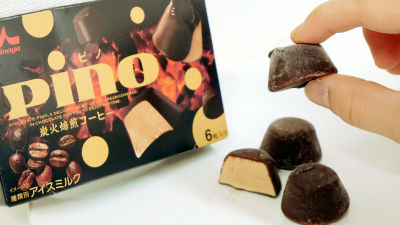 Morinaga milk industry's ice cream "Pino"Limited flavor of"Pinot coffee roasting roasting coffee"Has appeared on March 26, 2018 (Monday). The new flavor is that it is fragrant and deeply flavored with a single grain by using "charcoal grilled coffee extract" extracted from roasted coffee beans. I tried to eat actually what kind of finish the pino using coffee sticking to roasting finished.

"Pinot coffee roasted coffee" New release from March 26th (Monday) | News release | Morinaga Milk
http://www.morinagamilk.co.jp/release/newsentry-2807.html


【"Pinot coffee roasted coffee" launched nationwide! The coffee beans of deep roasted roast and espresso extraction at a low temperature distillation, was used for charcoal making coffee extract. Coffee beans The original taste and bitterns condensed bitterness# Pinot coffee roasted coffeePlease enjoy it.# Coffee roasting#coffeehttps://t.co/if8ToO5VeFpic.twitter.com/NvxIfuUUlj

- pino Pino / Morinaga Milk Products Co., Ltd. (@ morinaga_pino)March 25, 2018

I bought Pinot coffee roasted coffee (6 grains: 140 yen including tax).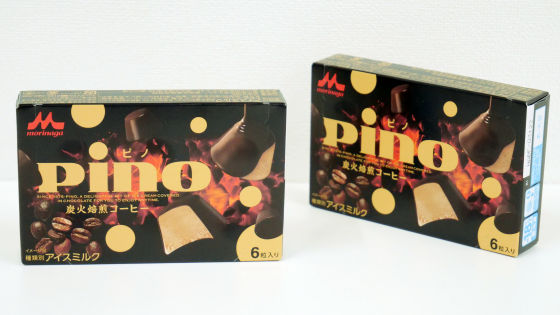 The package is based on black color, and coffee beans roasted with charcoal fire and charcoal fire are drawn near the logo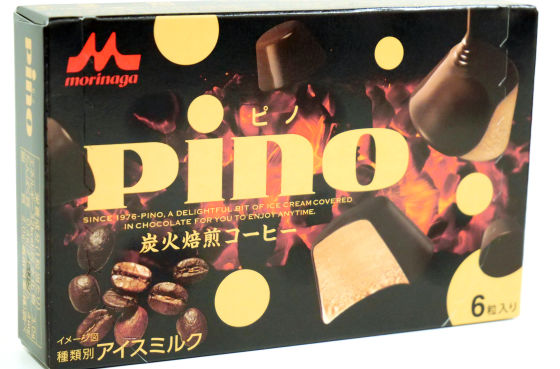 The long side of the box is about a little shorter than the iPhone 8 with a long side of 138.4 mm.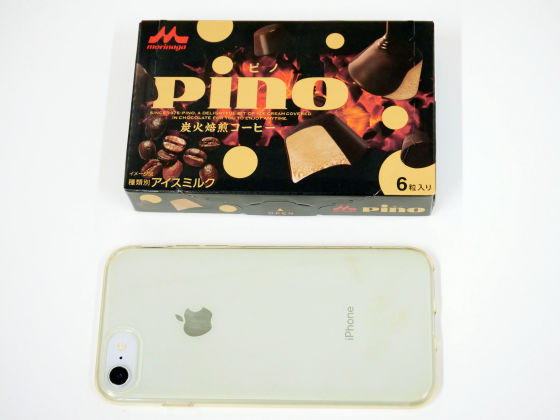 It is like this when compared with the box of the new flavor (left) and the box of the regular Pinot (right). The box of the new flavor is different in color at the same position with the image of the regular Pino and the logo and logo, you can see that it is finished in black chic design.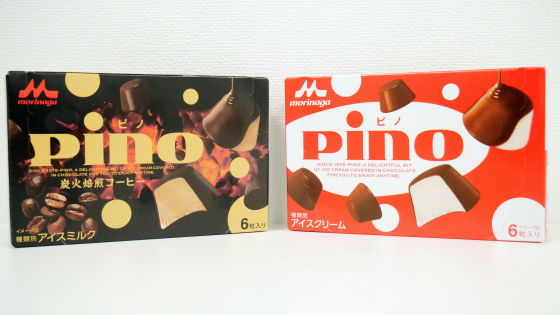 The type of ice cream is second most to milk fatIce milk. The material, of course, includes coffee. Since the content is 10 ml per grain, if it is per box it will be 60 ml.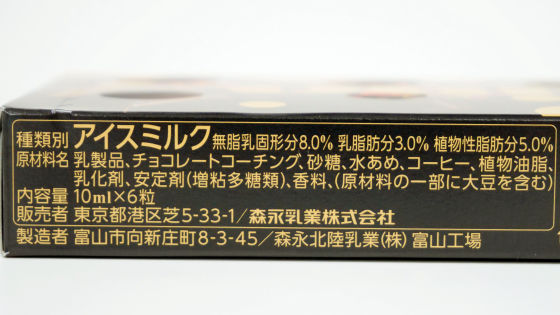 Energy is 32 kcal per grain, so if it is 6 boxes per box it will be 192 kacl.



On the back of the box there is an image of the new flavor and explanation, it is coated one by one with chocolate, and it seems that brown coffee ice is contained in it.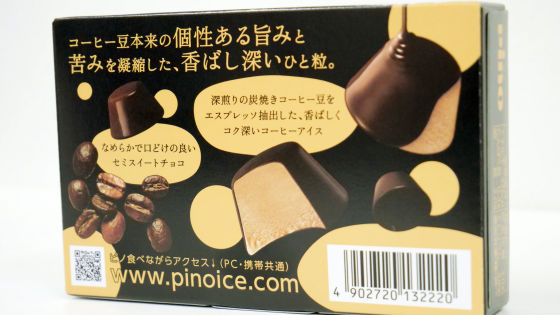 When opening it, 6 grains are lined up in line and one blue pick is included.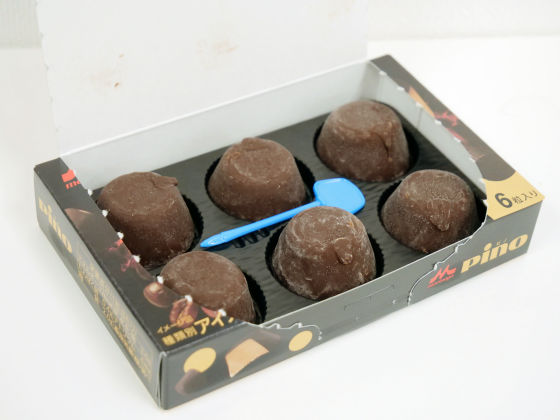 I will compare it with regular Pino (right).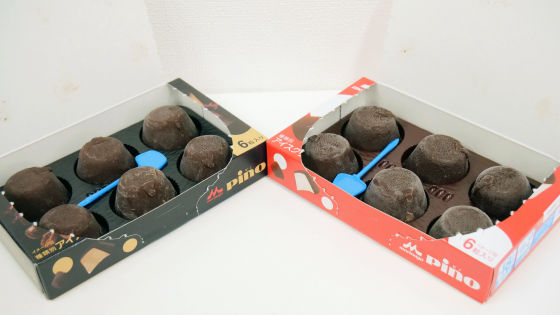 If you take out each of the two Pinos one by one, it seems that the appearance does not change at all from the new flavor (left) and regular pino (right).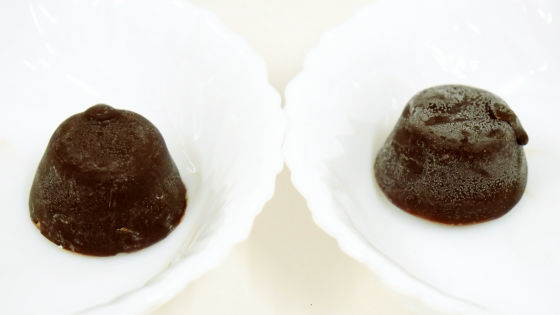 A cross section looked something like sputting and cutting both pins. In coffee roasted coffee (left), compared to the regular Pinot (right), you can see the coffee ice in brown in one shot.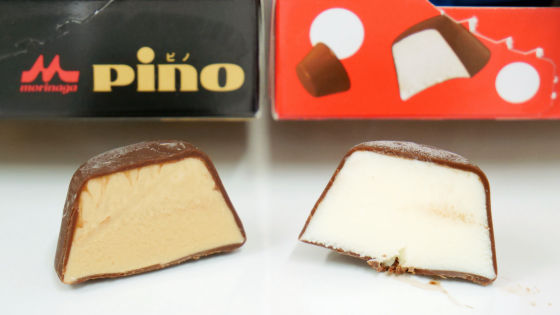 When you eat Pinot of coffee roasted coffee, it melts at the same time as it parishes the chocolate on the surface and expands modest sweetness. Coffee ice melts quickly in the mouth, as the chocolate melts, creamy sweetness. Coffee ice, however, feels sweet, but there is a bitter taste of coffee and a bitter deepness due to the charcoal-grilled coffee extract contained, and I do not feel much of the sweetness of the sweetness.MakerAccording to the coffee extract, it is said that coffee beans roasted in deep roast are extracted using espresso with cryogenic distillation. Because there is no sour taste of coffee taste, it feels like taste like deeply roasted coffee.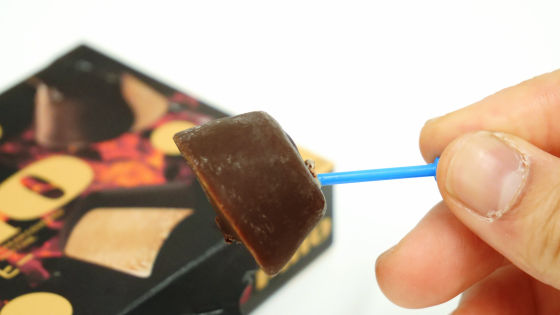 Pinot coffee roasted coffee (140 yen tax included) can be purchased at retail stores nationwide.