Italian new menu made by sushi restaurant, ramen with three types of cheese "Carbonara spa latti" I have eaten 3 dishes of Western cuisine genre that Kakura Sushi made for the first time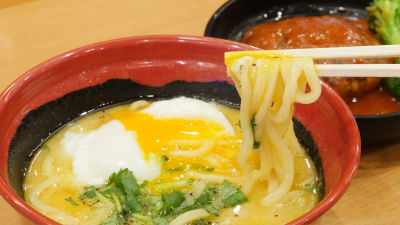 As a sushi chainShari without sushiYaSushi coated with cocoa powderWe have sent menus that go beyond existing sushi, such as "Kura Sushi", Three Western menu cuisines, which will be the first efforts, have appeared. Kura sushi each western menu menu "It's too full-scale, a new sense Italian."Italian menu is rarity of carbonara sauce containing three types of cheese and fresh cream from Hokkaido"Carbonara spa latti"And wrapped five kinds of cheese in beef and pork with ground minced meat"Italian cheese hamburger steak", And desserts using Choco Ice and Mascarpone WhipChocolate and Mascarpone's parfaitIt has appeared on March 16, 2018. I was worried about the Italian cuisine made by the sushi so I checked it.

It's too full-scale, a new sense Italian. | Kurasushi homepage
http://www.kura-corpo.co.jp/fair/2018suparatthi.html

Arrived at Kura Sushi.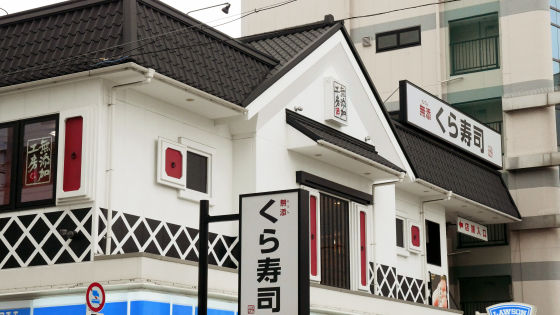 In front of the shop, a catch copy of the newly introduced Western menu was written with a climb stating "Real full Italian, new sense Italian.",Flag of ItalyThe same color of the same, the climb told the emergence of the Western menu.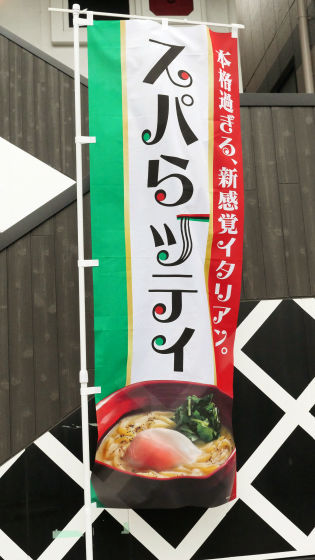 It also appeals Italian new menus in the shop.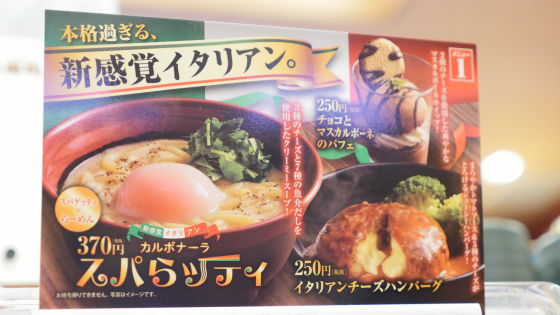 We will order three new items on the touch panel. In addition, 3 items are offered as side menus.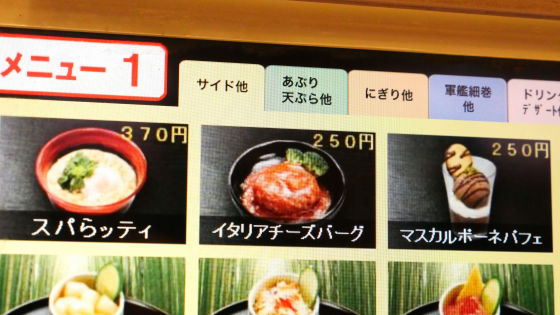 Three new items arrived in about 6 minutes from the order.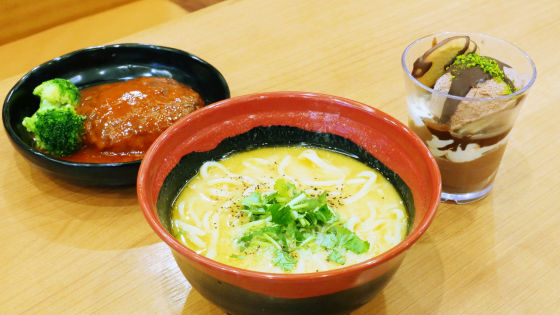 I will eat it from spa Lettty carbonara (399 yen including tax). The spa latti carbonara is a yellowish milky white soup with carbonara sauce, with thick noodles in it. Carbonara sauce includes Hokkaido produce cream, Porcini mushrooms, seven kinds of seafood, Gouda cheese, Parmesan cheese, Mascarpone cheese.



Thick noodles, Regular side menuRamenIt is the same thing as the menu name spa "Let's Carbonara" "Lara" seems to be taken from "Ramen". Green in the center is three leaves. The black collision seen in the middle is coarse black pepper. When approaching, it will be conscious of the menu name "Carbonara" from the fragrance of cheese, with a strong scent combined with seafood sauce and cheese.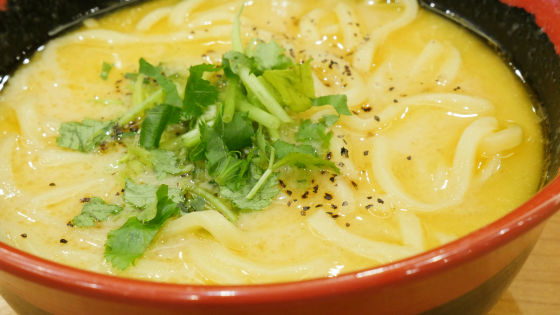 Spas latti carbonara includes a separate egg and hot spring egg as a set.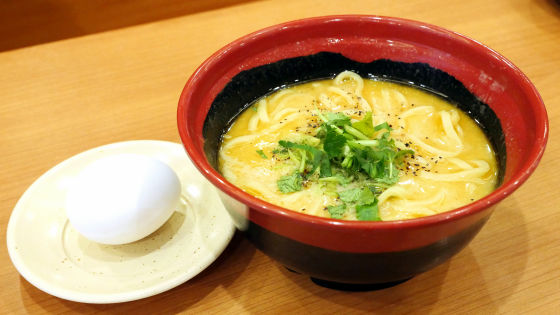 Toppings on hot spring eggs ......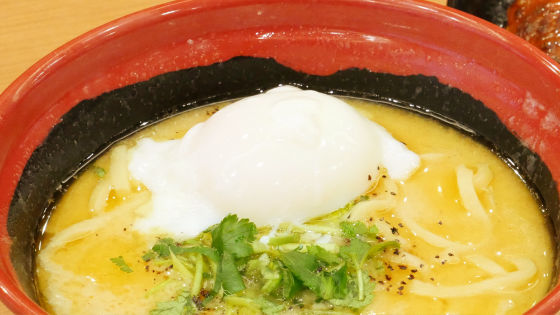 When I sprinkle hot spring eggs, the melting and yellowing overflows and the appetite is stimulated, the feeling of carbonara doubles.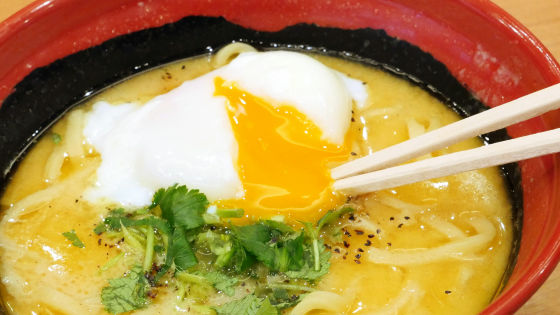 When you drink soup, you have three kinds of cheese and seven kinds of seafood, and the thick scent and umami spread by Porcini mushrooms. To eat it as a side menu of sushi, it is finished in a thick soup with a creamy feeling that the presence feeling is too strong. Before eating, I was concerned about the fact that three-leaves were topped in Italian soup, but when I try to eat, soup · hot spring egg · Mitsuba leaves taste like a strange taste like a cup of tea, more than a combination of imagination I felt that.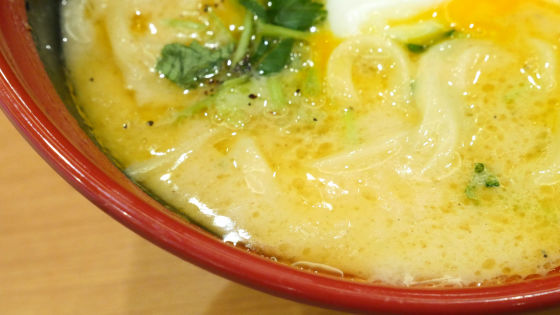 When I try to squeeze thick noodles, the noodles are firmer than expected and the ramen and spaghetti seem to be finished. The thick noodles are tangled firmly with rich soup, so compatibility is good.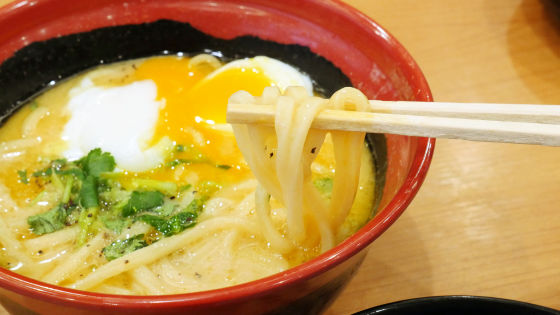 Next, we will try Italian Cheese Hamburg (270 yen including tax). From the tomato sauce that is being applied, it has a sour scent like tomato ketchup. Next to hamburger steak, broccoli is added.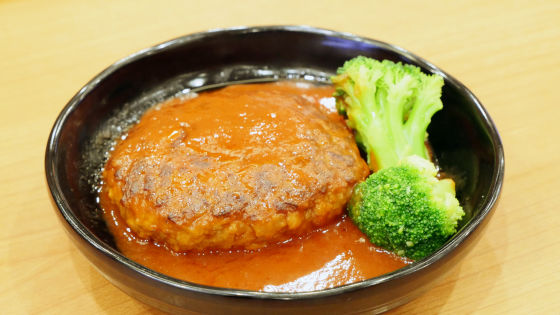 Hamburger steamer has a slightly small hamburger steak. When comparing the diameter of the instrument and the long side of iPhone 7, it looks like this.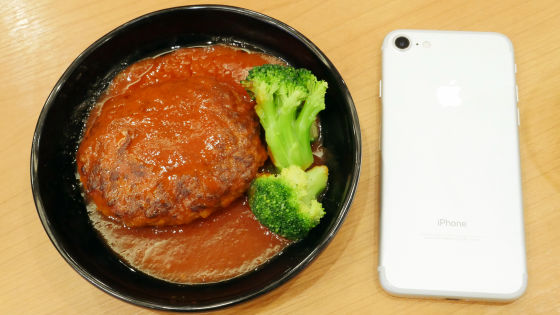 Meatball meat containing beef and pork is used for hamburger steak. As the menu name includes "Italian cheese", there are five kinds of cheese inside.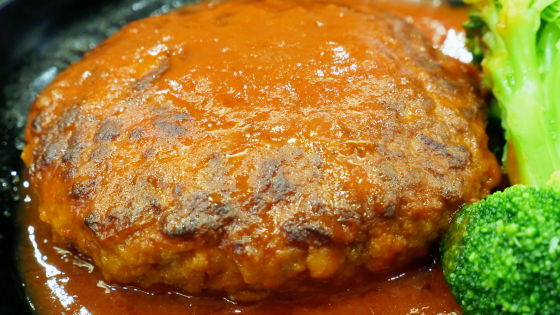 When breaking the hamburger steak, the five types of cheese contained in it melts smoothly and comes out. Five cheeses are cheddar cheese and gouda cheese, mozzarella cheese, gorgonzola cheese, and camembert cheese.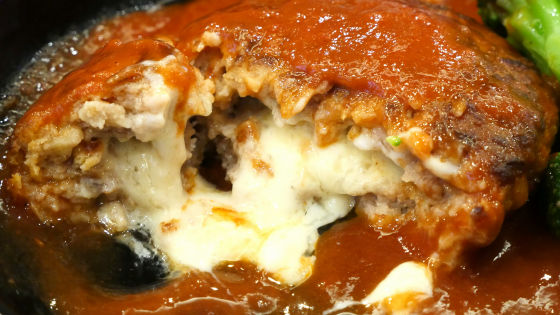 When you eat, juicy gravy overflows. Meatball meat is so soft that it naturally looses like unraveling in the mouth. Five types of melted cheese are creamy without habit. Tomato sauce felt sour in scent, but as a taste I feel sweetness and umami firmly without feeling any sour.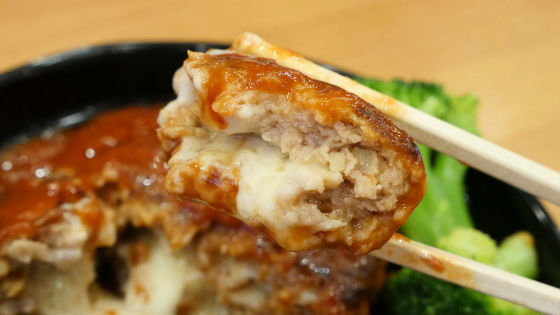 At the end I will try to eat chocolate and mascarpone parfait (270 yen including tax).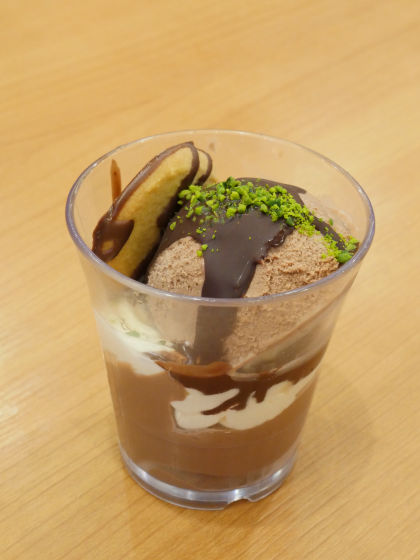 It is a small size that fits perfectly with the dessert after meal, under the chocolate ice is a white mascarpone whip containing a cheese muscarpone with a modest acidity and brown chocolate pudding. Furthermore, dark rum liquor from Jamaica is used for chocolate pudding in the bottom.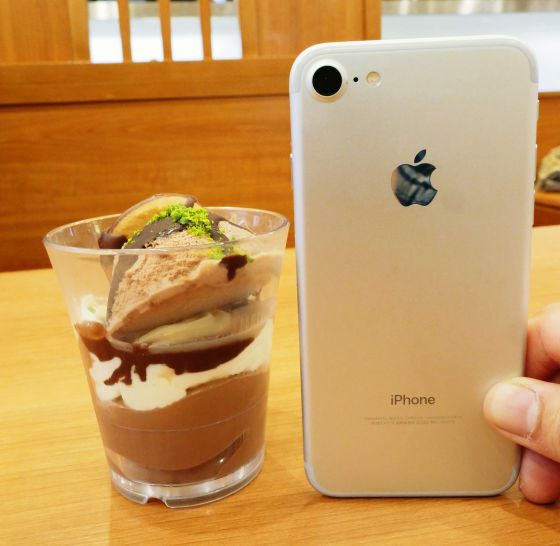 On top of the Ghanaian chocolate ice cocoa beans 100% of the cocoa was included, cookies and green pistachio, chocolate from the top has been applied.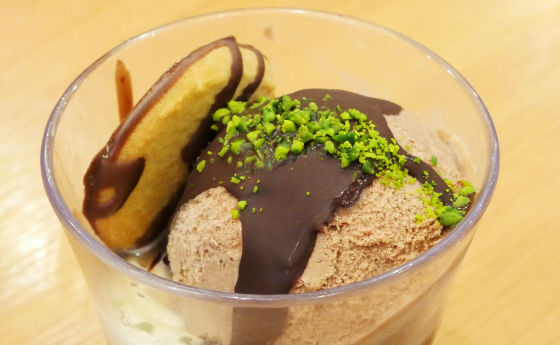 When eating chocolate ice cream, the texture of the surface chocolate crispy, with sweet and cold chocolate ice creams and flavor of pistachio are accent of texture.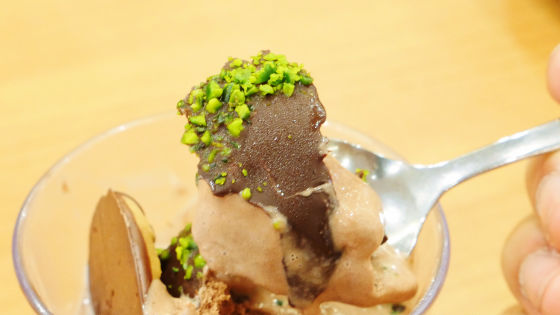 When you eat Mascarpone whip and chocolate pudding, it is a smooth texture. The dark rum wine is scented and makes an atmosphere of adults. However, there are no bitter tastes or habits commonly found in chocolate using sake. It is sweet and slightly bittersweet, with a bitter taste and sweetness stands out. Whipped has a faint acidity and rich texture and texture is as creamy as a chocolate pudding and has a sense of unity. It is a simple three-layer chocolate parfait, but cheese and chocolate are like tiramisu, I felt like a dish of an Italian restaurant.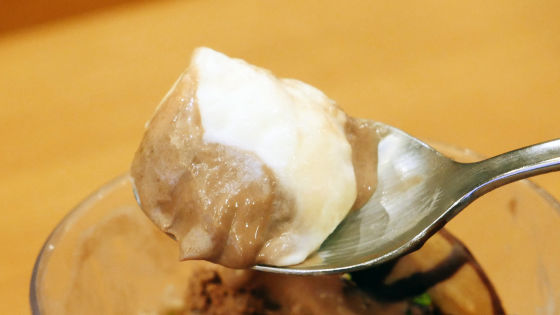 Spa Lettte Carbonara and Italian cheese hamburger and pastries of chocolate and mascarpone are on sale at the Kura Sushi nationwide for a limited time but since the price that can be ordered is different at Aeon Mall Okinawa Reicam shop and LaLaport TOKYO - BAY shop please. Also note that you can not take home all three new items.