I tried eating the "golden roast beef heavy" laying raw bean roast beef on white rice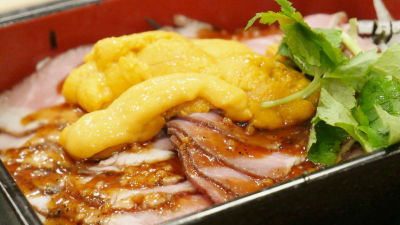 From Naka Uchi on Thursday, March 8, 2018,Angus cow"Roast beef" using high-quality lean meat on rice and a seafood "raw sea urchin" added, a lavish new menu, "Golden roast beef weight"Has appeared. This new menu is a popular menu "roast beef heavy" that appeared in 2017, with sea urchins accompanied with sea urchin, so I wondered what the finish of red meat umami and raw sweetness was like so I went to eat.

A little luxuriously 【Golden Roast Beef Heavy】 Today at 11 o'clock Newly appeared in Naka all stores! | Notice | Rice bowl and Kyoto style udon noodles
http://www.nakau.co.jp/jp/news/332

That's why I came to a rain quickly.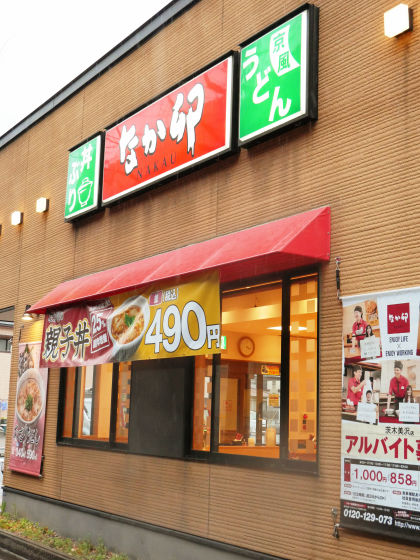 Enter into the shop, with a touch panel type ticket vending machine, ordered "golden roast beef weight" of the price of 990 yen including tax. Please note that this product can be ordered only within the store and can not be taken home.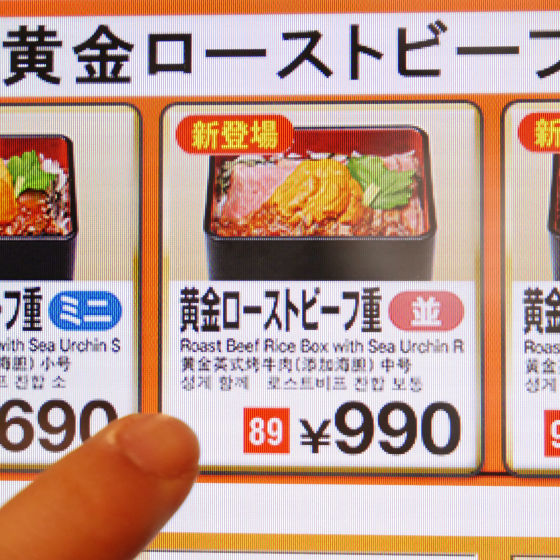 "Golden roast beef weight" arrives in about 2 minutes. The lid is covered with a lid, and the expectation expands.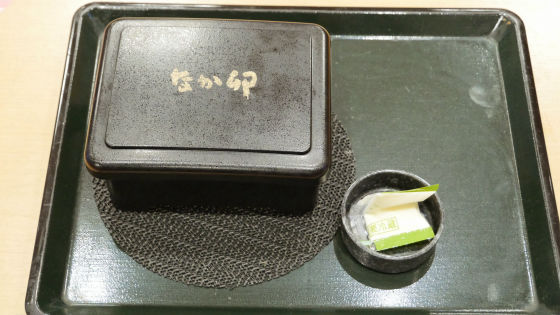 "Golden roast beef weight" is attached "Creamy mountain wasabi sauce" on a separate attachment.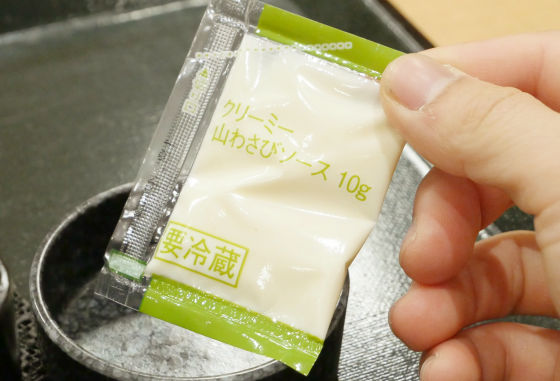 At the shop I visited this time, I got a discount ticket with a box.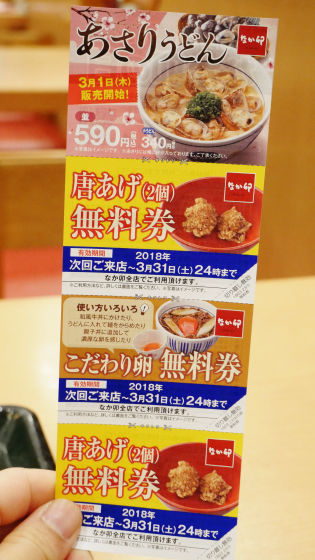 When opening the lid box lid, "golden roast beef heaviness" which vividly colored such as raw and roast beef appeared.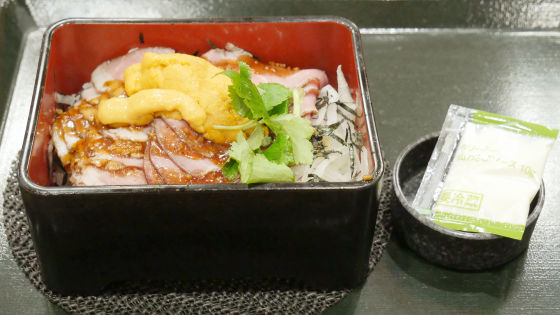 Compared to iPhone 7 with a stacked box and this is like this.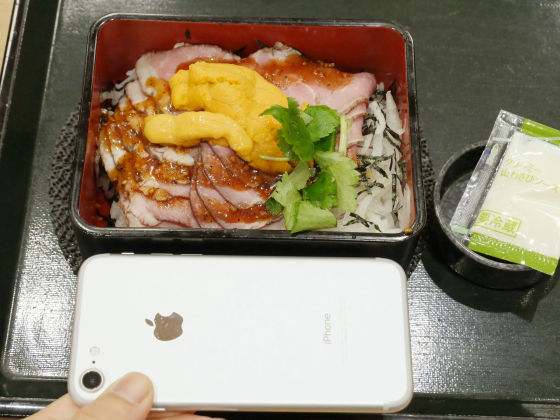 In the center of the box, a raw sea urchin reminiscent of "golden" of the menu name "golden roast beef weight" is settled, and in the heavy box is roast beef tightly packed. Brown sauce is put on the roast beef from the top, and this sauce was made by combining soy sauce, mirin, sake etc. And a green three - leafed tree was attached aside.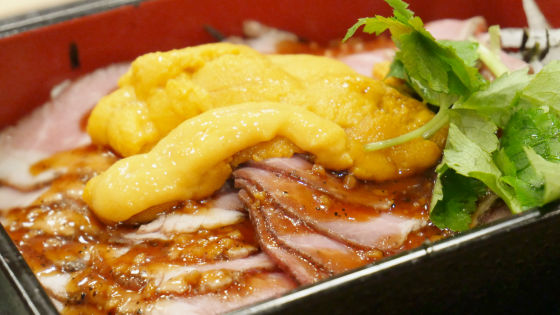 The roast beef is sliced ​​greatly.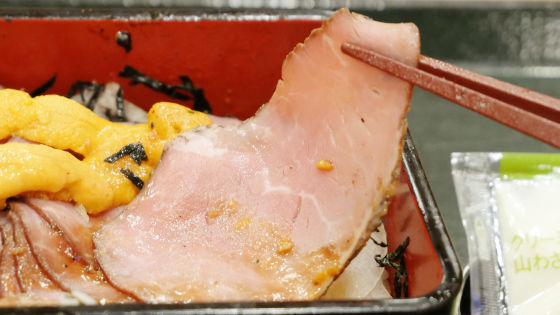 Under the roast beef slices of onion and snacks of laver are laid, with rice spreading further down. Onion slices and rice also have a Japanese style sauce that has been applied to roast beef.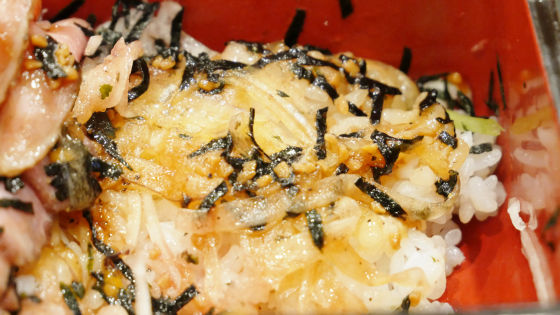 Let's eat rice with rice beef without putting your hands like it at first. The roast bee can firmly feel the umami of lean meat and fat overflowing from soft meat quality, but this is thanks to the thorough heating with low temperature vacuum cooking. The beef is finished in a moist and soft texture, and it has a crisp texture better than what I expected before eating. A Japanese style sauce that uses soy sauce and mirin is sweet and salty, attracting the taste of beef and good compatibility with rice. The sliced ​​onions laid under the roast beef are refreshing so it's refreshing and the texture of shakyaki is also an accent.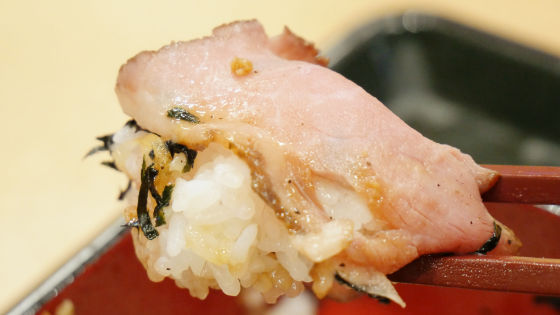 Next time I will eat roast beef together. It is difficult to eat it on a roast beef raw, so put it on rice ......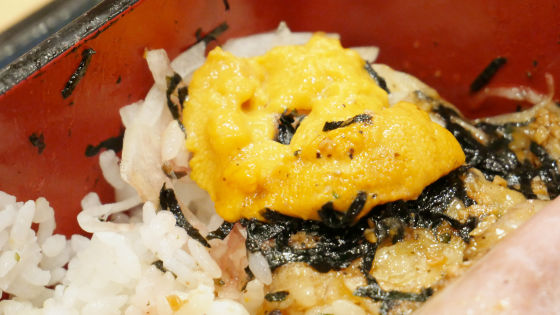 It is recommended to roll it with roast beef like laver. When eating raw roast beef together, the raw sweetness expands smoothly in the mouth, and it matches with the umami of red meat. The raw material of marine products is close to the temperature of roast beef, which has become close to human skin as the heat of rice transfers, both matched exquisitely without too much assertiveness. The raw sea urchin together with Japanese style sauce, nori seaweed and rice will be like "Udon Bowl" and since the roast beef is on top of the rice, I'd like to eat "Undon" and "Roast beef bowl" together I feel luxurious.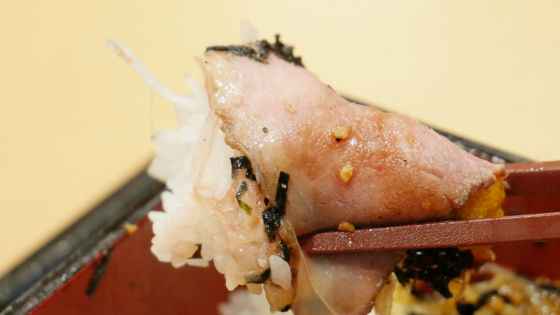 When you eat with Mitsuba leaves, you will feel more refreshed by adding a refreshing scent.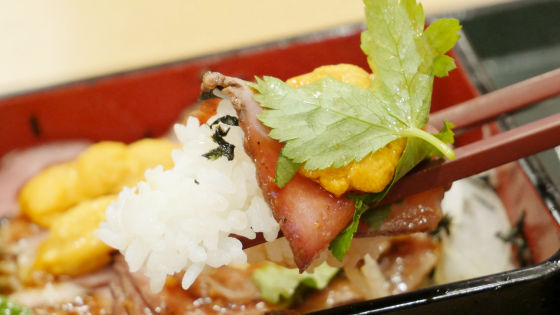 Next, I will put on the attached "Creamy Mountain Wasabi Sauce" and eat it. The material of this sauce includes materials used for mayonnaise such as fat, eggs and vinegar, and horseradish (horseradish) etc.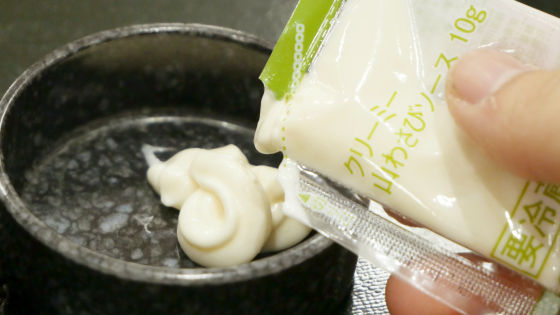 Living rawly on a roast beef and eating it with rice, it gave rise to the fragrance that comes with the horse radish's tone, neutralized the unique scent of the iso, and was flavored based on soy sauce as a whole "golden roast beef We add rich and faint acidity to heavy. Punch due to the scent and spicy of the sauce feels slightly stronger, so be careful as the flavor and taste of raw will disappear if used too much.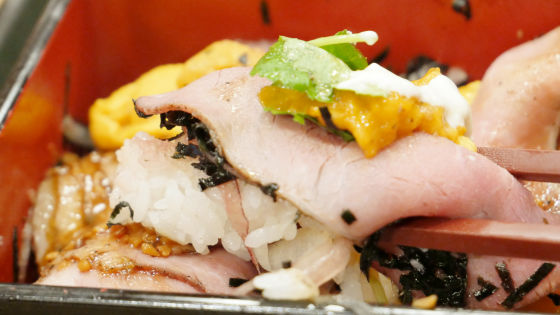 "Golden roast beef heavy" is on sale at the inside of the whole country. The price by size is 690 yen including tax, 990 yen including tax, and 1390 yen including tax for Koumori, with limited udon size of "Udon Udon" at the same time for a limited time except some stores "Golden Roast Beef Weight" set in "Golden Roast Beef Heavy (Same) + Mini Udon Yasukara Set" is sold at 1,000 yen including tax 150 yen lower than normal price.