I tried to eat "Curry Ramen Cheese Topping with CoCo Ichiya Supervision Fried Chicken" with a smooth texture and a gentle taste impressive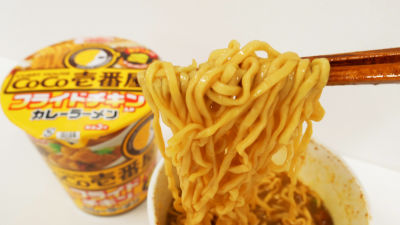 From Monday, February 26, 2018, Ace cook "Supervised by CoCo Ichinoya" to "Curry ramen cheese topped with fried chicken"Has appeared. I tried to eat and taste what kind of taste I can enjoy by saying that the classic cheese topping was reproduced with ramen at the curry rice of CoCo Ichibanya.

Curry ramen cheese topping with cooko Ichiya supervised fried chicken | Product Information | Ace cook Co., Ltd.
https://www.acecook.co.jp/products/detail.php?id=754

The package of 'Curry ramen cheese topping with Coffee Ichinoya supervised fried chicken' is full of curry feeling, design based on yellow.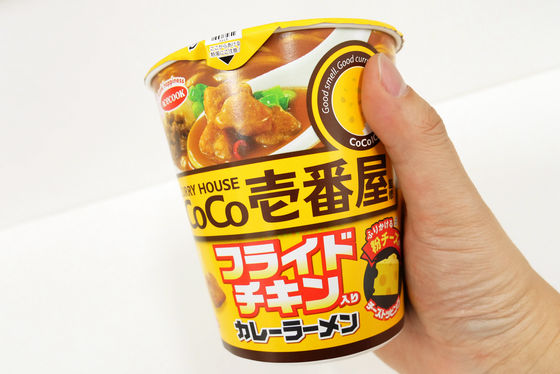 It seems that powder cheese is "sprinkled" to be sprinkled afterwards in order to pay attention to people who are poor at cheese, which is written as "sprinkling powder with cheese".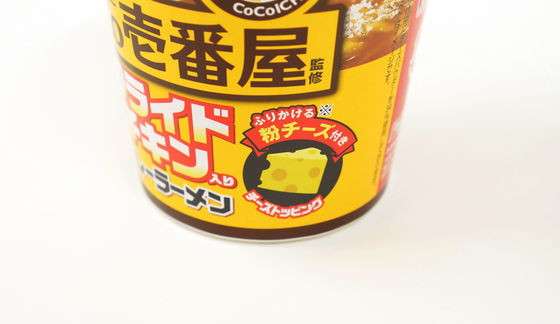 The raw materials are written separately for each group as "fried noodles" "soup" "kayaku". The soup contains "curry powder" and "vegetable powder", and "kayaku" contains "fried chicken", "onion", "chicken and pork meat with fish" and so on.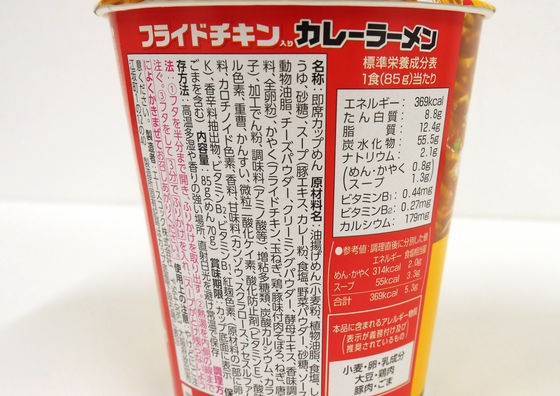 The calorie per meal is 369 kcal.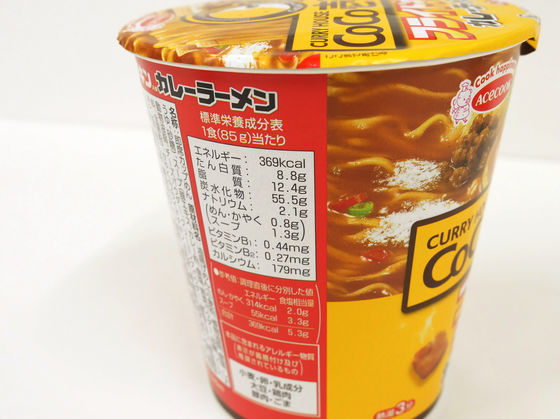 When opening the lid, "sprinkle" containing powdered cheese is pushed past soup and milk.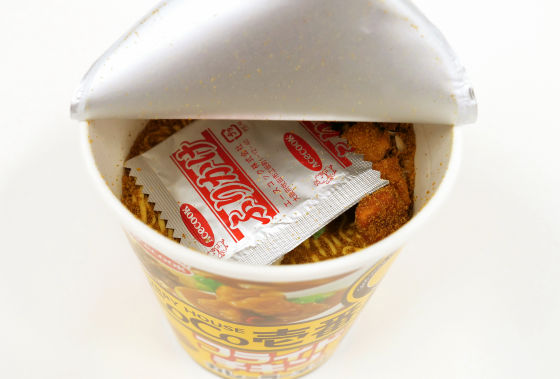 Taking out sprinkles and looking inside, you can see "Fried chicken", "onion", "pepper", "onion" and "soboro" are included.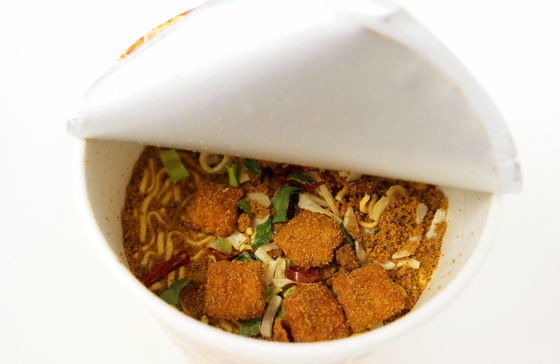 Pour hot water and wait 3 minutes.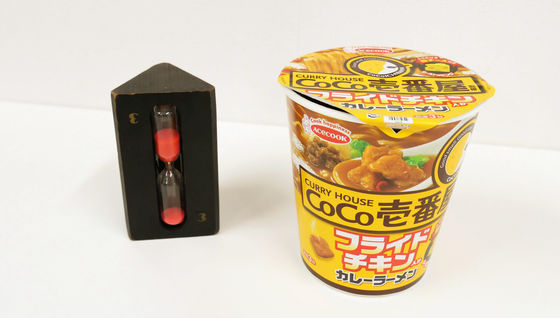 After 3 minutes, opening the lid spreads the scent of curry and appetite is poked, but I still have patience.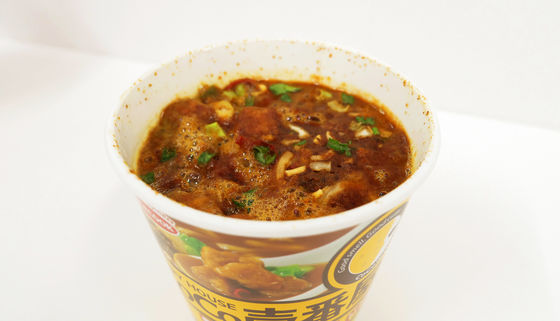 Sprinkle with sprinkling powder cheese ... ....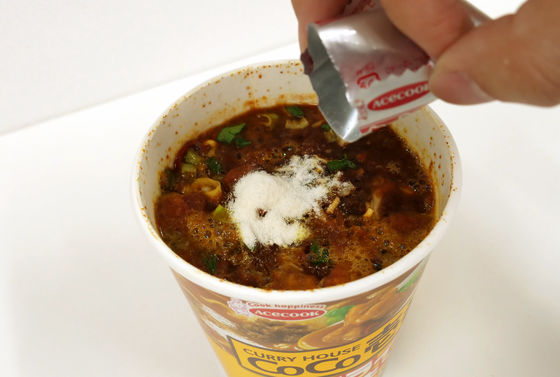 Completed after stirring.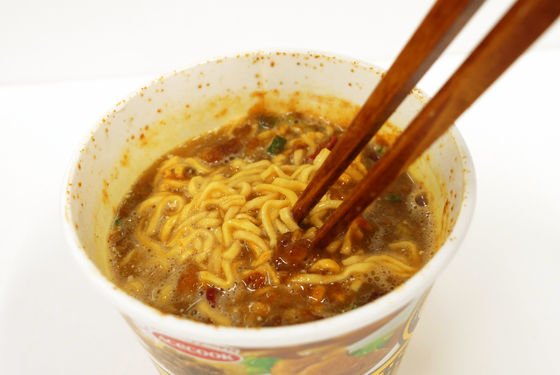 I will eat it from ramen immediately. The impression that the texture is very smooth and slippery noodles. And the taste of soup is suppressed from influence of powdered cheese, spicy flavor and taste of curry is suppressed, finished in gentle taste as a whole.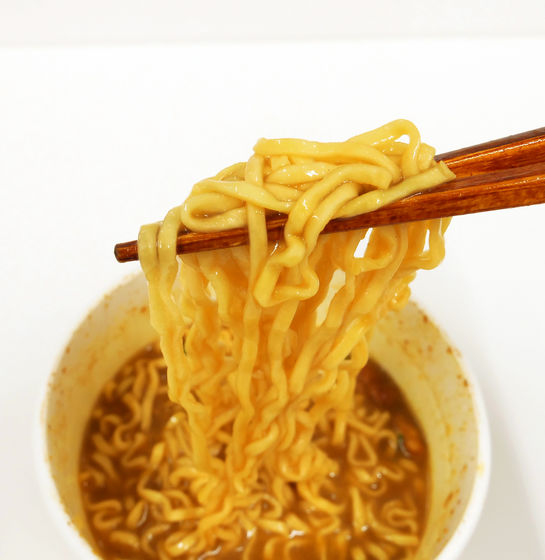 I will try eating fried chicken next time. When you put it in your mouth, you can taste the texture and flavor without discomfort, as far as the impression "just fried chicken!" Comes out, the balance of chicken feel, meat juice flavor, and spicy clothing is outstanding. "Kayaku" in cup noodles tends to suck water too much, but suck it backwards, it tends to be a discomforting texture, but this fried chicken did not feel any discomfort.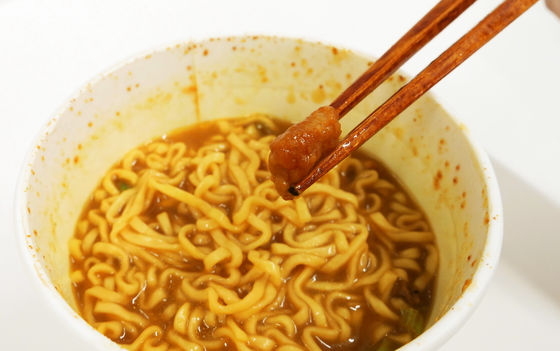 Sobaro can hardly feel the texture, but plus the flavor of the meat.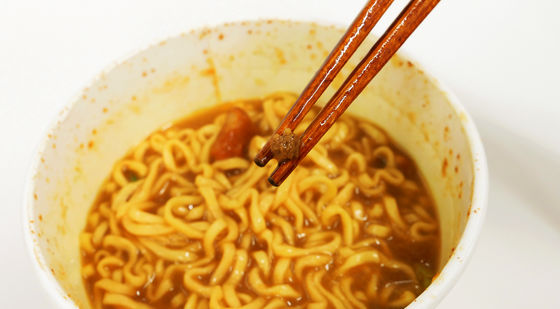 In addition, the onion plays a role of adding a faint sweetness to the whole, but you can enjoy the sharp texture of eating alone.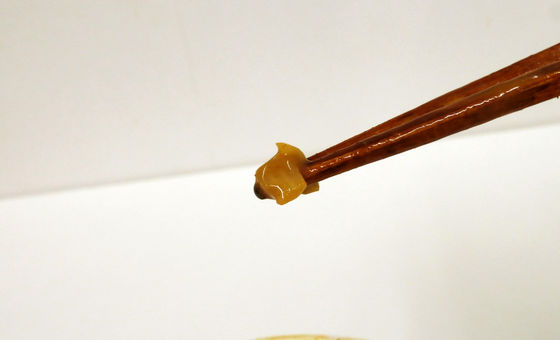 Although the soup itself hardly feels hot, you can add spicy spicy by eating with chili, and you can also change the texture by adding scallion.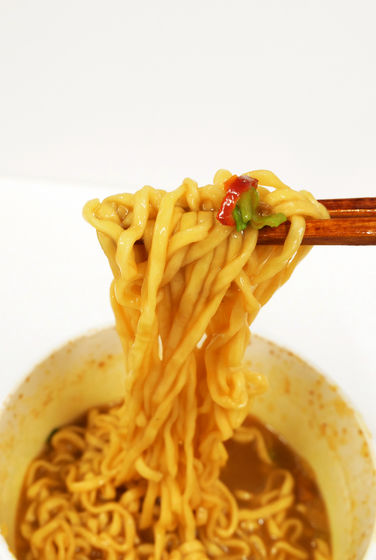 "Curry ramen cheese toppings with fried chicken supervised by CoCo Ichinoya" is sold for 210 yen (excluding tax) from February 26, 2018 (Monday) in 2018.