I tried drinking all four kinds of "juice x jelly sparkling" which can obtain exhilaration feeling and satiety feeling simultaneously with carbonated jelly and nata de coco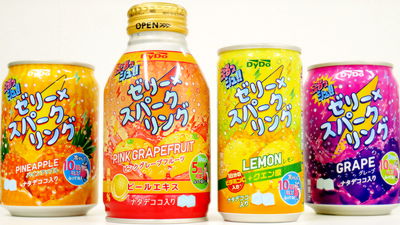 Dido DrinkoFrom carbonate drink containing nata de coco and jelly "Purush !! Jelly × Sparkling Pink Grapefruit"Plusish! Jelly × Sparkling lemon"Purusushi! Jelly × Sparkling Pine Apple"Purush !! Jelly × Sparkling Grape"Will appear from February 26, 2018 (Monday). It is the only carbonated drink in the industry that can fill the belly with jelly and nata de coco, and it is said that three types of containers are prepared. I got all four kinds as soon as possible, so I tried drinking it.

Purutsushi! Jelly × Sparkling | Dido Drinko
https://www.dydo.co.jp/purussh/

"Plusashi !! Jelly x Sparkling" Place where four kinds are arranged side by side. From the left is pink grapefruit, lemon, pineapple, grape.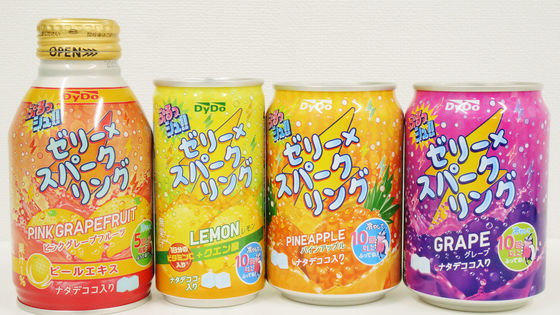 "Purush !! Jelly × Sparkling Pink Grapefruit" is the only bottle type can of the four types. It's big enough to hold even with one hand, and the drinking mouth is slightly wider than a general PET bottle.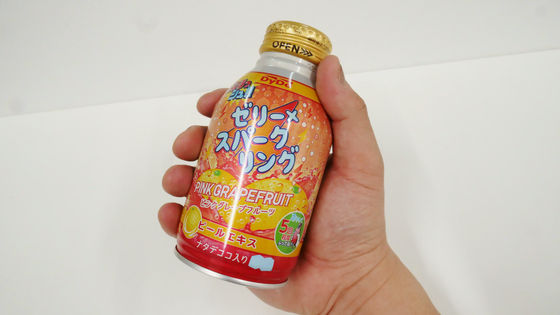 Looking at the raw material name, it contained nata de coco · grapefruit juice · grapefruit peel extract. Contents amount is 270 g.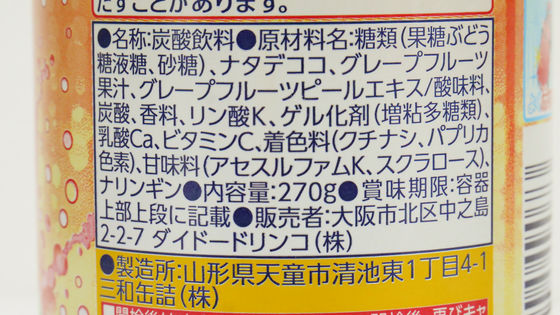 The can was shown to show it to shake about 5 times and cool it well. Calorie is calculated as 48 kcal per 100 g, so it will be about 130 kcal calories with one bottle.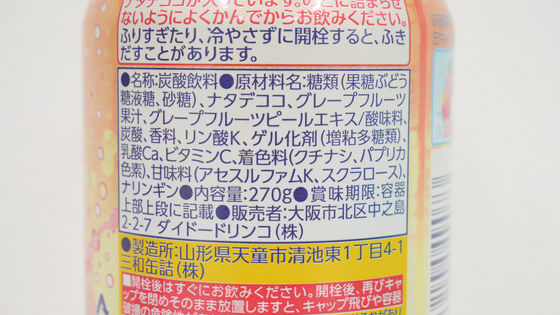 Actually cooling it in a refrigerator overnight, you can shake it five times and pour it into a cup and see it in the following movie.

How to see Dido 'Purush !! Jelly x Sparkling Pink Grapefruit' into the cup - YouTube


Opening the lid will give a refreshing scent of citrus fruits along with the foaming noise of the shower. When I scooped the jelly poured into the cup with a spoon, I found a small cut natadecoco.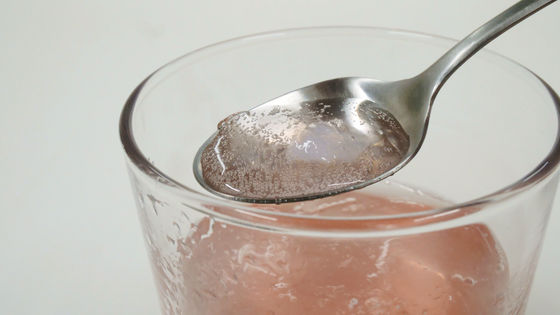 As soon as you drink it, the texture of natadeco cake and the stimulus specific to carbonate mix in your mouth with the texture of juicy puffed. In addition, a feeling of satiety is obtained considerably in jelly and nata de coco, not only sweetness but also a slight bitterness and sourness peculiar to pink grapefruit spread. Because jelly and nata de coco have a drinking drink, it is ant to drink when you are hungry.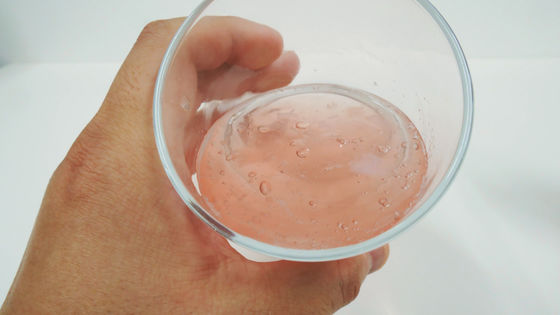 About half of it was still in the can, so I tried shaking for about 10 more times.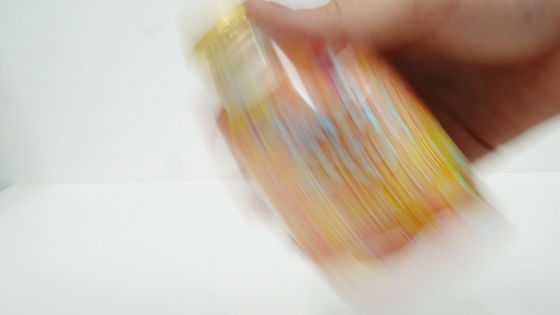 Pour into the cup and it looks like a pink smoothie.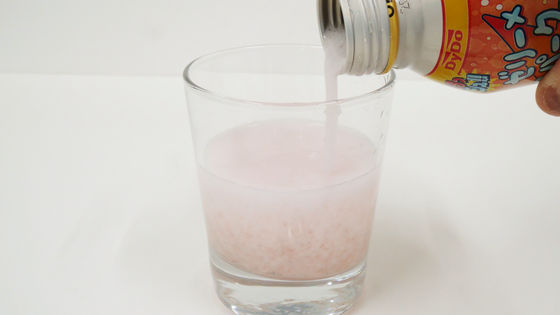 When I left it for a while, it divided into two layers of bubbles and jelly and it looked like the following image. Jelly was finely shaken by being well shaken, it is completely different from when it was shaken five times, a texture that was lively. The bubbles are soft and light, and there are irritating stimuli of carbonic acid, but it is a taste like a smoothie. Because the container has a lid, it is quite ants that you can also change the texture by shaking it again while you are drinking.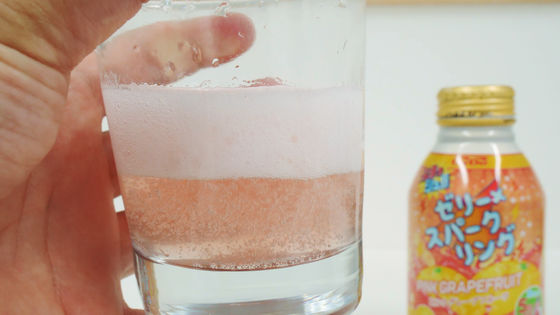 The container of "Purusushi! Jelly x sparkling lemon" is not a bottle can but a short can of a pull-top. Yellow has become a keynote design because it is a lemon taste.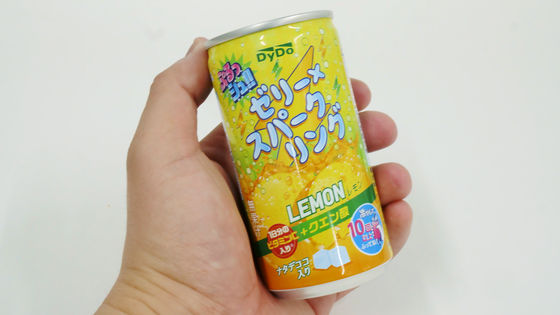 It means that vitamin C + citric acid for one day is contained, and it can predict considerable sourness.



Raw material name is like this. The content amount is 190 g.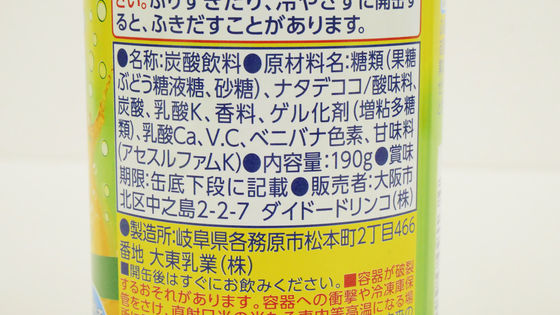 Unlike ping grapefruit which was written to shake about 5 times, this is shown to shake more than 10 times to drink. As it is 49 kilocalories per 100 g, it is about 90 kilocalories per can.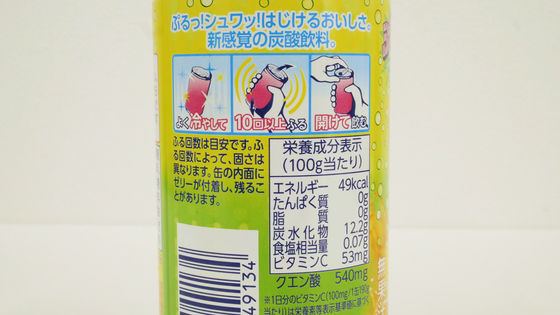 The movie below shows how I shook around 10 times and poured it into a cup. The pull-top can has a smaller drinking mouth than the bottle can, but when it cant tilt lightly shaking the can, it poured into the glass without problems.

How to see "Purush !! Jelly × Sparkling Lemon" pour into the cup - YouTube


The color of the juice is light yellow, and a small cut Nata de coco is floating. It is said that 100 mg of vitamin C and 540 mg of citric acid are contained per can, and when it is drunk it is considerably sour, and the feeling of sweetness and carbonic acid Schwaszwa overlap and there is an exciting refreshing feeling. Because it is an amount that you can drink instantaneously if you shake well, it is ant to drink with a change of work between work and study.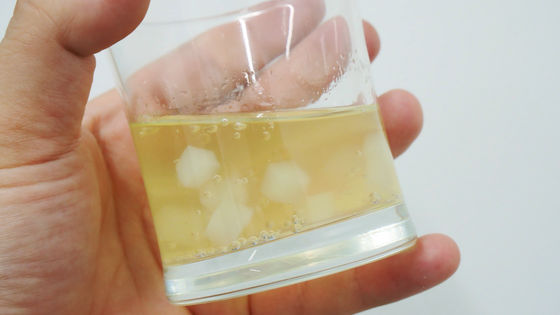 "Purushu !! Jelly × Sparkling Pine Apple" "Purushushi! Jelly × Sparkling Grape" is contained in a little chunky pull-top can. Pineapple is orange and grape is purple.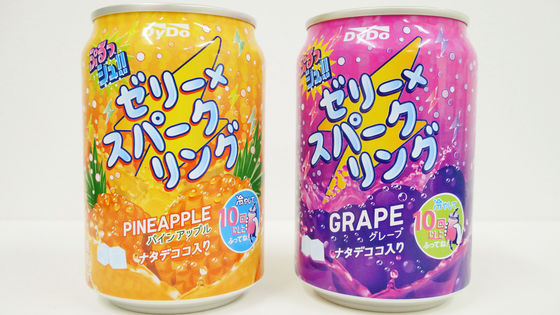 Raw material names are as follows.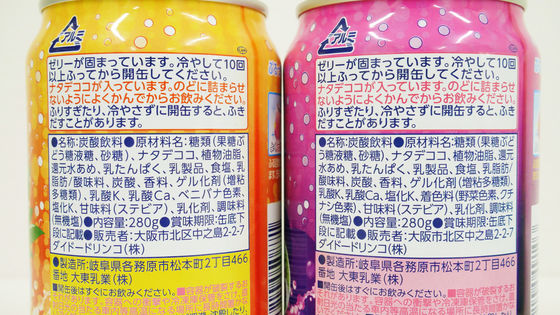 Pineapple grape was also shown to shake and drink 10 times, like lemon. 51 kg of calories per 100 g of pineapple, and 55 g of calorie per 100 g of grape, slightly more caloric in grape.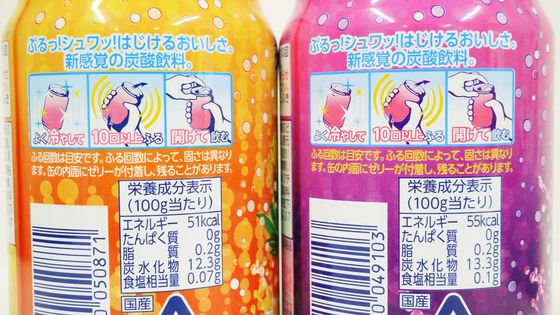 I tried shaking it 10 times and putting it in a cup. Pineapple smells tropical like tropical country. As opposed to grape, the fragrance of grapes spreads. Both of them have stimulation of carbonic acid in melted jelly, there is also sweetness, but firm acidity as well. Allowing you to drink instead of snacks during breaks because you get a feeling of fullness when you drink Nata de Coco firmly.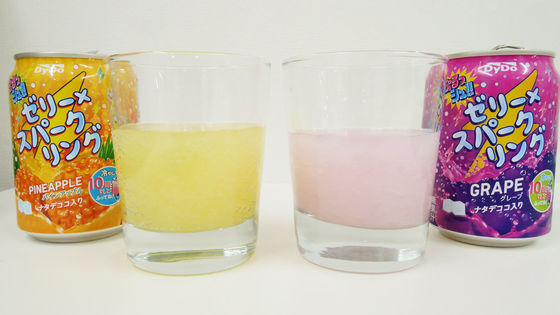 "Purushu !! Jelly x Sparkling" Pine Apple is a nationwide supermarket, Grapes are nationwide supermarkets, vending machines, mail order sales, pink grapefruits and lemons are convenience stores nationwide, supermarkets, vending machines, mail order It will be handled from Monday, February 26, 2018.

In addition, it is said that the campaign to recruit the lyrics of the songs flowing on the CM will be performed with the ANZEN comic who is known for improvisation performance net to the CM of "Purushusu! Jelly × sparkling".

Everyone's making CM song | Daido Drinko
https://www.dydo.co.jp/purussh/cp/

Purushu !! Jelly × Sparkling Purutsushi! I'm going!キャンペーン Campaign in progress 15 seconds - YouTube