Visual core release hidden in Google Smaho's "Pixel 2" so that Instagram etc. can also use HDR + function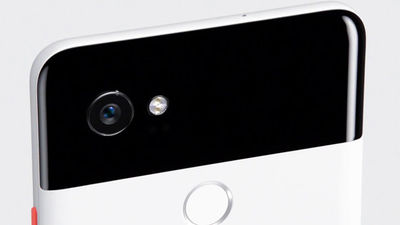 Familiar with camera scoring reviewDxOMarkso,"98'High-end smartphone made by Google that killed the highest score of the time beyond the iPhone 8 Plus is "Google Pixel 2"is. Google's technicians who developed such Google Pixel 2 Of particular note among the camera functions is that even in shooting in the dark it is possible to express beautiful and dark parts beautifully with a single picture "HDR +Function. This HDR + function can also be used from camera functions of third party applications such as Instagram.

Use Pixel 2 for better photos in Instagram, WhatsApp and Snapchat
https://www.blog.google/products/pixel/use-pixel-2-better-photos-instagram-whatsapp-and-snapchat/

Google announced the release of the custom coprocessor "Pixel Visual Core (Pixel visual core)" designed for Pixel 2. By using computational photography and machine learning, the Pixel visual core improves the quality of photos taken with photo shoot application. Specifically, it makes shooting and sharing easier than ever before from third party applications such as Instagram, WhatsApp, and Snapchat. Google said that by releasing the Pixel visual core "it will be able to shoot brighter, clearer and clear images."

As for how much the quality of the photograph improves by actually releasing Pixel visual core, it is as follows. On the left is a picture taken with Pixe 2 before release of Pixel visual core, right picture is taken after releasing Pixel visual core.

HDR + of Pixel 2 is "It is possible to express beautiful and dark parts beautifully with one picture", but when you shoot a sunset sky and a person together, its characteristics appear more prominently.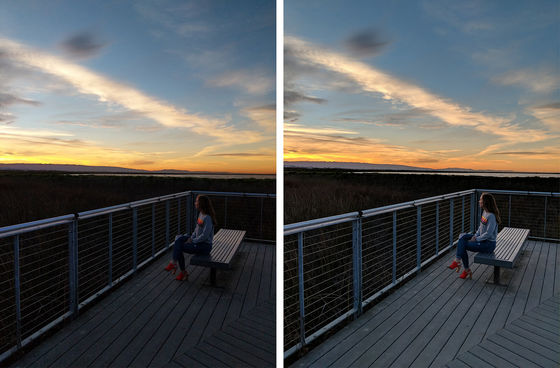 Portrait in the shade. When bright and dark places fit in the following way, it is normal to match the brightness to the bright space to make the facial expression of the front person unknown, or it is normal that the entire photo will go off white in accordance with the brightness However, if Pixel 2 after Pixel visual core release, you can shoot clearly both the background and the person.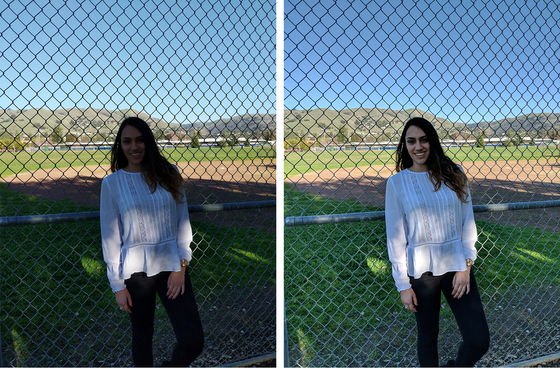 The Pixel visual core is designed to allow for advanced image processing while keeping power consumption, while using additional computing power to improve photo quality by running the HDR + algorithm, power consumption As much as possible. Also, as with the main camera, Pixel visual core uses machine learning technology called "RAISR", making it possible to sharpen and sharper zoom in than conventional cameras. In addition, it adopts "zero shutter lag" that the time from pushing the shutter button until the actual photograph can be taken is zero, it is possible to leave the moment as the user thought as a photograph. All of these functions will also be available in the camera function of third party applications.

Please note that this update will be released within the next few days.