A copyright infringement complaint continued to a movie with only noise, why the hell?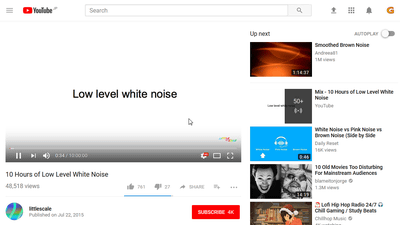 A kind of noise "White noise"It was published on YouTube as a movie, and the man revealed that it was pointed out by multiple copyright owners that" it infringes copyright ".

Musician's White Noise YouTube Video Hit With Copyright Complaints - TorrentFreak
https://torrentfreak.com/musicians-white-noise-youtube-video-hit-with-copyright-complaints-180105/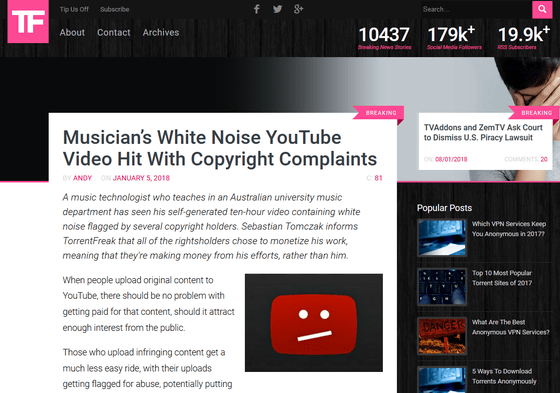 I work for the music department of a university in AustraliaSebastian TomuzakMr. Mr.YouTube accountPublished on above.

"I am teaching students at the university music department in Australia,ChiptuneOnpaperI have a doctorate in. My main research field concerns music, sounds and technology. "" I started a blog about music about 10 years ago, mainly on what I am interested in, and researching I've been writing about the things that are going on.It is posting various music related contents such as music controller's design and sound design, "Tom Zukzak explains about his own activities on the Internet.

One of the movies made by Tom Kuzak published on YouTube is why five copyright infringement complaintsnotificationYou are receiving. Mr. Tom Zuck is tweeting on his Twitter "My 10-hour white noise movie has received 5 copyright infringement notifications!"

My ten hour white noise video now has five copyright claims! :)pic.twitter.com/dX 9 PCM 1 q Gx

- Sebastian Tomczak (@ littlescale)January 4, 2018

The following movie received notification of copyright infringement. A low-level white noise is a movie that flows for only 10 hours.

10 Hours of Low Level White Noise - YouTube


"A white noise movie is one of the movies I have published online and was made because I was interested in listening to various kinds of consecutive sounds.This kind of sound is long I am publishing because I was curious about the effect of listening to time. " Actually, some people assume that white noise is useful for introducing sleep, others use BGM as a background music to focus on work by listening to ears from environmental sounds.

"I created this movie myself and uploaded it.This is a 10 hour noise waveform,AudacityAnd it is a sound file with built-in noise generator. I imported the created 10 hours of audio files into ScreenFlow, add text and convert it to a 10 hour movie file, "explains how to create a movie.

Tomuzak uploaded his own white noise movie in July 2015, and since then, a total of five copyright infringement complaints have been received. The allegation notification by copyright infringement seems to be sent from four different copyright holders.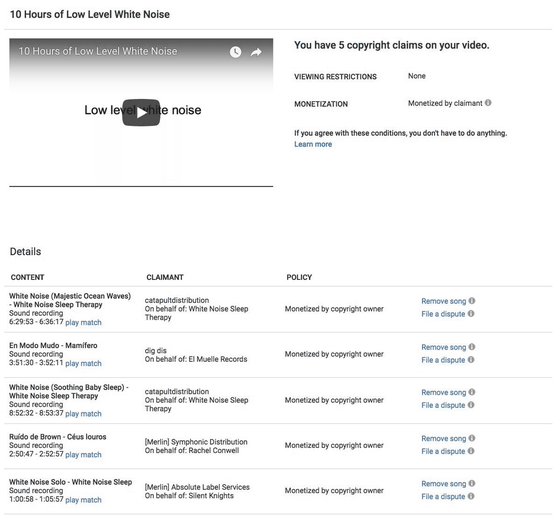 Normally, if YouTube decides that Mr. Tom Zuck's account infringes copyright, the account will be suspended. However, in this case the copyright owner is on YouTubeContent IDIt seems that you have chosen to monetize your movie instead of deleting the movie due to copyright infringement. In other words, Mr. Tom Kuzak made his own movie for himself, and people claiming that "it is the copyright holder of the movie" has earned advertisement income from the movie.

Whether the allegation of copyright infringement that Mr. Tomuzak was filing is "allegation from a person with copyright of white noise related music" or "allegation by a person trying to steal only advertisement income of a movie with a lie" It is unknown whether.CatapultArgues that Mr. Tom Kuzak's movie infringes the copyright of the song "White Noise Sleep Therapy" contained in the album "Majestic Ocean Waves", but Mr. Tom Kuzak According to the report that there are many false copyright infringement complaints.

"I have received a lot of alleged copyright infringement so far, it is usually received, for example, when making long-term works, and in most cases I will deal seriously about these allegations If you decide that a problem will arise due to a complaint, submit the original material or original data, etc. so that you know that it was made by you, prove that you created it We usually hope that this will disappear in this way, so we hope that this time again, "he confesses that he has been plagued by false allegations of copyright infringement many times.

Also, some musicians have allowed them to use their songs in the movie, but eventually told the movie that the movie has been notified of copyright infringement after the movie was uploaded on YouTube. YouTube has introduced a tool to automatically check for copyright infringement, but Tomzakzak said that this tool only delivers annoying notifications, and for users who have sufficient revenue on YouTube, It is harmful. "

In addition, Mr. Tom Kuzak insists that "YouTube should be adjusted" so that fake copyright infringement claims will not be made to the uploaded movie.