I went to a beverage specialty shop "beL" at 2 o'clock in the evening to eat parfaits like art items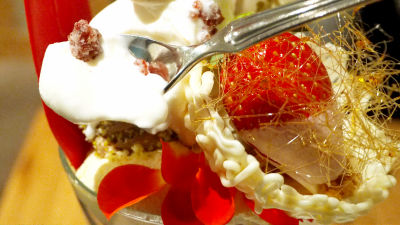 Store opened at 17 o'clock in the evening, Monday ~ Thur & Sun is open until 24 o'clock, Friday, Saturday and public holiday is open until 26 o'clock, a shop that can eat parfait in the late nightNight parfait specialty store beL"is. Originally it is a shop that is operating in Sapporo as "I hope to have a good dream with a delicious parfait for the closing of the day", but in Tokyo also the new store opened in Tokyo on September 30, 2017 As it was, it actually went to the shop.

Night parfait specialty store | Lycoteria gaku
http://risotteria-gaku.net/parfait

The address of the night pafe shop "beL" is 7 - 10 1 - chome Dogenzaka, Shibuya - ku, Tokyo. It is 4 minutes on foot from JR Yamanote Line · South Exit of Shibuya Station.


The shop is the 3rd floor of a cloudy building like this.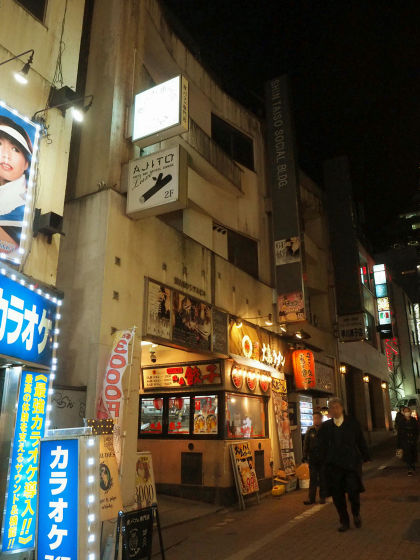 There was a sign of "Night parfait specialty shop".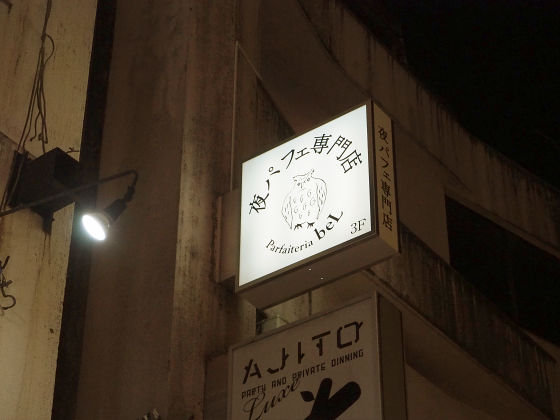 I went upstairs and arrived at the entrance. When I visited around 19:30 on weekdays, it was already full and the 2 people were waiting in order. The length of stay at the store is limited to 1 hour, but as the number of waiters has increased to 8 at around 21 o'clock, people who do not want to wait are recommended to come early.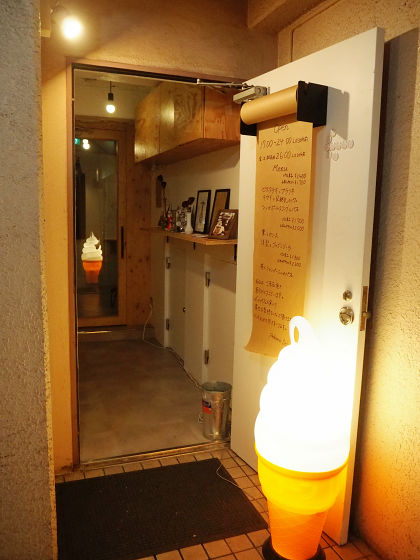 Inside the shop is like this. There are 27 seats in a table seat and a counter seat for two people.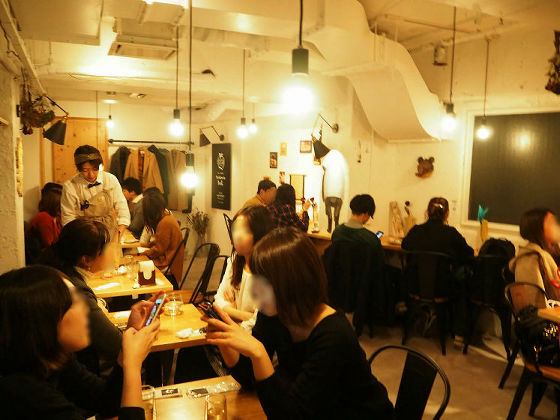 This time to the table seat.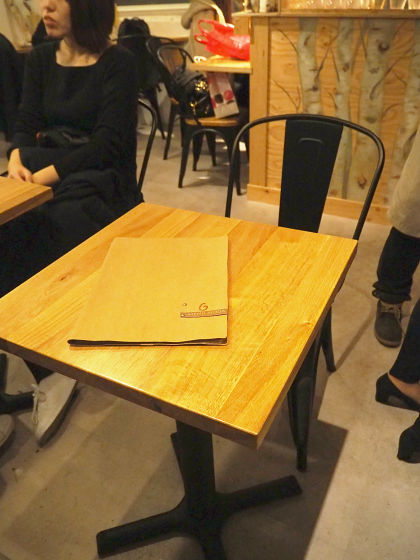 When I open the menu, only the explanation with letters is inside. Since there are no pictures, we are looking forward to seeing what parfait will arrive after ordering.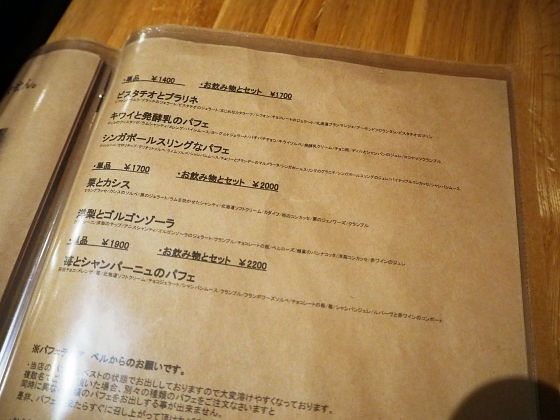 Also, it is also possible to make it a set with drinks, and "¥ 0" next to the menu table is a drink that can be set with zero additional charge. In addition to soft drinks, you can also set champagne etc with zero additional charge.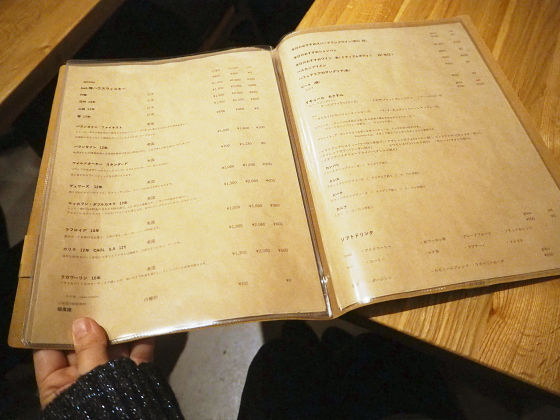 Since parfaits are made one by one after ordering, drinks arrive first. The left is water, the right is champagne, but both are slightly unusual design glasses.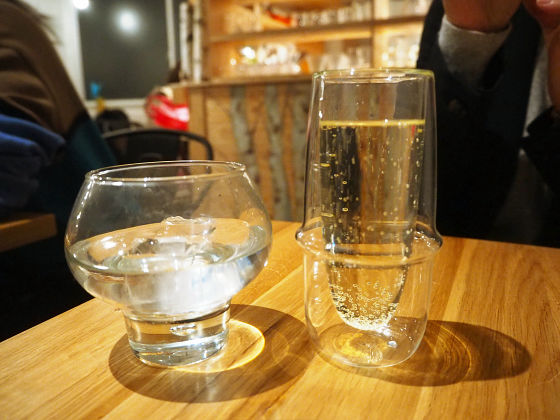 The cup of tea is also brilliant.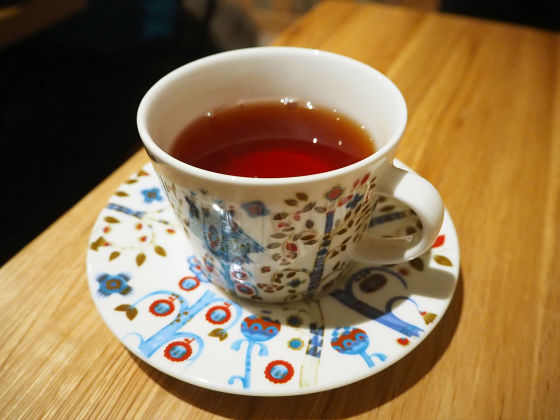 After waiting for about ten minutes the parfa arrives. The first one is "Strawberry and champagne parfait" (single item: 1900 yen / set 2200 yen).



The second one is "Pistachio and Praline" (1,400 yen for each item / set 1,700 yen). The size compared with the iPhone SE looks something like this, both parfaits are bigger. There is a further moiruri in the long glass.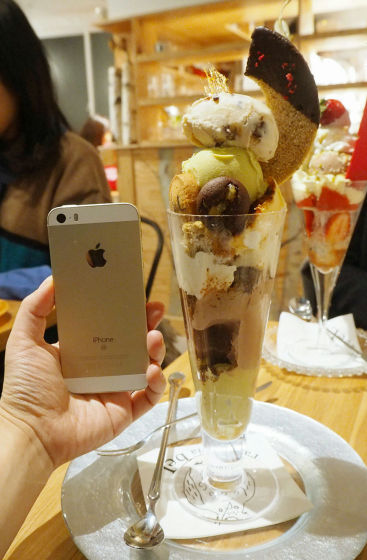 First I will look at strawberries and champagne parfait. On top of Hokkaido soft cream are strawberries coated with white chocolate, chocolate and meringue in the form of feathers, and candy sticks.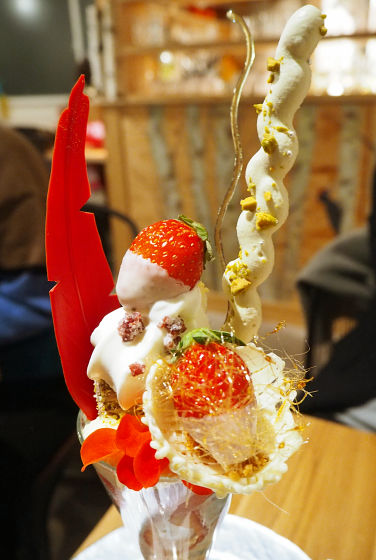 On the white chocolate that looked like a plate, strawberry and golden candy workers were floating.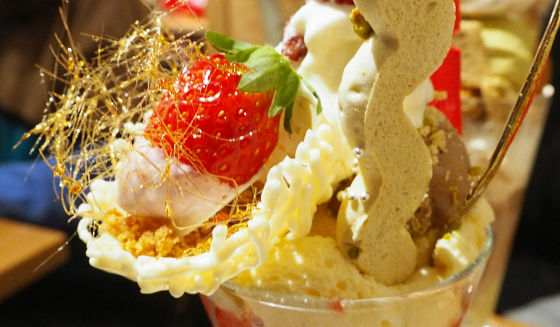 Under the champagne mousseRhubarbAnd the red wine compote. Ichigo and champagne jelly are contained under the white chocolate partitioned plate.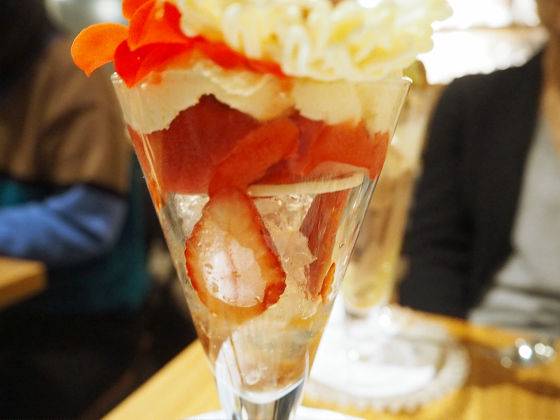 It is fashionable that petals are on.



Looking from behind like this. Below the soft cream is a gelato of chocolate.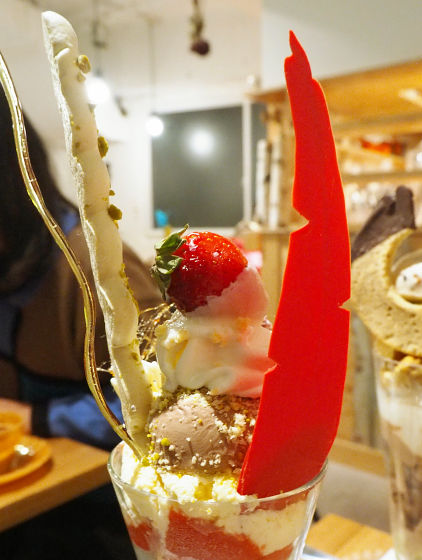 That's a bite. Berry type crumbled soft cream has a rich taste of milk. However, at first I ate a soft gel cream or gelato of chocolate alone, so I did not get impressed that much ....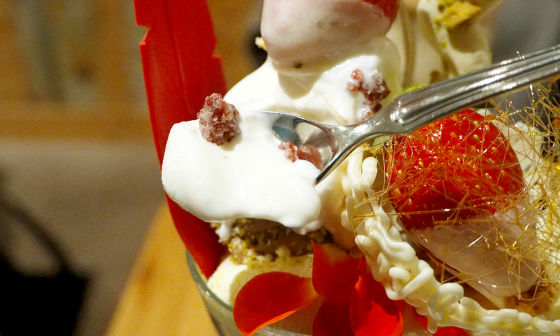 Various tastes will appear each time you go out and mix together, the ability of parfait will gradually become clear. From the champagne mousse the smell of fluffy and champagne spread widely, and even when eating with the chocolate mousse there was glamor.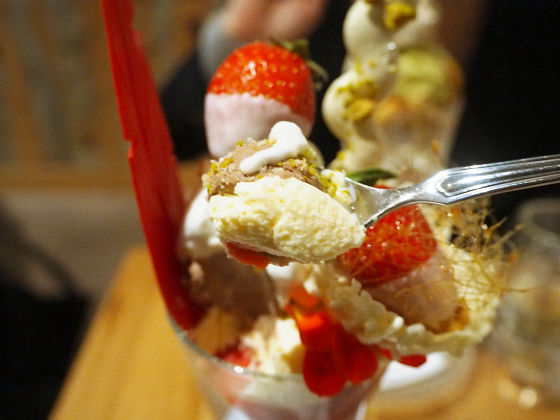 Sweet and smooth white chocolate and strawberry acidity is a combination of iron plates.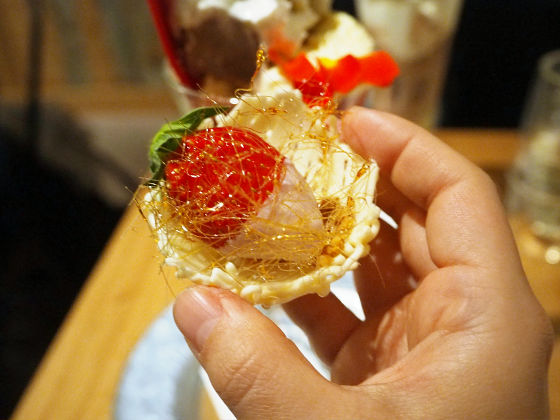 Sorbet of Franboise is a luxurious finish that freshness of fresh fruit is felt and denseness is felt. Since chocolate gelato and soft cream were chillin system, refreshing sweet and sourness was comparative.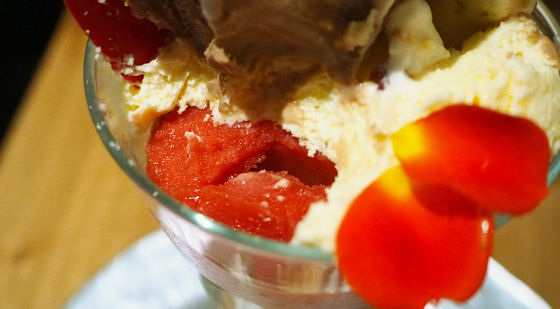 The chocolate taste of the red feathers is white chocolate.



Squeezing meringue, the topping pistachio fragrant slightly.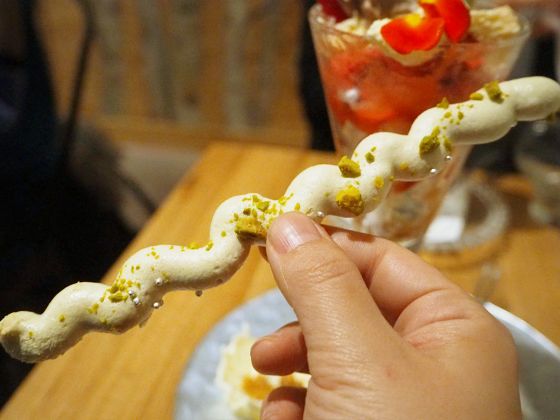 Under the white chocolate plate ......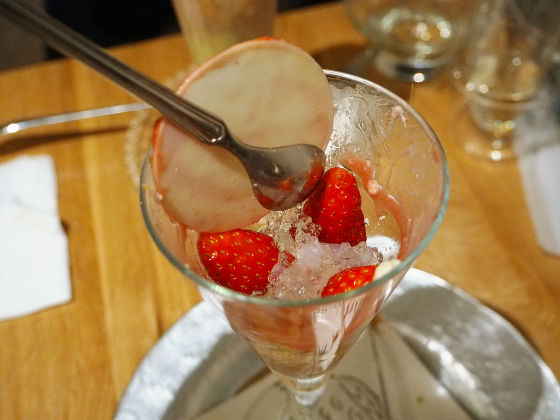 Champagne Jure and Ichigo. The toppings which were in the upper part of the glass are rich chilli system, but as we go forward with eating we switch to a refreshing dessert, so it's quite a bit expensive, but I did not feel heavy and I ate it all in a blink of an eye It was. As champagne is used a lot, so it feels like dessert for adults, not only appearance but also a combination and change of taste will also convey a prejudice.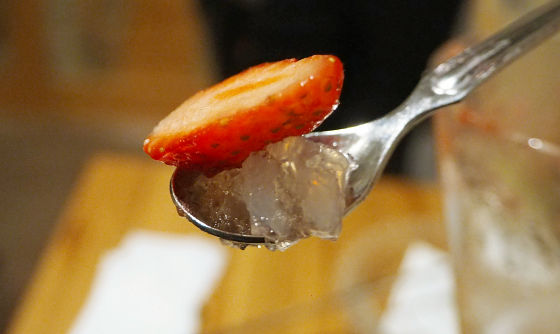 Another tasting "pistachio and praline". It is topped with gelato and pistachio gelato of praline from the top, rusk of chocolate coated chiffon.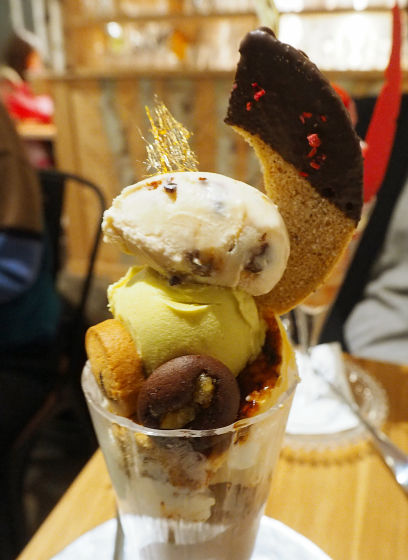 Two cookies and a chiffon cake.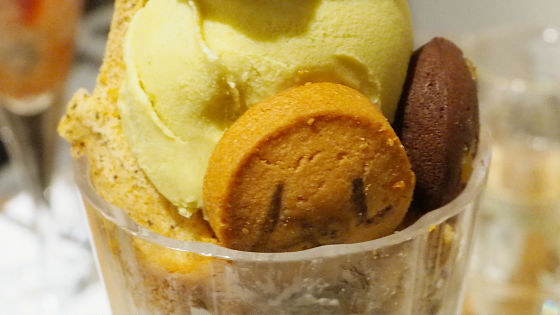 In the glass there is a gelato of Hokkaido Brammangje · chocolate, again a layer of gelato of pistachio.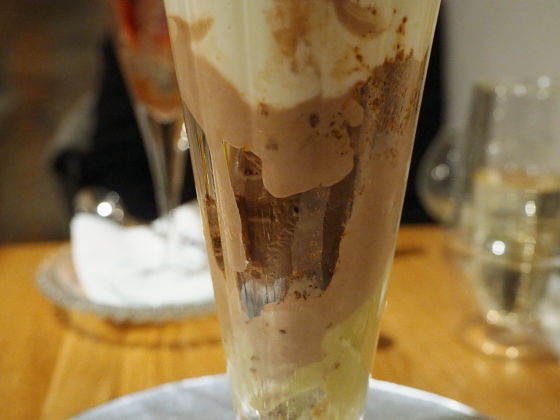 When I also tried it, I used gelato of gelato and pistachio of praline gelato and chocolate of gelato and gelato of rich flavor, so Morimori is used, so compared with the strawberries and champagne parfa which juice and fruit abundantly used Pretty heavy. However, if you like the taste of adults such as pistachio and praline, you will be impressed by its richness.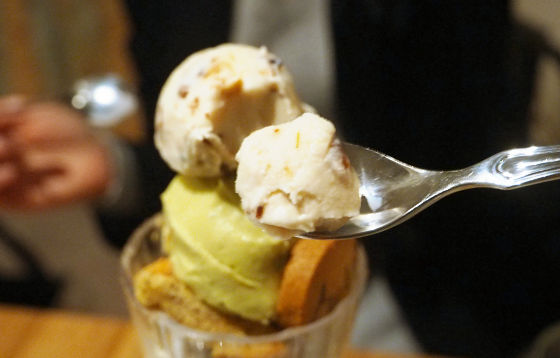 Under the pistachio ice cream brulee like an ice cream "serious catarana". The taste of eggs is also thick.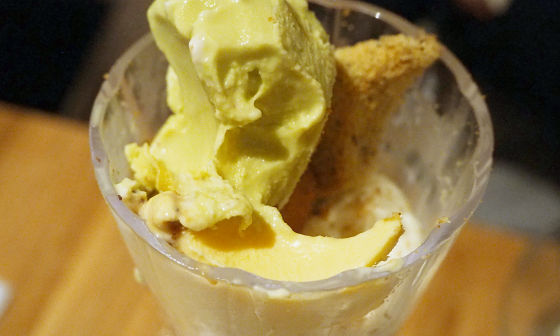 Chiffon is fluffy. Overall we had a lot of cake and ice cream, so it was a little heavy impression as a dessert after meals.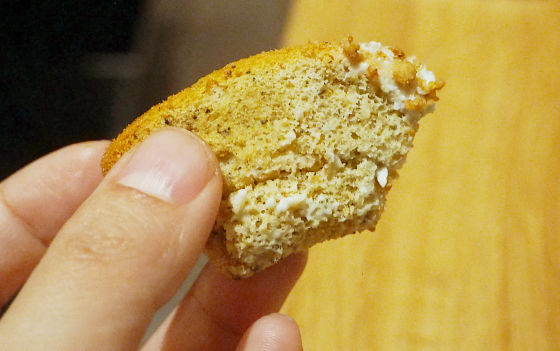 In addition, we took pictures of the people who were in the next seat. This is "Singapore sling parfait" (1400 yen separately / set 1700 yen)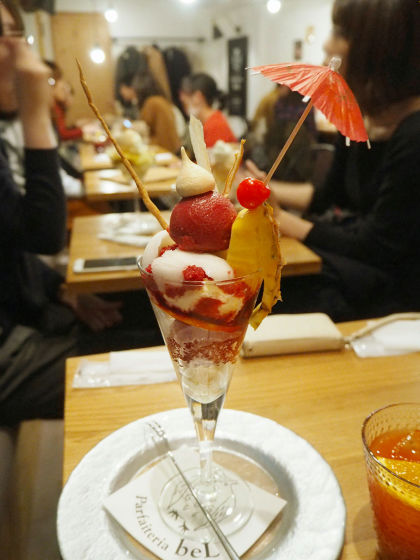 Besides, "chestnut and cassis" (single article 1700 yen / set 2000 yen) and ... ...

Chestnuts and cassis, toppings have changed from figs to kingdoms and persimmons. Since the same combination is repeated on the left and right, it is the perfect parfa to share with two people and eat. It is a mystery whether it is a parfait. But it is a specialty shop at night.pic.twitter.com/9 Y 4 v 9 x 8 w UD

- Yui in Yumiism (@ ii 2orue)December 13, 2017

There are also "Pear and Gorgonzola" (1700 yen separately / set 2000 yen) in which the rose chocolat "Bell Rose" was confined.

Shibuya 's night parfait specialty shop was suffocated ~ a set of pear and gorgonzola parfait and whiskey It was delicious.pic.twitter.com/U7s6qrGdv7

- Nakaya (@ teammachinegun)December 23, 2017