'Horiuchi Fruit Garden' tasting review to get a glimpse of the 'fruitfulness of fruits' of the farms that continued from the Meiji era such as sandwiches that sublime fruits as a side dish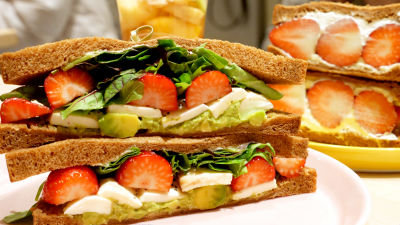 " Horiuchi fruit garden " which continues making eel, blueberries, plums, plums, karin, etc. in Yamanouchi of Nara, Yoshino from 1869 is like sandwich of caprese which replaced tomato with strawberry, soft cream like short cake We have opened a fruit parlor that handles " short cream " from March 14th, 2019 (Thursday). I have actually eaten at the shop what kind of finish the side dishes & desserts of the leading role are fruit.

Horiuchi Fruit Garden / With Horiuchi Fruit Garden
http://horiuchi-fruit.jp/about/

Horiuchi Fruit Garden | GRAND FRONT OSAKA SHOPS & RESTAURANTS
https://www.gfo-sc.jp/shop-detail/horiuchi-friut-farm/

Horiuchi Fruit Garden Osaka Store is located on the first floor of Umeda Grand Front Minamikan.


Arrive at Grand Front.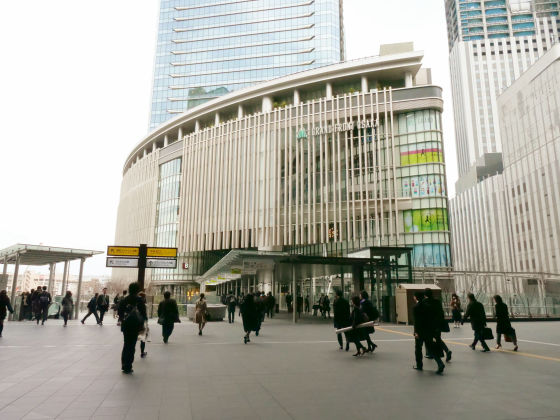 Opening time is 10 o'clock, but when it arrived at 9:45, a person had already made a row in front of Grand Front.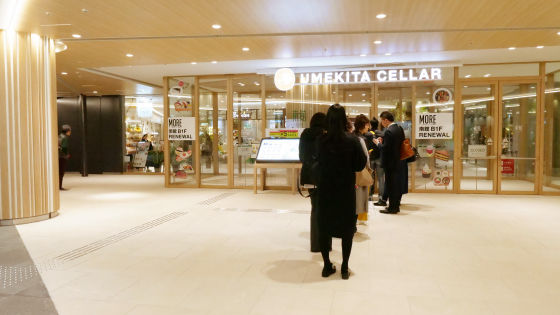 It is a relatively easy-to-understand location called Horiuchi Fruit Garden immediately on the left side after entering the entrance.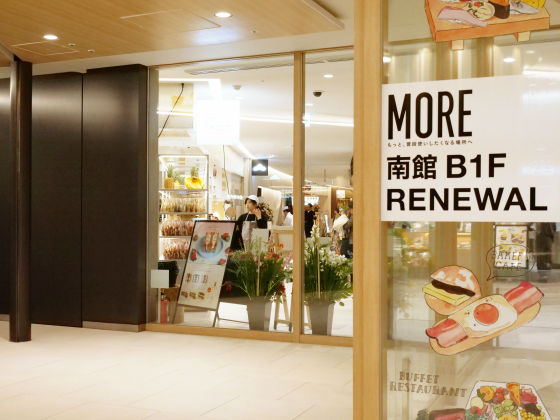 It is 10 o'clock and Grand Front is opened. After the opening of the store, people began to gather in front of the Horiuchi Fruit Garden, and in a row of long lines in no time.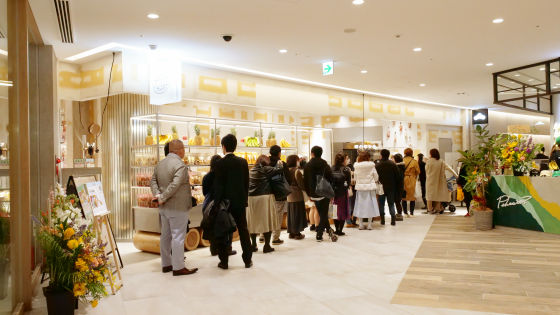 It is a style to go to the store's seat after ordering at the counter in front of the store.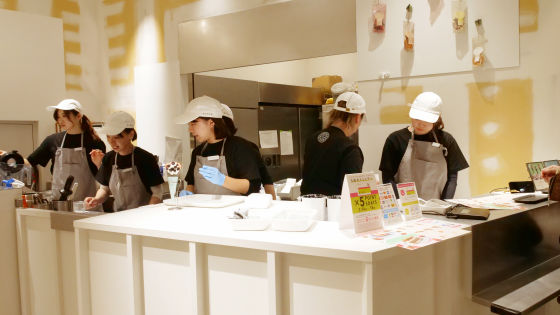 I received a menu while in a row. There are various sandwiches on the surface of the menu, and the left side is a limited-time menu using seasonal strawberries. There is also a lunch set from 11 to 13 o'clock.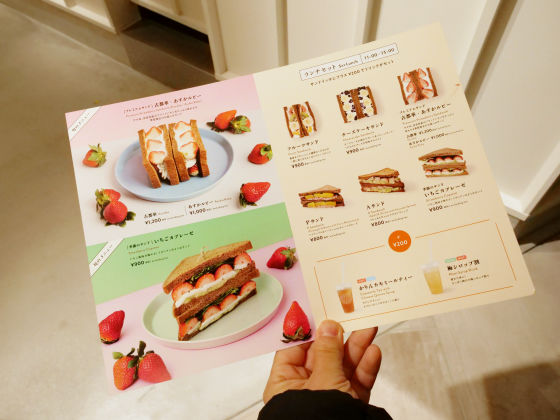 The other side is fruit sand, short cream, deli sand, smoothie, dessert, fruit ice, drinks and so on. All menu take-away is OK.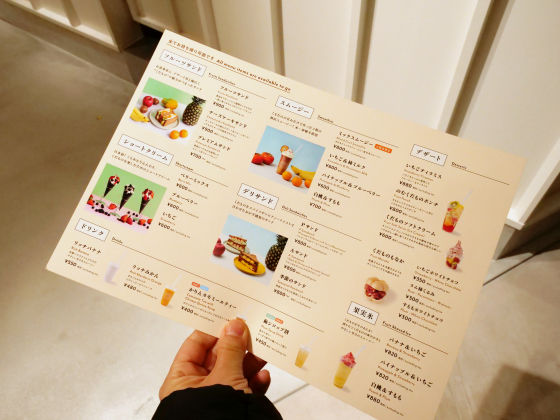 After ordering, go to the store. There were six 2-seat tables and one 3-seat table seating for a total of 15 in the store.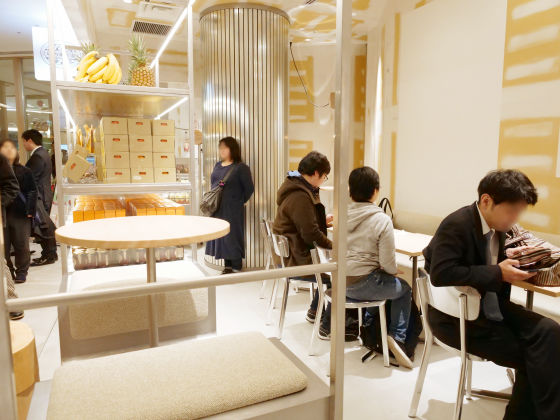 So , first of all, from " Premium Sand Kotoka " (1200 yen plus tax) with plenty of seasonal strawberries. Strawberry premium sands can be selected from "Kotoka" and "Asuka Ruby" (1000 yen excluding tax).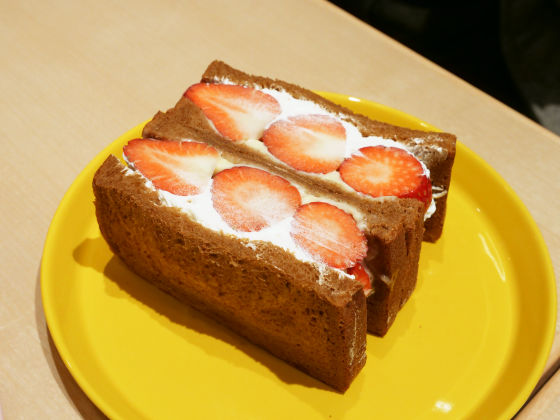 One sandwich is bigger than the 123.8mm iPhone SE.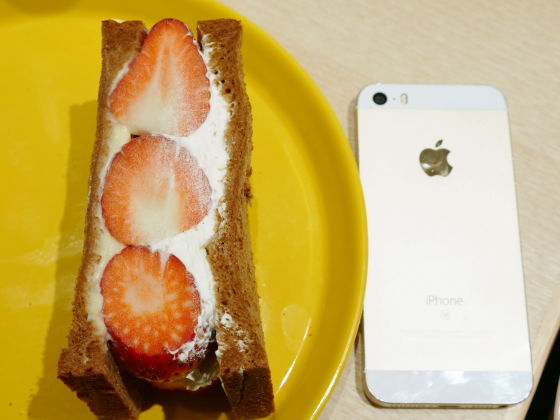 When I took off the bread, there were a lot of strawberries lined up. Nine large strawberries are used in one set of two pieces.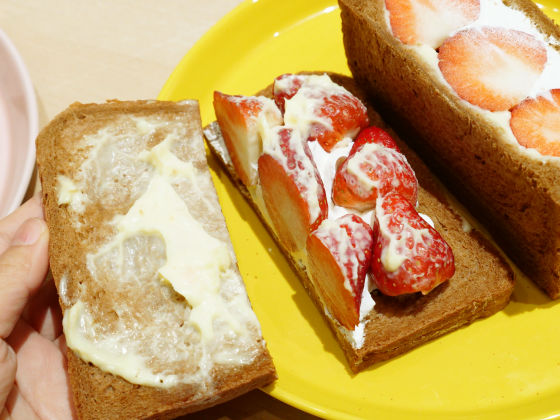 When I put on a sandwich, I felt that it was hard to eat strawberries. Even fresh strawberries that seem to be rip-off are both sweet and sour, and it is not a feeling that "the sugar content is high as if you are eating sugar", but rather a dish with some taste of strawberry royal road. Besides fresh cream, it also used creamy cream, which has a milk-like flavor, and because the bread is slightly salty, I felt that the main role of the strawberry is being enhanced from all directions. Although it is a royal road, the level is high and there is satisfaction only with the price.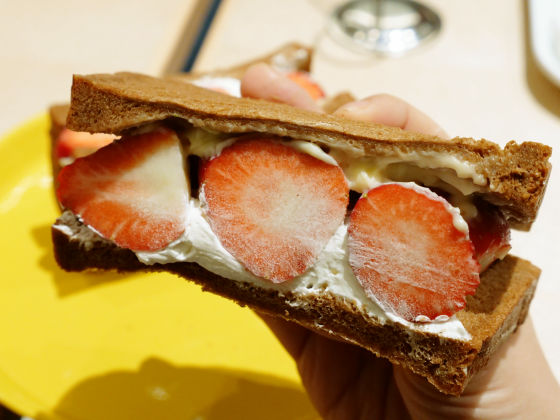 Next, "strawberry caprese" (900 yen excluding tax)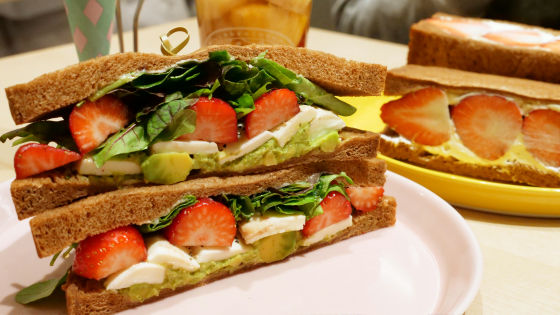 This is also a volume-sized sandwich.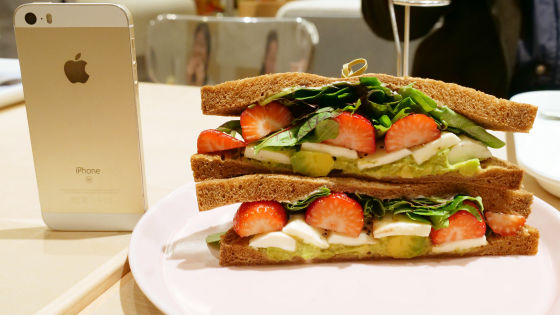 Strawberry caprese is a sandwich made by replacing tomatoes in caprese, an Italian dish originally made with tomatoes and mozzarella, with strawberries. When I peeled the bread, I could confirm baby leaf, strawberry, mozzarella cheese and avocado.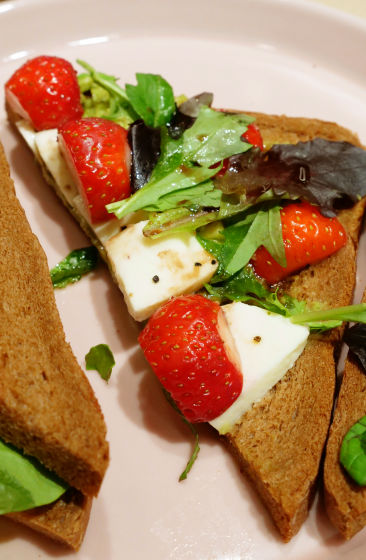 It is a taste that the word "sophistication" looks as good as the comment saying "What a fashionable taste ..." comes to mind after eating. This isn't a sandwich anymore, can I call it Italian food? I can not but think. Unlike previous premium sands, the sweet and sour strawberries are used to match the aroma of balsamic vinegar, olive oil and basil in an exquisite manner.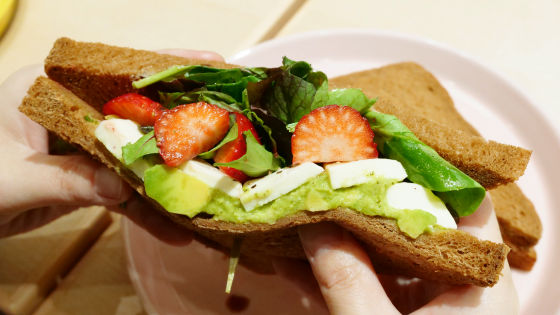 In addition, I bought "P Sand" (800 yen including tax) called pineapple & bacon with curry mayonnaise.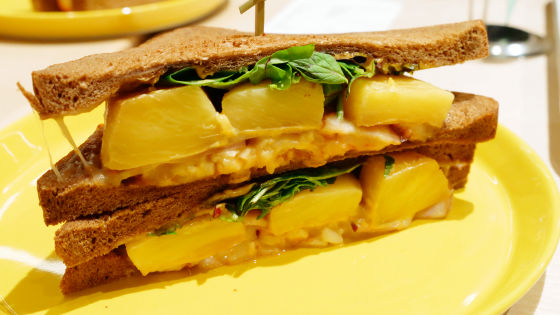 You can see large pineapple, bacon, cheese, baby leaf etc from the cross section.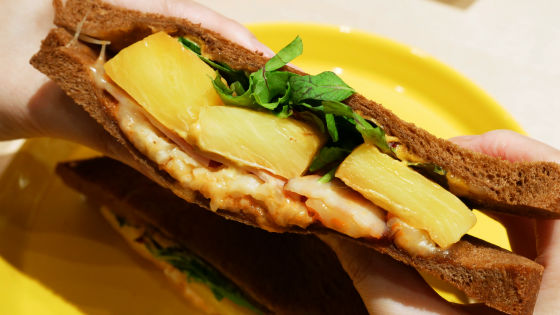 Anyway, the pineapple is sweet and juicy, and cheese, curry mayonnaise and bacon are added to it, so it is a finished finish compared to strawberry caprese. However, the combination of high calories is not junk because fruits are the leading role. The satisfaction level as a side dish sandwich is high, but after eating, I felt that "I like eating sweet things ...?" Because the sweetness of pineapple is strong.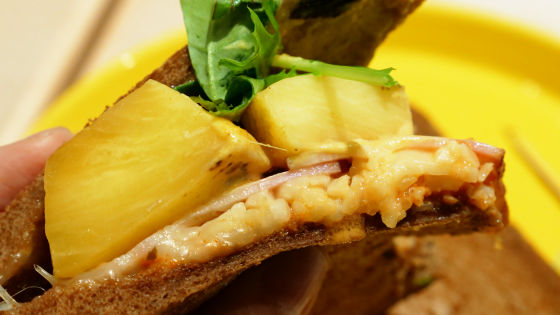 Then to dessert type. Horiuchi Fruit Garden has a parlor in Nara Prefecture, but there are some items that are only handled by the Osaka store. One of them is "Short cream" (600 yen excluding tax). There are three kinds of berry mix, blueberry and strawberry, and this time I chose berry mix.



It is not whipped cream that is filled with corn but cream called Espuma . On top of that are blueberries, strawberries and freeze-dried raspberries.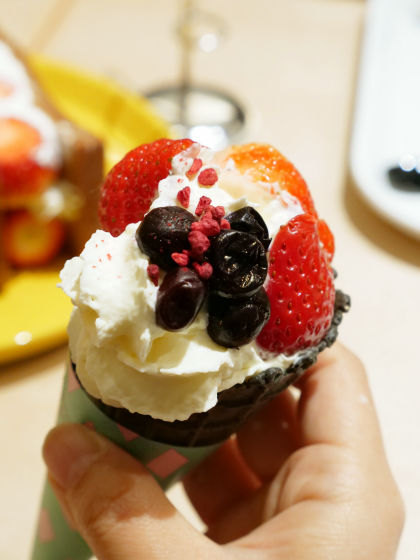 Espuma has a lighter texture than whipped cream, but the flavor of milk is rich. There is a problem with eating whipped cream as it is, but since Espuma is light, you can continue eating it crisply. It also feels good with sweet and sour fruits.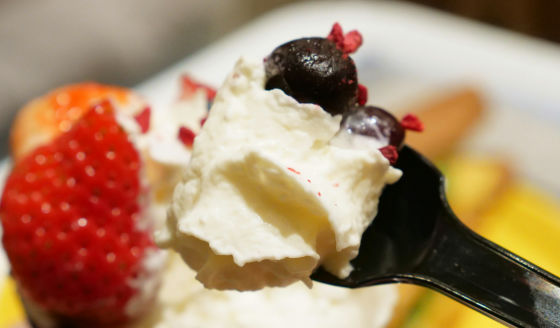 The fruits were not only toppings, but also inside. Some Espuma also used berry sauce, so the taste changes as you eat.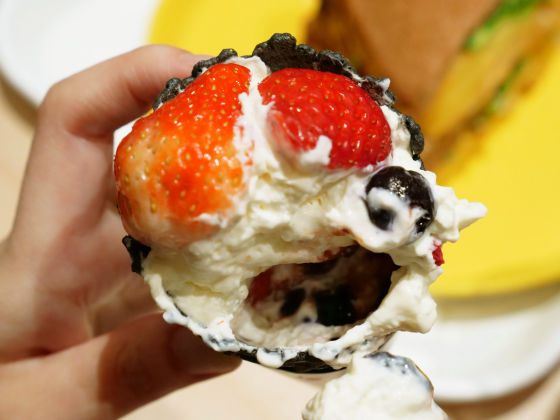 The waffle cone was black, but I did not feel any difference in taste.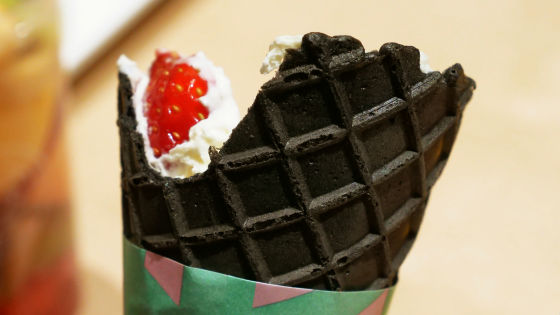 To drink more. From the left, "Nomud Punch" and "Mick Smoothie" are both tax-excluded 800 yen.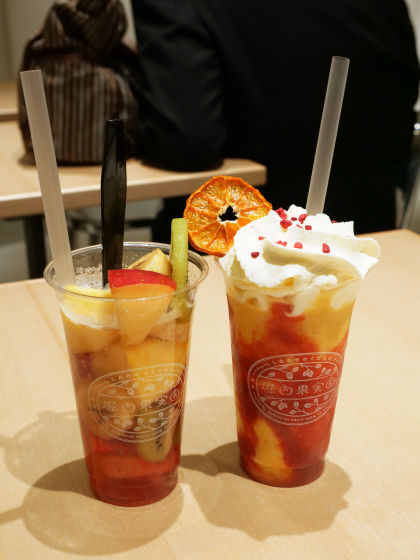 Size is this much.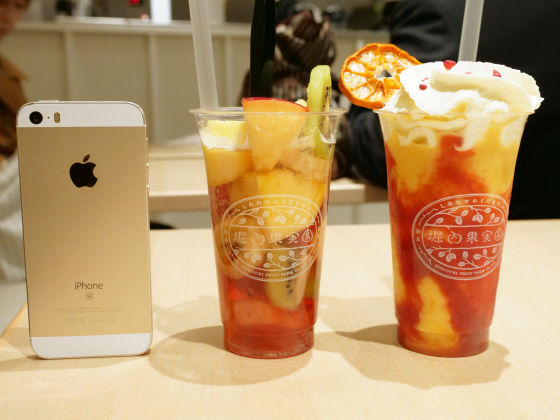 Mick Smoothie has Espuma cream, dried raspberry & orange on top of drink.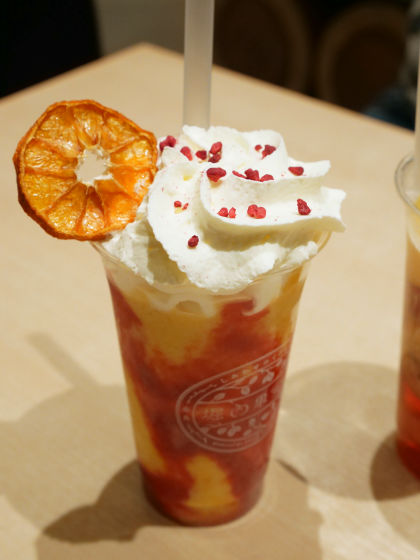 First of all, when I drink it with a straw, the drink part has a very "dark" taste of strawberries and bananas. In contrast to the succulent and juicy bananas, strawberries are so sweet and sour.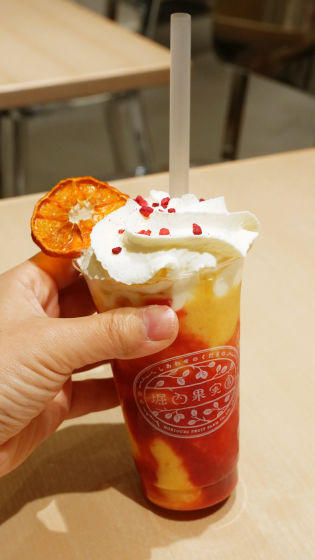 If you add Espuma to a smoothie with an atmosphere of "drinking the fruit as it is", the sweetness, sourness and milk feeling are united, and the taste of "mixed juice" is exactly. The change in taste was quite large, so it was a drink with a sense of value that you could enjoy several tastes.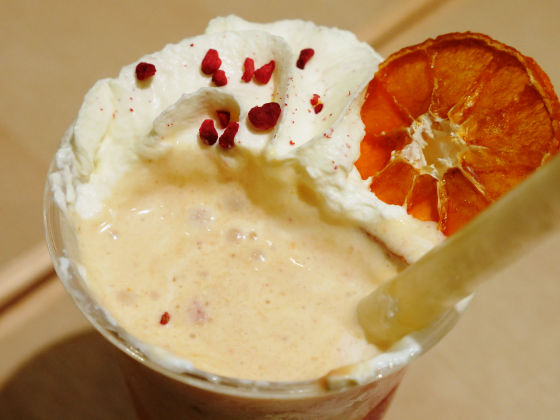 The dry orange is crispy, and when chewed it is a thick finish that sweetness and acidity spread at a stretch.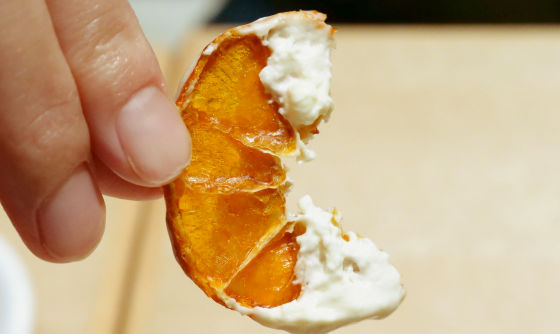 The last is punch of nostalgic. Ume syrup is used for the base, but it has no acidity, and it has a gentle taste with a soft, plum-like aroma.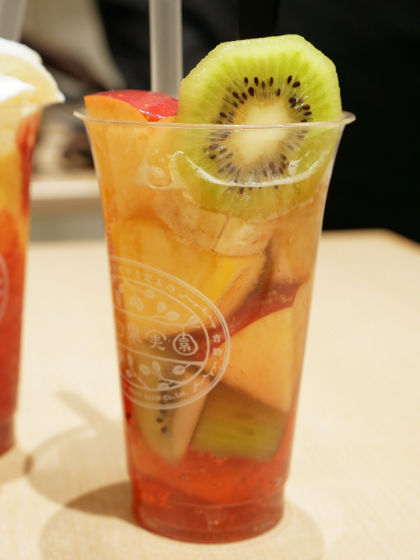 There were plenty of kiwi, apples, bananas and pineapples. It is a fruit with a firm sour taste, but because it has a gentle taste of plum syrup, it felt like it had a good balance of sweetness and sourness. The sweetness of the fruit which a little carbonated was also good.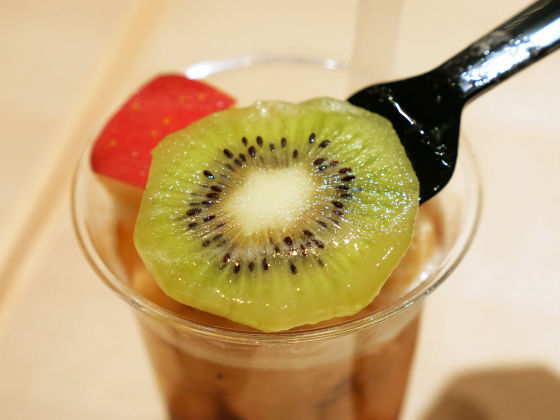 As many of the dried fruits in the Horiuchi fruit garden were also sold at the store ...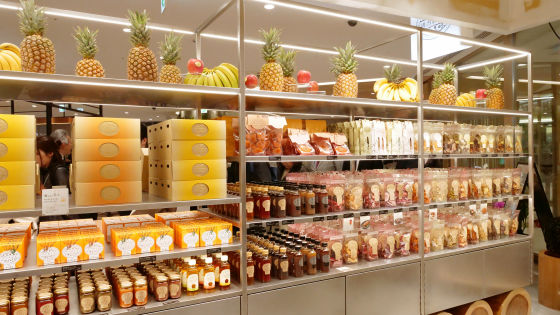 I actually purchased it.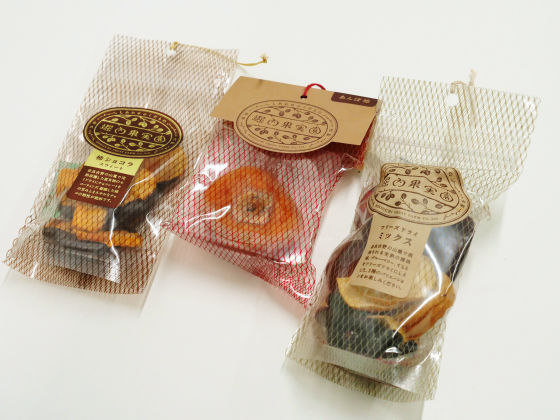 First of all, from "Chocolate Sweet" (¥ 900 excluding tax).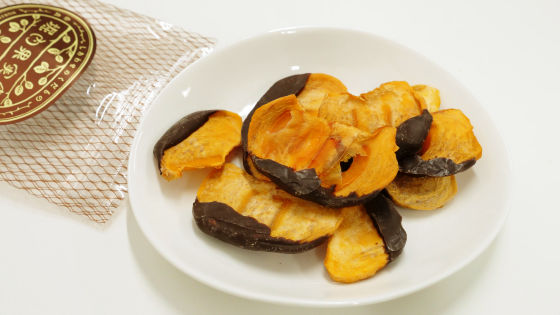 I put chocolate on freeze-dried persimmon, but I can see that the concentration of fruit spreads gradually as I chew. I'm trapped up to the sticky texture of salmon, I like to make tea and eat little by little.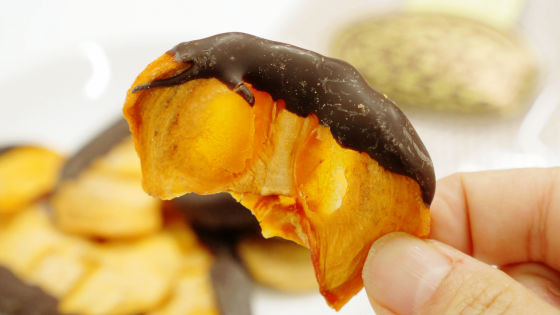 "Ampo rice cake" (450 yen excluding tax) is a ripened harvest of Yoshino's sweet potato, which has accumulated sweetness due to the temperature difference between day and night, and finished in a mellow texture.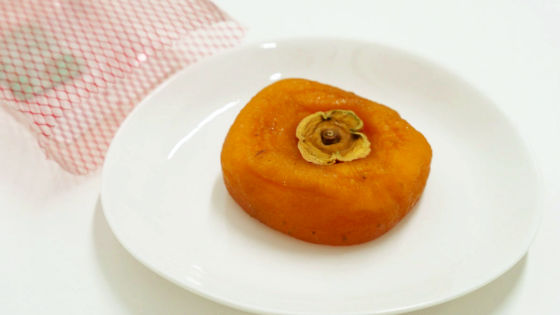 Although it is additive-free, it was no longer sweet, but sweet and rich like Japanese sweets.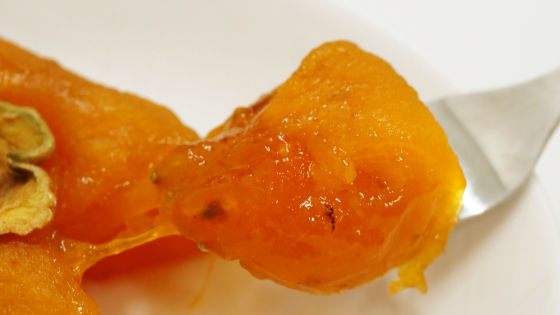 Select the freeze-dried mix with stuffed salmon, blueberries and blueberries. Both are from Nara Prefecture and are additive free.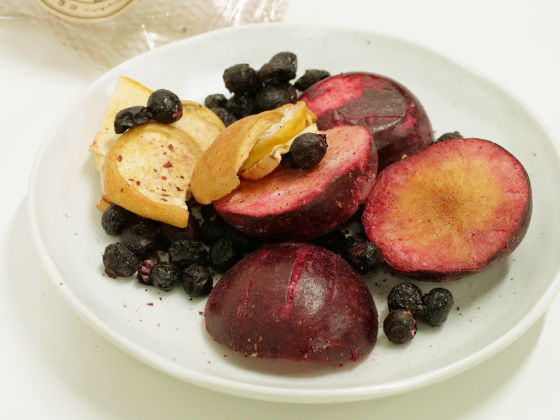 The freeze-drying of the blueberry seems unusual, but it was finished to be crisp to see how much the water content of the fruit was. The inside is faint, but it is a mysterious finish that the smell and flavor of blueberries spread in the mouth when it is pinched.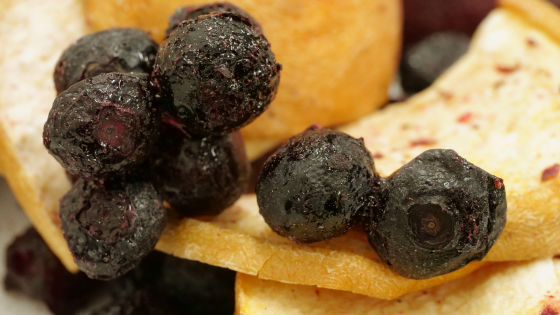 The seedless persimmon, where the flavor spreads every time it is chewed, is clearly understood that it is the degree of completion only with the intensity of the flavor of the material fruit.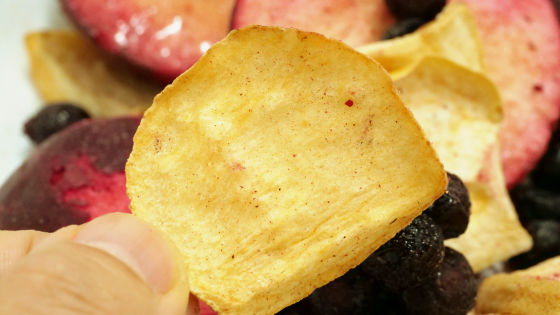 Sumo dried fruits are sour that they involuntarily shrivel in their eyes, but it is clearly understood that "this is the taste of skin of sumo skin" and "this is the taste of the part close to the seeds". I enjoyed it all the way.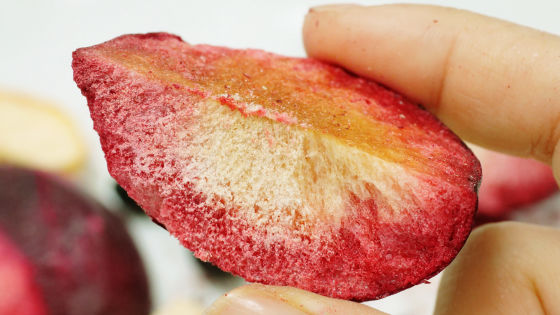 Horiuchi Fruit Garden Osaka Store is open from 10:00 am to 22:00 am.