It is reported that the next Apple Watch will be equipped with a more sophisticated heart rate measuring sensor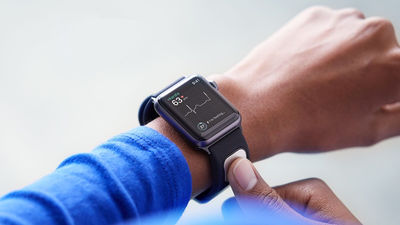 Apple is developing an advanced heart rate monitoring function for the next Apple Watch, Bloomberg reports.

Apple Is Developing an EKG Heart Monitor for Its Smartwatch - Bloomberg
https://www.bloomberg.com/news/articles/2017-12-21/apple-is-said-to-develop-ekg-heart-monitor-for-future-watch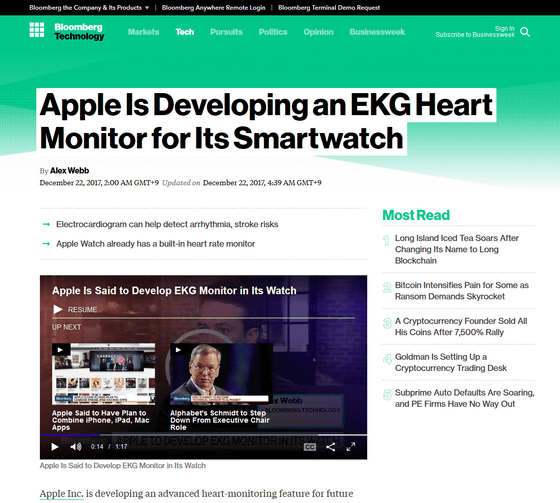 Bloomberg: Apple building an Apple Watch with a built-in EKG heart monitor | 9to5Mac
https://9to5mac.com/2017/12/21/apple-watch-ekg-report/

According to what Bloomberg reported as information from "person familiar with Apple Watch's new heart rate monitoring function development plan", Apple is currently grasping Apple Watch's frame with the hands of those not wearing Apple Watch He is testing the new function to measure heart rate with. When we grab a frame with your fingers we will send a weak current to track the electrical signals emitted by the heart and detect if there is no abnormality in heart rate.

Apple Watch already has a heartbeat sensor, but newElectrocardiogram monitorBy having a function similar to that, it will be able to check the state of the heart more highly and predict the disease that may occur in the future.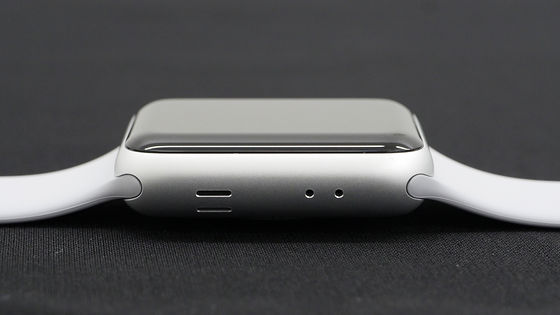 According to Bloomberg, the new function is currently under development and it may not be installed in the next Apple Watch. Apple 's spokesperson refrains from comment on this matter.

Also, Apple has various functions in the band part different from the bodySmart BandAlthough it was reported in the past that it is conceived as a function, what is equipped with an electrocardiogram sensor as this smart bandFDAIt is said that they are trying to get approval ofNews reportThere is also.

Ethan Wise, a cardiologist at the University of California at San Francisco, said, "The role of electrocardiograms on wearable terminals is to diagnose whether wearers are arrhythmia," he said.

In addition, in cooperation with Stanford University in December 2017, Apple announces efforts to identify the irregular heart rhythm with Apple Watch.

Apple announces efforts to identify irregular heart rhythm with Apple Watch in cooperation with Stanford University, Apple Heart Study appeared app notifying atrial fibrillation - GIGAZINE