The appearance of 'Apple Watch Series 4' brings about major change in medical treatment

Steve Blank , known as the flagmaker of entrepreneurship education at Silicon Valley, noted on his blog that " Apple Watch Series 4 " announced on September 13, 2018 would be a turning point for the medical industry It is.

Steve Blank The Apple Watch - Tipping Point Time for Healthcare
https://steveblank.com/2018/09/26/the-apple-watch-tipping-point-time-for-healthcare/

Mr. Blank does not have an Apple Watch, he seems to have favorite Fitbit rival products. However, the newly announced Apple Watch Series 4 has raised Mr. Blank's interest of interest. Why Mr. Blank was intrigued by Apple Watch Series 4 seems to be because it felt that it is not only a gadget's performance but also a pioneer of the future of medical care. And Blank says the Apple Watch Series 4 will also help you learn how the Food and Drug Administration (FDA) is approaching medical innovation.

Mr. Blank believes that medical diagnosis will be done on equipment such as Apple Watch, smartphone, fitness tracker, etc. earlier than people think, these terminals will be approved by FDA, I believe it will be recognized as an application.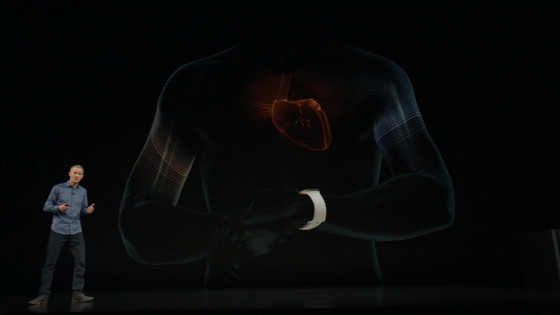 Mr. Blank believes that Smart Watch is "the most sophisticated electronics on the planet", among which Apple Watch is a terminal with a complicated structure that can be said to be the top. Among the chassis with a width of 40 mm and a thickness of 10 mm are a 64-bit dual-core S4 chip, a 16 GB memory, a unit for wireless communication such as LTE, Wi-Fi, NFC, Bluetooth, GPS, an accelerometer, a gyroscope , Heart rate sensor, electrocardiogram (ECG) sensor, and so on. When Mr. Blank himself was a child, he says "Smart Watch was an existence in SF novel".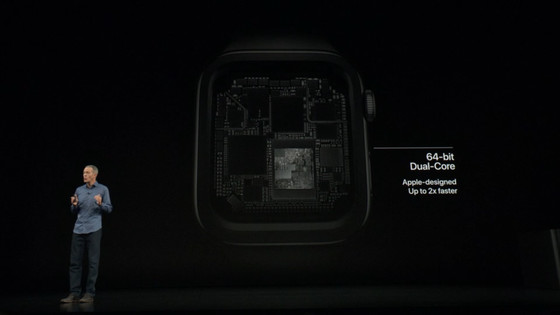 Contrary to the impressive technology packed in, the first Apple Watch has been strongly inferred as part of fashion, and Series 2/3 focused on fitness and sports aspects . In other words, it seems that Mr. Blank thought that it was only the position of expensive Fitbit. However, the Apple Watch Series 4 employs new ECG sensors, monitors changes in heart rate, notifies users if there is a suspicious appearance, focusing more on health and medical aspects than ever It has become one. In addition, Mr. Blank is paying attention to having a new " healthcare " application that can be a killer application in the healthcare field, specifically speaking, "It will become useful for screening and medical diagnosis" .

Besides Apple, major IT companies such as Google and Amazon are investing hundreds of billion yen in medical markets of hundreds of trillion yen. While Google invests in a wide range of medical portfolios, Amazon focuses particularly on pharmacy distribution, and Apple focuses on Apple Watch and the healthcare field. Among them, if you look at the three new features Apple added to Apple Watch Series 4, "Fall / slip detection function", "Ability to detect heart rate abnormality and notify" and "ECG sensor", "Looking ahead You can see a glimpse of it, "blank said.

"Falling and Slip Detection Function" is an accelerometer and a gyroscope built in Apple Watch that analyzes the trajectory of the wrist, detects that the user has fallen or toppled over, warns by notification, quickly SOS It is a function that makes it possible to get out. If the user does not move for 1 minute after Apple Watch notifies the fall, Apple Watch automatically contacts the emergency service and notifies the user's location information. This makes it possible to help people who are in danger of life, such as those who have fallen into a state where they can not move because they are involved in an unexpected accident. Mr. Blank says that if a person with an aged parent is supposed to think "parents want to wear an Apple Watch".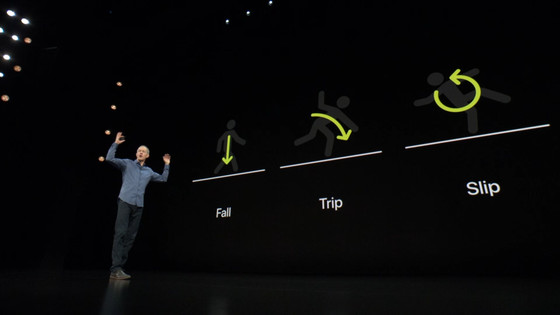 The second function to detect and notify heart rate abnormalities is to detect irregular heart rhythm based on the heart rate information of the user collected by the heart rate sensor existing from the original Apple Watch, It is to notify.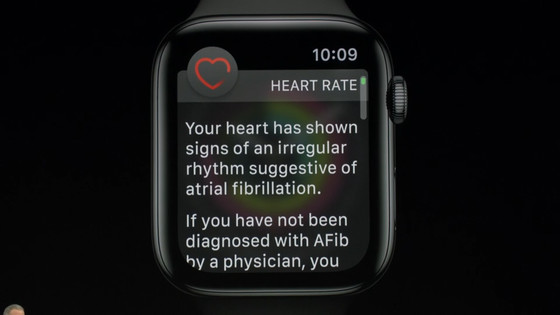 Although it has not existed so far, since there was a function to measure the heart rate already, it is possible for the user to check the heart rate by himself, in that the heart is not functioning properly in that There was more than one case of noticing.

"Apple Watch" creates quietly saves the elderly from the danger of life - GIGAZINE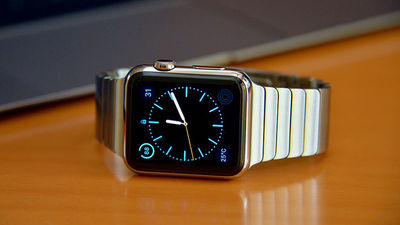 A man who was saved lives thanks to Apple Watch, and what is the real appeal of Apple Watch when I realized - GIGAZINE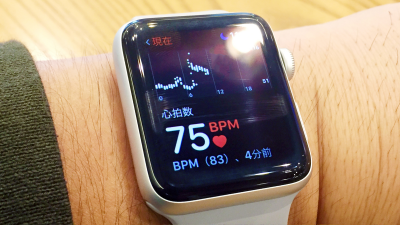 Even then, a person who saves his life in Apple Watch appears, this time an 18-year-old woman detected a sharp rise in heart rate - GIGAZINE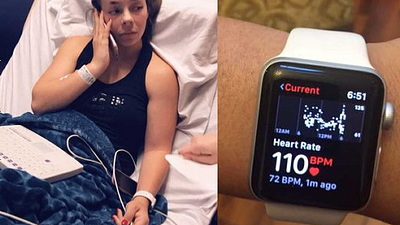 People saved lives with Apple Watch 's heart rate detection function one after another - GIGAZINE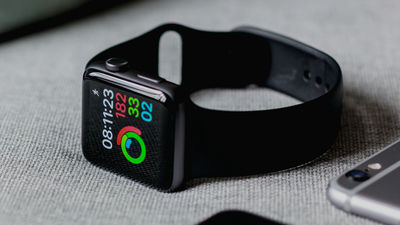 Approximately 9% of people over 65 years old and about 2% of under age 65 are said to have atrial fibrillation (AF) in the United States, and it is said that the population is 2.7 million to 6.1 million people in the United States. And according to the American Center for Disease Control and Prevention , about 750,000 people visit hospitals in AF every year and about 130,000 people are dead. However, if equipment such as Apple Watch is available, it will be possible to detect AF early, which will make it possible to apply more effective treatment.

And the third function is "ECG sensor". The electrocardiogram (ECG) is a visual representation of whether the heart is moving properly, it records the electrical activity of the heart, plays a role of informing the doctor of the heart rhythm, the size and position of the ventricle, and the state of damage of the heart muscle I am in charge. In the usual case, to use ECG it is necessary to lie down in a room of a hospital and paste about 10 electrodes on the arm, leg, chest, but in the case of the Apple Watch Series 4, put your finger on the digital crown Just put it for about 30 seconds is OK.

To add ECG sensor to Apple Watch, Apple has added two electrodes to the conventional model. By adding one to the back of the main unit and the other to the digital crown, ECG can be made available with the minimum action "Place your finger on the digital crown". In addition, since the data measured by the ECG sensor of Apple Watch Series 4 is saved in PDF form, it can send data to the doctor as it is.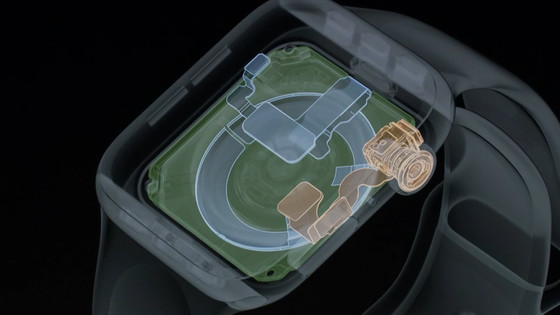 Among the new features of Apple Watch Series 4, "function to detect heart rate abnormality and notify" and "ECG sensor" are obviously medical functions, but problems to implement this The point that it was necessary to get FDA approval. Because all American medical devices, medicines and diagnostic agents are regulated by the FDA. The FDA is requesting submission of data demonstrating the performance of medical equipment, and in order to gather data, the company desperately performs volunteer-based clinical trials.

Apple is said to have submitted two research findings to obtain FDA approval. In one of the submitted research results, it is stated that a test of identifying a patient (half of subjects) having AF for 588 subjects was done, and as a result of the examination, the record in which the application worked normally 90% of the total), it succeeded in identifying the AF patient with accuracy of 98% or more.

Another research result is data from the Apple Heart Study application released as part of Apple's efforts to identify irregular heart rhythms with Apple Watch, which Apple collaborates with Stanford University. The Apple Heart Study application has been successful in identifying 226 people with irregular heart rhythms, whereas general heart rate measuring devices can only identify AF patients with 41% accuracy while Apple Heart In the Study application, I succeeded in specifying with 79% precision.

Apple announces efforts to identify irregular heart rhythm with Apple Watch in cooperation with Stanford University, Apple Heart Study appeared app notifying atrial fibrillation - GIGAZINE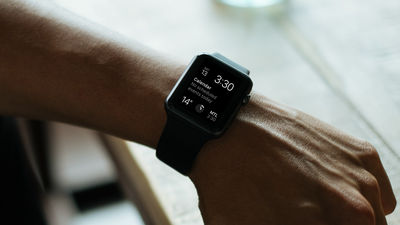 Based on these research results, the new function of Apple Watch Series 4 "Function to detect heart rate abnormality and notify" and "ECG sensor" are judged to be suitable levels for medical devices and get approval by FDA It is considered to have succeeded. Mr. Blank argues that such announcement of Apple Watch Series 4 is important not only for Apple but also for FDA because this is "a signature that the FDA is encouraging innovation to visualize" Thing.

Indeed, FDA has changed the approval guidelines significantly in recent years, and has been changing so that mobile devices and digital devices are more likely to obtain approval. An example of this is the Pre-Cert Program, which says, "Companies developing software as medical devices can manufacture products without the FDA approval process." As a result, nine companies including Apple could manufacture a new terminal like Apple Watch Series 4 before being approved. This program is a major change for the FDA and Mr. Blank insists that American companies will be a major weapon to fight in Chinese companies and medical devices. Manufacturers who made products integrated with FDA approved sensors, such as Apple Watch Series 4 or silicon, software, said, "There will be less than five companies so far," said Blank It is said that FDA's change has just begun.

Apple is focusing on the healthcare field, but like the FDA, change has just begun. Apple provides 'ResearchKit' as an open source framework for researchers, which enables medical researchers to develop new healthcare applications. However, at the time of writing the article, there are only 11 applications made by ResearchKit on the App Store, and it is obvious that it is still half way down. Although Apple has released ResearchKit aiming for a lot of third-party healthcare applications, it seems that the current situation is that there is not enough human resources in this field. However, considering the magnitude of the potential opportunity, "Blanc may say that there may be more than 10 times more apps," he says.

ResearchKit and CareKit - Apple (Japan)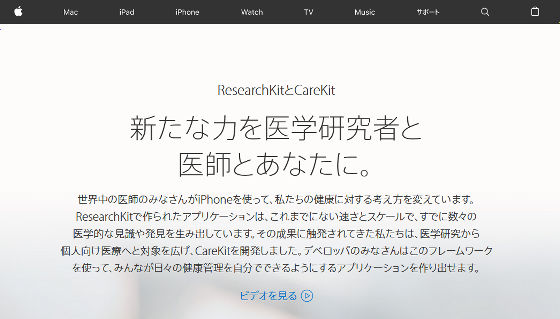 Although the user population of Apple Watch is still small in the first place, it is said that users in relatively specific age groups are also used in specific areas such as America, China, Europe and Japan. As Apple Watch spreads over a wider range of years, we can expect that the current "diagnosis using a single data point" will evolve to a more diverse diagnosis using data and its accuracy will also increase . Mr. Blank said that he expects not only Apple Watch, but wearable devices and healthcare applications will change the shape of medical treatment.

It collects data such as heart attacks, stroke, heart rate that leads to the early detection of Parkinson's disease, supports follow-up and management of diabetes patients, notifies the timing of medication, and Apple Watch and smart watch Has a potential to make a big contribution in the healthcare field. Also, if an application for early detection of diseases such as skin cancer, glaucoma, cataracts is approved by the FDA, smart devices such as iPhone and Apple Watch provide powerful tools for diagnosing and supporting people's health It is said that the possibility of becoming it is sufficiently considered, and Apple Watch Series 4 which appeared as a pioneer of such a flow is "the first step to change the future of medical care", Mr. Blank insists.