"Naked Dough" which can be eaten by cutting the raw cookie dough before baking without fear of feeling backwards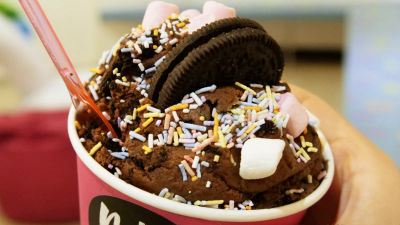 Haagen-Dazs "Cookie fabric before bakingThe forbidden toppings that taste the raw cookie dough, such as making it appear, is also popular abroad. Meanwhile, the US Food and Drug AdministrationRisk of eating cookie dough while raw"We are warning from health consideration. If so, in order to make cookie dough that can be eaten raw, in 2017 a new "Naked DoughSince the shop named "Opened" opened, I actually went and tried it.

naked-dough
https://www.naked-dough.co.uk/

Naked Dough has several stores, but this time I went to a shop in the Old Street subway station. So, if you dive in the basement ... ...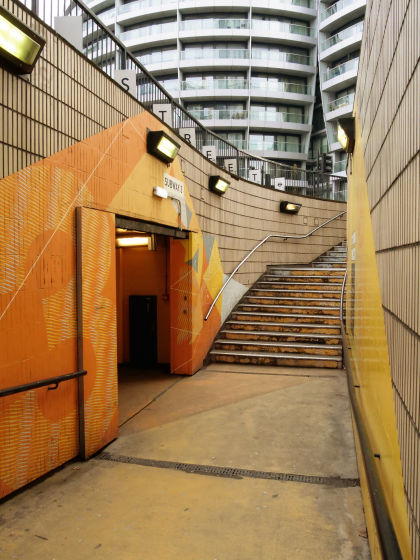 I found a signboard of Naked Dough just in.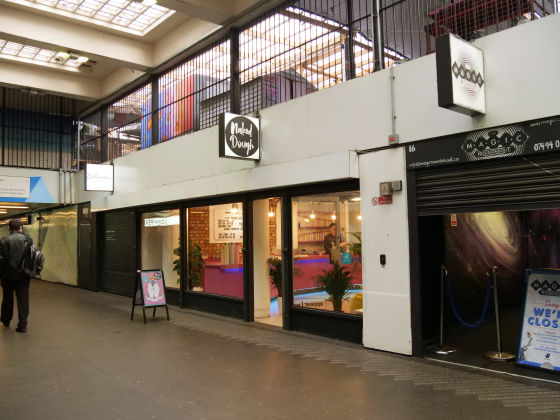 The interior is like this, there is also an eat-in space.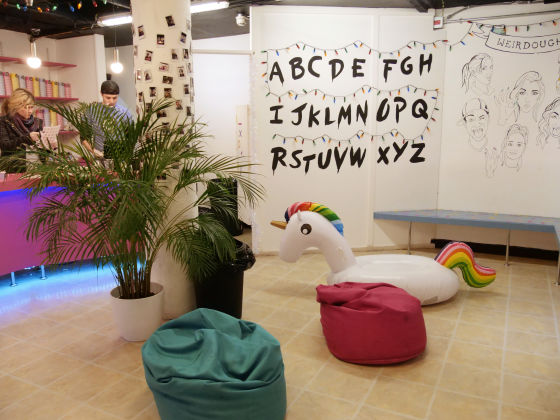 The cookie dough entered into the container as if it was ice cream. Nuts, wheat, dairy products, soybeans, etc. are contained in the table.



There are raw cookies named "EMOJI POOS CHOCOLATE CHIPS", "UNICORN FOOD SPRINKLES + MARSHMALLOW", "NAKED SHEERAN SALTED CARAMEL HONEY COMB", "COOKIE MONSTER # VEGAN OREOS".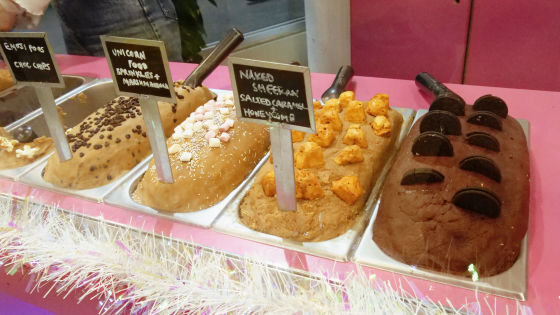 Order can be chosen from cup and cone, 3.6 pounds (about 540 yen) by choosing two tastes and toppings.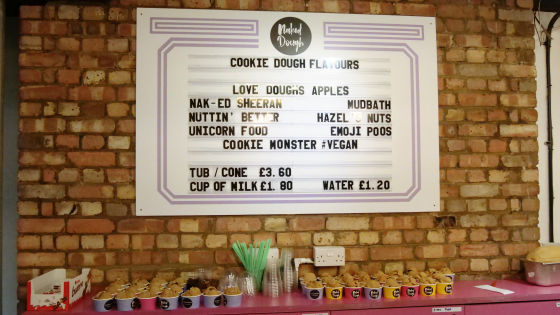 I thought that it was like an ice cream from a container ... ... I thought that it was an ice cream shop in a cup.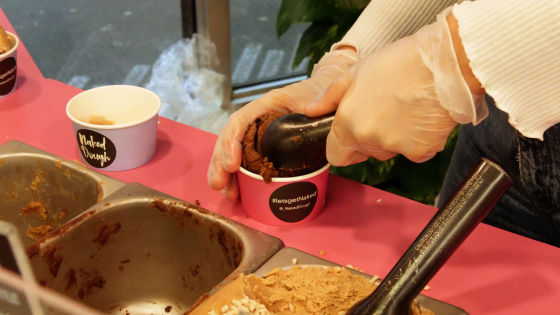 Pick a topping ... ....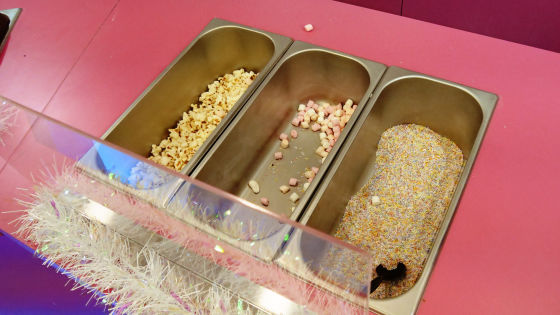 Received cookie looks like this.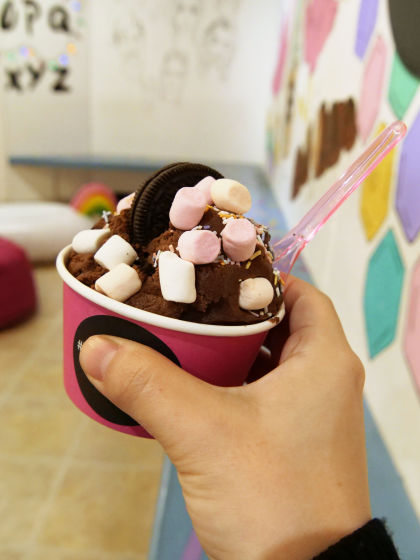 Compared with the iPhone SE with a total length of 123.8 mm, this size is about this.



This time "UNICORN FOOD SPRINKLES + MARSHMALLOW" and "COOKIE MONSTER # VEGAN OREOS" choice. Because it is a two-tiered pile, the person who is visible above is COOKIE MONSTER. Vegetarian-style oleos, sprinkles and marshmallows are plentiful.



Tasting by saying that. Also in Japan, things like "cheese cake style ice cream" and "short cake style potato chips", which reproduces food with another sweet, has appeared, and "Who knows ... Ah, I understand the atmosphere ..." Since it is often a reaction of a handful, I ate with the feeling "How much raw cookie cloth is being reproduced?", But I wanted to apologize as "I am sorry to lose!" The cookie dough is intact. It can not be expressed by the word of reproduction, such as clay-like texture of a sticky taste which is likely to become cookie if you bake it with flat shape, baking, and a little powdery feeling. There is a bitter cocoa flavor, and it can only be said that "Cocoa cookie's fabric was certainly such taste".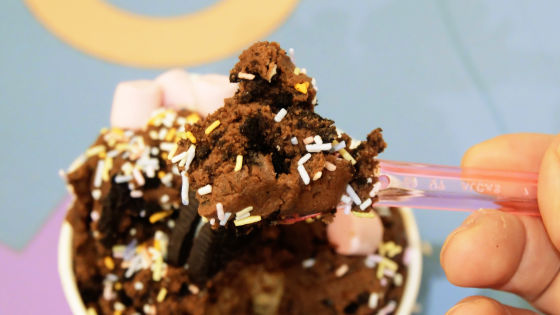 UNICORN FOOD SPRINKLES has a sprinkle incorporated in it, but the base is plain raw cookie fabric. The sweetness that is stuck and the saltiness of a faint butter, and the smoothness and powderiness of the butter spread throughout the mouth. It is food filled with the sense of tranquility that you can eat raw cookie dough that you can eat sticky at will.



Oreo is a vegetarian specification, but I did not notice any noticeable difference from regular ones.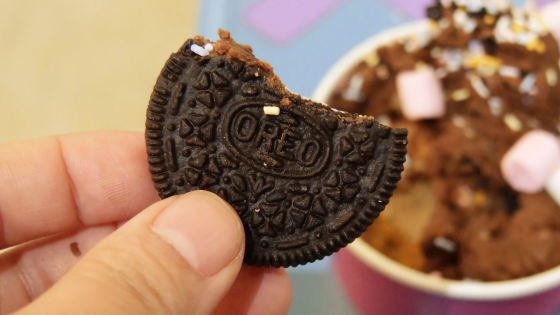 The taste is delicious because it is a fabric that was supposed to be cookies, but it is sweet enough to make a nosebleed come out anyway, so if you are not good at sweet things you'll be knocked out. Because I wanted coffee, I brought it to the hotel and to eat it with sipping cup of coffee.Mars barPeople who can eat sweet snacks abroad such as overseas may be lightly finished, but it may be enough to share with two people.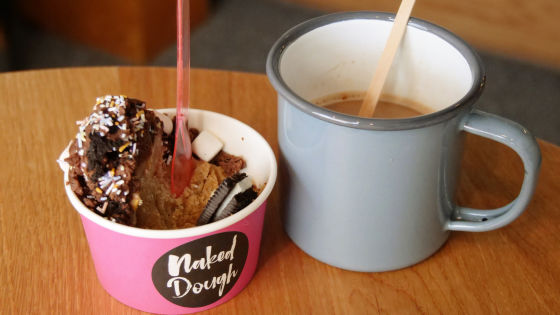 As of 2017 Naked Dough has expanded to 3 stores. The Old Street shop visited this time is open from Monday to Saturday from 11 to 20 o'clock and Sunday from 12 to 18 o'clock.


Intu Lakeside points are open from Monday to Friday from 10 to 22 o'clock, Saturdays from 10 to 21 pm, Sunday from 12 to 18 o'clock.


The Westfield London shop is open from Monday to Saturday from 10 to 22 o'clock and Sunday from 12 to 18 o'clock.