Although it is extremely thick, soft fluffy soft pancake "White sweet pancake" was eaten at Burnside street cafe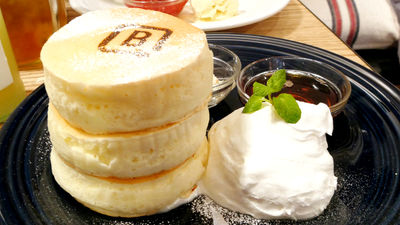 Even though it is extremely thick, it can be incredibly fluffy and fluffy, yet you can eat three delicious pancakes that are gentle and tasty.BURN SIDE st CAFE(Burnside Street Cafe) ". Popular pancake shop which develops mainly in Kansai "ELKIt was a sister store of 20 's, it was just opened in April 2015, so I actually checked what kind of things I can eat.

BSSC | BURN SIDE st CAFE (Burnside Street Cafe)
http://b-s-s-cafe.com/

The address of Burnside Street Cafe is 4 - chome Jingumae Shibuya - ku, 29 - 9, Tokyo. It is located about 2 minutes on foot from Tokyo Exit 5 Meiji Jingumae Station.


The appearance of the shop is like this, there are six seats on the terrace.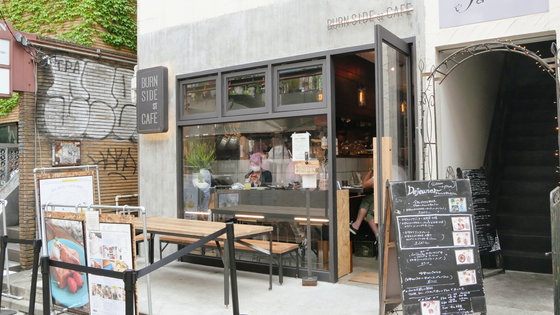 A signboard is placed outside, and a note that "Our white sweet pancake has been waiting for about 20 to 30 minutes before we carry it to you after entering our store."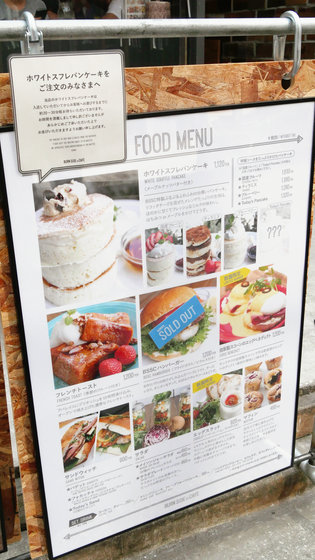 That's why I entered the store immediately. The number of seats including the terrace seat was 29, and when we visited during the early afternoon, we decided to wait about 10 to 15 minutes before entering the store. This time I ordered Sufre pancake "White sweet pancake (1220 yen tax)" and "Domestic fruit (1630 yen tax)".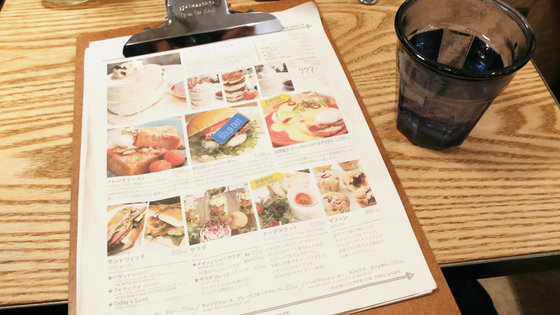 Soufle pancake will bake after ordering so it will take time to come out. So wait while drinking "Century Organic Soda Sicilian Lemon Soda (tax included 630 yen)" of drinks ordered together until Soufle Pancake came out.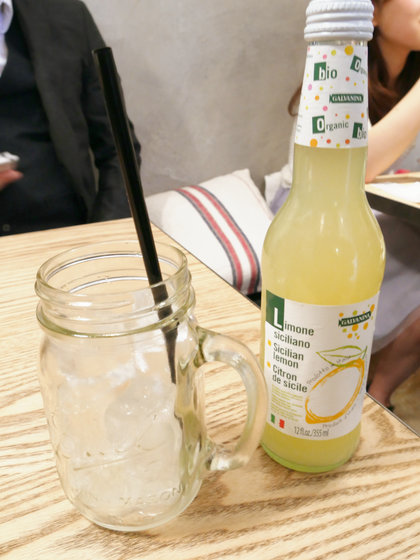 Pour into a glass of Mason Jar style and drink it.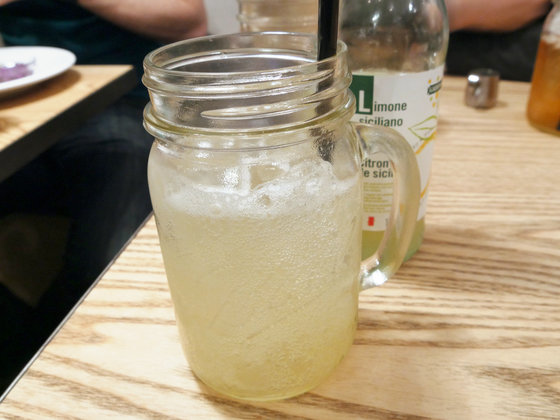 So waiting for less than 20 minutes "White sweet pancake" arrived.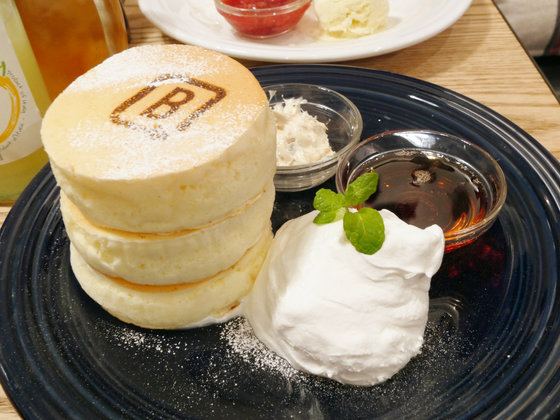 Soufle pancake is as high as this compared with iPhone 6 with three piles layered. Each sheet has a thickness of about 3 cm, so it seems that there is a response to eating very much.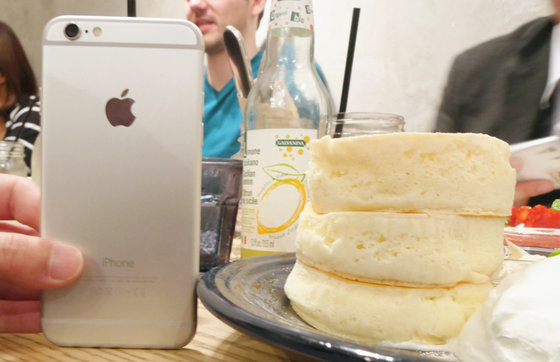 Pull it mysteriously not to be crushed.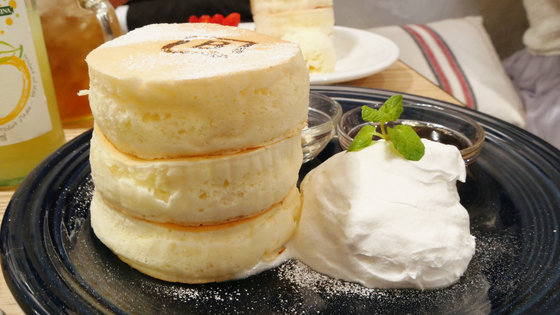 For garnish it is sweet and modest, smooth cream with mouthfeel ... ...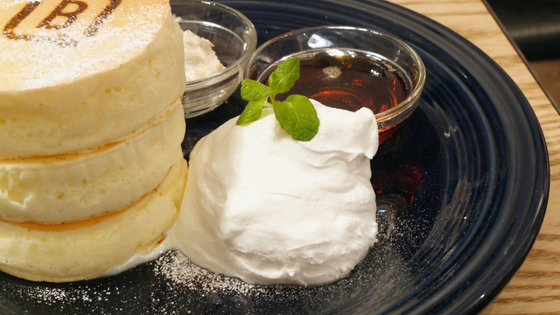 Maple nut butter with raisins (left) and maple syrup (right). Maple syrup can be made into honey.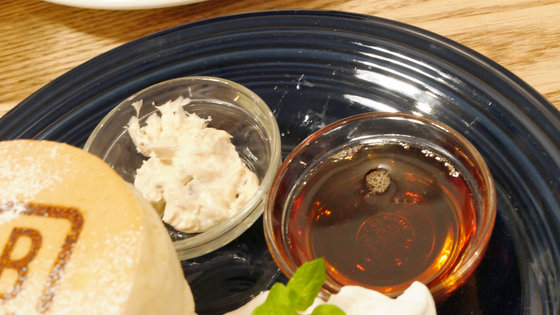 At the top of the pancake "B" which is the acronym for Burnside Street Cafe is baked.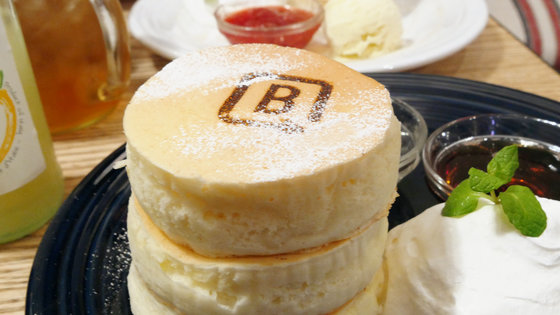 That's why I decided to eat. Trying to cut the souffle pancake with a knife, this dust condition. The fabric is very fluffy and the shape will be deformed even if you try to cut with a knife.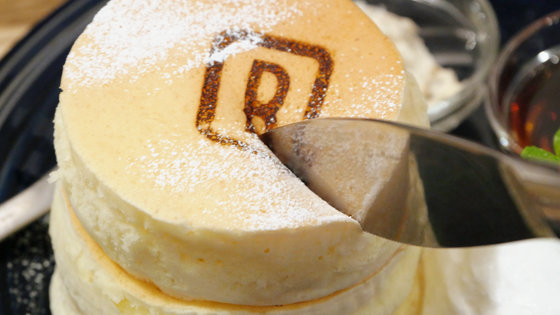 However, it is difficult to cut a little, so you can cut it into a bite size without problems. First, put cream on cream, pakuri, soufle pancake is freshly baked so it's still warm, it's thick, but very mouthfelt and fluffy soft when put in your mouth. From the fabric you can feel the gentle sweetness and aroma peculiar to the pancake, but it is far more soft than ordinary ones and the unique texture that gently and elegantly puts in the mouth is very rich. It is a fluffy texture away from the pancake, but the flavor is a pancake to the last, feeling like "a translucent fluffy soft pancake so much that I have not ever eaten". Sweetness is modest, but it is rich in flavor even if you eat without attaching anything, slight sweetness is added if you add fresh cream, and mouth melt becomes smooth as well, so it is also difficult to throw away. It seems that ricotta cheese is also contained in the dough, but I felt little of this.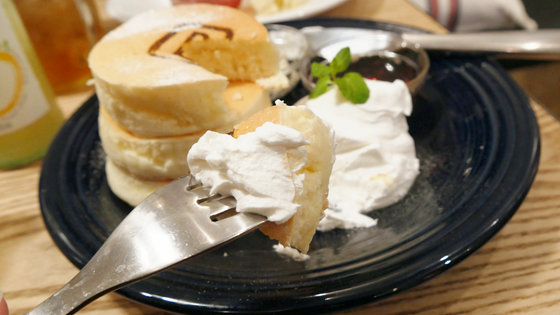 Maple nut butter is slightly salty, and the texture of the nut becomes an accent. It feels good to eat as much as I got tired of sweet flavor.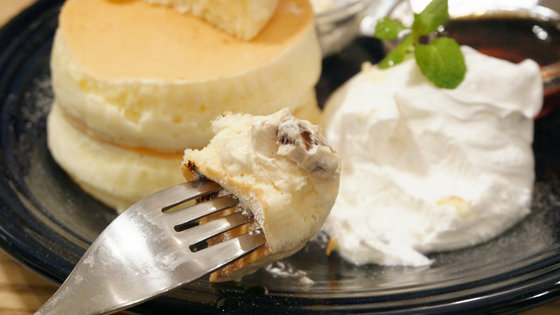 Although it becomes the most pancake-like taste when putting maple, since the taste is fluffy, you can taste the texture of bliss, "I do not think it is a pancake though it is a pancake".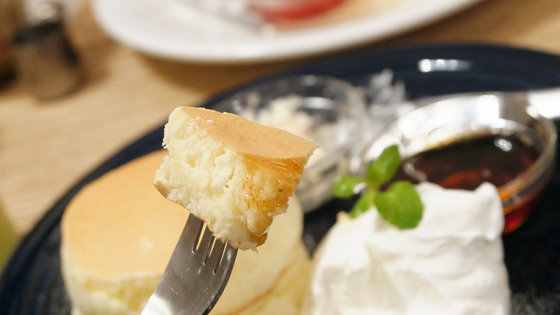 Happy to eat a lot of fluffy souffle pancake because it is three piles layered even if you eat pakpak.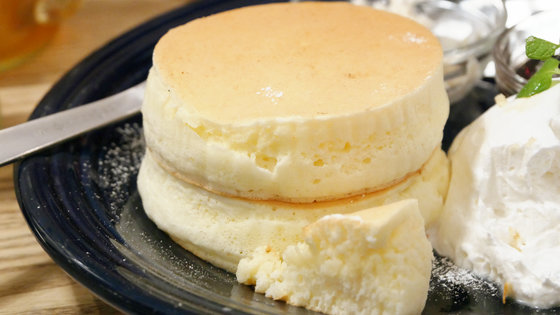 Personally I thought that the best compatibility cream. The taste changes dramatically depending on how much cream you put on, but the presence of Sufre pancake is firmly felt regardless of how much you put it in, and as a solid "pancake" in soft fluffy taste I also feel the strength.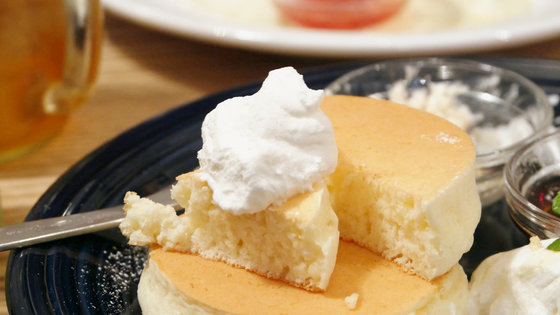 Maple syrup will suck up a lot if you have enough, you can enjoy a rich taste slightly different from a fluffy texture.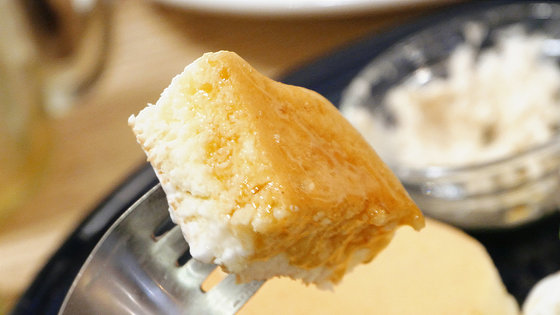 Then "Domestic fruit". Fruits were strawberries.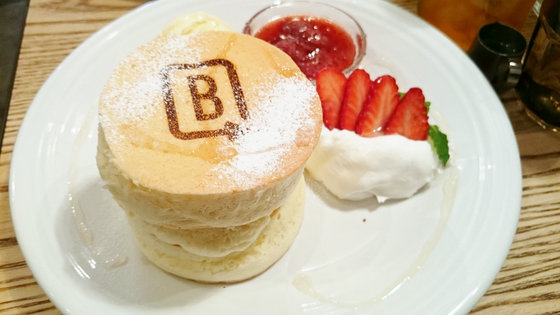 It is a masterpiece that the souffle pancake is towering high as well.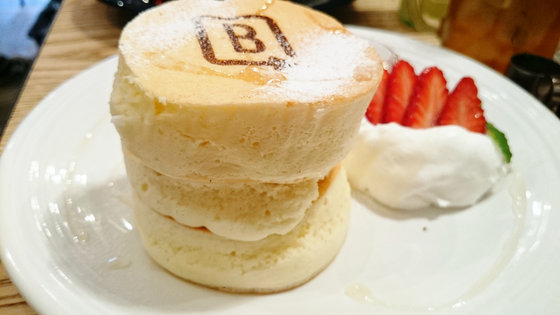 Tsukaima with fresh cream & strawberries ......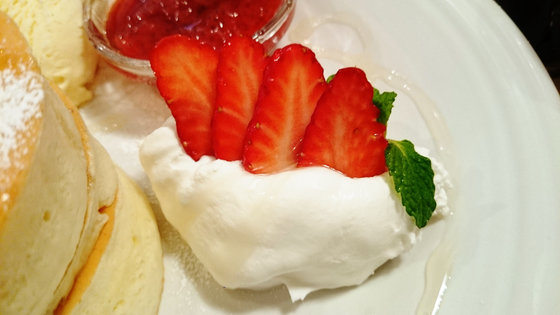 Vanilla ice (left) and strawberry jam (right)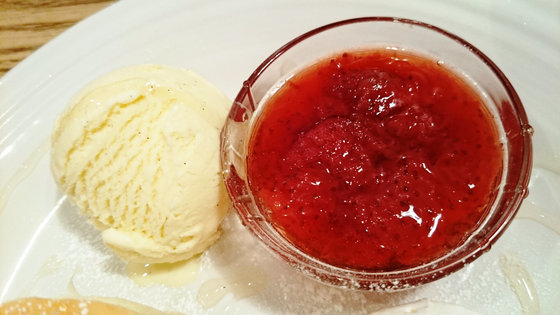 On top of a beautifully baked souffle pancake ......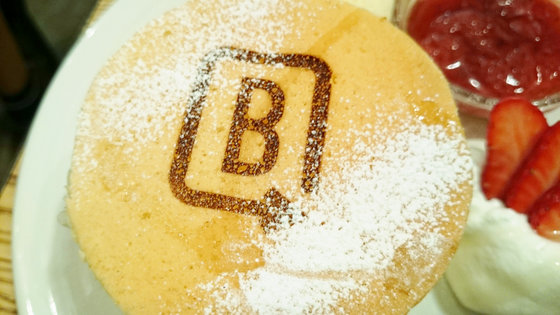 I got an impulse I wanted to put all the toppings, I did it ... ....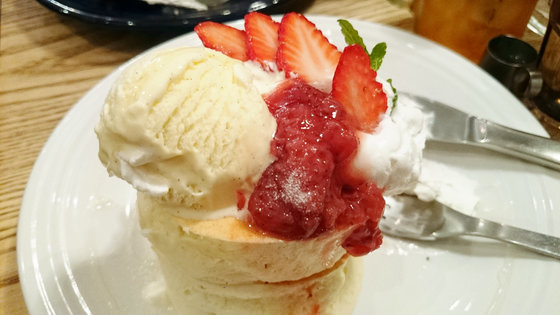 This height. Soufle pancake is soft and fluffy, but it is pretty firm around where it does not collapse by its own weight even if it only rolls.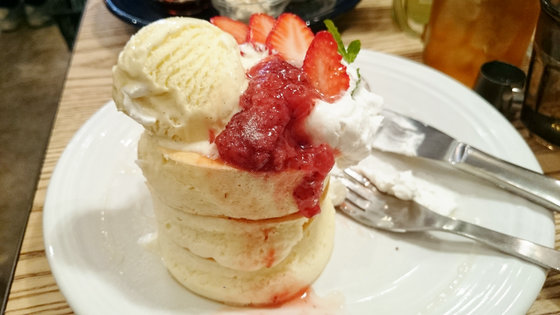 Soufle pancakes are the same as those of "white sweet pancake", but when you eat it with strawberry jam, the strawberry sourness and sweetness are more pronounced.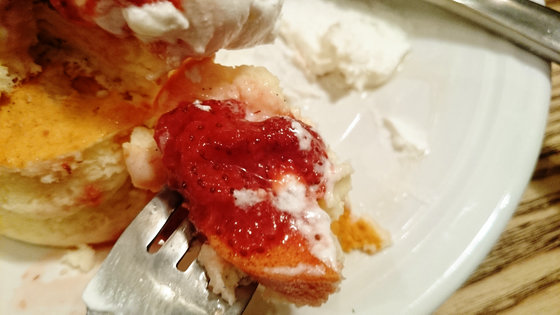 Souffle pancake is freshly baked so you can enjoy a cool gap while it's fun if you eat with vanilla ice cream.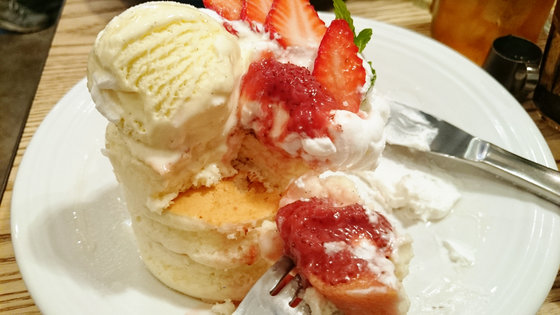 On weekdays, 9:30 to 21:00 (last order is food at 20 o'clock, drink at 20:30), weekends and holidays are from 8:30 to 21:00, last order is the same as weekday I will.