I bought a `` Cheese Chocolate Burger '' with a cheese burger finished in a new sense of mini sweets at the MY CAPTAIN CHEESE TOKYO No. 1 store and tried it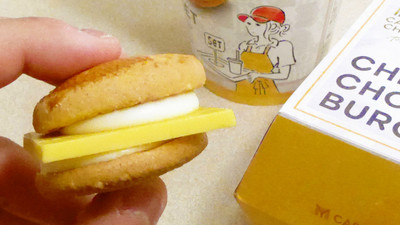 The cheese sweets store "MY CAPTAIN CHEESE TOKYO" opened on April 19, 2019 at Tokyo Station. The " Cheese Chocolate Burger " provided there looks like a cheeseburger, but it is said that it has become a new sense of cheese sweets using discerning cheddar cheese chocolate based on the cheeseburger on the west coast. When the cheeseburger became sweet, I really wondered what it tasted, so I tried it.

MY CAPTAIN CHEESE TOKYO

https://mycaptaincheese.tokyo/
The store of MY CAPTAIN CHEESE TOKYO is in front of "
Gin no Suzu
" in Tokyo Station.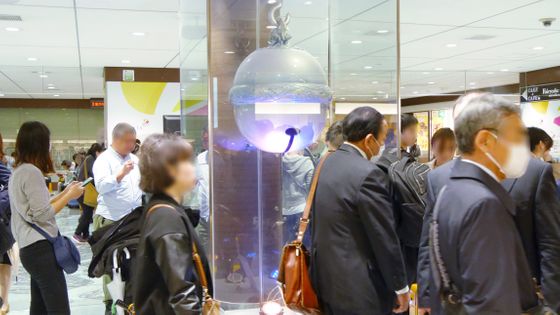 Arrived at around 17:00, and many people were waiting in front of the store.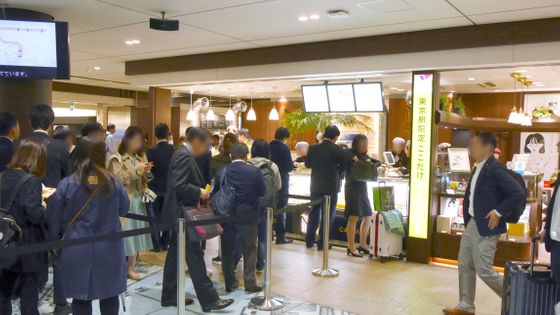 The staff with the "last" tag sort out the line.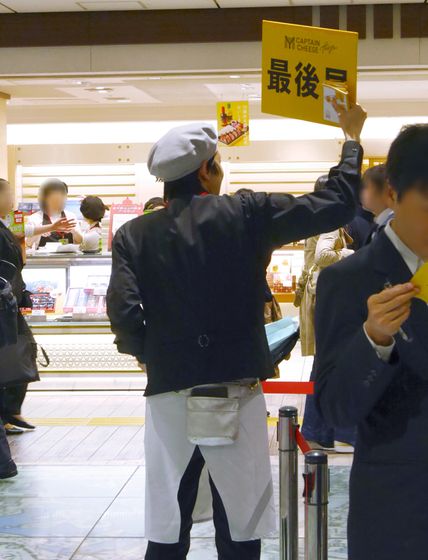 Line up for 15 minutes and get a cheese chocolate burger (550 yen including tax) and my captain cheese set (500 yen including tax). The package imitates a hamburger case and a drink cup, partly because of the motif of a cheeseburger.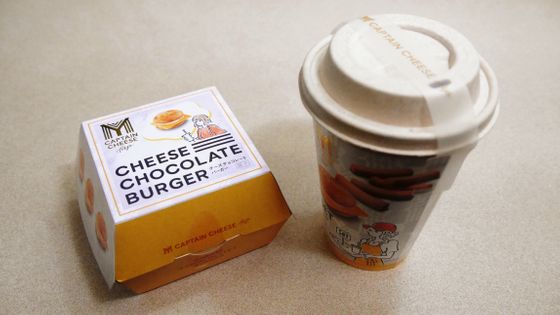 The package is a hamburger itself, but the cheese chocolate burger inside is just a "confectionery". In addition to ingredients like chocolate confectionery such as flour, semi-chocolate and cacao butter, cheese powder is also included. One package contains three cheese chocolate burgers, and the calorie per one is 149 kcal.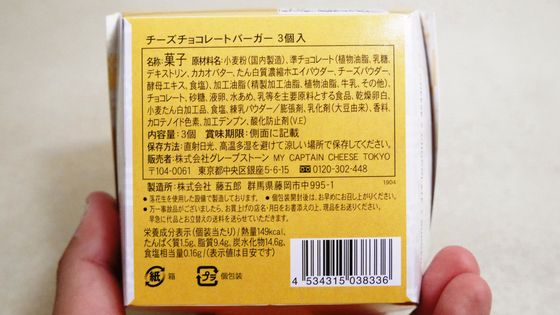 When I opened the case, there were three individually packed cheese chocolate burgers.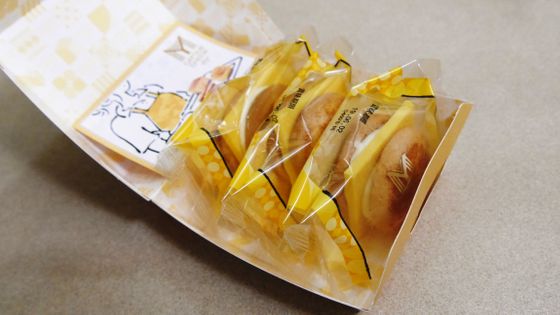 I opened the bag and took it out. One size is palm-sized, and from the side it is certainly a cheeseburger itself, and a large cheddar cheese chocolate protrudes.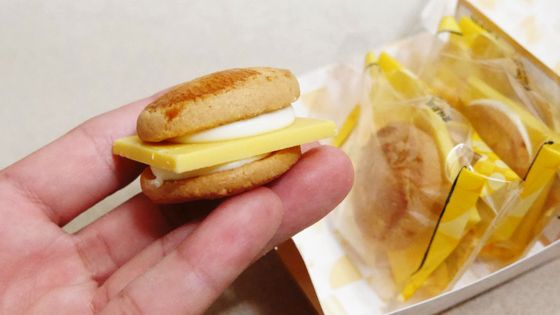 The buns are made of cookies, and the surface is brown and shiny.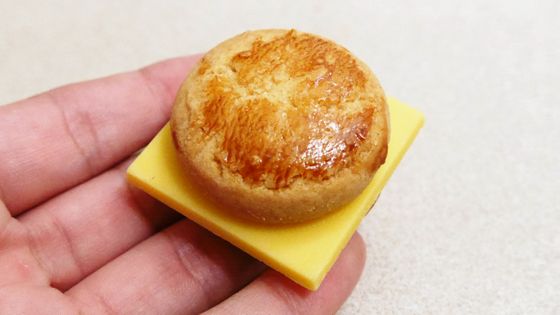 When I eat it, the buns are crispy cookies and the aroma of butter is quite strong. The texture of cheddar cheese chocolate is ordinary chocolate, but you can feel the unique flavor and saltiness of cheese in the sweetness of chocolate. The balance between saltiness and sweetness is exquisite, and the white flavor of whipped chocolate sandwiched between the buns and cheddar cheese chocolate is mellow, but the cheese flavor is quite strong.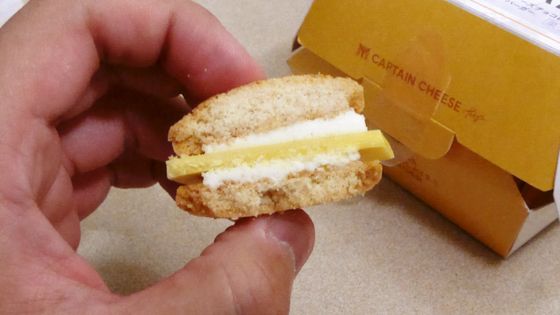 The My Captain Cheese Set is made of durable paper and is a complete drink cup in both package size and shape. Of course, the contents are confectionery, so it is very light.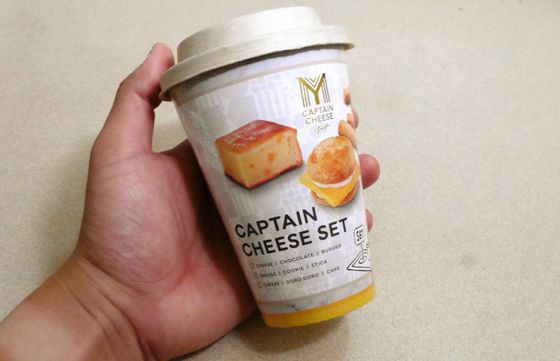 On the side, an illustration of a hamburger clerk was drawn.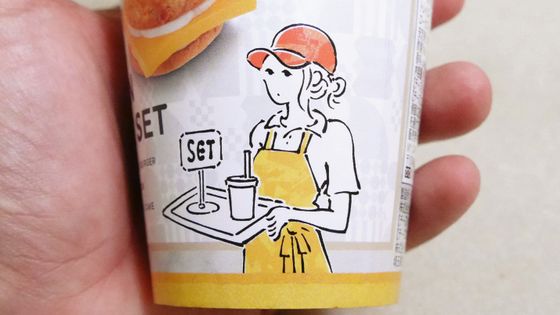 My Captain Cheese Set contains a cheese cookie stick and a cheese goro roro cake in addition to a cheese chocolate burger, and the ingredients are like this.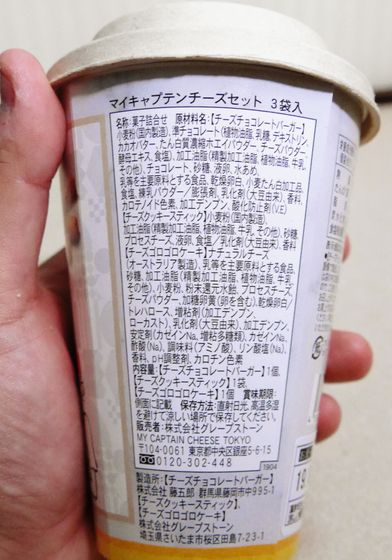 The calories are as follows.



I took out the contents of my Captain Cheese Set. The cheese cookie stick (middle) has a packaging design that looks exactly like a hamburger fried potato bag, and it looks just like a fried potato. Cheese Gorokuro cake (right) is a bite-sized cake in a bag.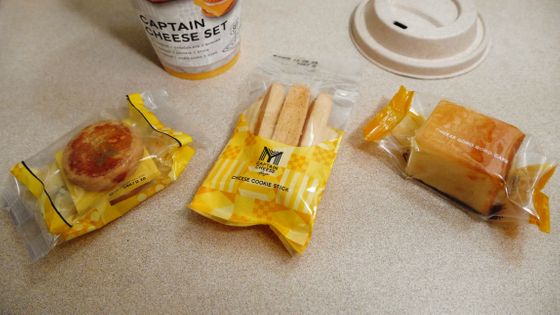 Cheese cookie sticks have a crisp texture like a biscuit, with a strong buttery aroma and a rich cheese. The sweetness was not so strong, and I felt it was an ant not only as a tea confectionery but also as a snack.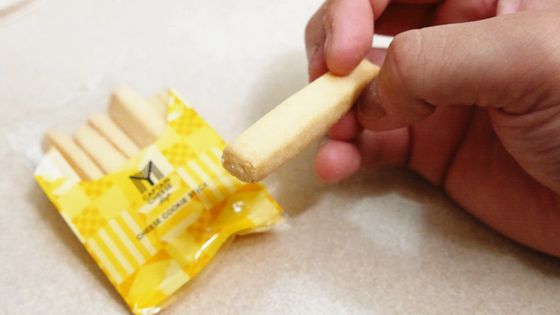 From the side, you can see that cheese cheese is kneaded in the dough. When you eat it, it has a moist texture like cheesecake. The salty goro cheese is combined in a slightly sweet dough, and the cheese flavor is considerably stronger than ordinary cheesecake. It was finished as an irresistible candy for cheese lovers.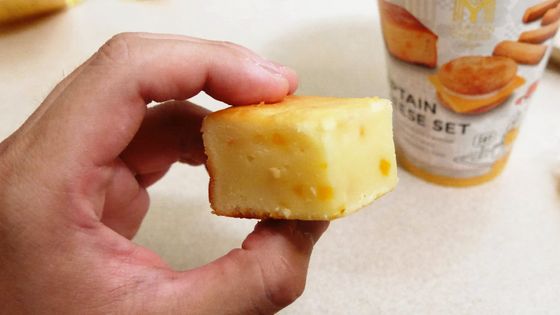 MY CAPTAIN CHEESE TOKYO's Tokyo Station Gransta store is open from 8 to 22:00 on Mondays and Saturdays and holidays, and from 8 to 21:00 on the last day of holidays.