From the very beginning butter felt soaked and smothered hot cake shining teka caught in "net tea American"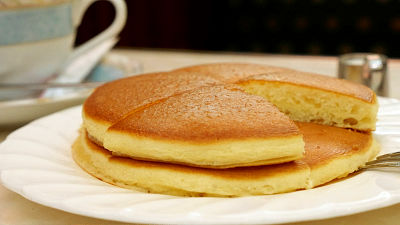 "Ricotta cheese pancake" with startling melt gently in the mouthYaMoistly fluffy fabric pancakePancake specialty shops are opening one after the other, pancakes that show various directions are appearing in the world. However, old-fashioned net tea cake is also hard to throw away. Hot cake of "Pure tea American" opened in 1946 is characterized by butter sticking from the beginning, and I went to a shop to check the taste of a coffee shop that has been running for more than 70 years It was.

Pure tea American address is "1-7-4 Dotombori Chuo-ku Osaka-shi Osaka prefecture". It is a distance of about 3 minutes on foot from the 15th exit of Namba Subway Midosuji Line Namba Station.


The shop floor in the shopping area is like this.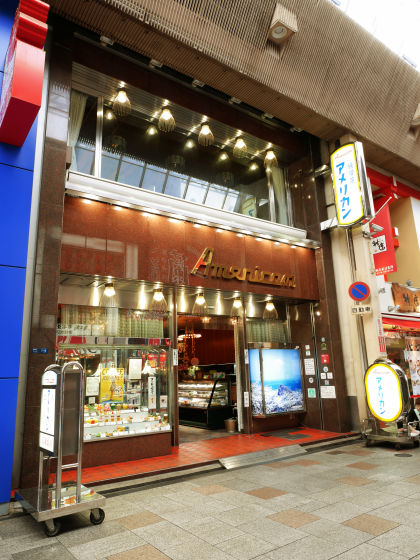 There was a retro sign written "American".



The inside of the shop is decorated with chandeliers and retro and gorgeous.



Next to the spiral staircase is a big chandelier. In addition, when I visited there was no way to enter the second floor from the spiral staircase.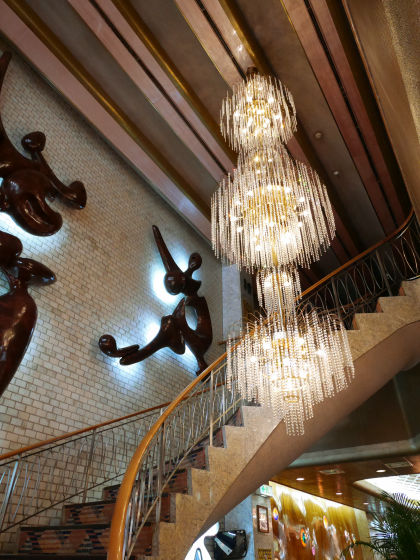 The table is mainly for 4 people.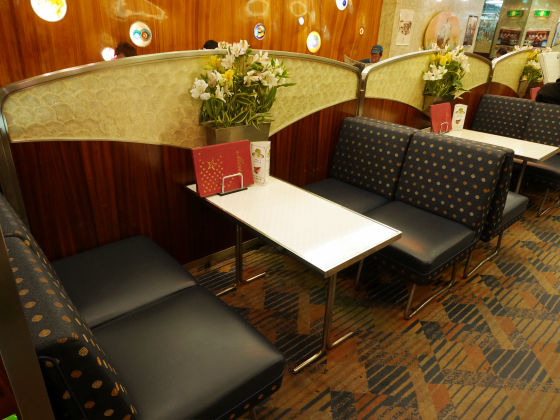 About the seat I tried turning over the menu, where Sunday & parfait with volume ... ...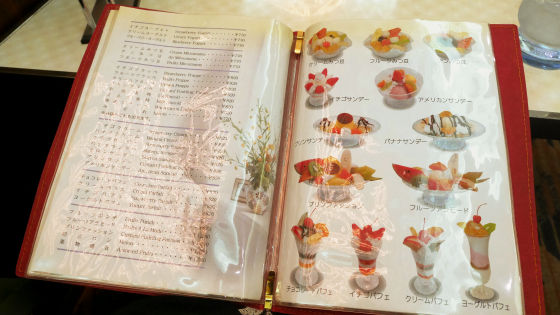 In addition to snacks such as sandwiches, beef curry rice, bifukuts rice bowl and others, and meals were also made to be able to stick.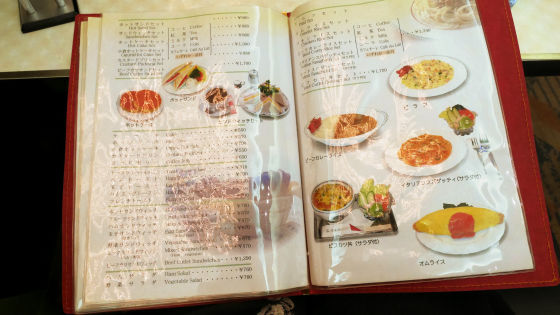 When I ordered a set of hot cake and coffee (980 yen including tax), coffee reached first and the hot cake arrived in about 10 minutes to wait.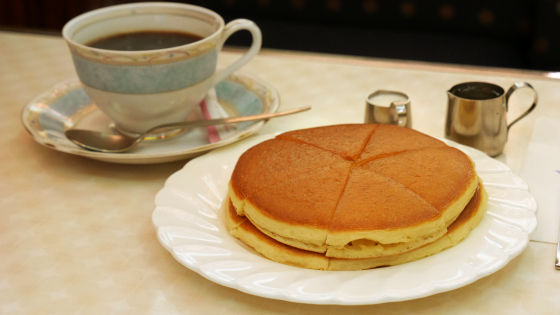 When it says hot cake, there are many cases where the cut butter is on top, but on the net tea American, the hot cake is butter coated beforehand so the surface is shiny.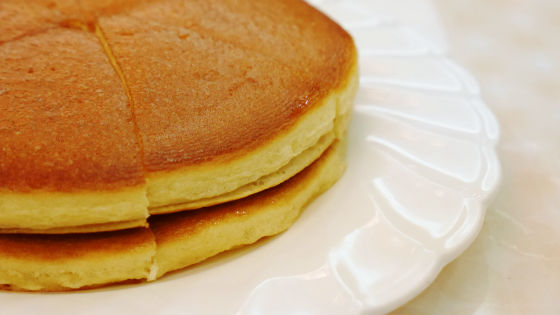 When I tried it, the hot cake was lightly moderately light, moist, and a fluffy texture "This is hot cake!" There is slightly sweetness in the fabric itself, exquisite combination of butter salty and fragrance. Since one piece of hot cake is divided into six equal parts from the beginning, I also feel love that I do not need to cut while cutting my own.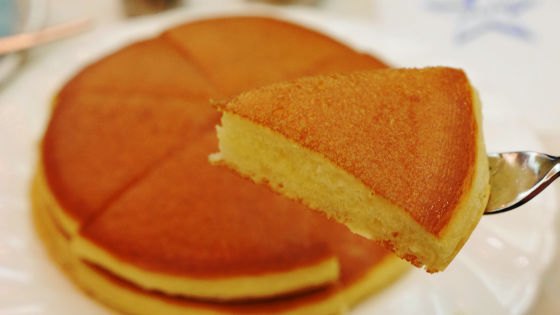 I noticed that I had forgotten to check to see how big it was when I ate a piece, and I shot with iPhone SE with a total length of 123.8 mm next to it. Diameter is about the same as iPhone SE, so whipped cream is MorimoriEggs' n ThingsUnlike other people can eat lightly.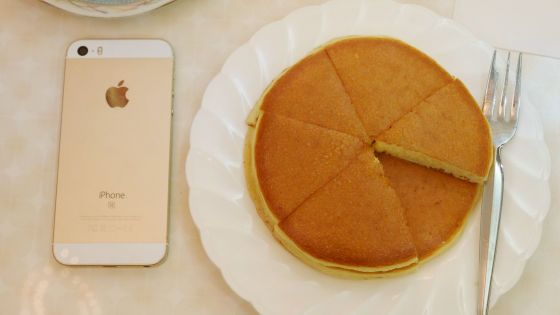 People who feel insufficient sweetness is OK with syrup. This syrup was neither maple syrup nor honey, it was a clear liquid.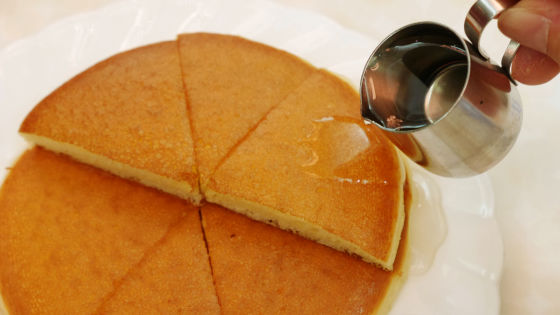 Of course, the sweet toothpaste is OK with syrup but, even if you eat hot cake as it is, the balance of sweetness · saltiness · fragrance was exquisite, so if you adjust sweetness firstly after eating without doing anything Alright.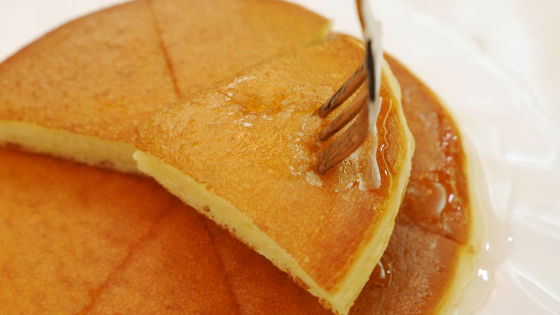 The two cascaded hot cake shone with butter in the lower stage, so there was not enough something to feel sad because the butter was missing.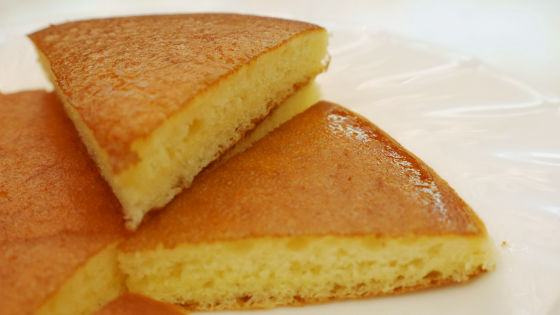 In addition, hot cake is 570 yen including tax if it is single item. Business hours are from 9 o'clock to 23 o'clock, and it is closed three times a month on Thursday 2nd and 3rd Thursday and 1 other Thursday.