Nasdaq reports that the virtual currency Bitcoin futures trading will start in 2018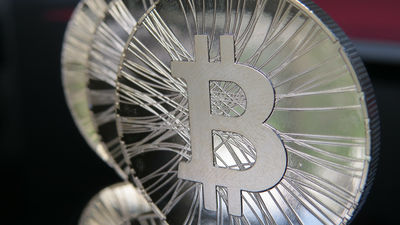 byAntana

Chicago Mercantile Exchange(CME) andChicago · Options Exchange(Cboe) has announced that it will start a bit coin (Bitcoin) futures trading,NASDAQBut it seems that futures trading will start in 2018Story of related sourcesFromIt was clearHowever, Bloomberg newly reports that "Nasdaq will start trading bit coin futures in the second quarter of 2018 as soon as possible".

Nasdaq Plans to Introduce Bitcoin Futures - Bloomberg
https://www.bloomberg.com/news/articles/2017-11-29/nasdaq-is-said-to-plan-bitcoin-futures-joining-biggest-rivals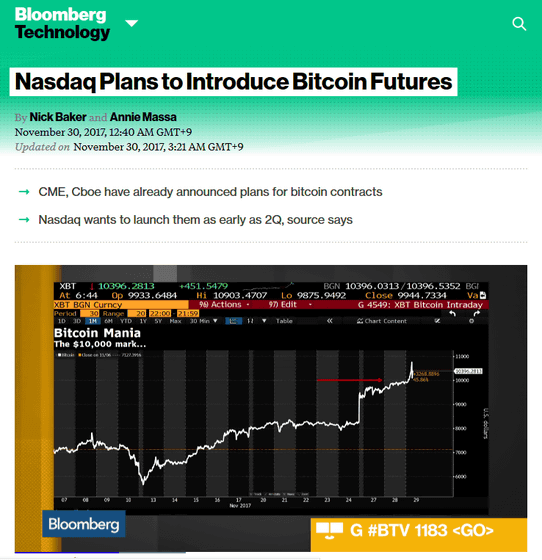 On November 29, 2017, it is a bit coin of the virtual currency whose price per 1 BTC (bit coin) exceeds 11 thousand dollars (about 1.2 million yen), but according to a stakeholder, that Nasdaq is a bit coin futures It is planned to introduce the transaction in 2018. It is expected to be introduced by the second quarter of 2018 at the earliest, and it seems that it will be traded on the futures exchange "NFX". Competition such as CME and Cboe has announced the bit coin futures trading plan before Nasdaq, and Nasdaq is relatively small as a futures trading market, compared with those of Nasdaq, and as a trading market of virtual currency It may be difficult to form an image, Bloomberg reports. In addition, Alan Schonberg, a NASDAQ PR, refuses comments on this matter.

If the Nasdaq's official futures trading program is announced, the Intercontinental Exchange, the owner of the New York Stock Exchange, plans to handle bit coins as derivative financial products among the four largest exchanges in the U.S. It will be the only exchanges.

NASDAQ is planning to increase the amount of data used for pricing as a means of differentiating it from CME and Cboe. It is planned to set prices from four sources of CME and Cboe from one source, and I'm thinking about setting prices with more sources than these.

Also, Nasdaq is a bit coinHard forkIt seems that it is designed to handle more elegantly, and officials say it will reinvest the revenue from spin-offs into the original bit coin to make the process more seamless for traders.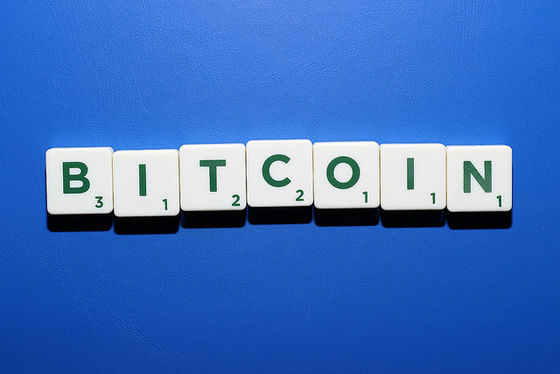 byCafeCredit.com

The bit coin born in 2009 was the first on November 29, 2017Over $ 10,000 (about 1.1 million yen)In just a few hours laterIt surpassed $ 11,000 (about 1.2 million yen)Did. From the beginning of 2017About 10 timesOn the other hand, Professor Stiglitz of Columbia University who won the Nobel Prize in economics in the past, the reason why bit coin is popular is not monitored and there is a possibility that it will escape the rule of law As a point, "Bit coin should be made illegal"Talkis.

In addition, such a bit coin is estimated in the morning of November 30 in the price per BTCIt fell to 9000 dollars (about 1 million yen), Some users "Bubble burst"I was making a big noise. This large decline is the maximum in Japanese yenDecline of 330,000 yenAlthough it seems to have been, we have picked up to 10,000 dollars (1 million yen) per BTC at the time of article creation.

Bitcoin briefly dropped BELOW $ 9,000.$ BTC.X->https://t.co/HHY40w9Cwypic.twitter.com/g3nPvePCUI

- StockTwits (@StockTwits)November 29, 2017
in Note, Posted by logu_ii