Disney Official Distribution Service including "Star Wars" and Marvel · Pixar Works will Deliver 700 Works 7000 Stories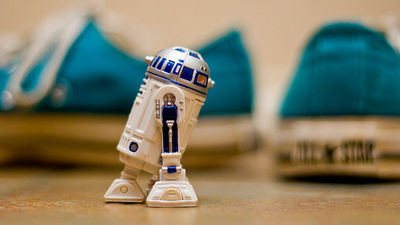 byMark Bonica

Disney announced that it will start its own streaming distribution service in August 2017 and the distribution contract with Netflix will end in 2019.Star Wars series and Marvell · Cinematic · Universe works etc are made invisible in NetflixIt became news, but once again Bob Eiger said, "Starting streaming distribution service from the second half of 2019, we will deliver Star Wars and Marvel work."

The Walt Disney Company at the Bank of America Merrill Lynch 2017 Media, Communications & Entertainment Conference - The Walt Disney Company
https://thewaltdisneycompany.com/walt-disney-company-bank-america-merrill-lynch-2017-media-communications-entertainment-conference/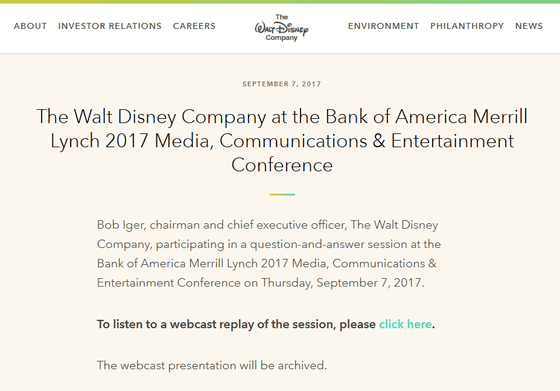 Disney CEO Bob Iger Says Marvel, 'Star Wars' Movies Will Be on Streaming Service | Hollywood Reporter
http://www.hollywoodreporter.com/news/disney-ceo-bob-iger-says-marvel-star-wars-movies-will-be-streaming-service-1034566

Disney's CEO Bob Eiger, who entered the "Bank of America Merrill Lynch 2017 Media Communication & Entertainment Conference" held on September 7, 2017, again announced the streaming distribution service announced in August " Star Wars "and" Marvel · Cinematic Universe ", etc., which will be launched in 2019.

This distribution service is a "direct-managed" service operated by Disney for users, according to Eiger CEO, "Disney's animation and photographed works including" Star Wars ", all" Marvel "works, and" Pixar "works You can see ". It will deliver 500 films and hundreds of TV series from Disney's huge library.

The service itself seems to be an orthodox fixed-rate delivery style, and five new movies and four to five television series are planned to be produced for live-action photography mainly for the application.