SNS identity verification mark is sold in the black market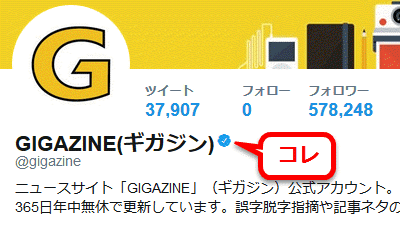 There may be a blue check icon in the account name of SNS, but this is a mark called 'authentication badge' that proves that the account belongs to you, and it has been introduced on
Twitter
,
Instagram
,
Facebook,
etc. I will. The certification badge is on sale on the black market, reports overseas news media
Mashable
.
Inside the black market where people pay thousands of dollars for Instagram verification
http://mashable.com/2017/09/01/instagram-verification-paid-black-market-facebook/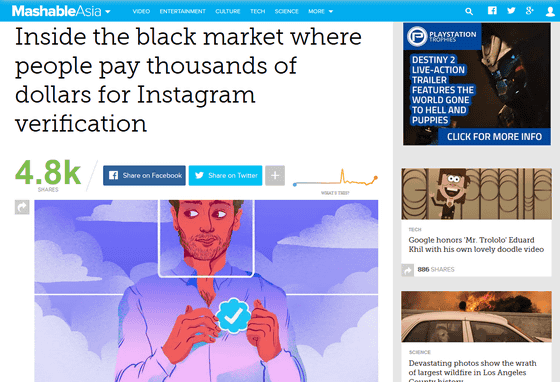 There is a black market where anyone, from a seasoned spokesperson to a young digital marketer, can buy an Instagram certification badge for the money. If you put together information from multiple sources, such as those who have actually purchased certification badges in these black markets and those who know who sells certification badges, the sale of certification badges The price is about 15,000 dollars (about 1.6 million yen) from one wine bottle. According to one source, 'certification badge sellers sell one or two certification badges a month.'
In the case of Instagram, the certification badge is to indicate that you are a celebrity, celebrity, or brand, and an account with a certification badge can access some special features or appear at the top of your search terms. Has the privilege of doing. In addition, it will gain credibility in
influencer marketing
and a status symbol within the Instagram community, which has 700 million monthly active users.
Normally it is not possible to buy or sell certification badges online according to Instagram policy, but Instagram certification badges are sold in the black market on the Internet, which seems to be an open secret to the influencer community. is.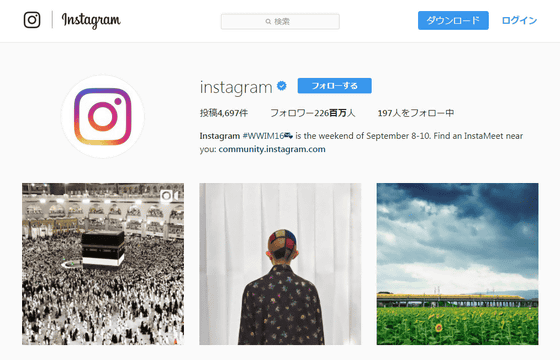 The reason why Instagram accounts can be bought and sold at a high price is that unlike SNS such as Facebook and Twitter, which anyone can get if they want to get an authentication badge, Instagram accounts are authenticated by
influencer
accounts that have sponsorships with major brands. It's difficult to get a badge.
James, who has actually sold certification badges, sold certification badges with collaborators who worked in Instagram and said, 'For verification, from $ 1,500 (about 160,000 yen) to $ 7,000 (about 760,000). We sold certification badges within the range of yen). ' Mr. James's main job is to run a startup, but with the help of a friend who works at Instagram, he has already sold five certification badges since the beginning of 2017. Basically, Mr. James's work is an intermediary, and he receives a fee of 1200 dollars (about 130,000 yen) per case. However, it seems that a separate fee may be charged if necessary.
According to James, several Instagram employees have been dismissed for authentication badges and account buying and selling, and a year ago they were able to get authentication badges five times a week, but now they are twice a week. Is the last minute. Regarding the sale of certification badges, James said, '(Certification badges) will be money and your account will belong to a celebrity you know.'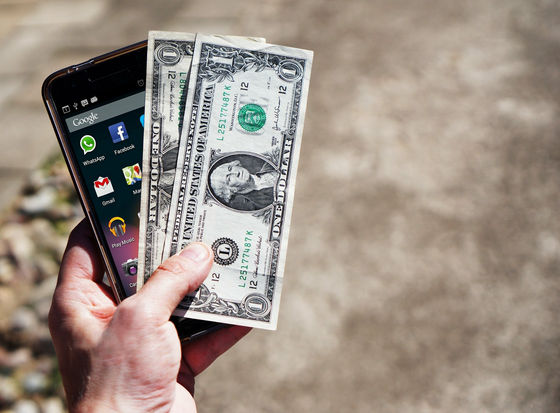 By
Hamza Butt
Of course, James is not the only one who sells authentication badges for SNS such as Instagram.
Alejandro Rioja, a
self-proclaimed digital marketer, is acting for the acquisition of SNS certification badges, and if you ask him, Facebook is $ 1,500 (about 160,000 yen), Twitter is $ 2,500 (about 270,000 yen), Instagram is 6,000 You can get a certification badge for dollars (about 660,000 yen).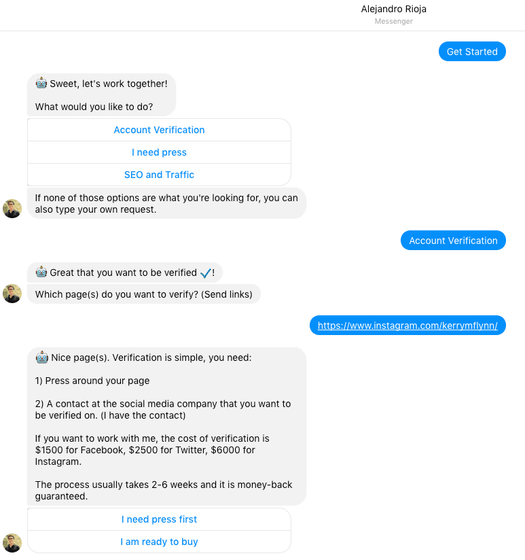 Instagram certification badges are the most expensive because Instagram is an important market for influencer marketing, spending over $ 1 billion annually. And since the easiest way to identify influencers or not on Instagram is to check for blue certification badges, the demand for certification badges is higher than on other social networks. That's why.

Details on how Instagram gives certification badges haven't been released, but some sources say ex-employees, employees, major media outlets, and entertainment companies are requesting account name changes and certification badges. It is possible to access the portal site that can be requested. If you use this portal, you will need to register your real name and ID such as your passport, Facebook or Instagram contacts, in order to prevent abuse of the privileges you have been granted, that is, the issuance of authentication badges. Is considered to be the treatment of.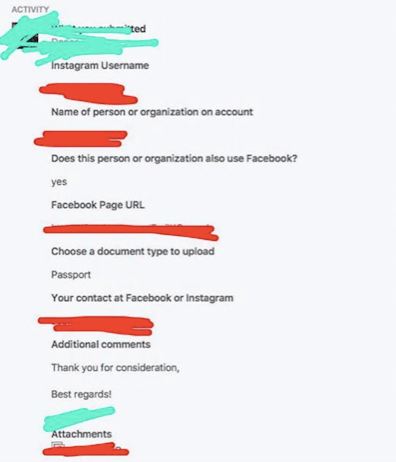 Rioja has sold authentication badges to 12 accounts so far, but says, 'I can't share my username because my clients don't like it.'

The procedure for obtaining an authentication badge on Twitter is as follows.

A request system for 'certified badges' that indicates that your Twitter account is genuine has appeared, and a summary of application methods --GIGAZINE