A story of disposable "paper dress" that laid the era of fashion in the 1960s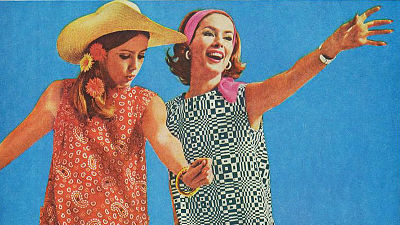 In the 1960's, "paper dress" made of paper became popular, and many artists and designers including Andy · Warhol announced paper dress of various designs. The origin of this epidemic is to manufacture and sell napkins and paper towelsScott Paper. How did the paper dress made as a novelty first made a fashion era,Collectors WeeklyI look back on the story with the pictures.

From Hospital Gowns to Paper Couture: The Unlikely Origins of '60s Disposable Dresses | Collectors Weekly
http://www.collectorsweekly.com/articles/from-hospital-gowns-to-paper-couture/

Scott Paper, founded in 1922, started a colorful new product line in the spring of 1966, but when you purchase these items you get a coupon and you can purchase at that discount price with that coupon on paper It was a paper dress. Paper dress at that time included shipping fee at 1.25 dollars. Red and white Paisley pattern dress and white and blackOp ArtThere was a pop design such as.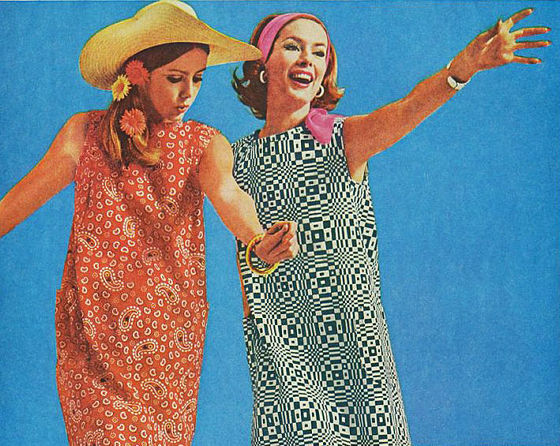 In the past era, the paper dress was made by some lovers, but never became the main stream. However, at the end of the year, Scott Paper's paper dress recorded a huge hit to receive 500,000 orders. Companies other than Scott Paper will also be producing paper dresses.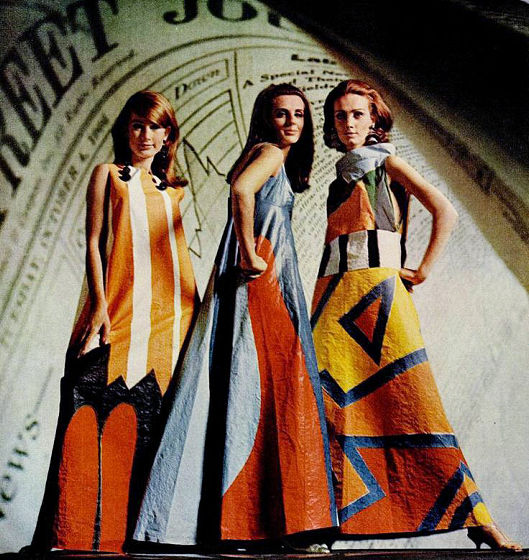 Before the paper dress flew the unprecedented hit, clothing made of plant fiber was used in hospitals, factories, etc. because it is "cheap and easy to reuse". EnhancedcelluloseIt itself was developed in the late 1950's and Scott Paper used "Duraweave" which sandwiches cloth of rayon between two layers made of cellulose fibers as a material. Meanwhile, competitor Kimberly-Stevens developed "Kaycel" that combines cellulose and nylon. However, both manufacturing and sales sides think that strength is weak by using the word "paper", and if they are used in hospitals and factories, they do not think that they can be accepted in the world of fashion It is said that.

In 1965, a Scott Paper engineer asked my wife to design the A-line dress using Duraweave, so a sample was made. The dress at the time was more durable than the paper towel and washable, but it was supposed to be disposed of when you wear it several times. It is because the coating of clothes peels off by repeated washing and durability is gone.

Until the 1966 campaign got a huge response, retailers never thought that paper dress would attract people's attention. However, companies that saw the great success of paper dress then began to sell paper dresses all together. Mars of Asheville, partnering with Kimberly-Stevens, is also one of them, selling clothing made from cellophane glittering gaudy patterned prints by a gift wrapping company. Also, at the department store at Brooklyn we sold paper dress and watercolor paint in sets, so that I could make a dress of my favorite pattern on my own. At this event, Andy · Warhol said she applied silk screen on the spot to the dress worn by the model.

And, at the Hartford Museum of Art Wadsworth Atheneum, who saw this performance, hosted a party in 1967 and made an attempt to have a prominent fashion designer make a paper dress. Campbell soup pattern dresses and green giant pattern dresses famous even in paper dresses were made at this time.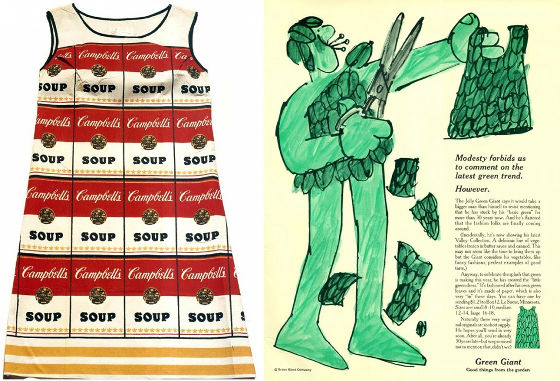 When wearing "Campbell soup" super dress "it is like this.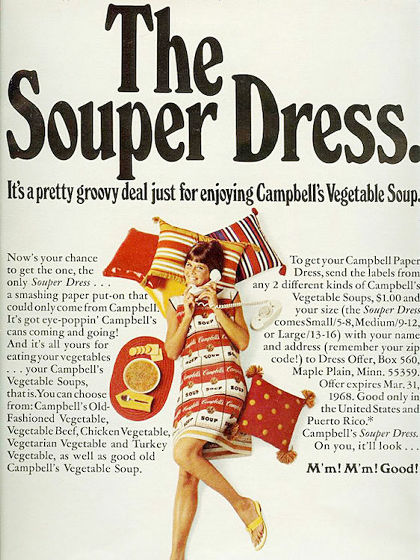 At that time, in the United States in the "commercialism" "mass consumption" era, paper dress became a good advertising medium. Robert Kennedy, President Kennedy 's younger brother, was used in politics, such as becoming a handle of a paper dress. In the days before the design T - shirts became popular, paper dress was a prerequisite for design T - shirts.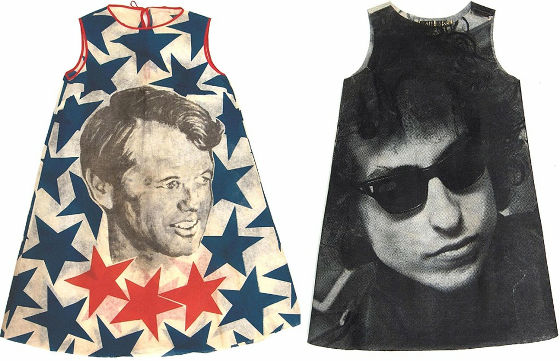 Also golden dresses and Indian traditional costumes Sally are made as paper dresses as follows.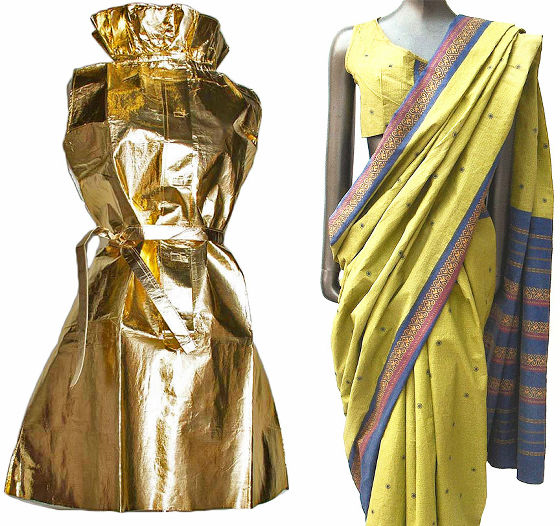 The golden dress was designed as the uniform of the first class cabin crew.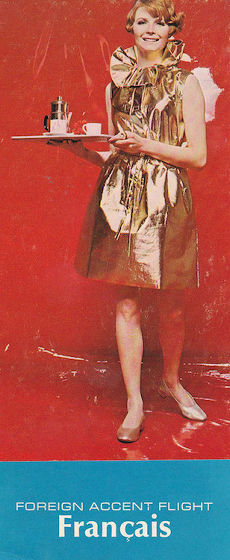 Paper dresses were inexpensive enough not to make much profit from the manufacturer, but even with a great advantage of price, the trend did not last long. The dress spreads widely if the wind blows, and when sitting on a chair the skirt swells, and if you go to the party, you could sometimes drink a drink by men. Even though it is not always, I always worry "Do not break," and seems to be uncomfortable to say the least.

Vivid color of the atmosphere of the 60's, geometric pattern, one-piece paper dress of A line below.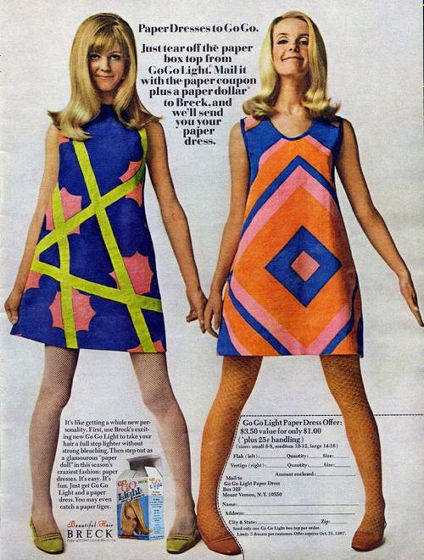 Various photographs are printed ......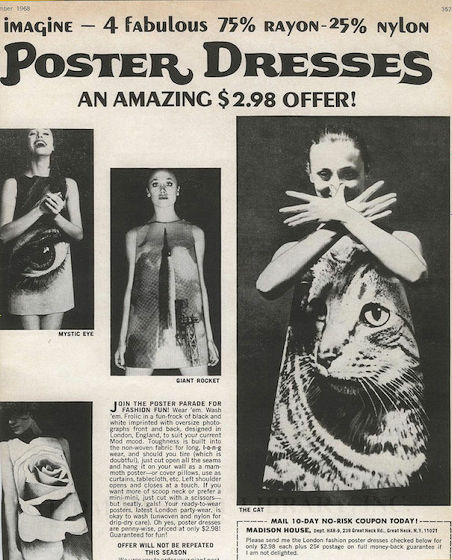 Paper dress printed with logo of goods such as "Baby · Ruth" of chocolate bar, candy bar "Butter finger" as well.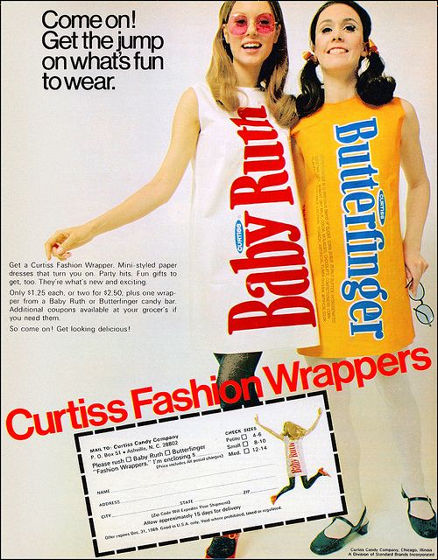 It is believed that the novelty of paper dresses has captured the hearts of people, as people aim for the moon and the new material "plastic" was popular in 1960. As of 2017, although paper dress will never become mainstream, it seems that they are using it like bathing at the hotel as a disposable men's swimwear.