Update the worldwide sales record of Amazon Prime Day, what was the best selling?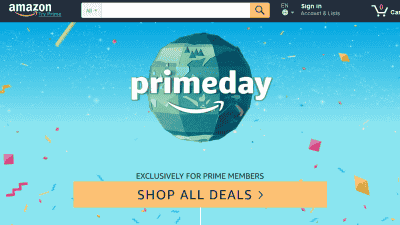 On Amazon Amazon's largest sale "Amazon Prime Day" held until July 11, 2017, we have updated sales records worldwide this year, and we are forecasting that sales were over 200 billion yen.

Prime Day projection: Amazon will top $ 2 billion in sales
https://www.digitalcommerce360.com/2017/07/10/prime-day-projection-amazon-will-top-2-billion-sales/

Echo devices are Amazon Prime Day's best sellers | TechCrunch
https://techcrunch.com/2017/07/11/echo-devices-are-amazon-prime-days-best-sellers/

Amazon's largest sale "Amazon Prime Day" began in 2014. In 2017, it was held in 13 countries worldwide, including China, India and Mexico, and finished in midnight on July 12, 2017 in Japan. As soon as the sale started, the top page of Amazon.co.jp temporarily fell down, etc. It seems that the big sale once a year when the Amazon prime members rushed was a huge success at the world level.

Amazon does not disclose detailed figures on sales, but Digital Commerce 360 ​​publishes Amazon's prime day sales forecast. We estimate that the worldwide sales of Amazon will be 21.80 billion dollars (about 250 billion yen), 21% higher than 2016, which was 1.8 billion dollars (about 200 billion yen). The big cause of the worldwide sales increase is that the sale time has been extended to six hours by 30 hours since last year.




Sales at the time of the article sale in the US are expected to reach 1.56 billion dollars (about 180 billion yen), which is expected to increase by 20% from the previous year. By the way, the membership fee of the domestic prime members is $ 99 per year (about 11,000 yen) or 10.99 dollars per month (about 1300 yen), the number of members increased by 35% from about 63 million in the fourth quarter of 2016 About 85 million peopleCIRP Announcesdoing.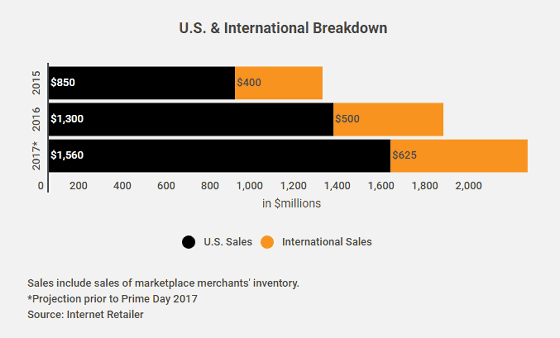 It is probably Amazon prime day to sell more than 200 billion yen in 30 hours, but TechCrunch says that the best selling item you care about was the AI ​​Assistant "Alexa" compatible speaker "Amazon Echo". According to information from Amazon stakeholders, in the United States domestic doubles the prime day ratio of 2016, triple the Echo terminal worldwide including the United Kingdom, Germany and so on sold several thousand units in one minute It is said that there is.

Echo series to record best sellers even in normal times, Amazon.com has prime day special price of $ 179.99 (about 20,000 yen) "Amazon Echo"It is on sale for half price for 89.99 dollars (about 10,000 yen).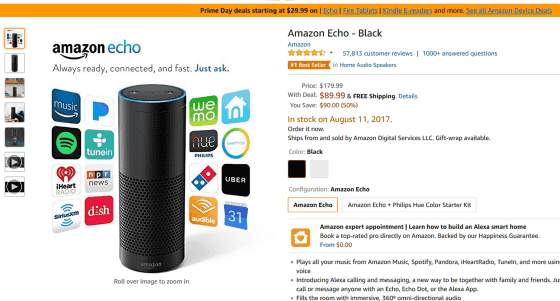 According to Amazon's best selling rankings, the most selling is "Echo Dot"It is usually $ 49.99 (about 5700 yen) is 30% off $ 34.99 (about 4000 yen).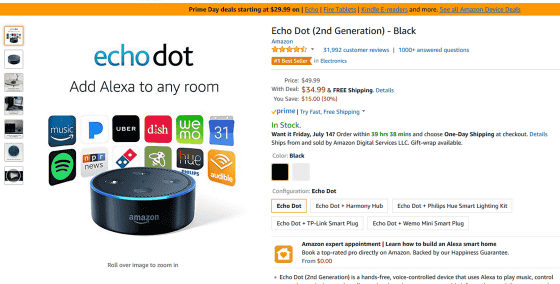 According to CIRP, the average money spent by Amazon domestic prime members is $ 1,300 per year (about 150,000 yen) per year. Since this figure greatly exceeds the non-prime member's average of $ 700 (about 80,000 yen), Amazon is expected to strengthen the prime member-only event in order to increase the number of prime members.