Review of 'Game Boy Heat Change Mug' mug that lights up the screen when you pour a drink and makes tea time too fun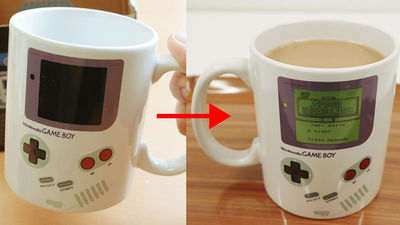 ' Game Boy Heat Change Mug ' is a mug that lights up the printed screen of the Game Boy when you pour a hot drink. It is a mug with a design that is sure to be exciting for the Game Boy generation, and it is said that it has obtained an official license from Nintendo in the United Kingdom, so I actually ordered it from the United Kingdom and used it.

Game Boy Heat Change Mug | FIREBOX

https://www.firebox.com/Game-Boy-Heat-Change-Mug/p7912
A parcel arrives from FIRE BOX, a store that handles Game Boy Heat Change Mug.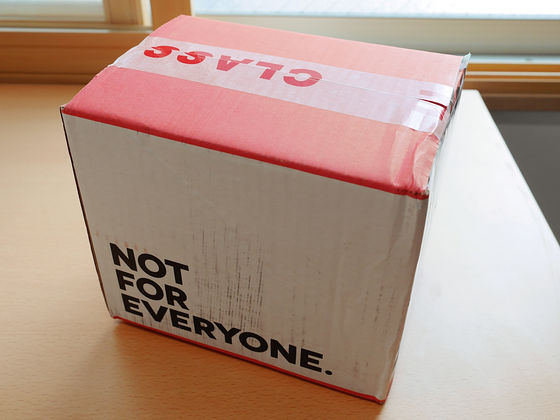 When you open the box, it's wrapped in packing material and contains a Game Boy Heat Change Mug box.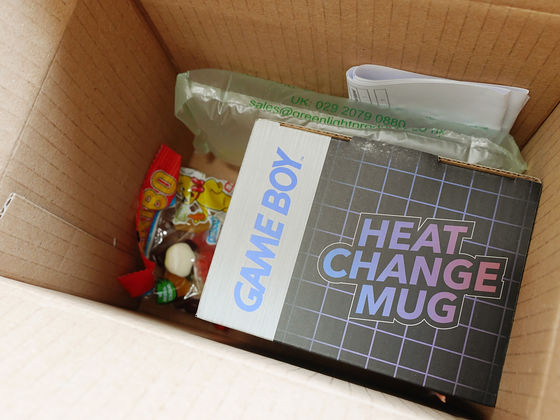 It's a box that seems to fit in the Game Boy itself, but it's certainly a mug.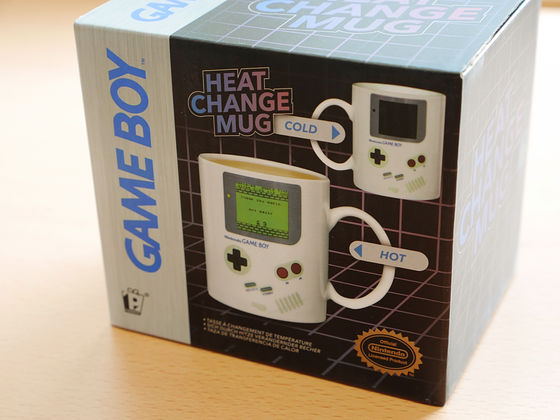 A logo indicating that it is an 'Official Nintendo Licensed Product'.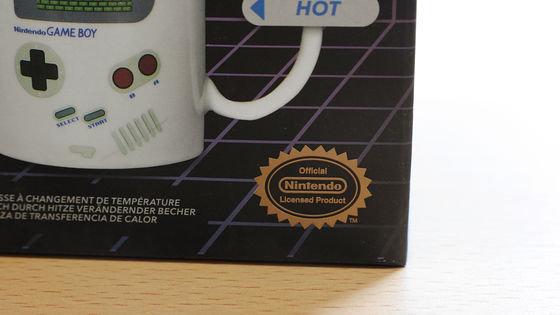 On the back side, there is a brief description written in 7 languages, 'Please do not use it in a fully automatic dishwasher and microwave oven.'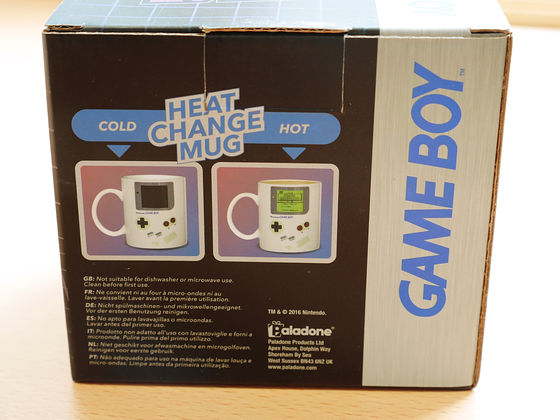 By the way, I'm glad that Haribo comes out of the box because of the packing material.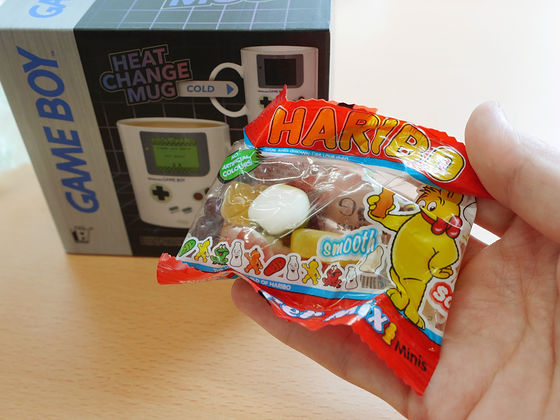 The Game Boy Heat Change Mug inside is like this. The design of the Game Boy itself has been faithfully reproduced, and it's exciting just to look at it.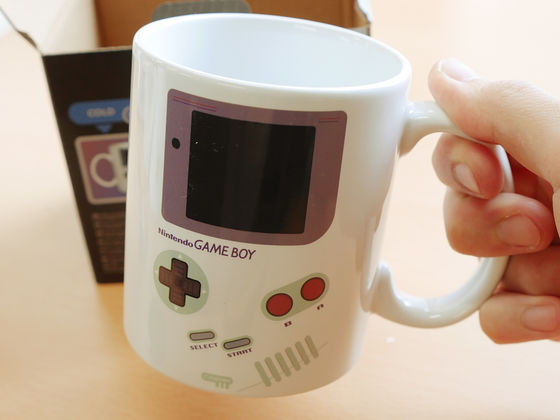 The sticker is not attached to the mug, but it is printed, so even if you wash it with water, you will not have to worry about it coming off. The content is plenty of 300ml.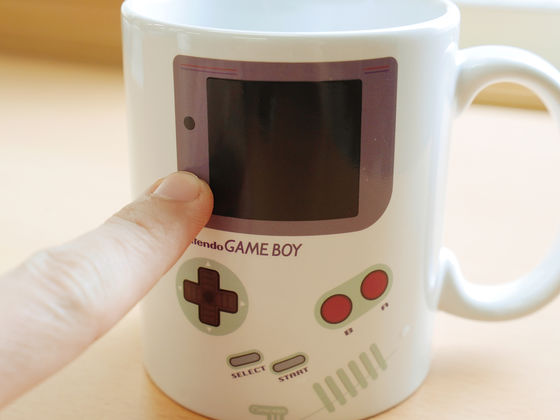 So, I decided to pour a hot drink right away.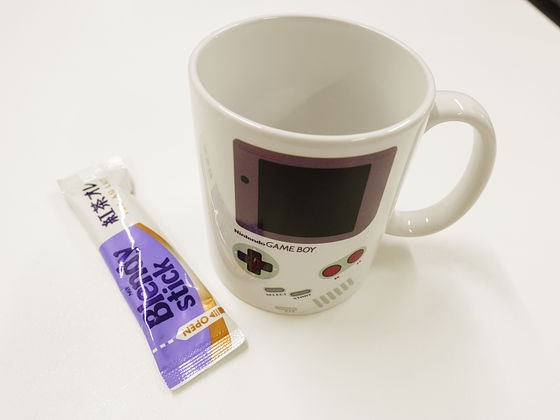 You can check how the screen lights up when you actually pour a hot drink in the following movie.


The Game Boy screen lights up when you add a hot drink 'Game Boy Heat Change Mug' --YouTube
Add hot water to the Game Boy Heat Change Mug. Even after 10 seconds or more, there is no response on the screen, and I am suspicious that it is a defective product.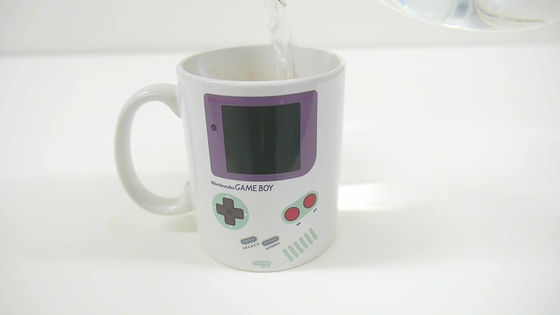 However, after about 20 seconds, changes began to appear at the bottom of the screen.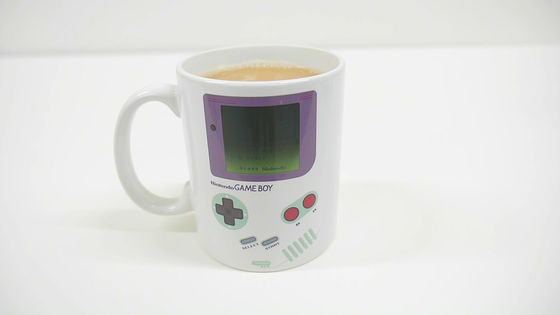 About 30 seconds after adding hot water, the screen turned on and the start screen of Super Mario Lalande became visible.



The same Game Boy design is printed on the back side, but the screen that lights up is the scene where Mario and Daisy meet. You can enjoy different screens on the front and back.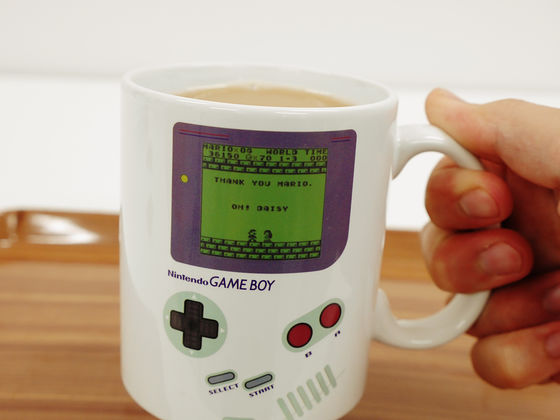 If you are drinking a hot drink in a mug, the screen will disappear from the top as the water level changes. Although you can't actually play it, you'll be thrilled to see the changes on the Game Boy screen every time you see it. It is the perfect mug for a short break.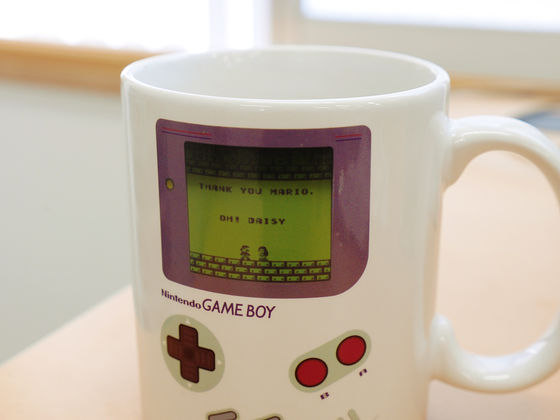 The Game Boy Heat Change Mug can be purchased from the following page for £ 9.99. A separate shipping fee of £ 3.30 (about 500 yen) is required for shipping to Japan, and you can receive it in about a week.

Game Boy Heat Change Mug | FIREBOX
https://www.firebox.com/Game-Boy-Heat-Change-Mug/p7912