I have drunk three kinds of original drink "CALPIS + fermented BLEND" combining Calpis and fermented food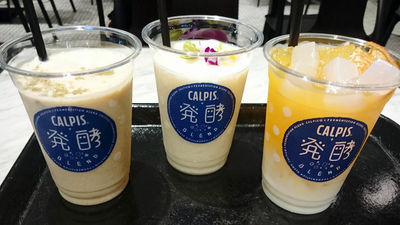 You can drink Original Fruit Drink blended with fermented food Calpis and another fermented food in Cafe of Niko Tamagawa and Nakameguro for a limited time until July 9, 2017 (Sunday). There are three fermented foods blended, miso, sweet sake and yogurt. I do not know who came up with trying to combine miso and calpis, but I went for a drink, because I was able to enjoy "an unexpected taste."

CALPIS® + Fermentation BLEND | Calpis "Official"
https://calpis-chikara.jp/blend/

"Calpis" and fermented food "Original fermented drink" CALPIS®+ Fermentation BLEND "Limited time sale from June 30th at 2 locations in Tokyo! | Asahi Beverages
http://www.asahiinryo.co.jp/company/newsrelease/2017/pick_0629.html

Handling original drinks is "NICOTAMA DAYS CAFE" in Niko Tamagawa and "The Workers coffee / bar" in Nakameguro. This time I decided to go to "NICOTAMA DAYS CAFE" and came to Nikko Tamagawa station of Tokyu. Even in the digital signage at home, "CALPIS + fermentation BLEND" appeal was done.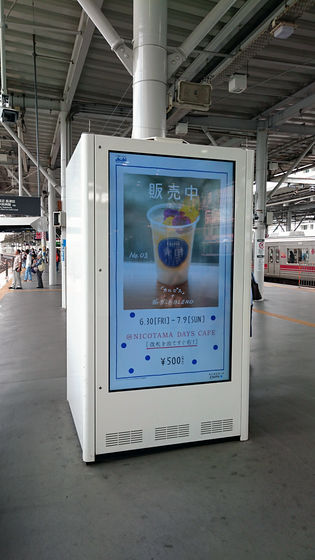 The cafe is integrated with the station, and it is 1 minute away from the ticket gate.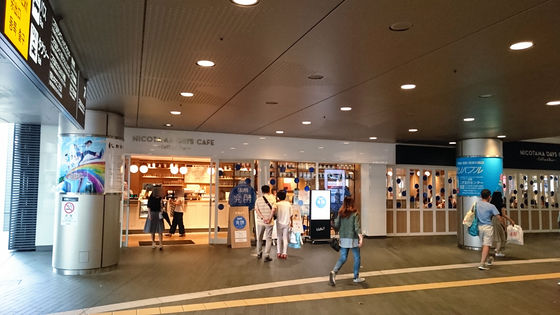 Coffee and other regular menus are also provided, but in the kitchen part the Calpis was in line.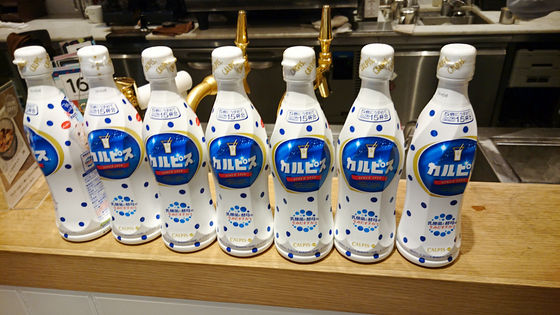 Since we will make it as soon as you place an order, there is almost no waiting time. This time I ordered 3 types. From the left "CALPIS + miso BLEND" "CALPIS + sweet sake brand" BLEND "CALPIS + yoghurt BLEND", including tax 500 yen.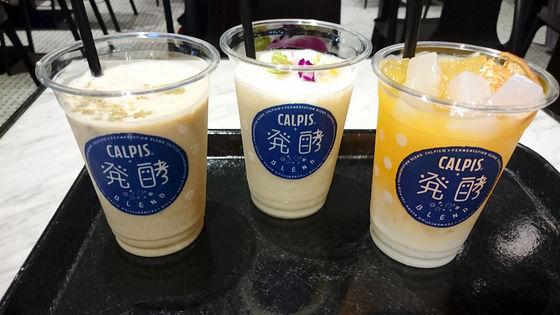 "CALPIS + Miso BLEND" is a product blended with Calpis and red miso. There is no change in appearance, but when you drink it looks like Calpis in the mouth, not calpis, the sweet and magical flavor spreads. There is a reason that I am drinking while thinking "Eh, Miso!?", I can not wipe a feeling of incompatibility, but a soft miso flavor like clinging from the left and right of my tongue while I drink, "This is it" It will be comfortable.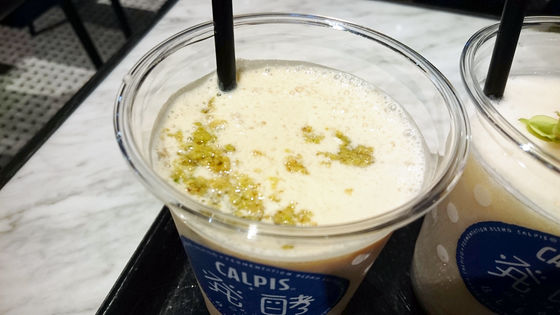 "CALPIS + 糀 酒酒 BLEND" blends calpis and sweet sake (rice koji rice wine). It seems that sour taste is increasing slightly to the taste of Calpis which became the base, but also the impression "Calpis breaks of sweet sake". Sweet and easy to drink, it seems likely already as an arrangement of Calpis.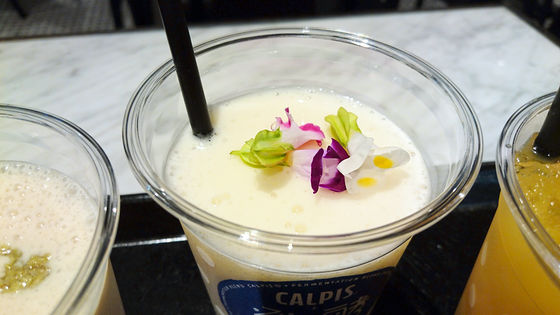 Lastly, "CALPIS + yoghurt BLEND" blended with Calpis and yogurt nata de coco. It felt like yoghurt surpassed the presence of Calpis and drinking another yogurt based drink.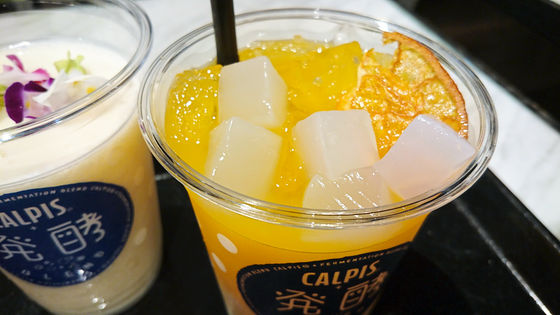 Also, when you take a picture about "CALPIS + fermentation BLEND" at a cafe and post it with a hash tag "# Calpis fermentation" posted and show it to the shop staff, you can get a special sticker on first come, first served.