Clearly that Ransomware "Wanna Cry" infected with over 200,000 people got about 3 million yen as ransom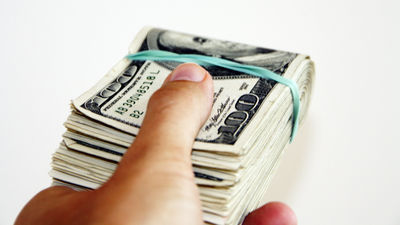 By401 (K) 2012

Ransomware 's discovery on the weekend of the second week of May 2017Wanna CryIt covers 150 countries,More than 10,000 organizations and more than 200,000 individual users are said to have been infectedI am wildly raging all over the world. In the first place, Ransomware is a program to disable the data in the infected PC by encrypting it or to request "ransom" instead of returning the data, but WannaCry is about $ 26,000 It is clear that we had received over ransom more than 3 million yen).

Global 'Wana' Ransomware Outbreak Earned Perpetrators $ 26,000 So Far - Krebs on Security
https://krebsonsecurity.com/2017/05/global-wana-ransomware-outbreak-earned-perpetrators-26000-so-far/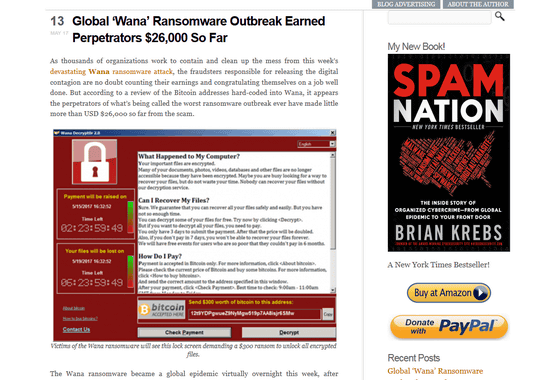 "Wanna Cry" is a Ranthers Wear that makes data unusable by using strong encryption technology. You can understand about WannaCry by reading the following article.

File encryption · ransom demand "Wanna Cry" is pandemic worldwide and emergency patch is distributed to Windows XP, and it enters an abnormal situation, present situation & countermeasure summary - GIGAZINE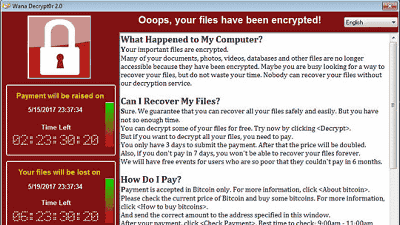 About such WannaCry Security company RedsocksInvestigationIt says that Wanna Cry contains three hard-coded bit coin addresses.Bit coinSince anyone can view the transaction history of the bit coin address, the journalist Brian Krebs examined the transaction history of the three bit coin addresses associated with Wanna Cry, and found that the ransom totaled 100 times in total, about 20,000 It is clear that it had received 6148 dollars (about 3 million yen).

Although Wanna Cry is a Ransomware that requires a relatively small amount of ransom, it is possible that this could pose a danger to human life, Krebs points out. For example, in the UK, at least 16 hospital PCs are infected with WannaCry, which has caused the order of surgery to be readjusted, Krebs said, "This is because WannaCry attacks can physically hurt people It shows that there is sex ". However, at the present time the impact of WannaCry infection has not been reported.

Krebs wrote that an attacker using WannaCry got it as a ransom, "I recognize that $ 26,000 is a huge amount of money", but in his blog's comment section "I did this only There are few ransoms compared to the magnitude of the impact, such as "only $ 26,000?" Or "I remember thieves left thousands of dollars in cars to steal a $ 300 stereo" The comment which I care is outstanding. There was also a comment that "ransom now will be only 26 thousand dollars" and the ransom that attackers will acquire will further increase.



If WannaCry's variants are already multiplereportIt is said that kill switches developed by Kaspersky Laboratories and others do not work well.