"Nintendo Switch" sold 2.54 million units in one month, and "Zelda" exceeded 2.76 million more than the main body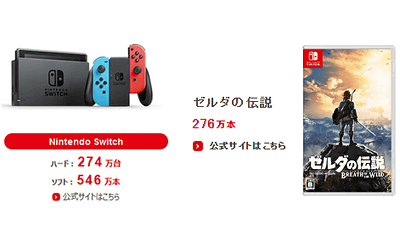 Nintendo SwitchNintendo records the highest pace sales volume in 2 days from releaseHowever, based on the settlement data released by Nintendo on Thursday, April 27, 2017, Nintendo Switch's sales volume has maintained a strong sales pace of 2.44 million units worldwide in about a month understood.

Information for shareholders / investors: IR Library - Financial Results etc FY 2016
https://www.nintendo.co.jp/ir/library/earnings/index.html

Information for Shareholders and Investors: Performance / Financial Information - Game Console Sales Results
https://www.nintendo.co.jp/ir/finance/hard_soft/index.html

Nintendo is in the month from releaseShip 2 million units of Nintendo Switch worldwideAlthough it declared that it actually was 40% above this forecast, we have recorded a sales volume of 2.74 million units worldwide. Nintendo sold 3 million units in 2 months from the launch of Wii U, but the Nintendo Switch has been at a sales pace that is equal to double the Wii U.

According to Nintendo's settlement data, the breakdown of Nintendo Switch 's unit sales of 2.44 million units is "600,000 in" domestic ", 1.2 million in" Americas ", and 930,000 in" others "including Europe and Australia It is getting.

Software sales pace was also good, and Nintendo Switch released with "The Legend of Zelda Breath of the Wild'S worldwide sales of 2.76 million (including 3.44 million if including the Wii version), exceeding the number of Nintendo Switch units sold at the level that "all Nintendo Switch buyers have Zelda" I figured out the numbers. "1-2-Switch" which can experience HD vibration etc. is also popular, and the total number of Nintendo Switch software sales totaled 5,460,000.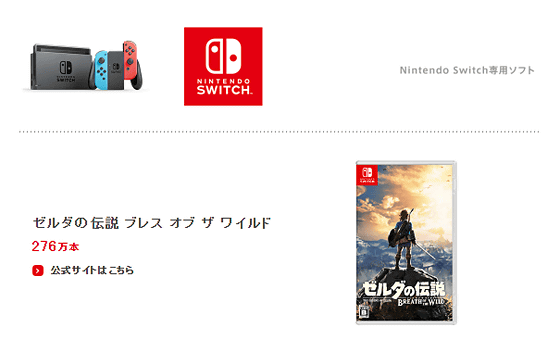 The cumulative total of the "Wii" cumulative total of 101.63 million units, which has largely brought out the largest sales volume of Nintendo's stationary console. It was 5.64 million in 2007, but it was 18.61 million in 2008, 25.55 million in 2009, 205.3 million in 2010, 1.508 million in 2011, over 10 million over 4 consecutive years We are recording. Nintendo Switch is expected to hit "Mario Kart 8 DeluxeJust released, in June June "ARMS"In July,"Splatoon 2"We are planning to release a big title, so there is plenty of potential to be a game hard beyond Wii if the software supply will continue smoothly in the future.