The masterpiece sound gained by HD remaster version "Rappappapper" Mr. Matsuura's founder Pappa's birth announce secret story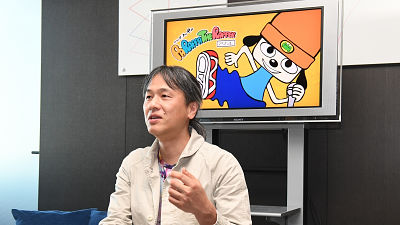 A pioneer presence of a rhythm game that manipulates a character "Palappa" drawn on a perilla to chill a cool lap "Rappers"Is Thursday, April 20, 2017, PS4 remaster edition"RappersI came back as. It is a work deserving to call "masterpiece" that will continue to be played after 20 years since the announcement in 1996, and there are many people who crazy and played along with tracks of hip hop and reggae.

This time I asked Mr. Masaya Matsuura, who is the creator of this game, how to "Rapper Rapper" was born, and about a certain keyword hidden behind its charm, I taught various interesting stories in a long interview.

Rappa | Software Catalog | PlayStation R Official Site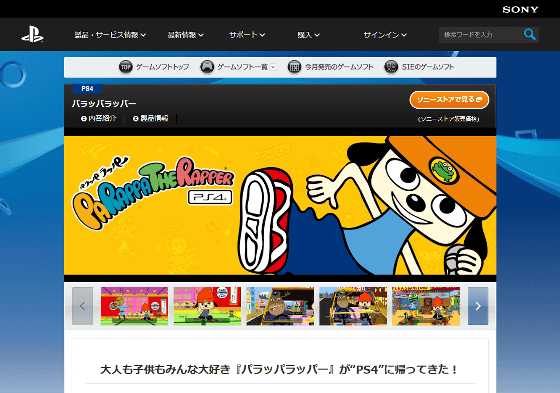 ◆ From Music Unit "PSY · S" to "Birth of Parappa"
GIGAZINE (hereinafter, G):
"Rappappapper" means that it will be released in December 1996, there is another 20 years history. When I first played "Rappa Rapper", I remember being extremely moved by the fact that "the game can be formed in this way" and I was remarkably enthusiastic. I think that Mr. Matsuura of the time was the timing when the activity of the music unit "PSY · S (size)" was put on the break, but what kind of circumstances did you decide to make "Rappa Rapper"?

Matsuura Masaya (Matsuura):
PSY · S is a vocalist Mr. CHAKA and I have only two people, using the computer was a form that the entire ensemble is complete though it is only two people. Until then, it was impossible for only two people to complete music. But as I continued my activities I gradually began to see things like limits. In such circumstances we had tried various trials and errors to break through that limit.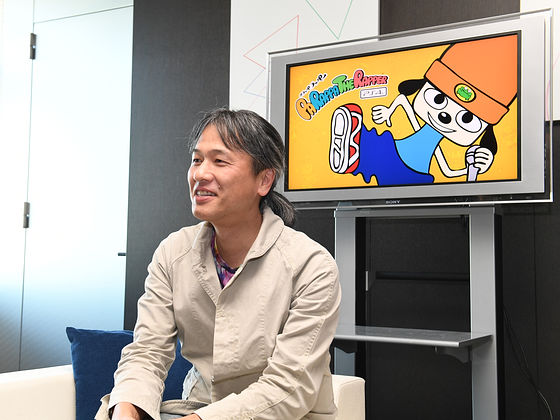 Matsuura:
First of all, there was such a thing, and in the early 1980s, there was originally the environment, the momentum that the computer came in at all the creative scene and the new challenge can be done anything .

Back then, the media that was common at the time was pretty well before the CD, yet the DVD appeared, but there are already some formats that can record images on the CD. From that point on, products including images and expressions gradually expanded around themselves.

G:
That wasCD-VIs it like a form?

Matsuura:
That's right, there was CD-V,Video CDThere was also, that lineage at that time is quite confusing. I started to see the interactive area that is not just music, and I felt like I was such a funny place. But at that time I still had little consciousness of "game" and I was doing my best trying things like experiments in the form of a CD-ROM for Mac. I heard the story that it is in the base first and I heard the story that PlayStation seems to be able to be done in such a place, but I thought "If PlayStation is a game machine?", What kind of way to make it if it were a game machine Because I do not know at all what, I finished that time with the feeling "I do not know well".

G:
At first it was such a feeling.

Matsuura:
That's right. There are things I still remember clearly. Sony Computer Entertainment Inc. (now Sony Interactive Entertainment (SIE), hereafter SCE) is half of the hardware maker Sony staff, half of the staff from the then CBS Sony (now Sony Music Entertainment) It was a hybrid company that was a hybrid company, but in that information on the people of CBS Sony side "There is a thing called" PlayStation "comes out, when I went to Sony Gotenyama Technology Center, then it was Sony's president It wasNorio OhgaIs climbing on the stage and "I thank you very much for agreeing to our plan today" was greeted. So I saw the actual thing of PlayStation for the first time.

At the beginning, I did not think that I could do anything with PlayStation, but just when PlayStation sells about 1 million units, there is a story saying "There are things that can be done from the music side?" Then, it was "parapper rapper" that I took in considering the project. There was not much corroboration as to whether it could be done, and I was writing a proposal that was very unreliable. It was this timing that took the project, but the various movements involved in this project itself have existed from a long time ago.

G:
It is now a representative game among the successive PlayStation works ......

Matsuura:
Well, it was a result, so I could not imagine it at all.

G:
As I see various interviews, Mr. Matsuura understands that I am very interested in interactivity. Again, this "parapper wrapper" is not just a game, or is the interactive part of music and game like a theme?

Matsuura:
That part of what I was doing during the PSY · S era, I felt the deadlock was there. PSY · S was also a "driving" music, it also has a great influence, but it is a sense of "why are you repeating the same thing?" Of course it is natural to make something when completing a record, but when you go on tour after doing so, you will recreate something similar to what is represented in that record. Then, the customer also enjoys by having a hand clapper, but it was doubtful that there is a way of enjoying it more.

In such trial and error, I stopped driving at all and played with nearly 100% band, I also did such a thing. But, it seems that it was not an answer for myself. One time I thought at a certain moment was "Do you want the customer to play, do not you do it yourself? From there I felt that there is a promising possibility of my own expression among interactive audio or something like interactive music. In the background, it was a time when enjoying not only listening in the form like karaoke but also actively participating in music increased little by little. Moreover, I thought that it might be useless just to listen in order to compete against myself or adapt it.

G:
If you see the PSY · S live footage, you are taking a dancer, are not you?

Matsuura:
I agree. However, such trial and error is a tremendous burden on the contrary, or even in a good way even in a bad way the volume became very heavy, the biggest reason being that I was making music by driving. Because it was made by driving, the unmoved part of the music got so big, and something that is naturally expressed in the original live activity was definitely lacking. It means that we must supplement what everyone else is feeling with "something that is missing", "Is it a stage device?" "Is it a dance?" "Is it like a musical development I tried such a trial and error that "?" That was also a study and it was also a fun part, but for me it was the original expression of record music, or at the stage where that part was fixed, its fixedness was too high or stubborn The part that was too much was one limitation of expression for me.

G:
The answer to that was interactive.

Matsuura:
Yes.

◆ Being "interactive"
G:
If it is the content which was spoken in the past interview, there are a lot of teaching material things in the interactive game before "Rappa Rapper", but there are things that none were so interesting. Based on that, I made "parappa rapper", what kind of way was Mr. Matsuura's answer to it made?

Matsuura:
At that time, I was doing a series of computer magazines, and editorial person brought software and games subject to music. Among them, there was a game using a guitar type peripheral (input device) made of plastics to push the buttons according to the buttons appearing on the screen, but that was really boring (laugh). I feel like it has become an opportunity for making "parappa rapper" to say "Why is this so boring? I do not know if it will be a game, but I felt strongly that in an interactive experience, players are absolutely indispensable that "immersible elements" are absolutely indispensable.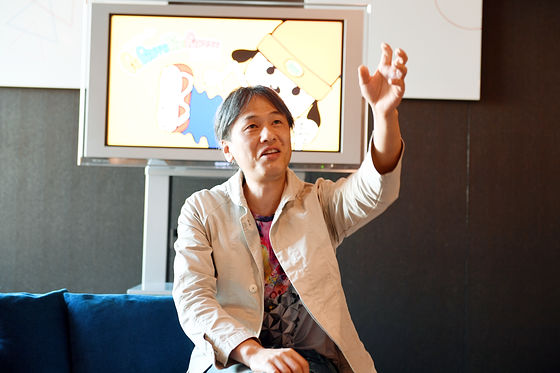 G:
Until we asked for the story this time, I was thinking simply "fun" about "Rappapprapper", but when I research various materials and talk about various things this time, it is certainly "interactive It began to think what it is. What is different from other games is that there is music in the case of "rippa rapper", BGM played by scoring of music according to music changes, even if the same button is pushed, different words come out, I think that I think that the neighborhood is one key word.

Matsuura:
I think that it is also thought that after 20 years again I think again, I think that there is a character and a story in one of the big elements first. I think that the existence of the character is very big in the sense that the character "show anyone welcome" is fulfilling an important role of lowering the threshold in entering the game. Another thing is that there is something different from just having to experience interactive audio, listening to music as a result of biasing being a good meaning or a bad meaning, as the motivation of the story is conveyed to players .

G:
In the case of "Rappa Rapper", events such as character meetings are also held, I think that there is a side that looks like one culture as a whole.

Matsuura:
I agree. I have a pride that myself is the person who understands "parappa rapper" best, but on the other hand, what is "parappa rapper" even after twenty years is still unclear part There is also it. That "I do not know" is one reason why I can not end "Rappa Rapper" inside of me in a good sense, and on the contrary, I think that I feel like a way of being treated like "Rappa Rapper" I think that it is one reason for such consciousness that it must be properly committed. It's not all that fun and easy, but there are things like a little sense of responsibility.

G:
I think that it is one interesting part that you can simulate experiences with PlayStation controllers, such as when you pressed a button a bit differently, such as when you press a button, or what the rapper is doing. Besides that, I think that there are characters for each stage, including track atmosphere and lyrics in English, but I think that there is a view of each world, but how did it come about how to make it around? Cow.

Matsuura:
The conference of actual contents was the conference room which was in the office of Sony music artists who belonged at that time, the person in charge of the scenario and the person who thinks lyrics of lap and me, the director of SCE and I I was on a regular weekly meeting with about 4 to 5 people, I guess. So spread out the imitation paper on the desk like something like "what kind of personality is the character", "what kind of story is being developed", "what kind of character do you say" at that time, everyone graffiti While thinking about it, I was thinking with such a feeling. So, development of the story, actual dialogue turning, game setting, teacher's character, music character, such things all decide at the same time. Since division of labor was not done in a good sense or a bad meaning, it may have been such a waste that everyone is writing the same thing, but it was a very interesting site.

G:
You mean that the team was truly made together.

Matsuura:
However, the scene was divided between Tokyo and Osaka. Actually there is not much unity feeling (laugh)

G:
Mr. Matsuura was an Osaka team?

Matsuura:
No, it is not. The Osaka team is mainly a graphic production team.

G:
I thought that the graphics are overseas, but they are different. Why did the atmosphere like being overseas made come out?

Matsuura:
Of course the first Rodney (·Greenblatt) 'S colorful world or touch is on the base is no doubt. The second largest thing is that there are no cool people in the world of "Rappa rapper" ... There is a little word, there is no cool person in the meaning of the so-called stereotype.

G:
Super hero like?

Matsuura:
Yes. So, rather, if you are in the world normally, you are probably featured as a strange person, such a person. It's a strange person, but it was such a feeling like a lovable person. Not someone decided to do that kind of thing, but somehow it was drifting across the whole team, it was an image that everyone shared. I think that it was strange to think about it now. There was nothing like an adult feeling, and there was nothing like a childish feeling. There were not too many things like men and women. With that kind of feeling, I think that the energy that everyone crosses from what they feel like something like the background is awesome, I think that was one driving force in making "parappa rapper".

G:
So, I think that the illustration of the first motivation was Mr. Rodney, but it was said that there was not anything made after that the fact that someone else made the initiative in particular.

Matsuura:
It is a feeling that everyone was taking the initiative.

G:
Even with music, there were various genres such as pop and reggae.

Matsuura:
Music is actually the last one. Although the music in the demo state was completed at the first stage, too much other things were too much and I came to completion without properly turning my hands on music, and I was the most behind.

G:
Overall, how much feeling was music being postponed ...?

Matsuura:
I do not remember it very well, though I believe that it was released in December (1996), so if the master (sound source) had not gone up about three months ago ... ... the last sound in the very hot summer holidays I think that it was around August or September because there was a memory I was fond of.

G:
I think that the character of each teacher and the image of the stage and the image of music are natural, but how long was it about made for a long time?

Matsuura:
I planned for the first time indeed was about 6 months in total. So, it took about two and a half years for the time actually taken to complete from the actual work before the plan (laugh)

G:
It took about 5 times longer (laugh)

Matsuura:
I did not understand it at all (lol)

G:
Is it still the production period including the world view etc?

Matsuura:
I agree. I have no experience with PlayStation and I have no experiences developing game machines, so everything was fumbling.

G:
It has been so long since PlayStation came out. It is very surprising to think now. I thought it was really the early days of the first PlayStation.

Matsuura:
It was not so. Actually, actually I really wanted to make something that I think would not do such a place if I make it normally, I almost finished without thinking as it was (laugh)

G:
Really? What kind of part is it?

Matsuura:
I think that there were as many parts that were made carefully in a better sense if it was a bit of an animation movement, or more carefully done, but the hand did not turn at all.

G:
I say this in a nice sense, but I thought that the first "Rappappapper" is a rough image of the picture in particular, it is a feeling that it is quite a taste for me and I think it is a view of the world, Does not necessarily mean it was aimed?

Matsuura:
Everyone, there is something like a strange charm that is brought out in the state that the site has become a fire horse, "There is no more time to give up", it can not be stopped, the control does not work, the mysterious thing I think that it was.

G:
Then, in terms of hardware performance etc., you can do as much as you want to do.

Matsuura:
Yes, of course.

G:
I have heard a story saying that it is one of the reasons why the characters became fluent beginning with Palau, because it took time for 3D modeling.

Matsuura:
That is a fact of the first stage, is not it? At first, I was told that "This is a model of polygon as usual", but when I was talking about how to do it, considering the drawing power of polygons in PS, it is quite low polypropylene It is a story that you must do it in a state where the polygon is rough). If you make it to Lopoli, it will be fancy as it is. Was it told that the fascinating surface fits this character's design?

G:
Speaking of PlayStation of the time ... ... "Ridge racer" or the like, is not it?

Matsuura:
That's right. For example, in a game that appeared at the same time, in representative titles "Crash · Bandicoot" is one of the games that pull out the performance of PS very much. However, in the case of a crash, since there is only one character on the screen, it is easy to devise, but since "Rappappapper" at the development stage does not know how many characters will appear on the screen, how much quality can be expressed I did not understand at all. In that, is that it is a story that "Do not you want to stay fluent?" It is a very mysterious idea like something positive like reluctant.

G:
At first, when I saw this fluent, I was thinking "I do not care" at all. In a good sense I thought "Is this acceptable, can I make it as a game with this," and it was such a shocking event in that sense.

Matsuura:
It seems that it was hard to prepare quite well though. It seems there was a problem of "Z sort" dealing with depth information with 3D graphics. Even if it is a model of fluent, does not it need a back and a front? So it is in a state of overlapping two different fluxes, but if you bring it closer than a certain level, the plane will inevitably come out anyway.

G:
It is like when the character turns.

Matsuura:
That's right. But, if you leave it too far, you will see 2 photos this time. Therefore, it seems that this adjustment was difficult.

G:
It is such a thing, it can not be attached on both sides with one piece.

Matsuura:
That was probably impossible on PS. I might have made it later.

G:
That part is said to have been a difficult part of hardware at that time.

Matsuura:
Well, graphically, I had a lot of other hardships.

"Parappa rapper" is clear in pop! Deliver a comparison video of PS version and PS 4 R version! - YouTube


◆ Numerous trial and error on the music side
G:
Was there such a hard work from the musical point?

Matsuura:
What I struggled musically .... It's too hard to understand and I do not know where to talk.

G:
For example, is music playing backward, playing multiple sound sources at the same time on a multitrack, and adjusting the volume balance with the mixer for each judgment of play?

Matsuura:
The neighborhood is one example of what we were not a PlayStation native background, but it uses one feature that can be done in the format "CD - ROM XA". In the CD-ROM XA, there is a method of interleaving (discontinuously) writing a plurality of tracks in one track and using "COOL", "GOOD", "BAD", and "AWFUL Four tracks for "are put in one piece of data. I am reading one data, but I play it by connecting it one by one, doing what I do not need, so I will switch back to the bat in real time.

G:
Do you mean that different tracks are prepared for each grading?

Matsuura:
That's it.

G:
That's how it is. Did not multitrack be made by hardware?

Matsuura:
Oh, so if you call it multitrack, that is true, but you can only play one track at a time.

G:
Indeed, there are four tomixes (2mix: stereo sound sources) for each evaluation level of play ......

Matsuura:
No, as I had it with two mix, there were various problems, so it is finally becoming mono during the game.

G:
Really!

Matsuura:
Yes, "Rappapper" is monaural in the game. The reason is that at the timing of switching CD - ROM XA, it is strange that it sounds like strange garbage in LR sound source data, it says "bitches", which is quite tough.

G:
It was a monaural ......

Matsuura:
It was also a result of trial and error.

G:
Since PS is not at home now, the original version could not be played this time, is still still monaural?

Matsuura:
This remastered version is stereo. Also, when switching that interleave a subtle gap opens and it gets silent. When playing, it happens often when it goes to GOOD from there once it is BAD or AWFUL. But since that silence is so bad feeling, when I was consulted with a programmer "There is not any good way?", I happened to be reading a book called "well-sounded paper instrument" (laugh). It was a book that cuts a book to make a paper whistle, but when you put the guy who recorded the whistle sound of that "pure" there and it goes very well, whenever it goes up from BAD to GOOD etc., that sound will surely sound I will.

G:
By the way it sounds! Is that a live recording?

Matsuura:
That's right.

G:
A paper whistle?

Matsuura:
Yes, it is the sound of a paper whist that I made (laugh) It is very handmade feeling.

G:
Where was that recording recorded?

Matsuura:
"Rappa rapper" is all home books. There are about 4 or 5 people who made songs in total, but when I recorded the voice I went to New York and used a bit of studio, but all other things, including me, are home books.

G:
So, how about driving all drums?

Matsuura:
Drum ... ... I also recorded when I went to New York, but it is only a part. I guess drums are rarely used. I recorded the drum, but it did not work very well.

G:
By the way, what kind of environment (recording system) was it home cataloged?

Matsuura:
I only understand my own environment, but at that time it was an environment of DigiDesign Pro Tools 2.0.

G:
2.0! Is it? It is a long time ago .... 20 years ago.

Matsuura:
Perhaps it may be 1.x, there is a memory that I am glad that somewhere 2.0. But it was really terrible to use and it was awful (lol)

G:
Among the other creators, they were produced by exchanging data.

Matsuura:
That's right, at that time I was exchanging with MO discs.

G:
It is nostalgic ~! It seems like "Capacity 600 MB".

Matsuura:
Yes Yes. We were interacting in large quantities.

◆ What felt as becoming "Rappapper" and PlayStation, and "Palappa of the world"
G:
I think that the momentum of "Rappa Rapper" is that PlayStation has exceeded 1 million units, and I feel that I am getting very strong at the momentum like this, and there is an image of becoming larger in pairs.

Matsuura:
SCE may have thought so, but we did not even think about such a thing. As I thought if I could do it for the first half a year or so, it would have been two and a half years as a result, so I was not sure if it would be completed or not, until actually it was finished and it was released Although I did a promotion meeting, there were almost no people saying "Rappappa" at that time as a game, and of course the initials when I first released was about tens of thousands. At that time, "Ridge racer" has already been released and "Final Fantasy VII" has not been done yet, but while there are many nominated hit titles, tens of thousands of initials should have been a small existence. Even so, it was a pleasant thing just because we were out, and I was not thinking about anything about numbers at all. So, I never thought about the position in the PlayStation. Even though it was about half a year ago.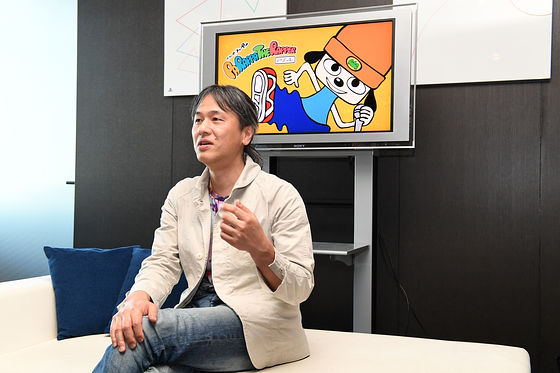 G:
In the commercial of PlayStation, it was treated like a main character together with crash · bandiku.

Matsuura:
It may have been about half a year later that many commercials started to be broadcast. As a result, it took around a full year, finally became million. Something was really funny. I thought that we were at the center of the PlayStation never once, I thought that I would stay forever at the end, but as I noticed, I gradually came to the middle and not the subway of the morning rush However, it is the impression of such feeling.

G:
I think that it is a case that there are fans all over the world now and it is not quite a case.

Matsuura:
I think that it is possible to see only such a good part of the wind looking on the surface, in reality it is not that easy. There are parts of various ideas that are related to various difficult problems or tasks, in the vicinity of "Rappa Rapper", which forced me to make a big change in that way. When my first spirit grows up, or when I first made "parappah lapper" I just managed to work on the scene anyway, could you make something that seems funny, "What would you like to have dinner the evening?" It was close to the impression, I thought about just about as "I wish it would be nice to taste" is not it?

When I actually made it, the influence that it brought was much bigger than I imagined, so I felt that I needed to face straight toward that. I think that it might have been lucky that this thing might have noticed the existence like an important backbone for me on my activities in the game world, and I think that "Rappapper" triggered various things as a trigger I also thought that it was a good thing because I became to study. Thanks to "Rappa Rapper".

G:
Do you experience Mr. Matsuura's experience as a rule of success for a game using sounds when experiencing "Rappa Rapper"?

Matsuura:
I do not have it. But the only thing that can be clearly mentioned is the extension as before, but not everyone places their skills on a desk, but what everyone was trying to cross over from there is "Rappapper" It seems like it was a big resource of.

So, one of the things you ask yourself when you make things after "parappa rapper" is that you are doing something null. I always think about whether it is a challenge for myself as much as "Parappa rapper" or more. If you do not do it yourself is not funny either.

G:
I think that there was a lot of hardships just after being very successful from the beginning. How do you look around here now?

Matsuura:
I did not expect to look back like this in 20 years, so .... It is unexpected if we say that this is not itself. So, there are things that I do not understand quite a bit yet, but it will be influenced in the future how customers feel, and even if it is the only motive power to move oneself I feel good.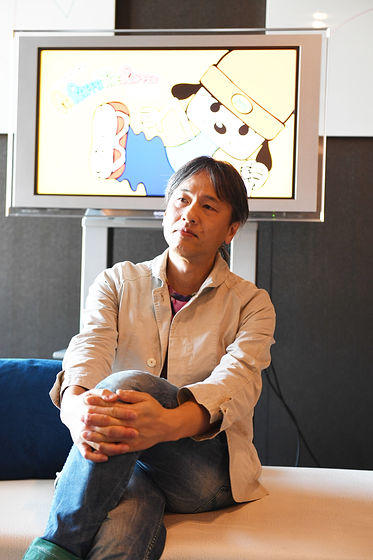 G:
I see. Is the existence of the game "Rappappapper" quite big for Mr. Matsuura as well?

Matsuura:
I do not want to admit it much, though (laugh) Because it is a bad thing as a game creator.

G:
Is that so?

Matsuura:
Do not you think so? There are only a few successful examples (laugh) That is no use any more, because the reality is so.

How should "music game" be?
G:
Mr. Matsuura may be contrary to the idea, but I think that 'Palappa rapper' is quite a pioneer in a game using such sounds. I think that I am still involved in rhythm action games on the front line, but when I look at music games made with "Palpper wrapper" at the time and the current music games, the circumstances have evolved in what way Is it considered to be?

Matsuura:
If it is said, it is, it is not that it has evolved too much.

G:
Really! Is it?

Matsuura:
I think that I have not made much progress. In the meantime, I was talking to my mother who was just born, and I can not talk at all about 1 year old, and at last I was able to stand up alone by one child, making a voice not suddenly becoming any word suddenly, It seems that he is taking rhythm while stepping on foot with his legs. It was told that why humans were so surprised to get out suddenly the rhythm which can not be imitated what they saw on television, no one taught by anyone like this. For human beings, rhythm is in a very deep place in DNA and rhythm games have the power to appeal to such places, so it seems somehow that this kind of people can enjoy themselves in various ways I think, though.

The expressions of music of "Rappa rapper" are originally free. I am going to score and I may play it with the aim of being very high, but even if the score is low, I feel like I was able to play very cool on my own, I am proud that I think that it is quite good even if it is challenging to play. I think that it is good that something like the freedom that music and expressions have inherently should be respected more in the music game, so now the music game is too mechanic too much to get 100 full marks I believe music games for aiming are honestly boring, and I also think "why do you adhere to the rhythm so much?"

Even if it is true that there is a rhythm in the deep part of the DNA, there are so many parts other than the rhythm in the element of the music, so there is always a part that can find the possibility of a new music game in such a place Although it is supposed to be, I think that those involved in music games are not trying hard so hard, so I would like to work harder, including myself.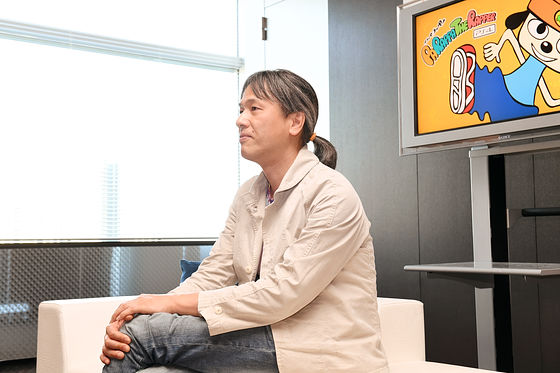 G:
In many of rhythm based games, I think that there are many games that feel like "to apply" to the frame of rhythm. But, in the case of "Rappa Rapper", I operate "Palappa" and "hit", but I feel there is "music" there. It is probably because the part that the same button presses a different word each time it is pressed, or that the sound of the guitar sounds when it is "Unjama Rummy", though I think that other music games I think that it is a different place. I think that 'Rappa rapper' is the best to be able to feel like being playing music.

Matsuura:
Thank you very much.

G:
I was convinced that I wonder if the area is said to be "I hope the audience will play with the audience" mentioned at the beginning.

Matsuura:
Is something like a feeling of riding a bicycle? It might be a commonly used example in the game industry, but there are things like the feeling that you can play music, and there are things that you may want people who can not play music even more. It is sometimes felt in other music games and rhythm games, but it's not that much.

G:
In recent music games, there are things that looks like shapes that showcase superb skills / supervision in some cases.

Matsuura:
I think that it is thought that it is made, but I think that I am sorry for the most music game is that "my play does not affect the music that is ringing".

G:
I see.

Matsuura:
It is said that it is often said at the site of development or the like, "Because players want to listen to cool music, they dislike me when they missed, I do not want to dislike the music if they do not look cool". Although it can be understood at all as a reason, if it comes to that argument, I am no longer a music game anymore.

G:
That's why in the case of "Rappappa", when the play becomes overwhelmed, as the truck gets shabby, (laugh)

Matsuura:
Evaluation is given by the sound input, at least, it affects the whole ensemble by being evaluated, because it is evaluated by the sound, this is the change actually occurring playing in an ordinary band etc. It is the same as. I think that this is "the existence of music", but it is a fundamental idea mistake to pull everything like what you must listen to "good music, whatever happens" It feels so amazing. I think that's a music style game.

There may be words, but no matter how hard you play a fighting game, it is the same story that your character's injuries do not get injured or limbs come off. But in a real world there is such a thing. It seems that there is seriousness in something real world, such as fighting done in the state without such elements, it seems that gap is anxious.

G:
Is it like a so-called "immersive feeling"?

Matsuura:
I agree. The cruelty in the expression of the game and something that makes me think variously, but conversely by making the expression part like such cruelty dwarf, I lose something important experience It seems that there is also a possibility that it has gone.

G:
As I'm talking about now, I feel like I've come across a lot differently from other games of "Rappa Rapper" I've been thinking for years.

Matsuura:
I appreciate it.

G:
Mr. Matsuura's made "Vibribbon" is also included in the collection of the Museum of Modern Art, "New York" MoMA, and as I gradually hear the story, as a fan of wanting to see new things again There is a thought, but what is the outlook for that ...?

Matsuura:
It is still close to blank paper at all. As far as "Vibribbon" is concerned, those who saw "Rappa Rapper" ah gone before doing the wind like "If there are such games, there are more such games too?" In that sense, "Rappapper" and "Vibribbon" are paired among us. I can not see it at all, but it looks like a sequel.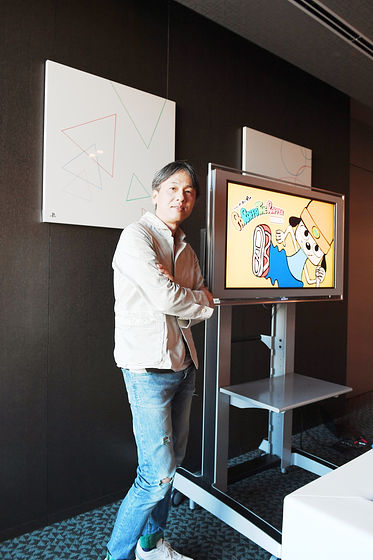 G:
It is one flow on interactive.

Matsuura:
That's right. But, imagination will be attached? For example, the character was fluent in "Rappapprapper", so as I was pushing the expressions of this perpeller, I became a line while I was doing what it would be (lol)

G:
I wonder if I became more minimalist, I see.

Matsuura:
I made a game with hip-hop as the theme, but there is a story that why it is hip hop, there are people who like more music, but I can not make a game with music of all such genres Is not it going to be? Then, "Well, it would be better if you just use your own music," then it seems like a story like "Do you want to replace the CD?", "Well, how are you going to do that? is.

◆ Cool quality of "error" that creates new things
G:
Yuji Tanaka was written "Electronic music in JAPANI think that I was wondering about the content that "multimedia exists as a result of creating conflicts (collision), and it leads to" Rappa rapper "", but I think that it is aggressive in error I think that it is one keyword that individual entertainment like to take in, can you tell us about that?

Matsuura:
Please wait a moment. Since it is archived utterance, please wait for a while because it decompresses (lol)

Well, as I mentioned earlier, I think it is similar to the story that whether to play a high score in "Rappa Rapper" is "good-looking play" is not necessarily tie-up, but " Why did not you just let me play on? "Why did you think about it in the wind? Because most of the reasons why you became in the state of" being able to write good-looking songs, you could write something really good "is an error What is it?

This is a very important thing, I'm going to write songs to course to write to some extent, but thinking of some phrase, I want to expand like this, I thought it might be more attractive As long as I thought, I can not be a good song, an interesting song that surprises me more than I expected. In the world, there are a lot of people who make obviously a straight path and are not done as they are, so it often makes me feel strange to the contrary that I can feel like it was completed with that (laugh) In my case it can not be satisfied, and furthermore, I will make a mistake while doing it, will I get off the road.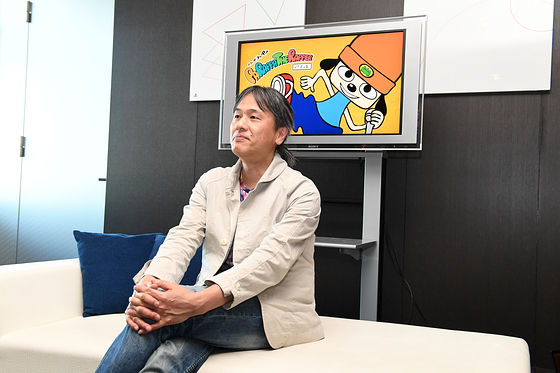 There are times when it seems that the condition of getting off the wheel is very good when she gets off the track. The things like putting together the funny derricks as shapes will eventually make them attractive as their own expressions. 100% It's not just that, but the moment the error happens is the moment when I think that I'm interacting with something!

G:
Certainly it is also one interaction.

Matsuura:
I review it later, but it is actually not "real" that I reviewed, is not it? The error is molded by reproducing, but actually it is only the moment of error that the error is really cool. I thought that it was useless if it was an interaction. If a customer who can not play music does play it may not be able to do well well, if there is a feeling that someone who can not do it is erroneous, if it seems that it is a lot of fun, that person's expression It is because I think that it is deaf?

G:
Mr. Matsuura heard a story saying "When the problem happens, I will make the problem very big", but the way of making it was when people gathered together at the time when "Rappahrapper" was made, After all I was making such a way.

Matsuura:
That's right.

G:
Indeed, is it also one of the interactions?

Matsuura:
Well, it is because that itself is actually communicating as a human being. It is a knowledge base in which all of you are shared among them, or what everyone shares, not someone's. I think that there is something really interesting when it comes to such an atmosphere that I can put all my images in it. Is it also like interactive feeling? I can not explain it well.

G:
No no, it's funny.

Matsuura:
The atmosphere that is doing kick balls (gift) or something. Everyone is in a circle and kicking a ball, but when the ball is floating in the air it is all of us and when you come to your feet it's yours, but again Everyone's belong only when floating in the air. That kind of feeling is interactive with my meaning, because the momentary ball somewhere will definitely fall.

G:
"Rappa rapper" was the end of interactive.

Matsuura:
Well how about (laugh) Well, after 20 years, I think that there is some reason for being able to make it interesting in such a form, but I do not yet understand all of that.

G:
At the time when "Rappa Rapper" came out, there was an image that there was a game that could not be played before, and a game where a new experience can be made.

Matsuura:
At that time, I was thinking that this kind of old-fashioned old fish quickly got newer and more paint changed and I thought that it could be reworked, but it may be that it was unexpectedly replaced.

G:
Perhaps, I think that 8-bit "Mario Bros." is still interesting, as it is interesting yet. Although the game is not minimalistic, I think that it is a primitive as an experience, or that the basic part was made at this point.

Matsuura:
But after all these platforms have become new with PS, PS 2, PS 3, PS 4, it is an environment that is not up-convertible as it is originally, but this way Sony will continue to serve as a product I am very thankful I think. This is not so much in the music world.

G:
That's right.

Matsuura:
Although it is usual to maintain the world of music all the time, it is not easy in the world of the game, so I think that I am thankful.

G:
Do you use the sound source as it is then?

Matsuura:
It is intact.

G:
When making a sound source, was it made with the flow that it mixes to stereo first, then down mix to monaural, and it is recorded in the game?

Matsuura:
No, it is not. "Palappa rapper" is making a PSP (prestation portable) version once, but at that time saying "This is what it is if it is monaural, so let's make it stupid so I'm going to make it stereo," and then pseudo stereo I did it. It is feeling that it is used as it is. By the way, to say a very fine thing, there is also a soundtrack for "Rappa Rapper", but the CD on the soundtrack has become a stereo.

G:
That's right, because I have a soundtrack.

Matsuura:
But it also makes it stereo in a strange way. I played on the studio's Large Monitor Speaker at the Shinano-cho studio in Sony Music and recorded it with a microphone.

G:
What! In such a way! So, the sound source itself is monaural.

Matsuura:
so.

G:
It is not a remix version of the Beatles 'Yellow Submarine' album, but please remix it from stitch by stereo (lol)

Matsuura:
I do not feel motivated (laugh) even if I mess with it from now on.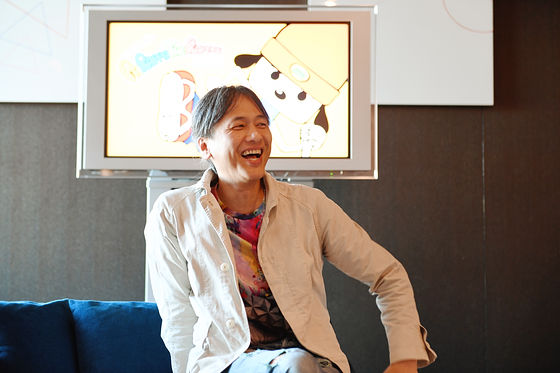 With this feeling, the interview is over after the scheduled time is over. The remaster version "Rappa Rapper" remained the same as the "momentum" that the creator of the time remained as it is, the animation of each stage has been rebuilt with a maximum 4K picture quality, and the content of the game is modern It has become a version of soupup up to quality.

"Rappers" launch trailer - YouTube


PS4 version "Rappappa" isdownload versionAnd the package version are line up, both manufacturer's suggested retail price is 1944 yen (including tax). By the way, it is possible to purchase it at around 1500 yen about 20% OFF on Amazon.

Amazon.co.jp: 【PS4】 Rappers: Game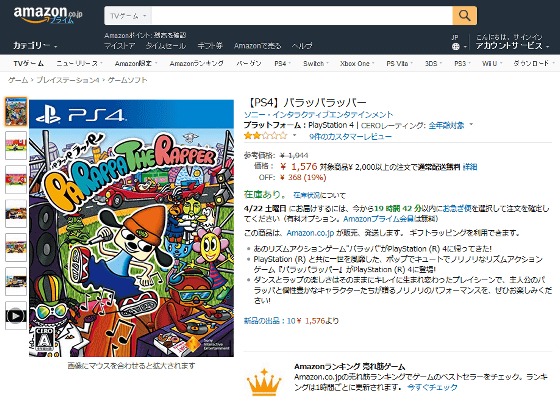 In addition, if you purchase the downloaded version by May 7, 2017, you will be provided with 6 kinds of avatar sets of Palappa that you can use on the PlayStation Network, and for the PS 4, the Palappa live PS4 theme with a motif of Palappa town "Rappapper Parappa Town Theme"Is also released at 216 yen (tax included).