Sighting information of Tesla Model 3 public road test vehicle, which is expected to start production soon, is increasing here and there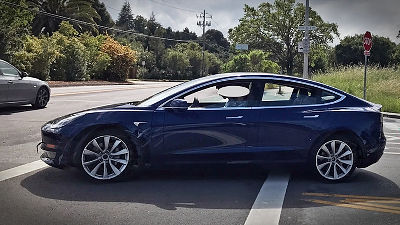 Tesla's new EV "Model 3" has increased opportunities to witness running tests on public roads. Production started in mid-July and July 2017, and vehicles scheduled to be delivered sequentially from 2018 are considered to have entered the final stage.

New spy shots of Tesla's upcoming Model 3 surface online - BGR
http://bgr.com/2017/04/30/model-3-photos-tesla-driving-spy-shots/

In the vicinity of California where Tesla's development base is located, it seems that scenes where Model 3 is mixed with other cars and traveling on expressway etc. are being witnessed one after another. The following picture shows Silver model 3 taken at the Interstate Route 280 expressway connecting San Francisco and San Jose.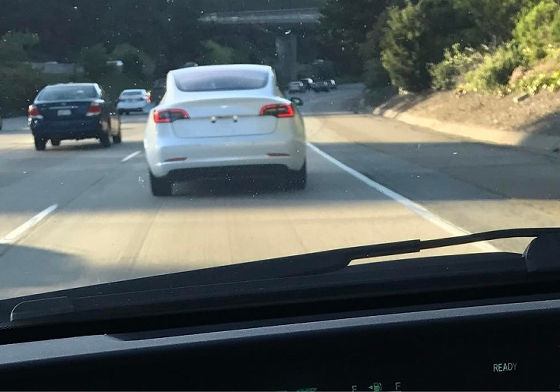 This is the state of Model 3 that seems to be running on the general road. There is a tendency to test camouflage, camouflaging camouflaging is not carried out, the goodness of the rabbit that run tests in a state that seems to be as it is designed to be commercially available. Compared with the same sedan type "Model S", the feeling that the trunk space is shrunk and the front and rear lengths are shorter is transmitted.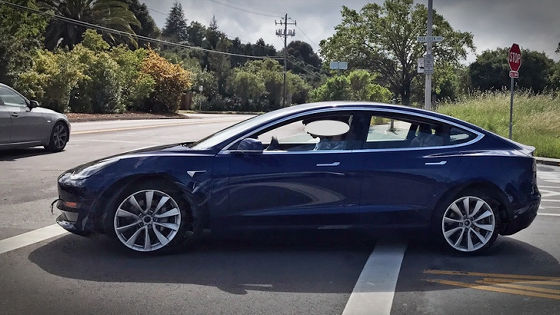 Here is a model 3 movie that Instagram users shot in Cincinnati, Ohio. In the heavy rain, it was said that it was charging with the rapid charging facility "supercharger", but because I noticed the photographer, model 3 ran slowly and went out of the parking lot. It is a movie that can understand the difference of the car with the model S strangely chasing after it.


Model 3 is a vehicle belonging to Tesla's first "popular price zone", and it is expected to become an automobile that becomes an important touchstone for the company's future EV spread. Mr. Eulon Mask, CEO of Tesla, in the "Master Plan" which shows the ten-year goal announced in 2006, "We manufacture and sell high-priced EVs and use EV obtained at that price to make EV of popular price range We planned to develop ".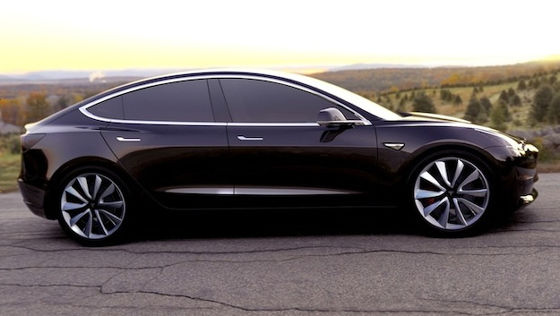 Then, that plan is executed, model 3 comes in the flow. By the way, Mr. Mask announced in 2016 "Master Plan · Part 2", in addition to the spread of photovoltaic power generation, "Expanding model of EV, developing model line in all segments" "Vast amount The data of the automatic driving car is learned, and the driving performance which is ten times safer than human beings driving is realized. "" When a user is not using a car, I make a car that can make money " The goal is set. In particular, the final goal is to be said to refer to realizing next-generation car sharing using automatic driving technology.

What is "Master Plan · Part 2", which Mr. Taska's mask shows for the next 10 years, such as solar power generation, low price EV, car sharing? - GIGAZINE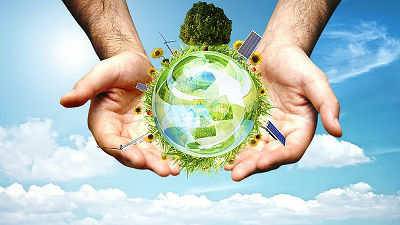 · Extra 1
Mr. Mask released the teaser image of the EV trailer under development at the TED event held on April 28.

Musk Releases First Image of Electric Tesla Semi | Fortune.com
http://fortune.com/2017/04/30/musk-picture-gigafactories/

The teaser image seems to be a shot from the front, but it has become a design reminiscent of a concept car. It is a plan to make EV a tractor head (trailer head) pulling a "semi-trailer" which is widely used in the US However, there are still few issues to realize a trailer carrying heavier baggages than EV with a passenger car It is also not seen.

Elon Musk teased semi-truck at TED talk.Pic.twitter.com/sY0w7KSsTx

- Johana Bhuiyan (@ JMBooyah)April 28, 2017

· Extra 2
There is also a report that the market introduction of "solar roof" announced by Mitsubishi Micrometer as well as Mr. Mask and Tesla will be lost in 2018 to spread solar power generation aiming for. Originally scheduled to begin shipping in 2017, it seems that there is a delay of about one year at maximum. According to Business Insider, Tesla did not give explanation on the cause of the delay.

Tesla solar roof roll-out hits snag - Business Insider
http://www.businessinsider.com/tesla-solar-roof-solar-city-features-2017-4