Tesla announces all electric trailer "Semi", automatic operation, strong acceleration force, accident prevention function etc. equipped with production started in 2019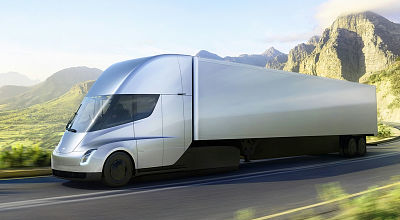 Tesla of electric vehicle (EV) maker is the world's first full EV trailer head "SemiWe announced. Running with lithium-ion batteries alone without fuel as in conventional diesel engines, Semi has the acceleration power of passenger cars and is capable of running 500 miles (about 800 km) with one charge, It is a concept model that has the possibility to overturn the common sense of the truck that it corresponds also to the production plan in 2019.

Semi | Tesla
https://www.tesla.com/semi/

Tesla Semi met and then crushed almost all of our expectations | Electrek
https://electrek.co/2017/11/17/tesla-semi-electric-truck-specs-cost/

Tesla unveils new Semi with a 500 mile range, Roadster that can hit 250 miles per hour
http://appleinsider.com/articles/17/11/17/tesla-unveils-new-semi-with-a-500-mile-range-roadster-that-can-hit-250-miles-per-hour

In the event Tesla opened in Los Angeles near November 16, 2017, CEO Earl Masks commented on the concept of Semi. In Japanese this is a vehicle called "semi-trailer" "semi", but Mr. Mask introduces this vehicle by the name "semi" which is used as usual among American trackers.presentationIn the Semi that appeared at the venue, Mr. Mask appeared and introduced Semi with the word "BAMF" (Bad Ass Mother Fucker) named "squid".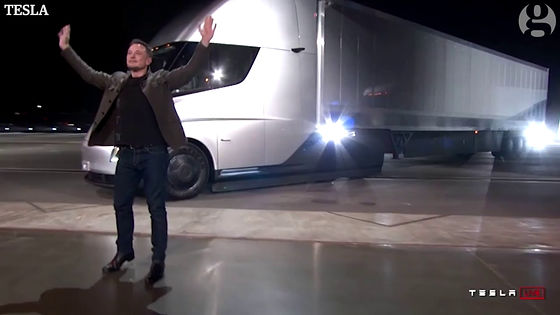 Semi of the future sense design is a vehicle called "trailer head" that connects the trailer and pulls it behind, called EV. However, Tesla not only replaces the engine, but by having the unique characteristics of EV, it shapes the concept of Semi as the next-generation EV trailer.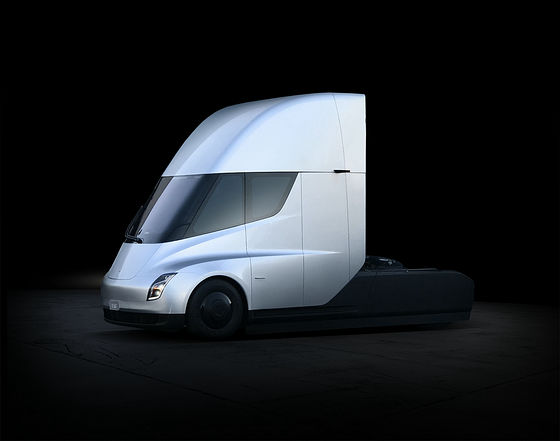 Instead of a diesel engine often used for trucks, Semi runs with four motors on the rear wheels. In a state that does not pull the trailer, it accelerates from stop state to 60 mph (approximately 98 km / h) in 5 seconds, which is about twice the acceleration power of general passenger cars. Also, in the United States, even in a state where the general 80,000 pounds (about 36 tons) cargo is pulled, it has the same power to accelerate in 20 seconds, the cruising distance in that state is 300 miles or 500 miles (about 480 km / It will reach about 800 km). It seems that this neighborhood is becoming a reason to be expressed as "BAMF".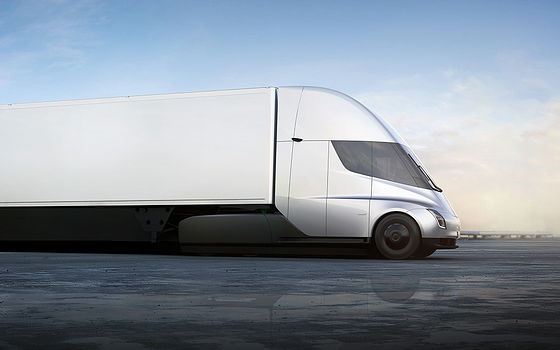 The driver's seat is located at the center of the left and right of the cabin, so it will be easy to confirm the surroundings thanks to the wide glass area. Speaking of the driver's seat of the trailer head, there are a lot of switches and levers densely, but Semi seems to be Tesla's, it gathers information on a big display and it is a very refreshing interior.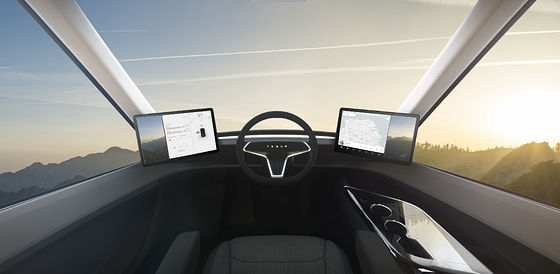 In the following movie, you can see the situation of Semi in a bit more detail.

Tesla Semi (2020) Badass Performance Electric Truck - YouTube


When looking at Semi from the front, the top has a smaller shape, so you can see how the driver is sitting in the center. Semi aims at lowering the center of gravity of the vehicle by collecting heavy objects at a low position and lowering the risk of rollover accidents.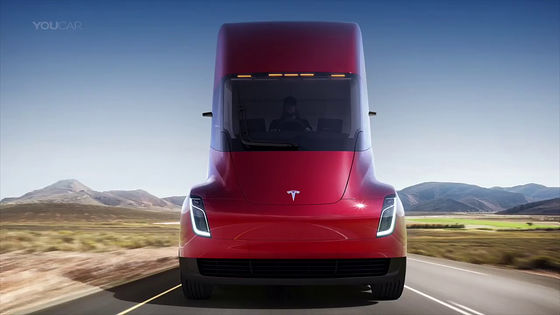 It seems that the cabin is basically designed for one person. Mr. Mask says the interior is as high as a person can set up, "comfort like being at home."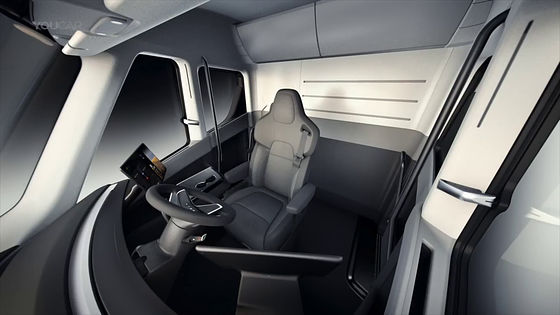 There is a foldable seat behind the driver, but it seems that napping beds frequently seen on long distance trucks are not thought at the moment.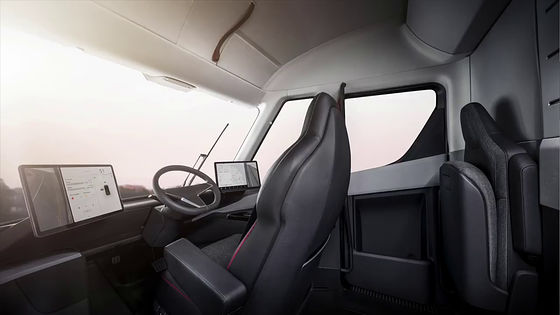 "Tesla Armor Glass" is adopted as the windshield, and it will make it safe to crack even if the scattered thing collides.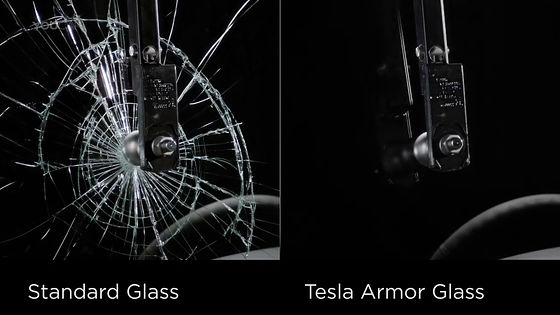 With Semi equipped with Tesla's automatic driving technique "auto pilot", it is possible for multiple units to travel together. We are aiming to reduce air resistance by group traveling, reduce total power consumption and lower operating costs. Compared to general trailers, Tesla claims that Semi can reduce expenses by more than 200,000 dollars (about 25 million yen) over two years and recover costs in two years.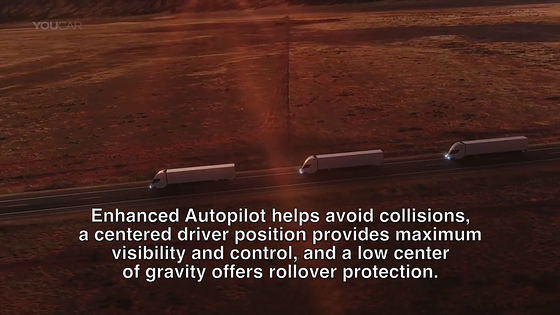 In addition, Semi's driving system is guaranteed durability of 1 million miles (about 1.6 million km). This is enough for 40 laps of the earth and as a lifetime for long-distance trucks.

Tesla Semi drivetrain is guaranteed to last 1M miles = to more than 40 trips around the earthpic.twitter.com/xfWVocUdaB

- Tesla (@ Tesla)November 17, 2017

According to Mr. Mask, Semi is in a state where the trailer becomes uncontrollable as it is bent at the connecting portion, such as at the time of a sudden braking "Jack knife phenomenonIt seems to realize the function to prevent ". We are trying to avoid the jackknife phenomenon, which is one of the main causes of accidents related to trailers, by precise driving force control by electric motors.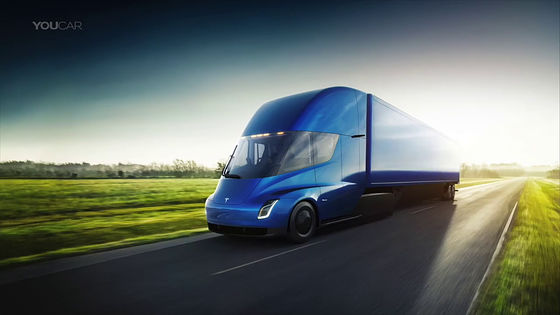 Even with conventional trailer heads, "anti-lock brake" that prevents brake lock of the rear tire is installed as a measure to prevent jack knife, and it is well known that this became the source of "ABS" for passenger cars. Semi's Jackknife prevention measure seems to prevent bending by controlling the trailer head, not the trailer section, but it is interesting to see how it will be realized.

Semi is aiming to start production in 2019, and it is possible to reserve at $ 5000 per car (about 600,000 yen).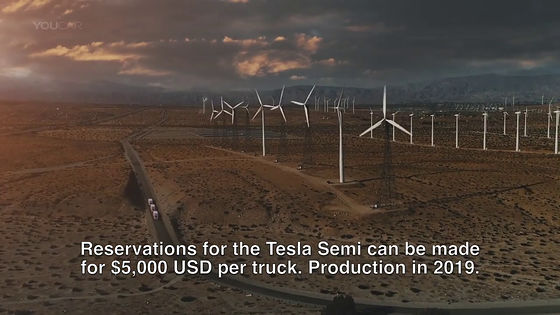 If you are not a passenger car like "Model S", "Model X", "Model 3", but when you make an EV trailer, it is often that the viewpoint of "No way" or "impossible" is shown when Mr. Mask announced it Although it is a form close to the concept, although it is a form, it can not be forbidden to be surprised that it actually became a form. While the view that "EV truck is not practical due to the energy density of lithium-ion battery" still remains, there are still ways to see what kind of practicality Semi will have in practice, not only in the truck industry and the automobile industry, A lot of people are also interested in gathering.

In addition, Tesla has the production problem of the company's first popular price model "Model 3", and the site is also said to be "like hell". I can not keep an eye on whether we can put on the problem by 2019 and produce Semi and put the production of the new Sports EV "Roadster" to be released in 2020 on track.

Tesla to make model 3 production troubles announce the worst quarterly record of the past - GIGAZINE