'We will develop a robot taxi business with 1 million fully-automated cars in 2020,' Alons said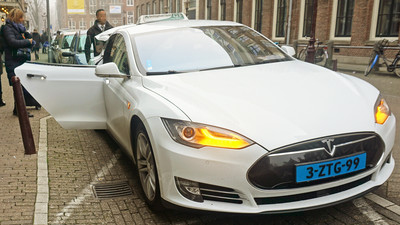 by
mariordo59
Two days before the announcement of the first quarter of fiscal year 2019, Tesla held an event to explain its automated driving technology to investors. Among them, Tesla announced that shipments of self-developed AI chip-equipped hardware for autonomous vehicles have begun. In 2020, Tesla CEO Eron Musk announced a business plan to operate more than one million fully automated robotic taxis.
Tesla's new self-driving chip is here, and this is your best look yet-The Verge
https://www.theverge.com/2019/4/22/18511594/tesla-new-self-driving-chip-is-here-and-this-is-your-best-look-yet
Tesla's Elon Musk unveils Robotaxi concept for self-driving rideshare cars – GeekWire
https://www.geekwire.com/2019/tesla-elon-musk-robotaxi/
Tesla Robo Taxis: How Elon Musk Says They Will Work-and When | Inverse
https://www.inverse.com/article/55144-tesla-network-self-driving-robo-taxi-elon-musk-autonomy-day
You can see all the events held in the movie below.
Tesla Autonomy Day-YouTube
Tesla had previously used an NVIDIA automatic driving system, but revealed in 2018 that it developed its own AI chip in-house. The AI chip claims that it has 10 times more processing power than NVIDIA systems.
Tesla develops AI chip for autonomous operation in-house, 10 times the performance of NVIDIA system and Mask CEO Aussie-GIGAZINE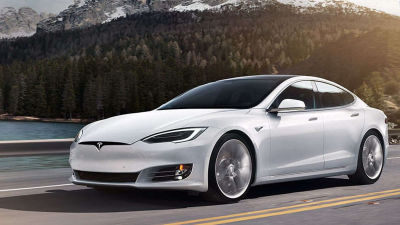 Among the events held on April 22, 2019, Tesla said, "A new fully automated AI chip for Model S and Model X has been shipped for a month and is a low price model. We are beginning to install it on Model 3 too. '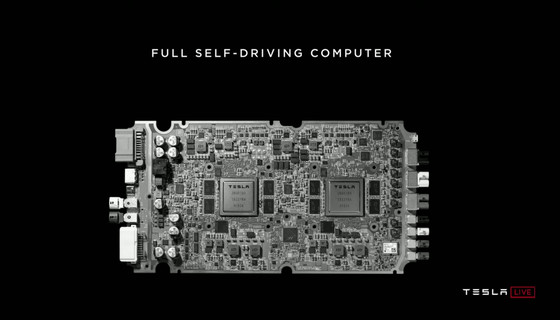 According to Mask, the Tesla AI chip is capable of 36 trillion operations per second, 21 times more powerful than the NVIDIA AI chip. Also, because Tesla hardware has two chips, it seems that even if something goes wrong with one chip, it has the redundancy that the other chip can handle.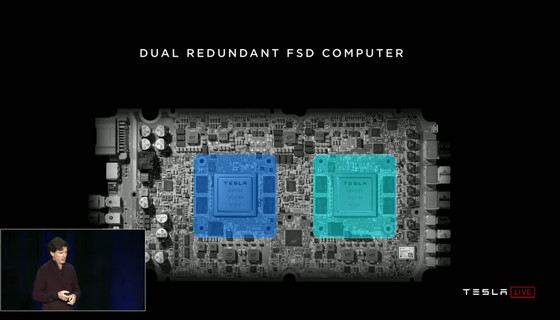 Mr. Mask also unveiled that it is planning a fully automated car 'Robotaxi' business, 'by mid 2020, fully automated with a level of reliability that no one needs to be aware of. We will produce more than 1 million Tesla cars with wear. '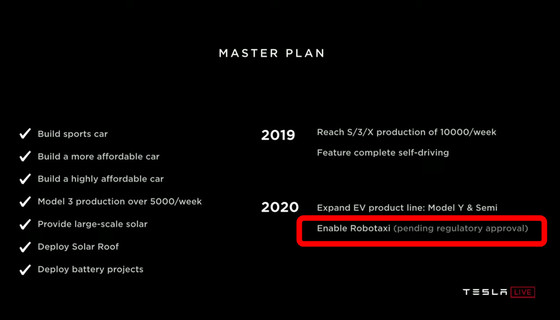 This robot taxi service operates a lease contract Tesla car as a fully automatic robot taxi while the owner is not using it, and calls and uses it with a smartphone app, like Uber for the dispatch service. It seems to be a thing. Twenty-five to thirty percent of the fare earned will be paid to Tesla, and the remaining fare will be paid to the owner.

According to Tesla's estimate, you can earn 0.65 cents (about 70 yen) per mile (about 1.6 km), and if the robot taxi runs 90,000 miles (about 144,000 km) a year, about $ 30,000 (about It is possible to earn about 3,300,000 yen). 'If you operate a Tesla car as a robot taxi for a year, you can earn the price to buy a whole Model 3', according to Musk. Mr. Mask also stated that Tesla, not the owner of the lease contract, bears all responsibility in the event of an accident caused by this robot taxi.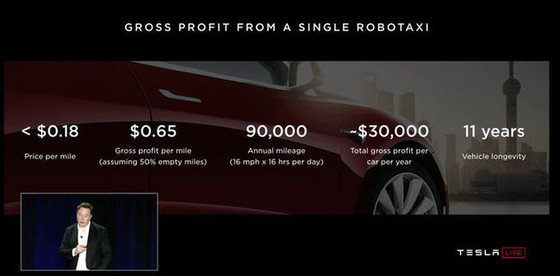 The system will be able to participate in the model 3, model S and model X lease plans, but the car after the contract is said to be returned to Tesla without being transferred to the owner. And, from the balance of regulation and schedule, Mr. Mask added that there is a possibility that this robot taxi business realization might be deviated. In addition, autonomous driving in urban areas also consumes a lot of battery power, so there is still room for improvement in fuel efficiency, Mr. Mask said.

While Mr. Mask talks about big ideas, Wall Street analysts seem to be sending a skeptical look. On April 22, when there was an explanatory event for investors, Tesla's share price fell nearly 4%.

Tesla Inc (TSLA.O) | Stock Price, Company Information, Currency Charts | Reuters
https://jp.reuters.com/investing/stocks/chart/TSLA.O