A man who performed an obscene act to a girl was innocent as "he was not enjoying"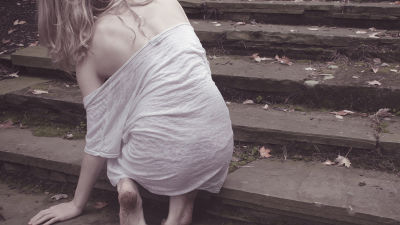 The behavior of a man who was accused of sexually abusing a 17-year-old girl who was a classmate in 2015 was innocent in Mexico as "not an obscene intention". A big criticism has occurred against the judgment saying "If you are not enjoying it is not sexual abuse?"

Mexican man cleared in sexual assault of schoolgirl because he did not 'enjoy' it | World news | The Guardian
https://www.theguardian.com/world/2017/mar/28/mexican-man-cleared-sexual-assault-schoolgirl-because-he-didnt-enjoy-it

Judge suspended over schoolgirl's sexual assault case that shocked Mexico | World news | The Guardian
https://www.theguardian.com/world/2017/mar/29/mexico-sexual-assault-schoolgirl-appeal

Outrage over sex assault ruling in Mexico, judge suspended - ABC News
http://abcnews.go.com/International/wireStory/mexico-appeal-ruling-sex-assault-suspect-46448103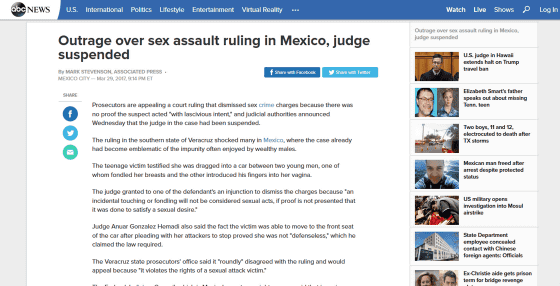 The incident occurred in January 2015. The victim's girl who went to the New Year's party was raped in the car by wealthy two men when waiting for a return from the club, then after being taken to the men's home, 3 He said that he was raped. The person who was not guilty this time was the fourth person, Diego Cruz, of men, Cruz was urged by the other three to insert fingers into genitals after touching the girl's chest. Cruz was a son of a famous rich family and said he was a classmate who attended the same private school as the victim's girl.

Judge Anuar Gonzalez Hemadi said, "If we can not prove that the evidence is" actions taken to satisfy sexual desires, "caresses can not be considered sexual behavior" "When the victim pleaded the attacker to stop acting and thought that she was able to move to the front seat of the car, she said" It could not be said that there was no means of defense ".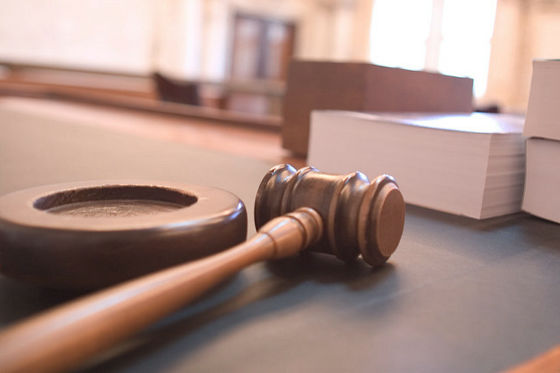 ByJoe Gratz

This ruling called for great criticism in Mexico and Estefanía Vela Barba, an activist with gender issues, said, "Is it not a sexual abuse if you touched her on sexuality, but you did not enjoy the act sexually? Even if there is no pleasure in it, it aims to cause humiliation.They touched her and disturbed her quietly, but for a judge it is not a sexual abuse unless there is a purpose of enjoyment. " "A funny woman is not saying, but from the mouth of the court it was told that" If anyone touches you against your will, that act may not be abuse " I strongly condemned it.

Two out of three people other than Cruz have been charged with rape because the girl's father began a social movement to condemn the men of the criminal. Originally, the authorities ignored this incident for several months, but the incident came to light as a girl's father brought a story to the publisher with a movie showing the three men's whitish appearance. I will. Since it was taken up a lot in television, newspapers, SNS and the son of the elite family raised the incident, "It is an example of the fact that children in elite family in Mexico are not charged for crimes if they exercise violence" happened. And eventually we have complained.

In addition to being criticized by the media for the ruling this time, the prosecution has appealed the judgment and shows a willingness to appeal. The Federal Judiciary Council also said, "In such a serious case, the defendant will be held until the appeal is decided." Also, the situation was investigated, judge Hemadi will be suspended.

Fifteen months after the incident, the victim's girl said on her own Facebook page "There is nothing to regret, I go to the party and wear a miniskirt just like any other age of the same age girls Is that so that I will be tried on that, do you mean that I am fit for what has happened to me? "
in Note, Posted by logq_fa