Suzuki producer reveals that Director Hayao Miyazaki withdrew his retirement and will return to "feature animation"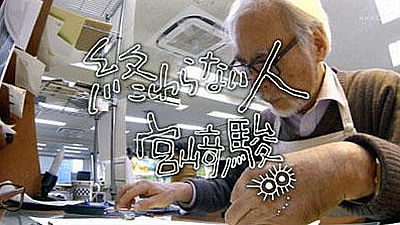 Studio GhibliThe work "The story of an island with red turtle" became the 89th Academy Award feature film animation sectionNominationMr. Toshio Suzuki, the producer of the work, attended the event just before the Academy Awards. In an interview held at the event, Mr. Suzuki revealed that director Hayao Miyazaki is working on a new feature animation.

He is a correspondent of Kyodo News AgencyChuck D.According to Mr. Suzuki that Mr. Miyazaki is working on the creation of a new feature animation, Mr. Suzuki said.

BREAKING: Studio Ghibli producer Toshio Suzuki confirms that Hayao Miyazaki is currently working on his next feature length film

- Chuck D. (@ Wolfgang Chuck D)February 24, 2017

Also on the animation related news siteCartoon Brew"Admitted that Mr. Miyazaki withdrew his retirement and returned to work on site" by Mr. Toshio Suzuki, Mr. Suzuki served as producer for Miyazaki's next work. "

Toshio Suzuki confirms at the Academy that Miyazaki is definitely un-retired. And Suzuki is producing his next feature.

- Cartoon Brew (@ cartoonbrew)February 24, 2017

Mr. Suzuki responds to media coverage at the event.

Toshio Suzuki of Studio GhibliPic.twitter.com/8 EOPy 8 u XOr

- Chuck D. (@ Wolfgang Chuck D)February 24, 2017

Director Miyazaki conducted a retirement press conference on September 6, 2013, and said, "Maybe it seems again because we are saying it, but this time it is serious".

Director Hayao Miyazaki of Studio Ghibli carries out a retire press conference and also live broadcast on the net - GIGAZINE