Internet communication plan using Google's drones stopped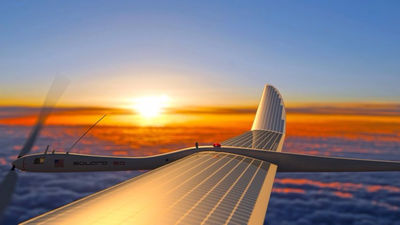 A Google research institution that has dealt with innovative projects such as automatic driving cars and Google Glass "Google X"Alphabet, Google's parent company,birthI changed the name to "X". It was revealed that the secret plan "Project Sky Bender" to realize 5G communication with the drone which continues to fly automatically by sunlight advanced in that X was canceled.

Google shuts down Project Titan drone program - Business Insider
http://www.businessinsider.com/google-shuts-down-project-titan-drone-program-2017-1

You can see what project Project SkyBender was aiming at building a communication network using automatic flying drones by reading the following article.

Secret plan to realize 5G communication with Google as the base station of drone which keeps automatic flying with sunlight "Project SkyBender" - GIGAZINE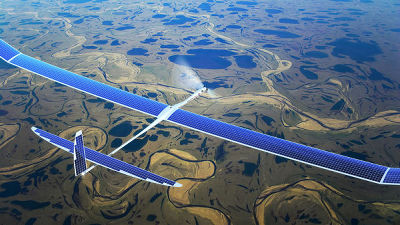 This project aimed at realizing 5G mobile communication which is up to 40 times faster than the existing 4G, but in January 2017 the plan was canceled and the team members who participated in the project were reorganized into other projects It was announced. 9to5 deals with Google related news GoogleReportIt is clear that Business Insider has confirmed as representative of X and it is fact.

Project SkyBender Abandoned News, Bloomberg "AlphabetTerra BellaHe wants to sell it. "ReportedI jumped out after two days.

The member of the Titan team, which leads Project SkyBender, consists of a member of the company Titan Aerospace, which Google acquired in 2014. Team Titan is developing a drone capable of flying for several days with solar energy and aiming at building a communication service that can use the Internet even in remote areas using this.

X representative, Jacquelyn Miller, to Business Insider "X will provide Wi-Fi on a high altitude balloon insteadProject LoonWe will focus on that. " According to Mr. Miller, Project SkyBender seems to have finished within 2016, but I will refrain from comments on other details.

In a statement Mr. Miller said "Titan members came to X around the end of 2015. Soon after, we finished a survey on Internet access with a high altitude drone, so that in the countryside around the world It was found that Project Loon is a much more promising method both economically and technically to build the Internet environment in a remote area (a place where the internet environment is not well established) .Titan team Members will participate in Project Loon and Project Wing making full use of their past experiences, "he says of the reasons for canceling Project SkyBender.
in Note, Posted by logu_ii