"Google Android Wear 2.0" will be released in early 2017, which will be the first major update to Google's smart watch OS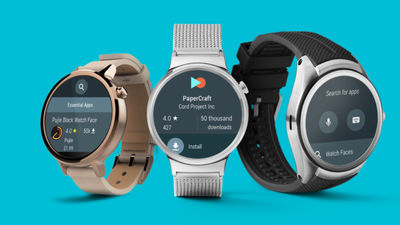 Google's smart watch OS, which was announced at Google's developer event "Google I / O 2016" held on May 18, 2016 and scheduled to be released around the fall of 2016 "Android Wear 2.0". We gathered negative opinions from developers and previews, and eventually we had greeted the New Year without findings to be released after the fall of the release schedule, but Google finally decided the release time of Android Wear 2.0 in early 2017 It seems to be.

Android Wear 2.0 is launching in early February
http://www.androidpolice.com/2017/01/11/android-wear-2-0-launching-early-february/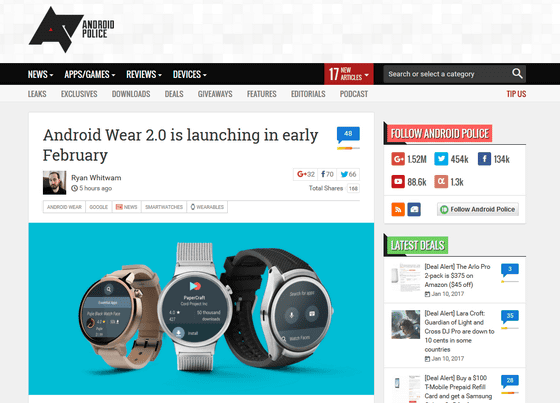 "Google will soon release Android Wear 2.0"News reportHad jumped out around the end of 2016, but it turned out that Google sent a notice to developers "to release Android Wear 2.0 in the next few weeks". This announcement seems to have been delivered to developers using the conventional APK installation mechanism.

Android Wear 2.0 has been abolished "traditional method of installing applications from smartphone to smart watch", "Smart watch standalone application installation method directly from Google Play" will be adopted. Besides, it is planned to be able to operate the application with a smart watch alone. Therefore, since February 2017, which is expected to release Android Wear 2.0, applications that have not been updated for a while are expected to disappear on Google Play for Smart Watch.

In addition, it seems that there was help in explaining the process for updating the application for Android Wear 2.0 in the e-mail sent from Google for developers.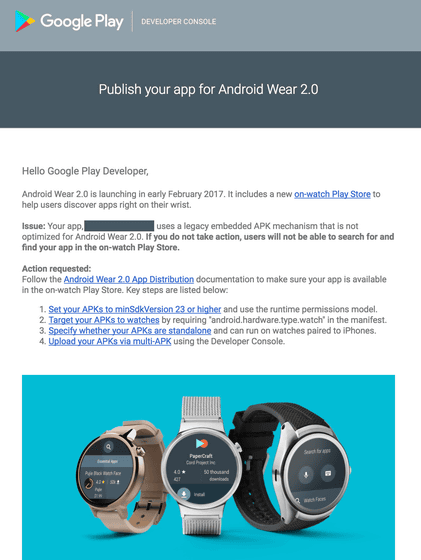 Also, according to the Android Wear 2.0 release Google will announce two new smart watchesNews reportThere is also. Two rumors of development were codenamed "Angelfish (Angel Fish)" and "Swordfish (swordfish)" two smart watches. Both have adopted a round watch face, the larger one on the left is Angelfish and the one with the slim on the right is Swordfish.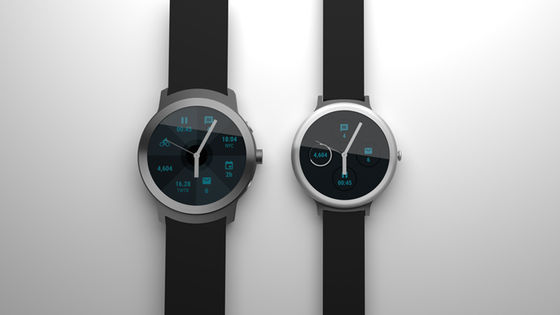 In addition to the watch, there are several pieces of information such as the number of unread mails and the amount of exercise displayed on the dial, which is very similar to the Apple Watch compliance.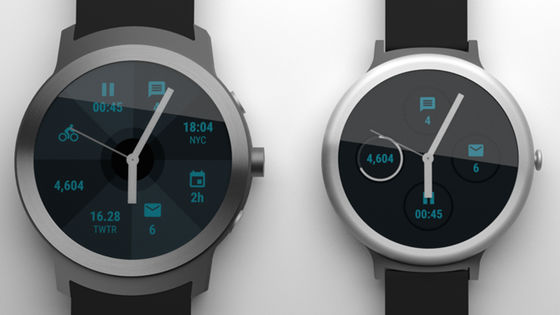 It is clear that Android Wear 2.0 will be released for the new smart watch and existing Android Wear based devices, but its performance is unknown. You can read about the new features of Android Wear 2.0 released in Google I / O 2016 by reading the following article.

Google's smart watch OS first large update "Android Wear 2.0" new function summary - GIGAZINE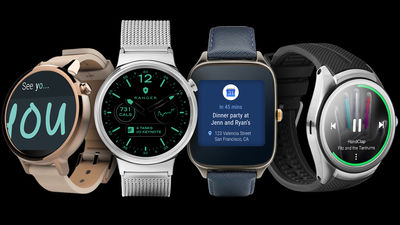 · Continued
Google-led Nexus-like Android Wear 2.0 smart watch manufacturer & release date turned out - GIGAZINE