The next-generation high-end SoC "Snapdragon 835" manufactured in the world's first 10 nm process is 20% faster than the previous model, 35% smaller, 25% lower power consumption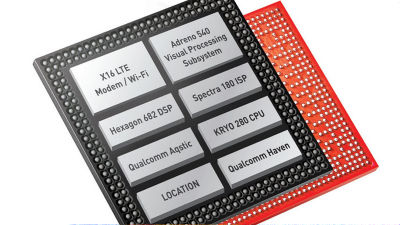 The world's largest IT / home appliance trade fair "CES 2017"Qualcomm will next high-end SoC"Snapdragon 835We announced. With the advent of Snapdragon 835, smartphones will be faster, battery life will be increased, and power saving ARM mobile PCs that can run full spec Windows 10 seem to be expected.

Qualcomm Snapdragon 835 Mobile Platform to Power Next-Generation Immersive Experiences | Qualcomm
https://www.qualcomm.com/news/releases/2017/01/03/qualcomm-snapdragon-835-mobile-platform-power-next-generation-immersive

Snapdragon 835 Processor | Qualcomm
https://www.qualcomm.com/products/snapdragon/processors/835

Snapdragon 835 is an octa core with eight CPU cores "Kryo 280". Designed to control the four Kryo 280 as one cluster, by adopting the big.LITTLE configuration that combines a 1.9 GHz power saving core and a 2.45 GHz high speed core, it achieves a 20% increase in speed relative to Snapdragon 820 It is said that. Also, with the new GPU "Adreno 540", the graphic performance increases by 25% compared with Snapdragon 820, supports OpenGL ES 3.2, OpenCL 2.0, Vulkan, OpenCL 2.0, DirectX 12, and can also play movies at 4 K / 60 fps.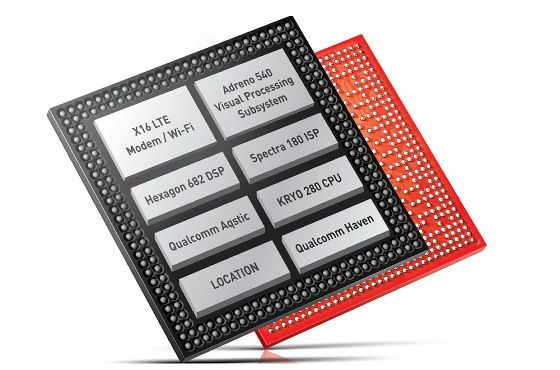 In addition, it is expected to become the world's first product to be manufactured with 10 nm FinFET process, package size will be 35% smaller than Snapdragon 820 and power consumption will be cut by 25%. As the size of the package itself decreases as well as saving power, it is likely that the continuous operation time of the smartphone will be extended by increasing the battery space.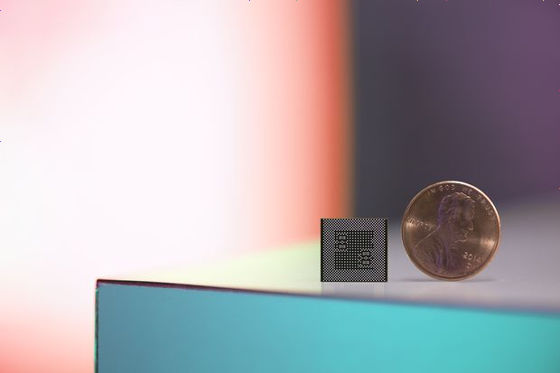 In addition, the Snapdragon 835 includes an X16 LTE modem with a maximum download speed of 1 Gbps, and it also supports 802.11ad as an option. Compared with Snapdragon 820, the modem chip size is reduced by 50% and the power consumption has been reduced by up to 60%. It also supports 32 megapixel single camera and 16 million dual camera and supports HDR 10 movies. And the rapid charging standard also evolved to Quick Charge 4, and the charging time realized speed up by 20% from Quick Charge 3.0. Furthermore,ARM version of Windows 10It is also decided to adopt it to terminals, and it is likely that Snapdragon 835 will be adopted in notebook PC at last.

Samsung is responsible for manufacturing Snapdragon 835, the world's first 10 nm FinFET process. Products that adopt Snapdragon 835 in the first half of 2017 are going to be introduced to the market.



·bonus
Through the Chinese SNS Maiho (Weibo), the terminal that seems to be the next high-end smartphone "Xiomi (tentative name)" of Xiaomi equipped with Snapdragon 835Antutu score leakdoing. If this leak information is correct, the Antutu total score of Snapdragon 835 is over 210 thousand and it seems to be a high-performance SoC with performance exceeding the A 10 chip of iPhone 7/7 Plus as expected in advance.