Vine will terminate service on January 17, 2017, FAQ that we should look at so far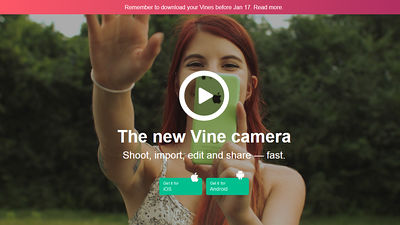 Even though service continuation falls into a crisis situation,Acquisition offer was continuedAlthough it is 6-second video service "Vine", it seems that the service stoppage was never avoided. From January 17, 2017 Vine application officially "Vine CameraIt was announced that it will shift to.


Update - the Vine app will become the Vine Camera on Jan 17. Please download your Vines before then! More here:https://t.co/zrE1oDTx48

- Vine (@ vine)January 4, 2017

Discontinuing the Vine app: FAQs
http://help.vine.co/post/152688513385/discontinuing-the-vine-app-faqs

Local time From January 17th, the Vine app installed on the terminal will shift to the new application "Vine Camera". Vine Camera is a camera that can shoot a 6.5 second loop movie, you can save the movie you shot on Twitter or save it to the camera roll. As Vine Camera is activated, Vine's platform disappears, so you can not share taken videos with Vine as before, but uploaded videos will not be uploaded even after January 17thVine's websiteIt is saved as an archive on to, and you can download it and save it on the terminal.

The FAQ accompanying the migration of Vine Camera is excerpted as follows.

· Does my video loop on Twitter?
of course. With Vine Camera, you can shoot a loop video of 6.5 seconds or less, and you can post movies you shoot directly to Twitter from the application.

· What happens to Vine's followers? Can I take over to Twitter?
By linking Vine and Twitter accounts, we will publish a new feature "Follow On Twitter" that allows people who were followers at Vine to discover you on Twitter (provided your account is set to "Public" it is necessary). When this function becomes available, notification from the application will be sent.



· Can I download movies shot with Vine?
Until January 17IOS/AndroidYou can download videos shot in the past from the Vine application. Before moving to Vine Camera please download the Vinee application and save the necessary video.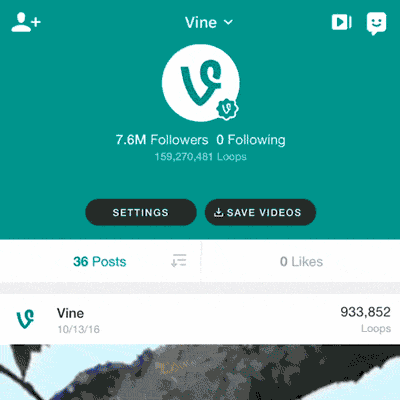 · Does the downloaded video have captions or comments?
Vine.coThe movie downloaded from it includes an index.html file including the video caption, number of likes, comments, Revine, etc. When downloading from the Vinean app, it becomes only movie file, and other information such as caption etc is not included.

· Can I make only e-mail links without downloading?
of course. With PCVine.coYou can press "Download Your Vines" button or select the same option from the mobile application. A link will be sent to the email address associated with the account. Please note that you can only use 72 hours after requesting mail link.

· What happens if I download all the videos at once?
MP4 file, thumbnail image folder, index.html file are grouped together and downloaded to the PC. If you open this folder in a web browser, you can watch videos and watch comments as you are watching Vine's website, but in fact you are referring to the files in the PC.