The best-selling CD in 2016 is how the "Mozart" 200-sheet set box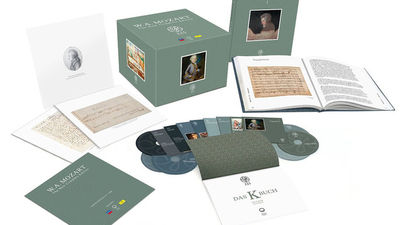 A composer who is one of the Viennese classical three major mastersWolfgang Amadeus Mozart200 sets of CD boxes containing 4000 songs made by "Mozart 225It was revealed that it was the best-selling CD in 2016.

Giant 'Mozart 225' Box Set is 2016's Biggest-Selling CD Release | Billboard
http://www.billboard.com/articles/news/7597586/giant-mozart-225-box-set-2016s-biggest-selling-cd-release

"Mozart 225" was newly created in commemoration of Mozart's death after 225 years. It is the latest complete box containing contents of astonishment that total reproduction time 15,000 minutes, number of recorded songs 4000 songs, number of participating artists and performers 600, CD number of 200 pieces, number of participating orchestras 60. Mozart 225 is sold out on Amazon.co.jp as well, and the prospect of re-arrival is not established.

Amazon.co.jp: Various Artists: Mozart: 225 The New Complete Edition (Japanese Version) - Music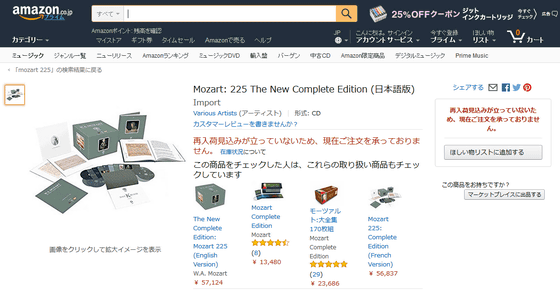 Product description of the sales page is as follows.

Release of Mozart's death memorial 225!
200 set including new discovery songs and new recordings using instruments played by Mozart.
"Mozart New College Collection" (Japanese version)

◆ Mozart's biography newly written by Professor Eisen, known as an authoritative Mozart scholar,
Two hardcover books in which all 30 essayist Mozart scholars' special essays and commentary-specific commentary were all translated into Japanese
◆ Mozart 's final portrait offered by the Mozarteum Foundation, handwriting of songs, handwritten letters to fathers, etc., including beautiful cards
◆ Newest works list catalog "K Book" using the new Kochel number by Mozarteum Foundation
◆ Performer index of all works, online access to the score of the original version and lyrics and bilingual (Japanese is not available) can be viewed
Revolutionary Riblett · App (free: print URL on booklet)

Contents
◆ With complete support from the Salzburg International Mozarteum Foundation, the complete limited edition set with a serial number completed around German · Gramophone and Decca's centerpiece.
◆ 200 pair CD which recorded about 240 hours of performances by soloists, conductors, ensembles and orchestras representing the world.
Super luxury BOX with the latest Mozart study and state-of-the-art recording technology
◆ Mozart Arranged Version of Handel and Bach's work, fragments and sketches of over 100 songs, works completed by other composers,
All Mozart works including works suspected of authenticity are included
◆ A number of unusual and valuable sound sources recorded on all 18 labels
◆ Symphonies and concertos included all songs with period instruments using old musical instruments, as well as many standard performances using modern instruments.
(Major works are recorded in two kinds of performances, Old and Modern [About 30 CDs]
◆ Ashkenazi, Brendel, Uchida Mitsuko, Hebler, Pirith, Perlman, Dumei, Mutter, Grummy, Schering, Oistrakh,
Mariner, Previn, Abad, Levine, Bruchen, Gardiner, Hogwood, Tafel, Wunderich, Bartoli and others,
It includes performances by world-class artists.

The official introduction movie of Mozart 225 has been released and can be seen from the following.

Mozart 225: The New Complete Edition Trailer - YouTube


Mozart 225 is a CD box released on October 28, 2016, but the selling agency Universal Music Group has announced that it sold 1.25 million CDs in just 5 weeks after its release. This is not that the CD boxes were sold 1.25 million pieces, but considering that it is a 200 box CD box, it is calculated that at least 6250 CD boxes have been sold.

In addition, at the time of article creation, Amazon also has "no prospect of re-arrival" situation.

Amazon.co.jp: Various Artists: Mozart: 225 The New Complete Edition (Japanese Version) - Music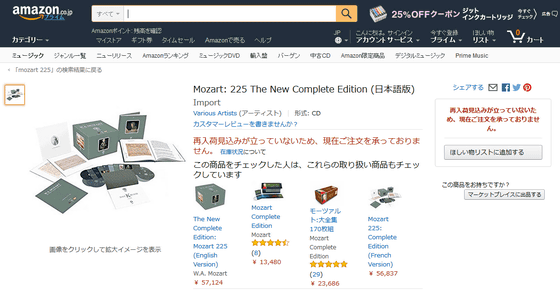 The French version seems to be available for purchase at a price of 56,837 yen.

Amazon.co.jp: Mozart 225: Complete Edition (French Version) - Music