Instantly digitize content written on notebook with pen & Extra thin ultra light with touch keyboard 2in1 "Lenovo YOGA BOOK" review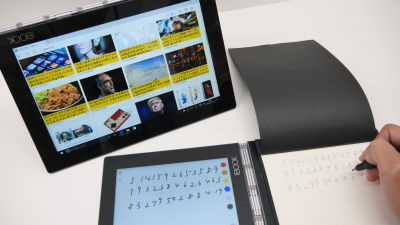 Lenovo realized the amazing lightness of only 660 g 2in 1 type PC "YOGA BOOK"We released two versions of Windows 10 version and Android 6.0 version. Not only is it changed to various forms like Lenovo's YOGA series, but also has a touch operation keyboard, and furthermore, "handwritten" information written with an ink pen in a note by turning it into a high-performance digitizer with one button By using the unique YOGA BOOK going on my way that you can digitize immediately, you can see the secret of the popularity that keeps out of stock since its release.

YOGA BOOK with Windows | Comfortable Creation 2 in 1 Tablet | Lenovo Japan
http://shopap.lenovo.com/jp/tablets/lenovo/yoga/yoga-book-win/

YOGA BOOK | Comfortable Creation 2 in 1 Tablet | Lenovo Japan
http://shopap.lenovo.com/jp/tablets/lenovo/yoga/yoga-book/

◆ Appearance check
YOGA BOOK arrives at GIGAZINE editorial department. The left carbon black color is Windows version (Windows 10 Home), the right gunmetal gray color is Android version (Android 6.0.1).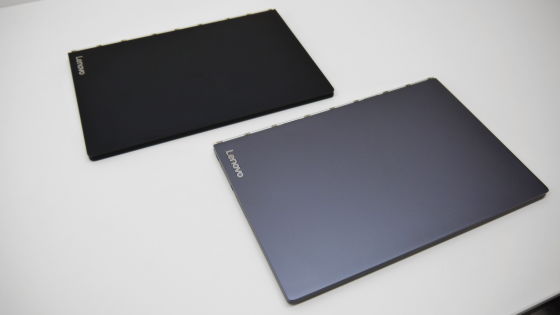 The enclosure is exactly the same with Windows version and Android version. YOGA BOOK is 170.8 mm in length × 256.6 mm in width × 96 mm in thickness.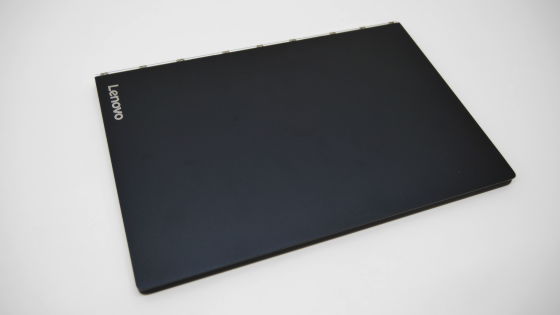 It weighs about 690 g and it is lightweight even as a 2 in 1 terminal of 10 inch size.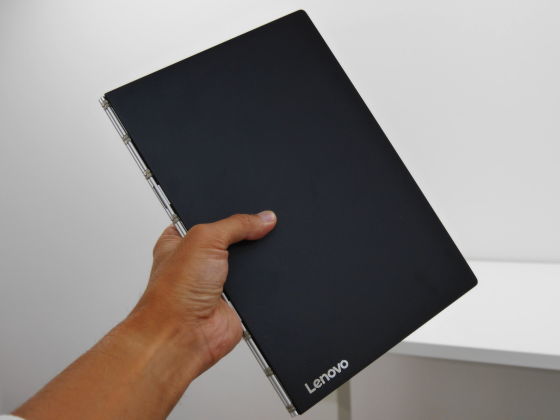 The first thing for the hand is surprisingly thin.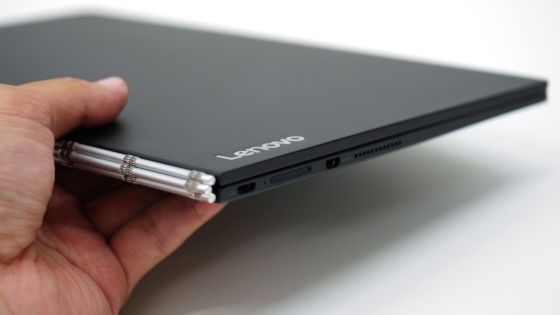 The thinness of YOGA BOOK stands out even compared with MacBook.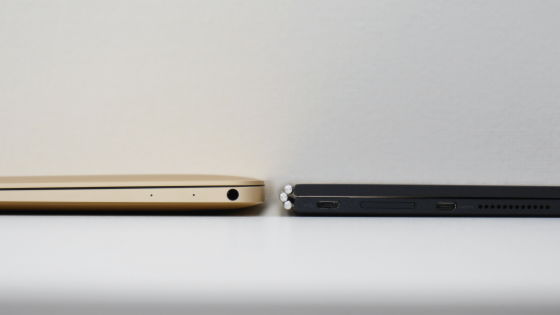 On the right side ......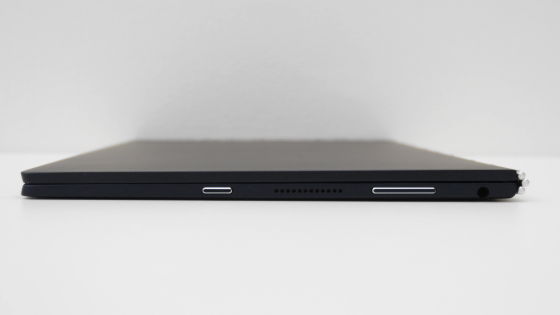 Power button, speaker, volume button, earphone jack mounted.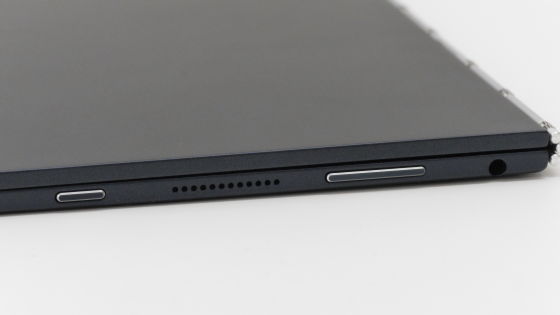 The front side is a bit hollow, making it easy to open and close.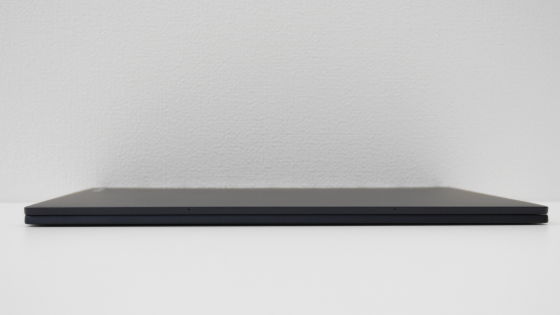 If you look closely, you have two microphones.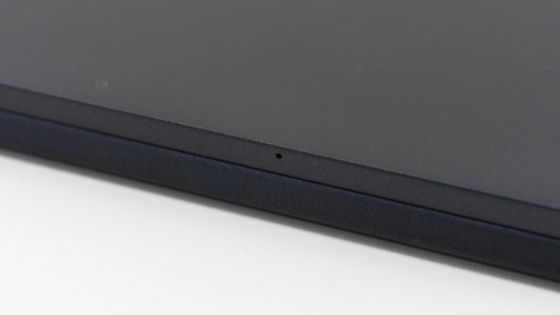 Left side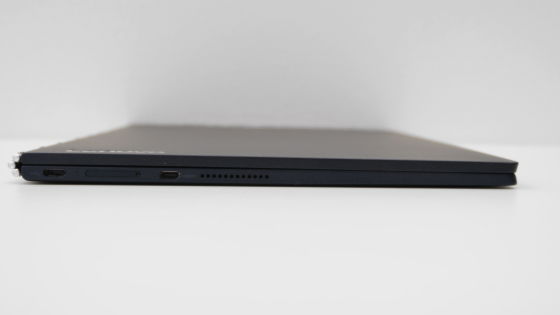 Micro-USB port for power supply, SIM · microSD card slot, micro HDMI port ......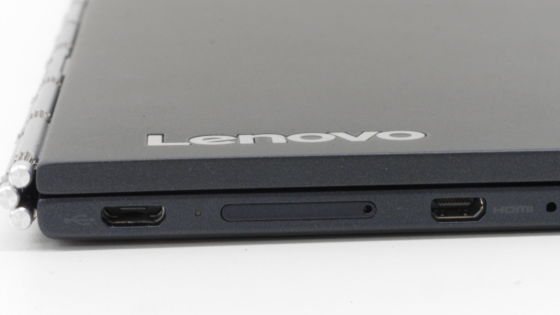 speaker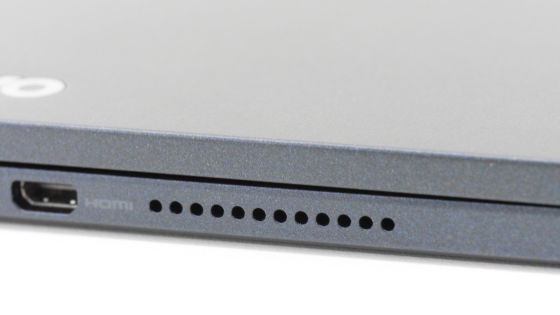 Please note that the Windows version used for this review is a Wi - Fi model, so only microSD cards can be inserted.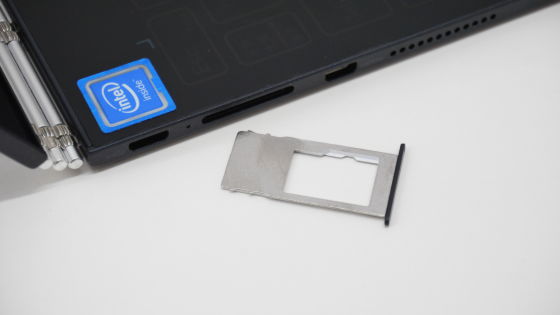 One Android version was an LTE model. Therefore, you can insert not only microSD card but also SIM card.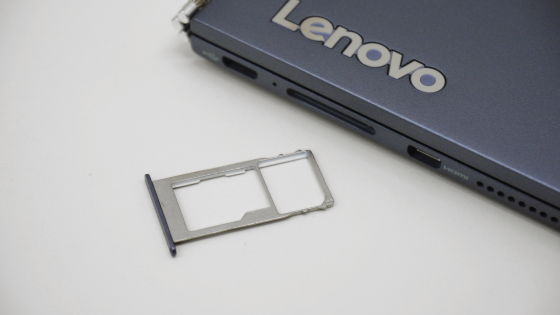 A very characteristic hinge part.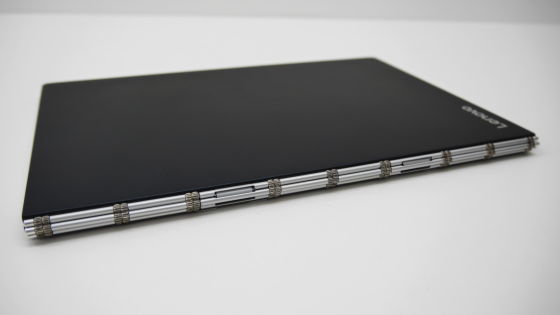 Hinges are opened and closed by making three pipes mesh with each other by gears.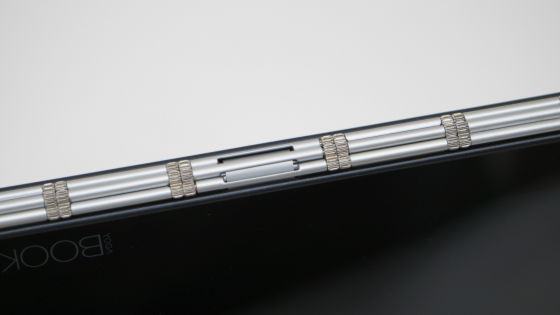 YOGA BOOK adopts IPS liquid crystal display of 10.1 inches (1920 × 1200). Because of the glass screen, there is reflection.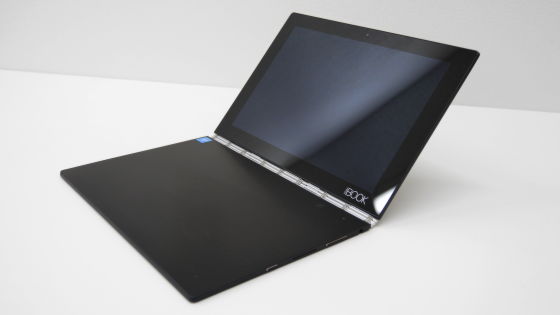 The bezel has a 2 megapixel camera in the center.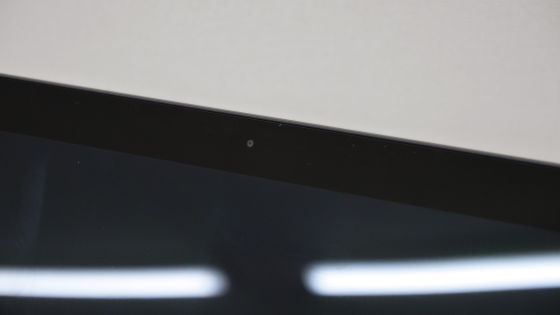 YOGA BOOK The biggest feature is the flat keyboard "Halo (Hello) keyboard"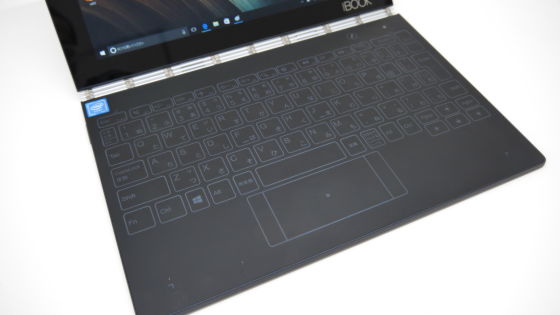 When you see it in a dark place you can see that it is shining.



Halo keyboard has a touch sensor and key does not sink like physical keyboard. However, it is designed to inform you that you touched by sound or vibration.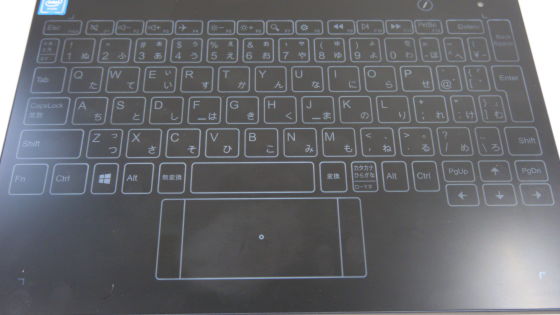 Touchpad operates from the center "◯" as a starting point. It corresponds also to the scroll operation with two fingers, and keys corresponding to the left and right buttons of the mouse are assigned to both sides of the touch pad.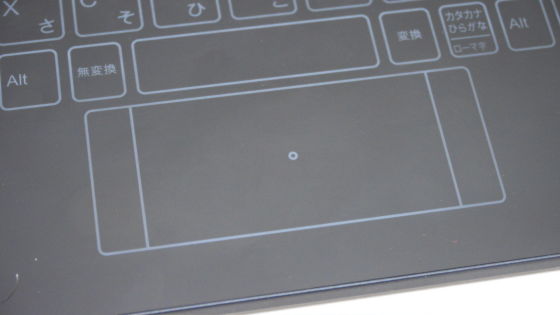 In addition, on the upper right of the halo keyboard, we have an 8 megapixel camera used for tablet style.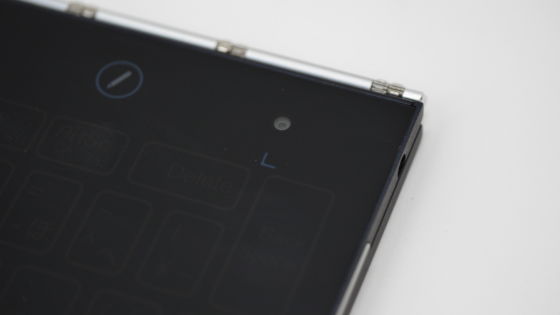 In addition to the general notebook style, YOGA BOOK has a "Watch" style that opens the keyboard wide and ... ...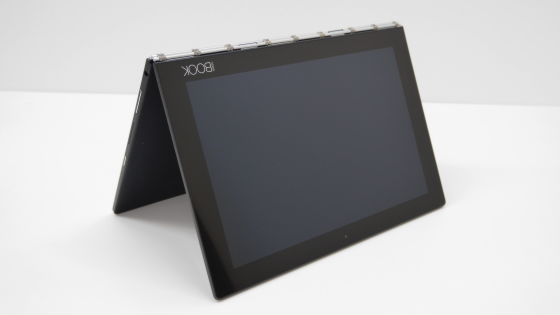 It can be used in "tablet" style with keyboard folded back 360 degrees. Because it is a flat halo keyboard, we have realized user friendliness closer to tablet than physical keyboard case.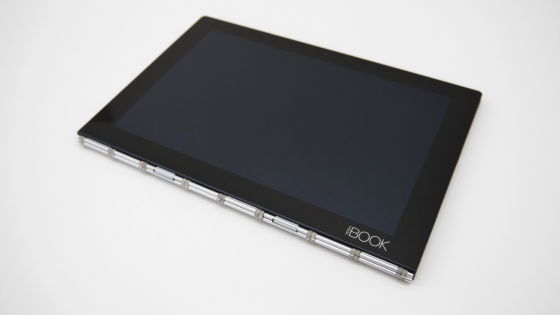 It is also possible to change the halo keyboard to create pad (digitizer) for stylus pen with the keyboard opened 180 degrees.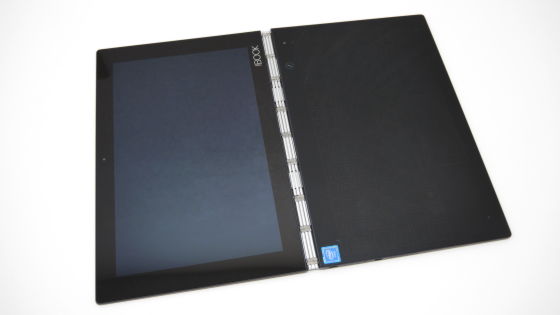 ◆ I tried using
·charging
YOGA BOOK charges with Micro - USB cable.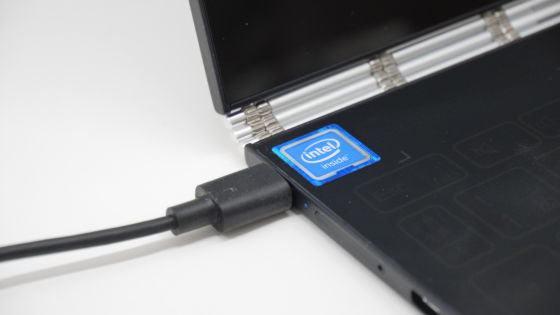 By the way, the YOGA BOOK included AC adapter supports rapid charging at 2A.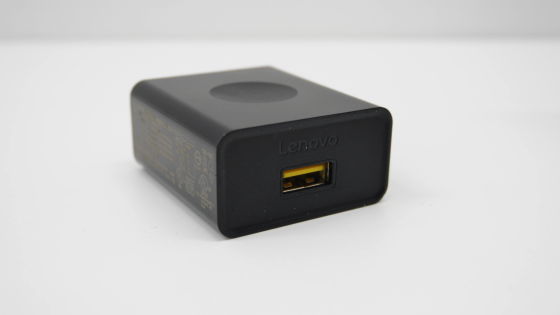 ·display
While YOGA BOOK has laptops with full HD (1920 x 1080) resolution, it adopts a 10 inch display with 1920 x 1200 WUXGA resolution. However, since it is expanded to 150% in the default state, if it is the top page of GIGAZINE, only four articles are entered next to it.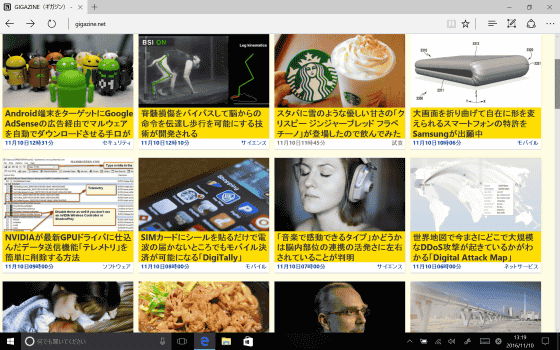 When viewing without enlargement in WUXGA, there are five articles next to it.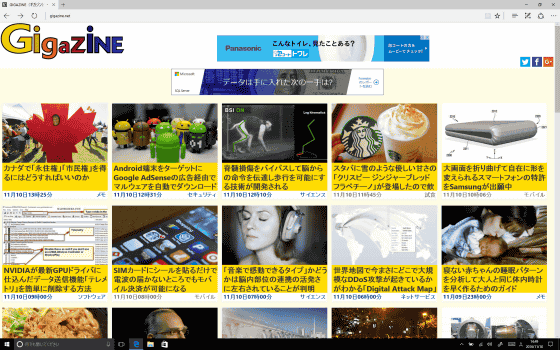 When it is portrait oriented, there are four articles next to it with such feeling. However, because WUXGA resolution of the 10-inch display makes characters fairly small, it seems that usability is certainly better for web browsing and use of Windows applications by 150% by default.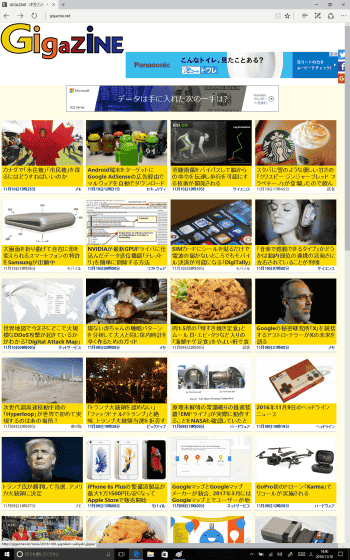 · Spec & Benchmark
In both Windows and Android versions, SoC is Intel Atom x5 - Z8550 (4 cores 1.44 GHz), 4 GB LPDDR 3 memory, 64 GB storage, battery capacity is 8500 mAh.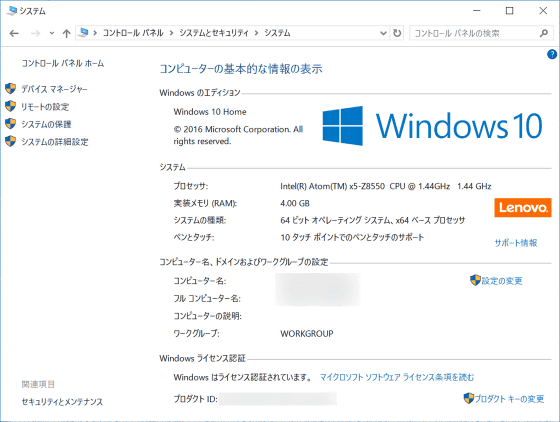 When you measure the experience index on the Windows version, it looks like this. Graphics are not powerful, but processors and storage are a reasonable performance.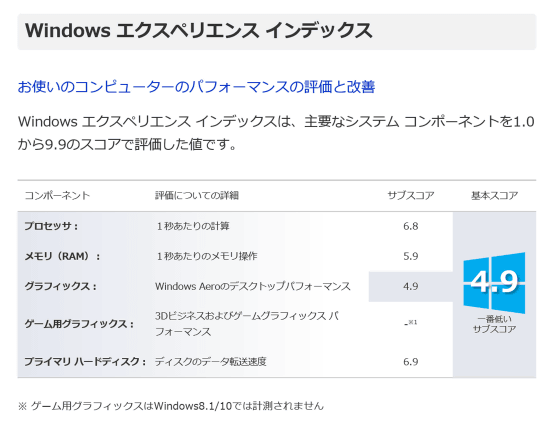 CrystalDiskMarkWe measured the speed of storage and found that sequential and random performance was not as good as ordinary SSD.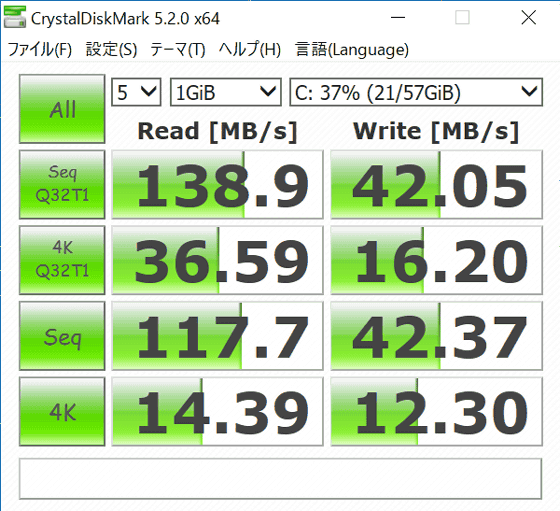 Benchmark application on Android versionAntutuMeasuring over 90,000 points, it seems to be quite comfortable to use.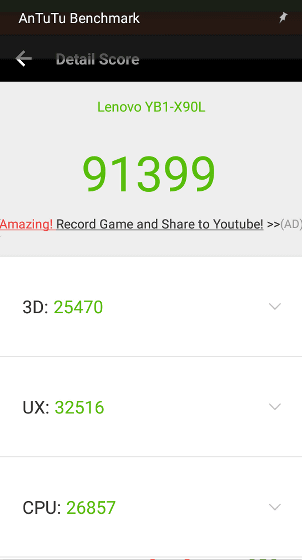 · Hall keyboard
I tried typing characters using a halo keyboard with unique operability.

I tried typing on Lenovo YOGA BOOK's Halo keyboard - YouTube


Because the halo keyboard is flat, it is almost impossible to touch the blind. You will enter the key while checking the key at hand. Since there is no keystroke feeling and blind touch is also difficult, it can be said that it is reckless to drive long sentences with a halo keyboard. If you value key input, you should obviously use a physical keyboard with Bluetooth connection.

However, it is far easier to type than a general software keyboard, so in a scene where you enter search phrases or login information, the halo keyboard is likely to be a useful tool.




In the default state, both the touch tone and the vibration are turned ON, and it tells us that they typed with sound and vibration. However, it seems that preference can be divided between subtle delayed vibration and touch tone which apparently sounds after key operation is completed. Personally I felt that it was easier to turn off both touch tone and vibration.

Touch tone and vibration setting can be changed with "ControlApp" in C: \ Program Files \ Lenovo.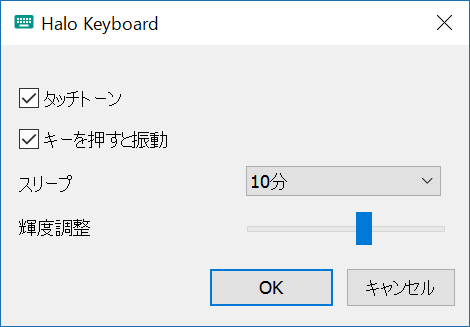 · Create Pad & Real Pen
Halo keyboard, by pressing the changeover button on the upper right ... ....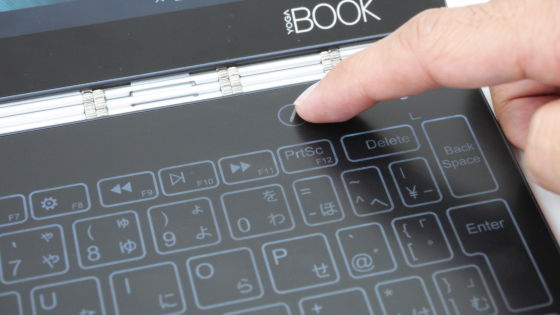 The light goes out and switches to the create pad.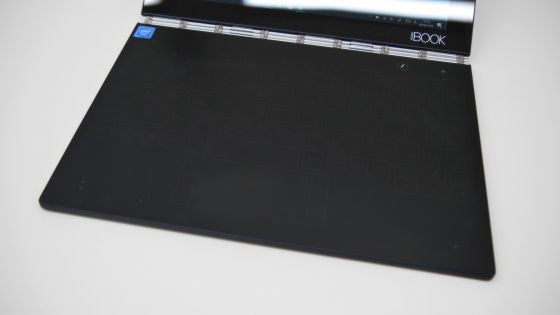 Since it is a digitizer, when bringing the pen (Wacom made "real pen") closer to the Create Pad, the cursor will appear on the screen.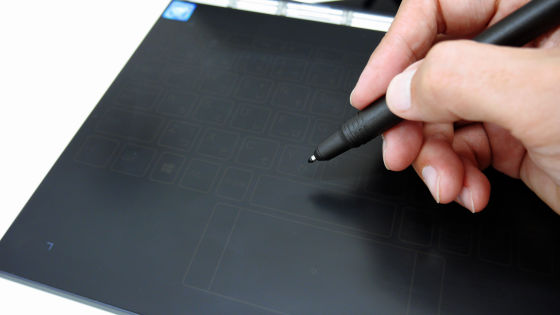 It is a real pen that can detect 2048 strokes, and you can check the writing of characters with Microsoft Edge in the following movie.

Lenovo YOGA BOOK's "REAL PEN" to write characters to Microsoft Edge - YouTube


· BOOK Pad
YOGA BOOK comes with a special note called "BOOK Pad" (YOGA BOOK paper).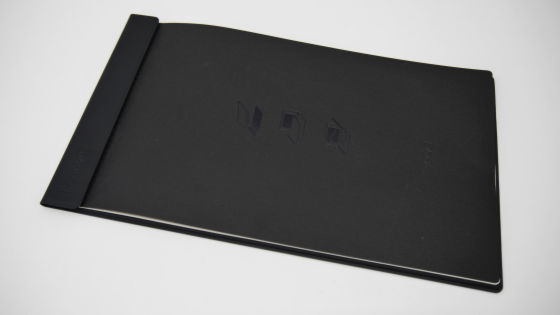 The contents are notes with tear lines.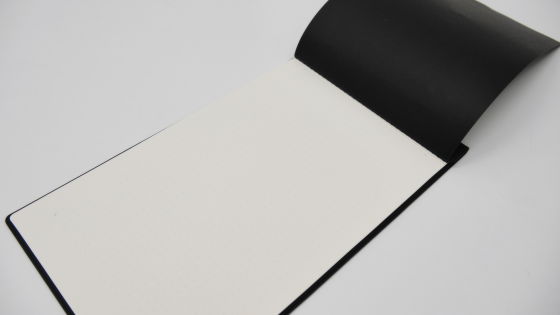 There are punched holes in the note, and it is fixed by turning back with the magnet in the upper part.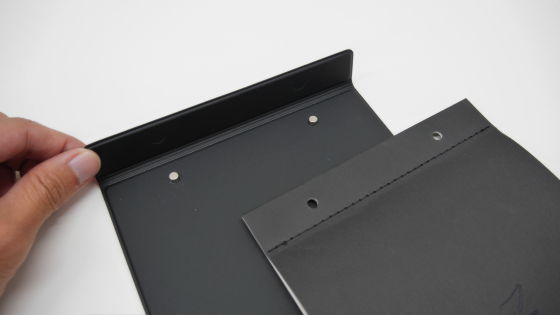 If you change the pen tip of the real pen to the included ink core, you can instantly digitize the contents written in BOOK Pad.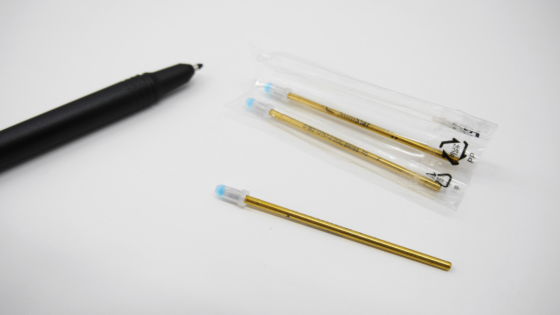 By the way, we will exchange the pen tip with a pen cap.



BOOK Pad is magnet type and can be firmly fixed to the create pad.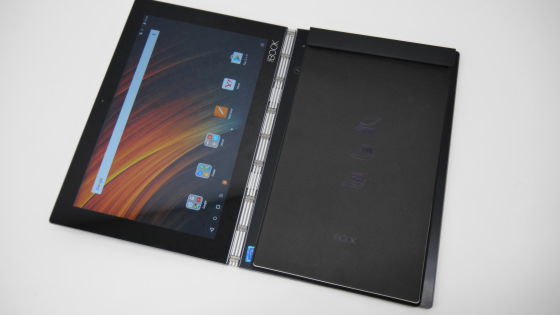 You can check how the letters written on the note using BOOK Pad and ink core are digitized in real time with the following movie. In addition, we use the application called "Note Saver" pre-installed with YOGA BOOK for Android in the movie.

Lenovo YOGA BOOK's BOOK Pad to speed up digitizing notes writing - YouTube


The characters written in the note were digitized almost in real time. Note that a writable auxiliary line is written in the note, and letters beyond that line are not recorded, so you need to be careful.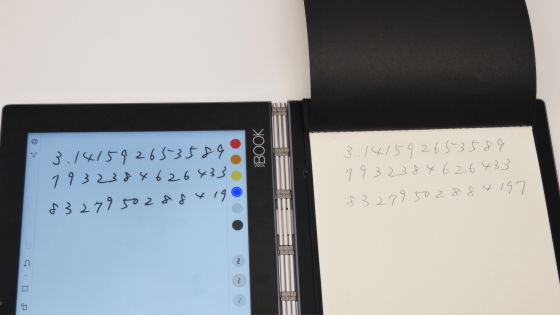 Because the special note YOGA BOOK paper is spending 1580 yen (tax included) and is relatively expensive, it seems good to make your own to match the punch hole. As I experimented with copy paper, the pen reacts without problem even with thickness of 30 piled layers, so it is possible to use it like "digitize instantly while taking a note of a lesson into a loose leaf" for example.

·camera
It is like this when shooting with the rear camera of 8 million pixels mounted on YOGA BOOK's halo keyboard. You can take pictures with the image quality enough to withstand the resolution of a little memo as well as enough resolution.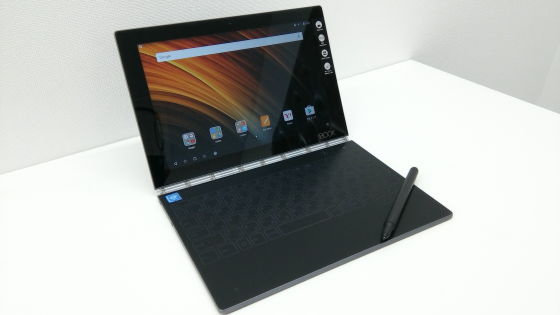 YOGA BOOK is extremely lightweight and always has a mobile nature that can be put in a bag. Since you can digitize a little memo easily, always use it instead of carrying it as an idea book or use it as a full-fledged drawing tool using real pen made by Wacom 2in 1 that can be used for various purposes It seems to be said to be a terminal.

For YOGA BOOK, Windows version (Wi-Fi) is 52,800 yen (excluding tax), Windows version (LTE) is 59,800 yen (excluding tax), Android version (Wi-Fi) is 39,800 yen (excluding tax), Android The version (LTE) is 44,800 yen (excluding tax).