You can eat such food and cooking at night market in Taiwan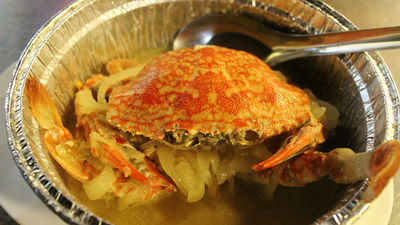 The number of stalls not likely to eat even if you continue to go for a week. The smell drifting appetite will drift from heated ingredients and dishes when you walk about briskly. It was impossible to endure. I went to the night market like everyday.

Hello,Takuya SAITO who did a round around the world by bicycle @ Charridermanis.Night Market in ThailandIt was nice to eat at the end of a good trip with a night market in Taiwan. I gained weight. "No, because it is an interview," I wanted to make such excuses, so it got a little late, I tried collecting the stalls in the night market in Taiwan.

◆ Taiwan and night market
Climate factor that the night is easier to move because it is too hot during the day. The national custom that meals are finished with eating out. As a result of these circumstances, night market in Taiwan is rooted in people's lives. There were places where stalls gathered at night in any city.

◆ Rahe river sightseeing night market
I stayed in Taiwan for the second consecutive year and the second half of July this year. Many night markets are held in Taipei City, the center of Taiwan. I stayed at the hostel near Matsuyama Station this time, so I went to the Raiga Street sightseeing night market just a short walk from there.

This gate is the entrance of the night market. There is another same gate on the other side. Food stalls and stalls are staggered in one main road of approximately 600 m.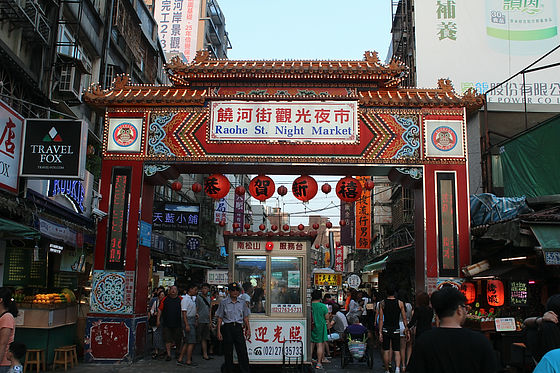 Because the stall is solidified in the center of the roadway, both ends are the path of people. I can not grasp all shops without going home.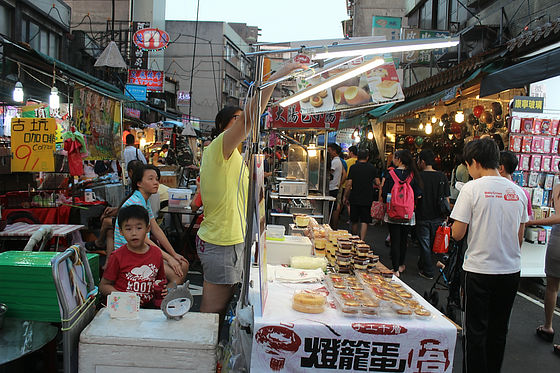 Shrimp boiled and turned bright red steams steam.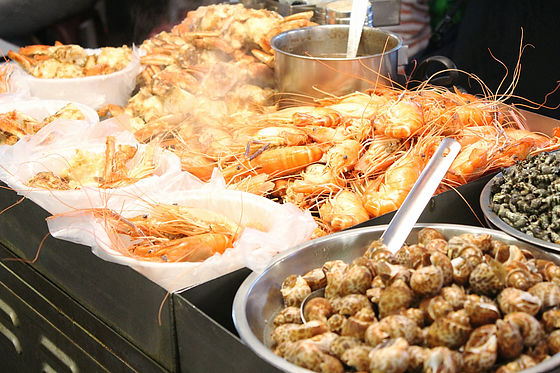 We have been eating such things at Zhaohe Street Sightseeing Night Market.

· Small intestine of large intestine
The small intestine of the large intestine is a fast food like a hot dog in the Taiwanese version. It is Taiwan dollar 55 (about 180 yen).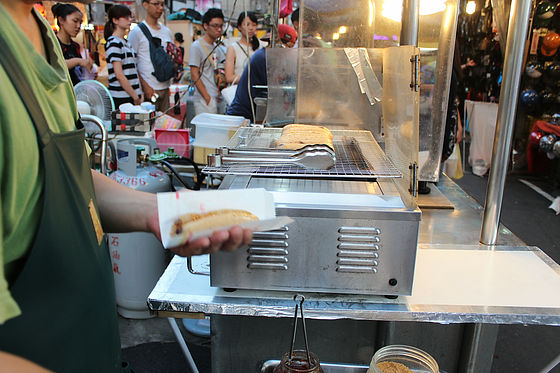 I cook sausages with rice instead of bread. Because rice is glutinous rice, it does not spill out. Sausage crispy baked with crispy skin with rice crispy, crispy hot spicy chili and chopped garlic. It was a bit greasy stamina food.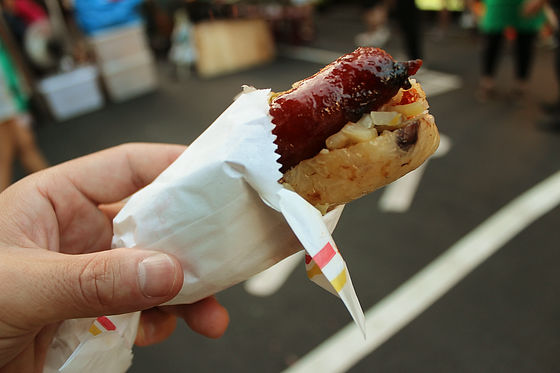 Buruma
Cook that I have never heard before. But this stall was as popular as I could have a queue. Since I became interested, I also bought one.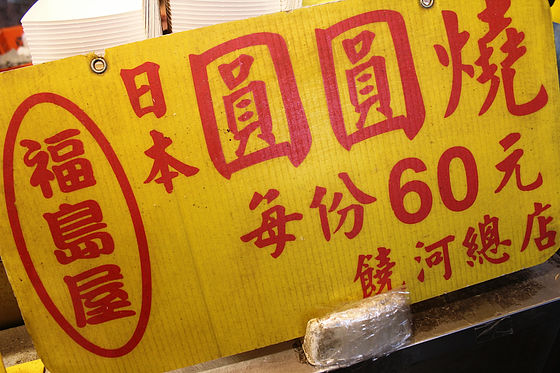 It's Okonomiyaki, but there is a difference in sowing seeds in a round frame on an iron plate.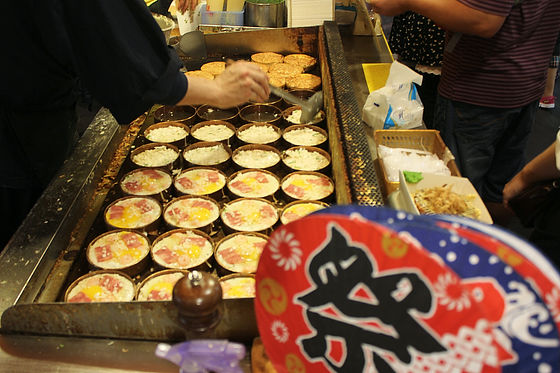 It was okonomiyaki as well. For some reason, wasabi comes with it. It was finished like a cake because there was a frame. It is more texture than okonomiyaki because the fabric is thick.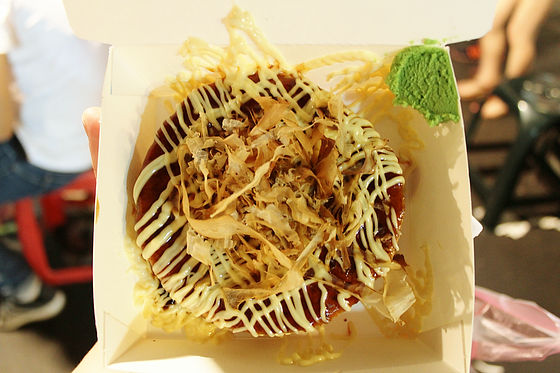 ·pizza
Chinese, not only Japanese style stalls. I was doing Western - style pizza. It was 60 Taiwan dollars (about 200 yen).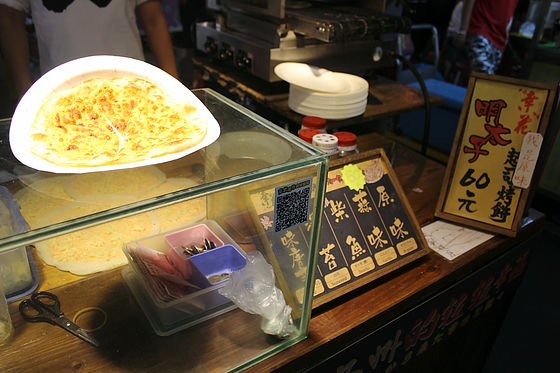 The fabric on which the ingredients are placed is carried on a belt conveyor, and it is baked in quickly.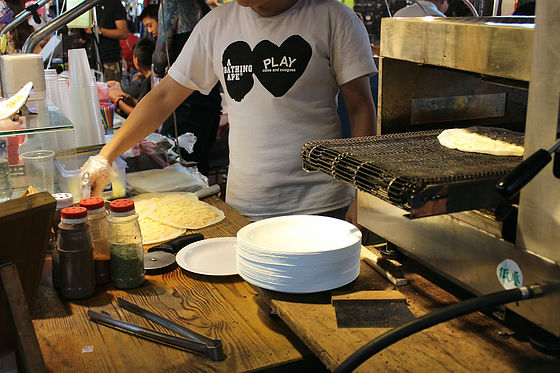 Rich cheese that melts crisply in a crispy baked dough. Pizza that I was seeking is simple but came out.



· Medicine bone bone
This is also a popular street where customers were always sitting around the table.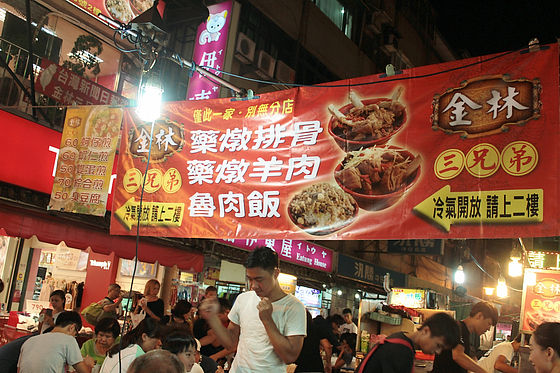 Price of 60 Taiwan dollars (about 200 yen) for medicine bone bone (soup), 25 Taiwan dollars (about 80 yen) for rabbit rice.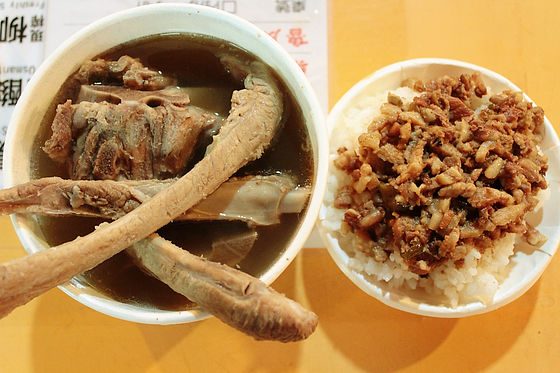 It is a soup which was just plain as it is in the name "medicine". It was just sucking meat with pig bones. Actually, it seems to be a medicine dish that properly contains herbal medicine.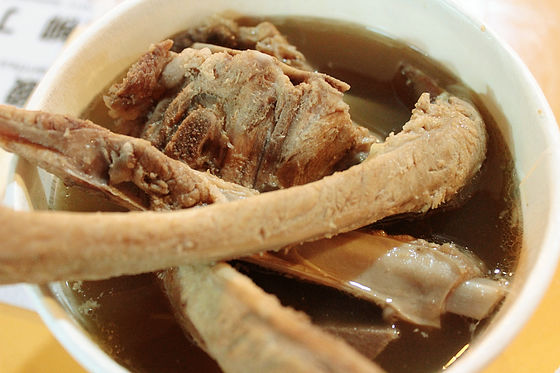 Rice cooked riceIs a bowl of rice baked with white rice with shredded pork stewed with soy sauce based broth. It was a classic menu of Taiwanese cafeteria with national fast food like Japanese beef bowl.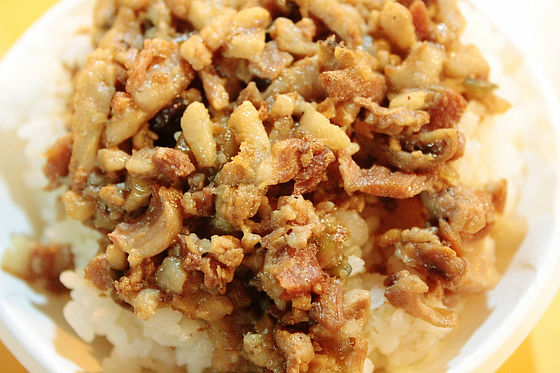 · Dice steak
There were steak stalls that are delightful for meat lovers.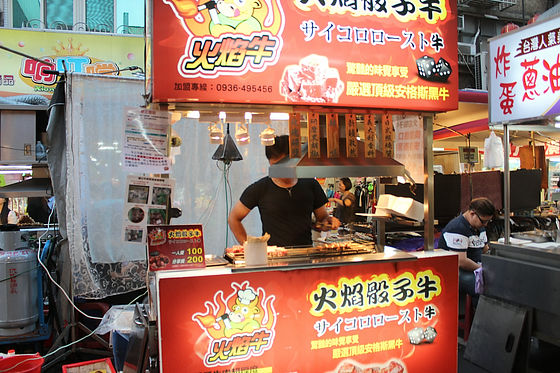 I will let the whole fire through the blue flame of the burner. It was as if I was watching the show, making a sound like going around.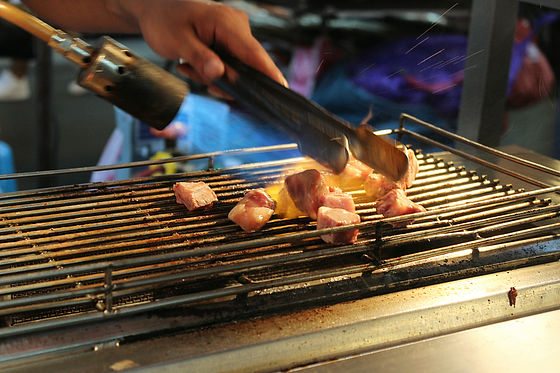 Meat on the net.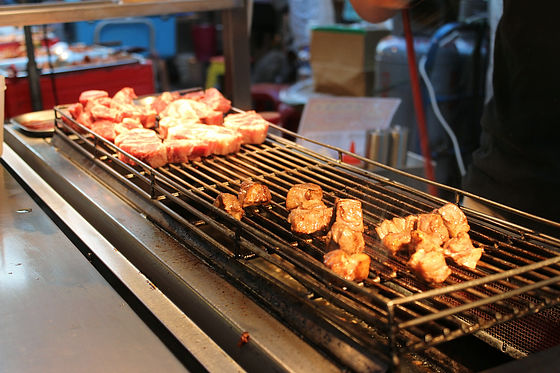 It is like this at 100 Taiwan dollars (about 330 yen) for one serving. I thought that it would be a bit like a molded meat from a handy price, it was a solid meat that did not collapse even if put in your mouth. The surface is moderately grilled. Huffing habu and meat juice overflowed into my mouth.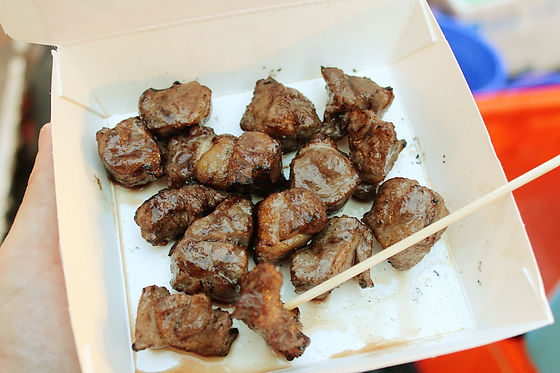 · Big chicken cutlets
Big chicken cutlet that was stolen by its size. This was also NT $ 100 (about 330 yen).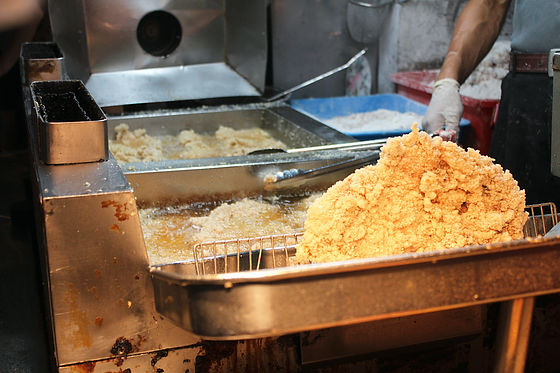 I was excited at the biggest cut in my life. After having lifted, have it sliced ​​for ease of eating.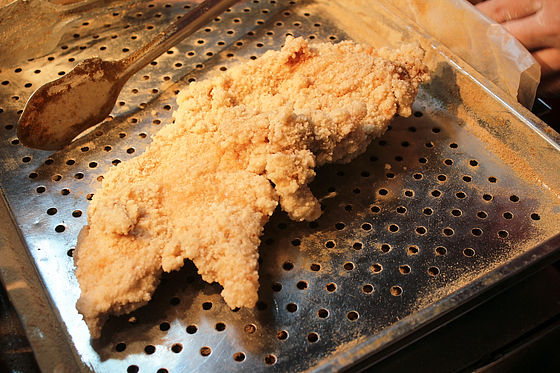 But this was a failure. The clothes are not as smooth as it is, but it is heavy and sucking oil, so my stomach has become tougher. In order to increase the apparent size, thick clothing was attached.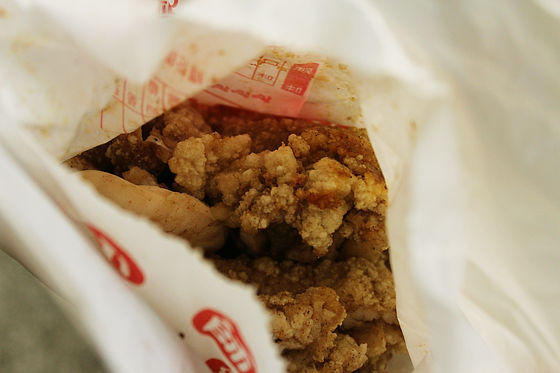 · Baked apricot abalone
A big mushroom was baked on the net. Not only one but a few stalls appeared.



A stuffed doll of Omori Detective's "Nemiko" is hung. Nonetheless, "Kyoto abacus" in the menu is Elingi in Chinese.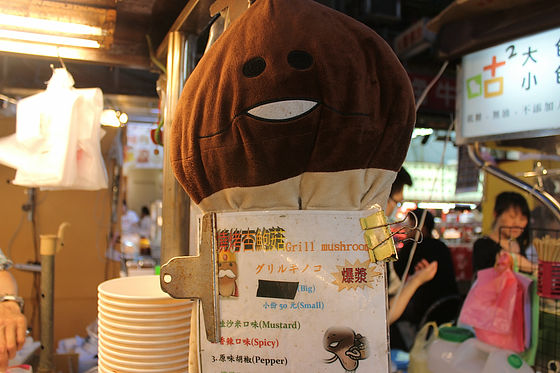 There are two sizes, large (front) and small (back). Since I was one, I ordered a small size of NT $ 50 (about 165 yen).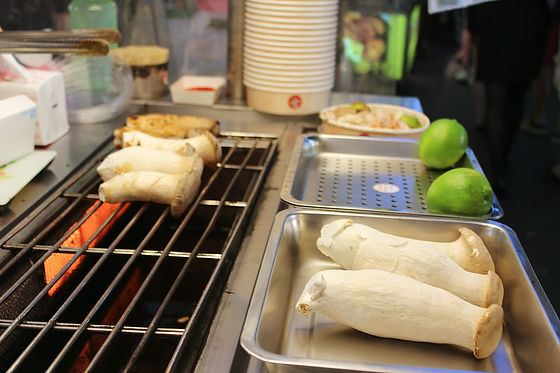 After the fire has passed firmly, cut into bite size on the cutting board.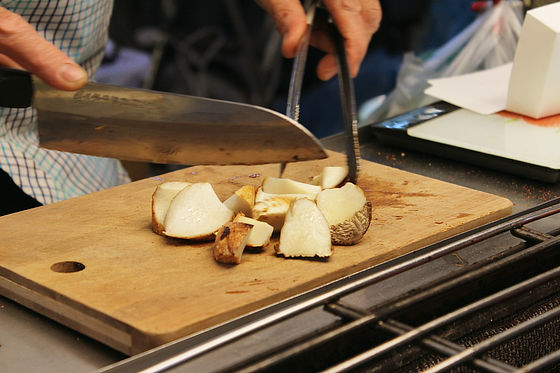 The finish looked like a french fries potted leather. If you put it in your mouth it will make your clothes and texture become habitually good. When chewing, the umami that it bleeds out from Ellingi spreads as much as it gets bitten. I did not expect to know the taste of eringi in Taiwan.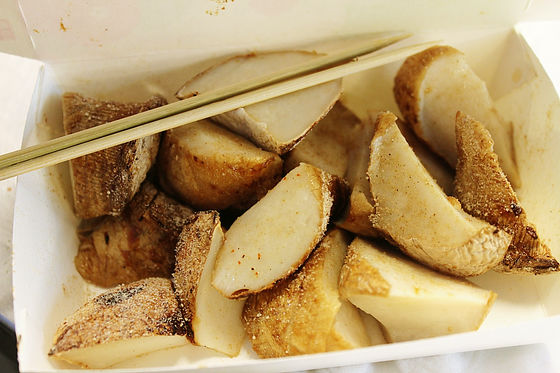 · Tapioca milk tea
Tapioca milk tea famous as a national drink of Taiwan, of course, is also available at night market. In Chinese the expression "zhēnzhū nǎichá". It is a drink containing granular powder (tapioca pearl) in sweet sweet milk tea. A black stubborn with elastic feeling like a white texture and a smooth tongue that enters the mouth through a thick straw. I was wondering what to eat a drink.

Tapioca pearl (black powder) is the black dip on the bottom of the milk tea.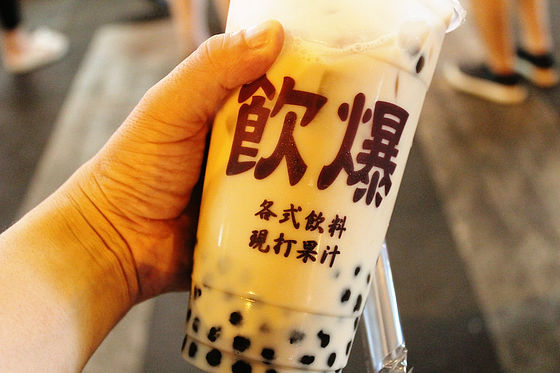 The shop called "drinking explosion drinks" was cheap, and Tapioca milk tea was 35 NT dollars (about 115 yen).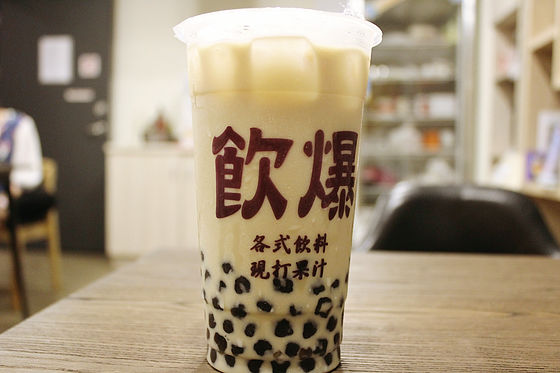 Ryo
Dessert called Ryo Ring that I want to talk to on hot summer nights. A translucent appearance will cool people.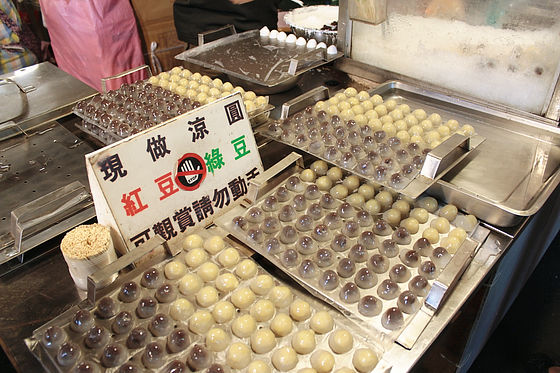 It was a sweetness that there was an orcho in Japanese Warabimochi.



· Mango shaved ice
Shaked ice was a standard tightening after walking all the way.

Fruits and beans are included in the showcase of the shop ......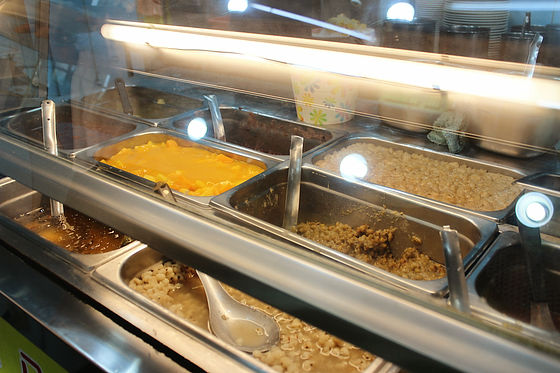 Various ingredients line up with tapioca in potatoes.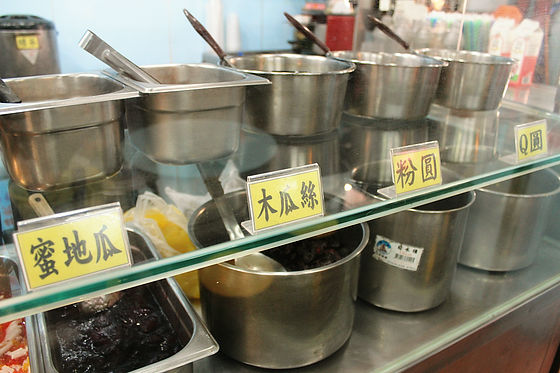 I ordered a popular mango shaved ice in Japan as Taiwanese sweets. It was Taiwan dollars (about 300 yen).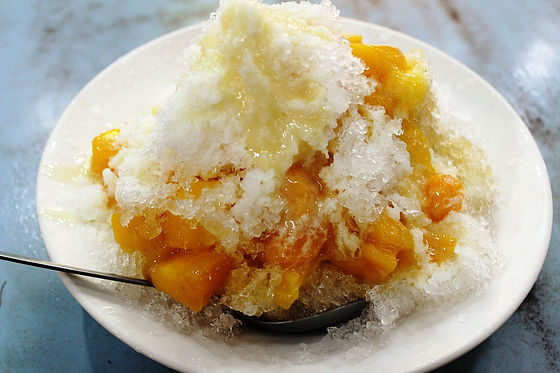 Combination of melting soft mango and sweet sweet condensed milk. It was cold, sweet and shaved ice that was immersed in bliss as the head bowed.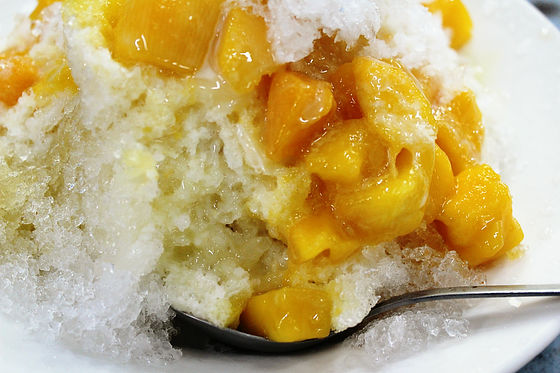 ◆ Koronji Mouth mouth night market
In this trip I also visited the city of Keelung near Taipei that I had never been to. Keelung is a port city that is the port of Taipei's outer port like Yokohama called in Tokyo. By the time I was traveling around Japan, there was a regular route from Okinawa. It was a distance that I was aware of foreign countries for the first time, at a distance that would reach if I extended my hand. It was Keelung and it was called Mausoleum night market.

Lanterns hung at even intervals overlapping the summer festival in Japan.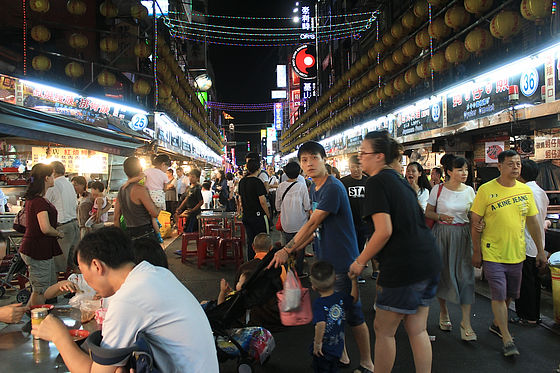 People go and go all the time at the center of the road where stalls and tables are lined up.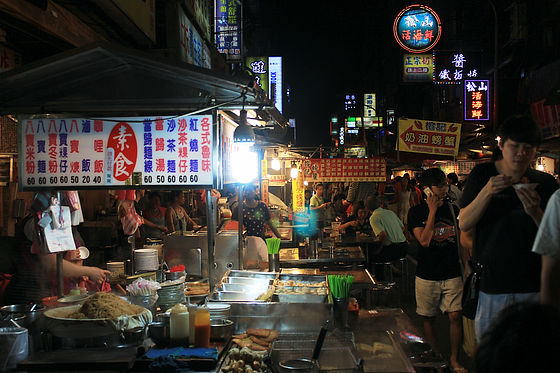 Juice stand.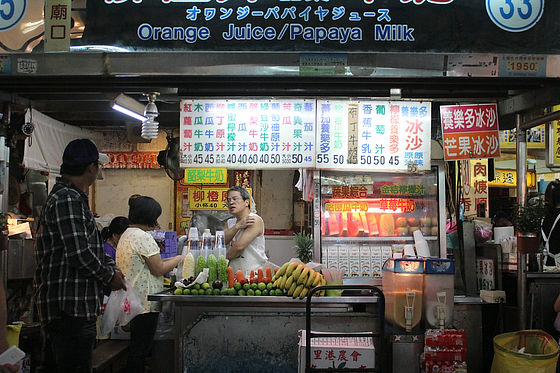 I also found a roast baking of pigs.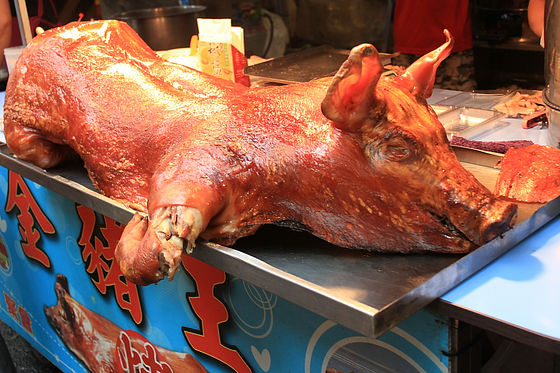 A frog found in a tank. Will this also be handled on the cutting board?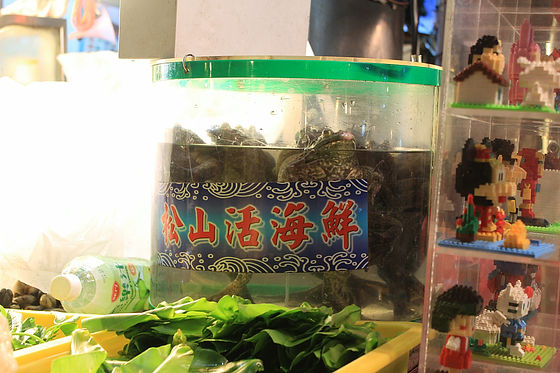 At Keelung's night market I was eating something like this.

· Meat ring
The meat dumpling that was lined up on the steam basket was a dish called "Bowan." This is what Chihiro's father was eating sweetly at the beginning of the movie "Spirited Away".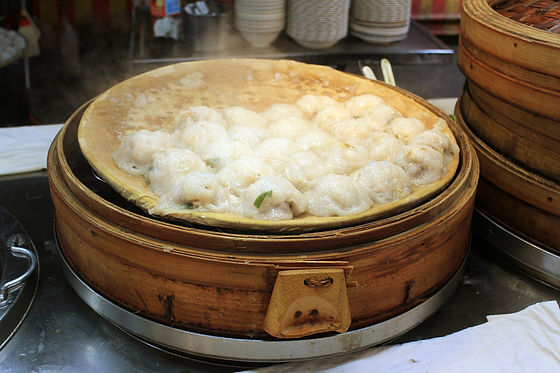 Together with a flavored tortoise and bean paste. It cost about 55 Taiwan dollars (about 180 yen).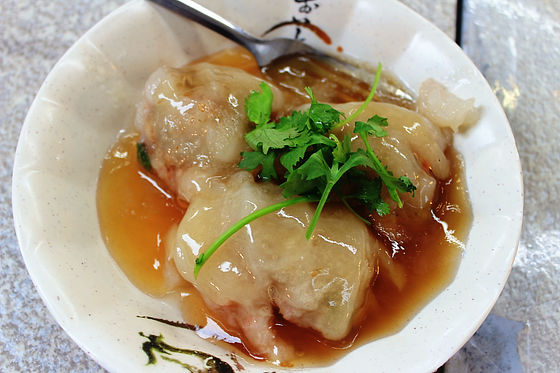 There was a tightly full of meat in the skin which was mochiri. Punipni leather has a unique texture. Bean paste is spicy like an accent. Pure green tea is on sale.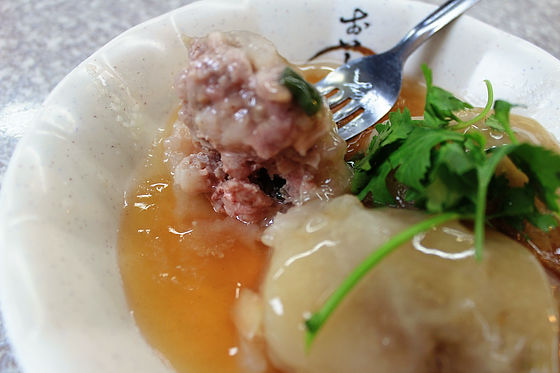 · Oil crumbs
Because it is a port town, there were many stalls of seafood. Because it is a great opportunity, I tried eating steamed butter of a famous crab at this night market.

There is a sign saying "Oil crab". "Oil oil" means butter.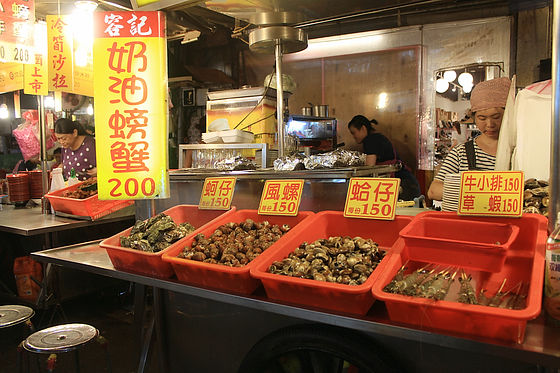 Crabs, shellfish, shrimp and seafood were lined up at the shops of the stalls.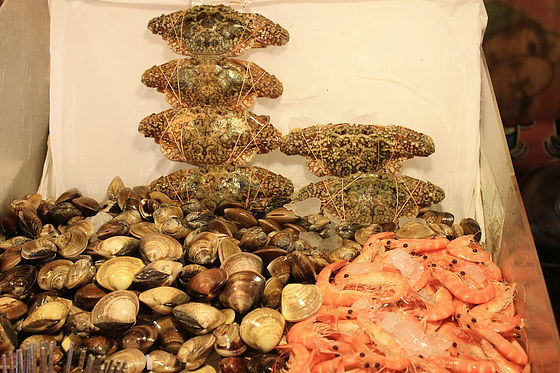 Crabs were higher prices for females than males. A person in the shop ordered a female because "female is more delicious". It was Taiwan dollars 280 (about 920 yen). If you eat anything, you choose the tasty one.

Here is the crab you came. It was immersed in a bathtub called aluminum vessel and it was leaning red.



Pakkato opened the shell and the egg stuck to the back side. This is the reason why female was recommended. An orange-colored crab egg is bubble wrapy like a baked marinated cod roe. It was an egg packed with umami with a light taste.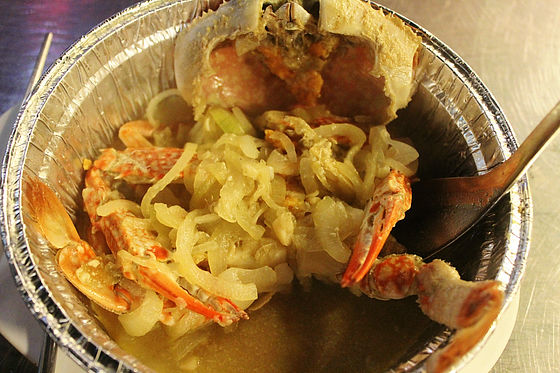 Crab's body is hard to pull out. The scissors had a break in the scissors. I will immerse the soft body which is hokkoku in the soup which the umami of butter and umami combined. While crunching his hands, he disassembled the crab.



The spoon that scooped the soup did not stop even after finishing eating all the way. I wonder how much I wanted to eat the white rice cooked with this crab butter soup.

· Oil and rice crackers
It seems that this is also a famous item of Keelung, and the stalls were quite conspicuous. Oil rice (cooked rice) on the steam basket will inevitably stay in your eyes.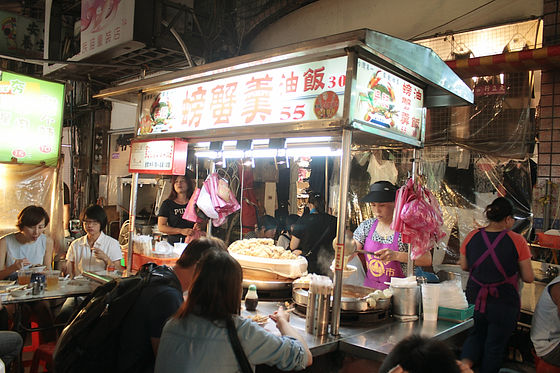 Oil rice was 35 Taiwan dollars (about 115 yen), soup named Crab crab was 55 Taiwan dollars (about 180 yen).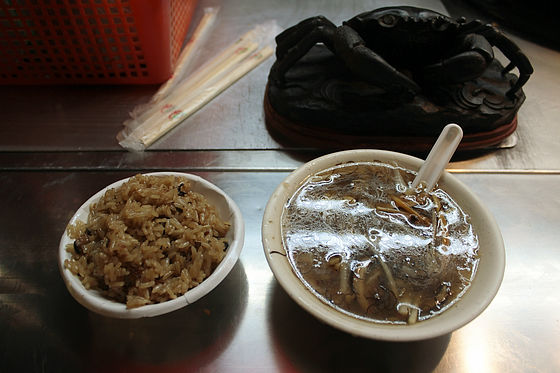 Oil rice was a simple taste that makes me somewhere like a rice pot of a pass. One grain of rice is coated with soup stock.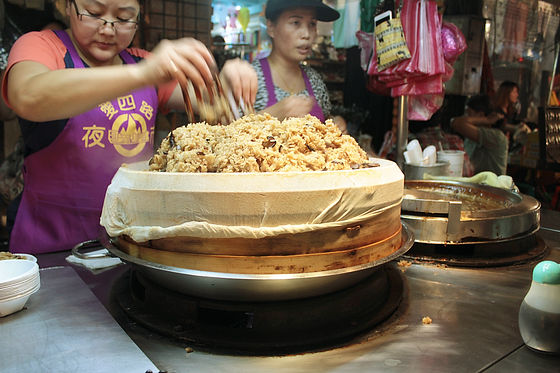 Trout and soup contained bamboo shoots and shiitake mushrooms as ingredients. There was also a crab's body.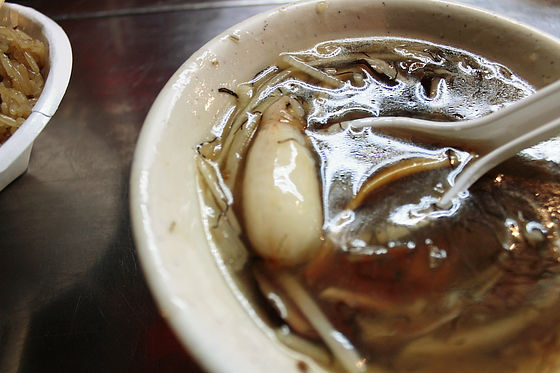 ·shaved ice
I am eating shaved ice even in the night market of Keelung.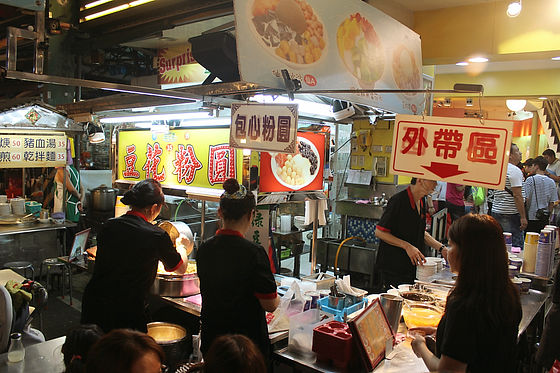 "Honey pot" is a sweet sweet taro that boiled down with sugar. "Rikuro Renko" is a lotus fruit flavored with beans. "Bean flower" is a sticky and tasteless tofu to melt. "Powdery" is also contained in tapioca milk tea Black granules of unusual texture. It was shaved ice with four ingredients.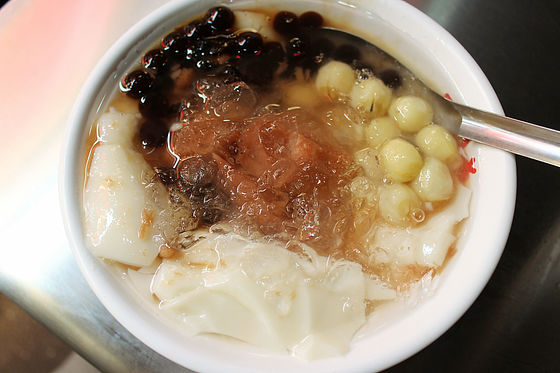 Because there are various ingredients, there are abundant menus. The "wooden ear" and the chrysanthemum will also be desserts.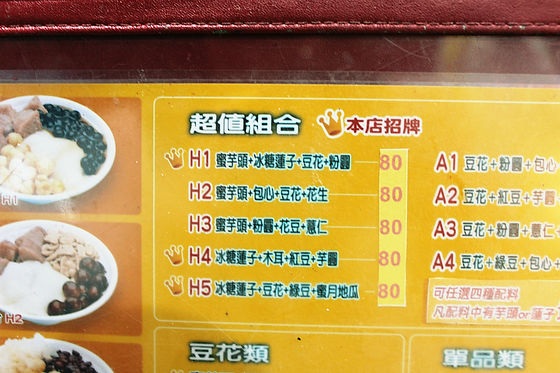 ◆ Taito Sightseeing Night Market
I went to eat at night at the bicycle around Taiwan in December 2015. There was such food in the night market in Taitung in eastern part of Taiwan.

· Takoyaki
A stall that made Takoyaki where each one was about the size of Dragon Ball.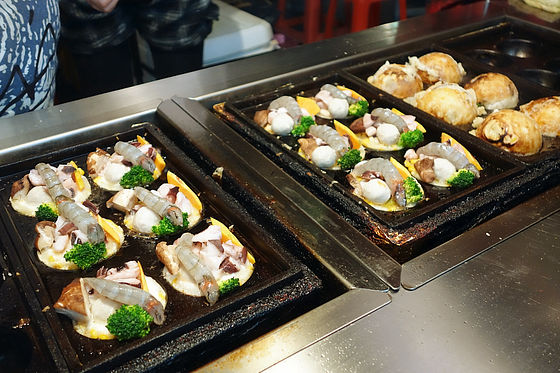 Put the corn in the mold and pour the seeds from above.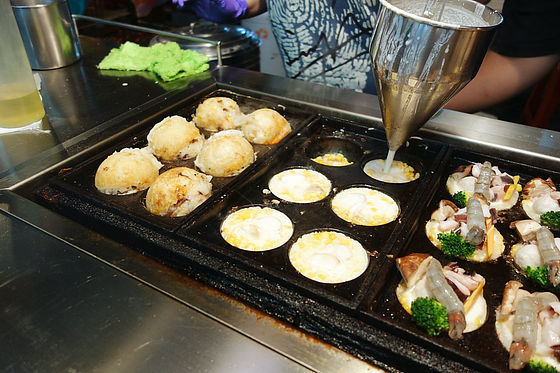 Not only octopus but rich ingredients such as shrimp, surimi dumpling, broccoli, shiitake mushroom, pumpkin.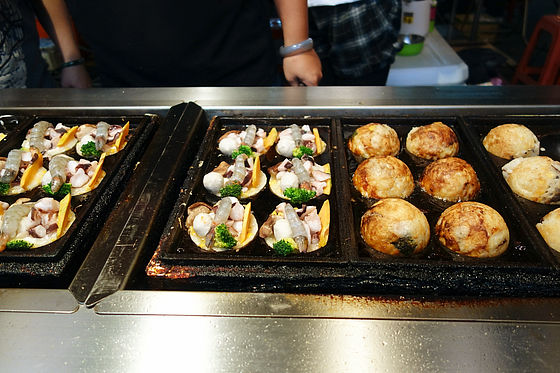 Takoyaki like this was also turned into a dexterity to make it round.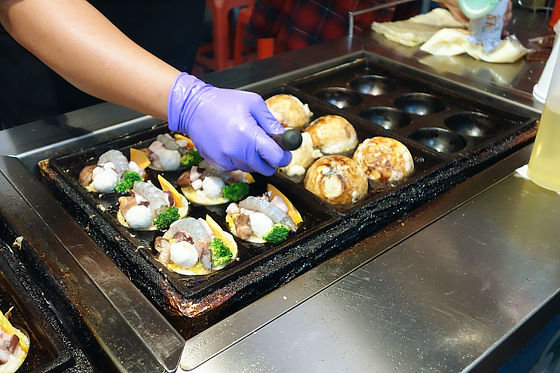 The container was a paper cup. It is an exquisite size to fit snugly.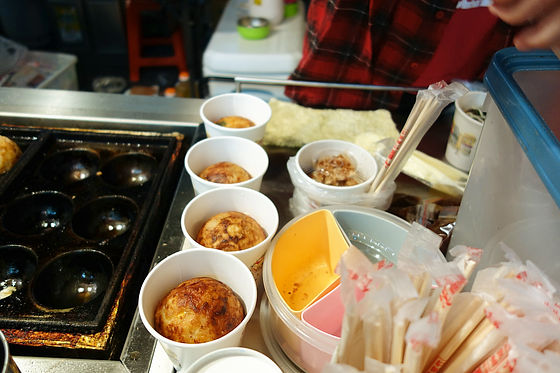 Finally sprinkle with bonito and blue leaves.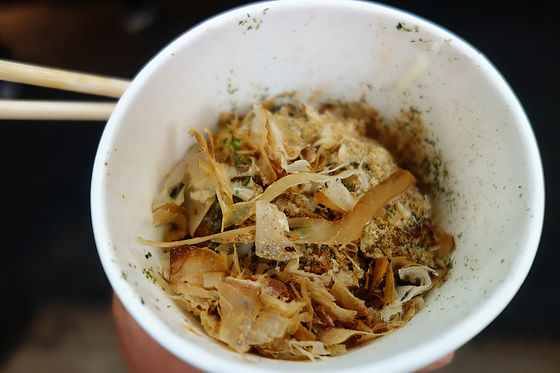 If there is a prejudice of Takoyaki it would be "that?" So it would be a good idea to think of it as a different dish. The ingredients were too lively and it was not Takoyaki. It was a strange powder.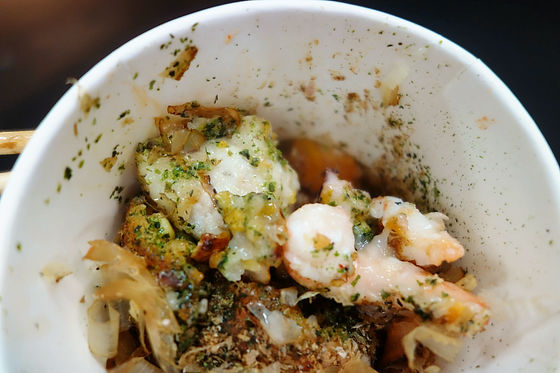 It was a stall called "Chiko Marigo Maruko". Naming is like a parody of Taiwan's famous Takoyaki chain called "Nichigan Shijo Small Maruko". In Chinese, "chisha" is octopus, "gor" means older brother. Because it is big Takoyaki, it will be like 'Daimaruko'.

People inside plenty of charm.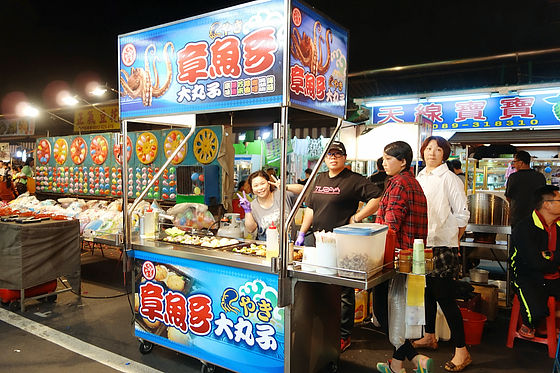 ◆ Oyster
A mountain of oysters piled up like mountains. People in the shop that got plastic gloves were stinging with a knife using a knife.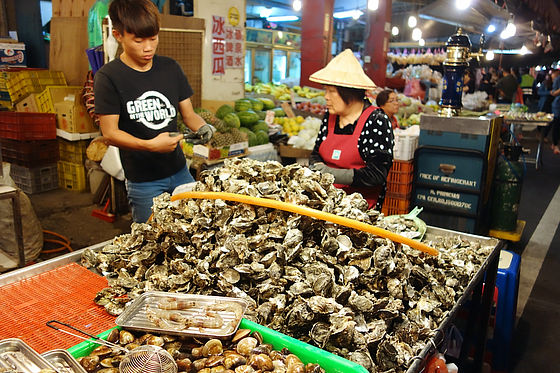 A dish of about 12 pieces is a surprise price of 50 NT dollars (about 165 yen).



I kept talking to the mouth one after another so that I could cling to the oyster full of the flavor of the iso.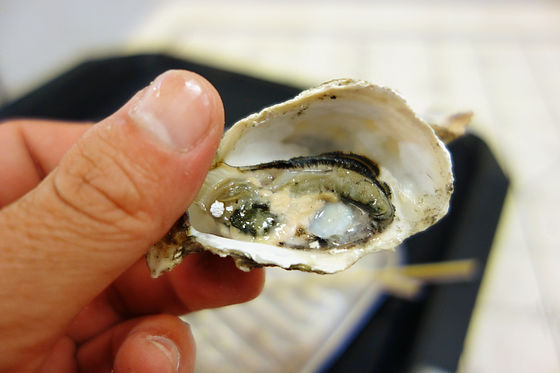 ◆ Game corner
In Taiwan's night market there is always a game corner that children play. The calm face of parents watching over with the innocent faces of playing children. I was wondering what happened and I checked these game corners.

Attitude using a toy gun.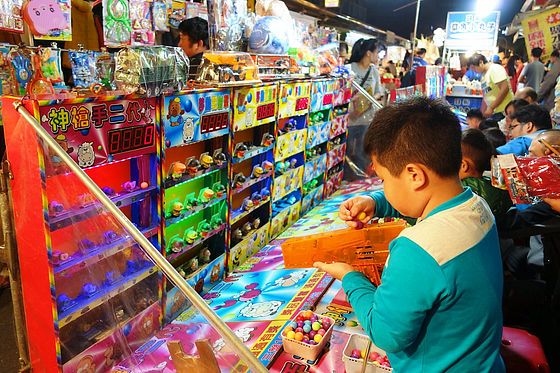 I used a bow and arrow to break balloons.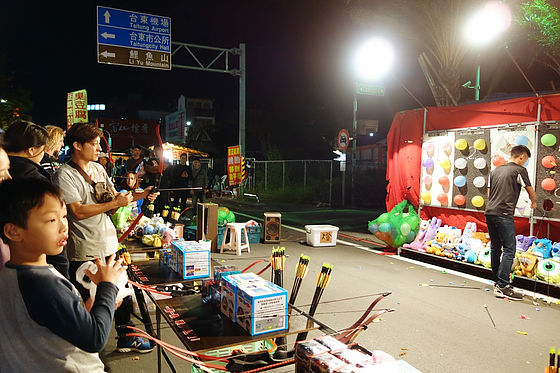 There is goldfish scoop similar to Japan.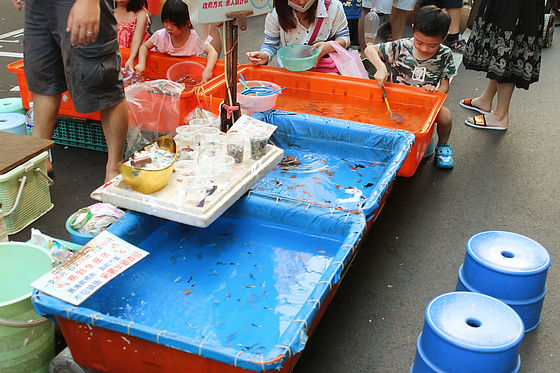 I also caught shrimp. It seems that you can eat baked shrimp on the spot.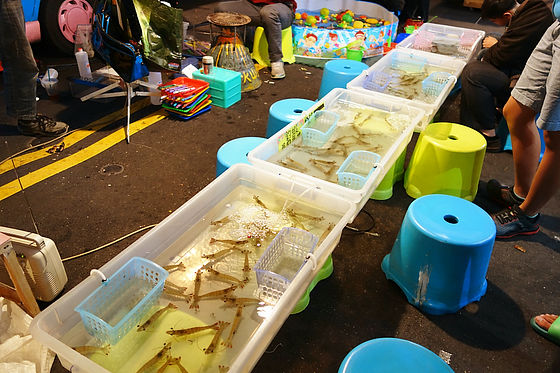 Hamutaro has eyes standing on the platform of the game.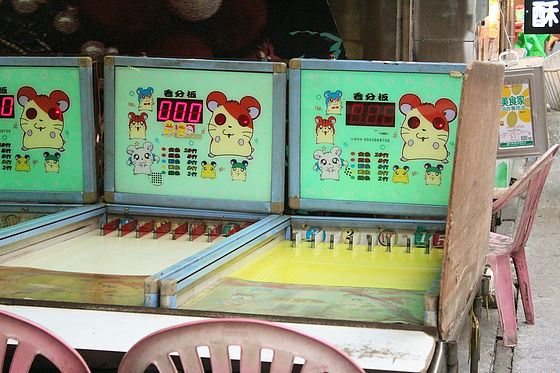 I also took moving pictures because it was awesome.

Human fear Hamtaro who found in a night market in Taiwan, his eyes are saying · · · YouTube


Although I was introduced one time, this is not the only night market in Taiwan. There were still many foods. The price is reasonable compared to Japan. When visiting Taiwan, how about walking in the night market? The stomach and heart will surely be filled.

(Sentence / photo: Takuya S. Narou Charriderman
Cycling around the world for a bicyclehttp://shuutak.com
Twitter@ Shuutak)